How Social Media Can Build Or Ruin Your Career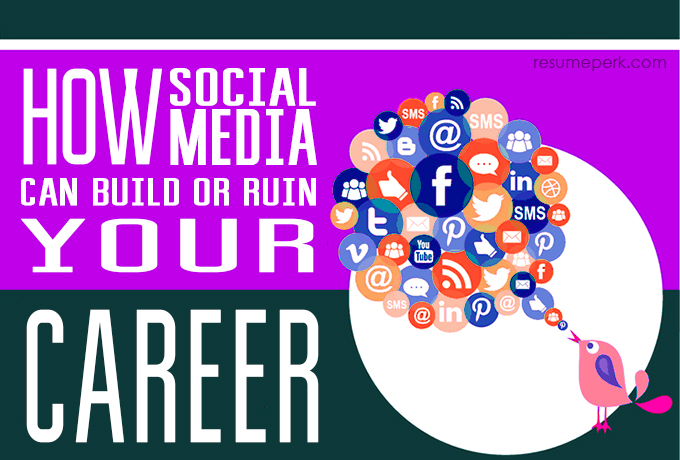 Now it's not a secret to anyone that the employers scan social media profiles of the applicants. However, things are even more serious about those online profiles: according to TheMuse, one in three employers has rejected candidates based the information they've found on them online! So, if you take the job search seriously, it's high time you cleaned up all your social media profiles, both professional and private.
How the activity in your social media account can make or break your career?
Social media sites have become essential to our modern life. Yet, today social media accounts are not only a place to socialize with friend, have fun and express creativity. Social media is widely used by hiring managers who select candidates. According to the statistic, 54% of employers have rejected candidates because of what they found in their Instagram account or other social profile. Even president Donald Trump could not avoid the unwanted reaction to his posts on the internet.
Today, a Facebook post from 2009 or a questionable tweet can cost you an employment. And this works not only for talented people like actors or musicians, but for ordinary Americans as well. Here are the ways social media should be used to avoid threat to your professional reputation.
Use common sense when posting pictures or sharing your thoughts
Poor taste in posting or re-posting something can take your career the wrong way. The main turn-off for employers in social media are profanity, gambling, consumption of alcohol; political views and sexual orientation can also be decisive factors for some employers.
Yet, if you want a stable career and would like to avoid instant karma, before you post something, ask yourself 'Would I show this picture or say that comment in front of my boss?' And if the answer is 'no', restrain yourself from posting or make the publication private.
Remember that employers will evaluate your culture fit
We've all heard the top stories when people say 'that tweet basically ruined my career'. This mostly happens to celebrities or people in high posts, but even an office manager can get fired for making fun of someone's race or political views. One thoughtless tweet – and you may have to spent months looking for a new job.
Employers, especially large companies, expect the employees to share their values and mission as well as normal lives. If you share several tweets with opposite views, even with no ill will, it can be costly for your career.
Don't complain about your job or industry
Needless to say that 'I-hate-my-job' posts don't belong to social media. Avoid complaining about your boss, schedule, corrupt management or the disadvantages in the industry in general. Such a post will give your boss a heart attack, but afterwards, you are most likely to get fired.
Never share that you're job-searching
Whether you want to pursue your acting dreams or want to land a better paying position with a competitive company, never say that you're looking for your job if you're still employed. If the current employer notices such a post, your employment is likely to end sooner than you expected as no company approves such behavior!
3 examples of how people lost their jobs because of unthoughtful posting
Nicole Crowther worked as an extra for the Fox show Glee. She was posting spoilers of the second season of the show in here Twitter account. In particular, she revealed who was the prom king in the show's upcoming prom episode.
This tweet was shared widely and was noticed by one of the show's producers. It prompted Brad Falchuk to negatively comment her actions and actually cost her not only a job, but also a further career in the entertainment industry. She had to continue career in her family's roofing business.
Hayley Geftman-Gold, a senior legal counsel and a vice president at CBS, showed an utter dislike of the Republicans. The situation got particularly tense when she didn't sympathize to the victims of the deadly mass shooting and call them 'Republican gun toters'.
She issued a public apology later and admitted this wasn't an appropriate thing to say. Yet, CBS posted the update that she was fired from the company.
A daycare worker from Arizona shared questionable posts when she flipped off and filmed children she was supposed to look after. After a series of postings she was fired and even received death threats.
What turns the employers off?
Poor grammar/spelling mistakes – look it up in online dictionaries if you're not sure
Posts about politics/religious views – these topics should be kept to yourself and close friends
Mentions of alcohol and drugs consumption – should I say that this alone can spoil all your social media impression
Inappropriate photos – those from bachelor parties, in bikini or demonstrating inappropriate or rude behavior
Bad mouthing your previous/present employer – a big no-no for your professional image
Lies – lies about your qualifications, activities, or lifestyle
Leaving arrogant/rude/violating comments – shows you're a poor communicator
Posting/tweeting during office hours – no one wants to hire a person who spends working time in social media
Sexual content – pictures from the beach or nude photos should be kept under privacy settings or deleted at all.
Just like the resume mistakes, these social media mistakes can become the grounding to reject your candidature.
Tips to improve your social media presence
Removing turn-off content is a must but it isn't enough yet to make your profile appealing for a hiring manager. Here are a few more tips how to make your online profile look more professional:
Change your privacy settings, if necessary
if you can't remove some private content that makes you look unprofessional, make it visible for close friends only. Make sure the outside visitor will see no private content or postings.
Google your name
It's also a wise step to find out what Google knows about you. Maybe, a few inappropriate pictures you've posted a teenager are still available and that can make you feel very uncomfortable.
Set a professional profile picture
The picture should be of a good quality and clearly display your face. No kittens, dogs, sexual content or memes.
Add the information about your education, professional affiliation, etc.
Anything that is relevant to your professional activities is always good. Posts or tweets related to your industry news, teambuilding events or the job are always good as they show that your career takes the substantial part of your life.
Mention your volunteering and unpaid activities
The person who is giving and takes care of the community tends to be seen more trustworthy, reliable and disciplined. So, this will definitely add you points in the eyes of an employer.
Can I find the job on the social media?
Yes! In 2016, you can use your Facebook profile not only to create a professional image, but also to actually find a job. Although this social media network isn't #1 for recruiting, some employers also advertise their opportunities there. So, here are a few tips how you can utilize Facebook or Twitter for a job search:
Use the search bar
Look up for job openings by keywords, specifying the target job and location (if you are looking for a full-time employment). For example, "finance analyst Sacramento" or "chief editor Texas" is good search example.
Utilize the hashtags
Mashable.com recommends using hashtags like #hiring and #job for finding actual job offers.
Tweet often on career related topics
The best way to connect with other professionals in your field through Twitter is to be active. Repost interesting articles with smart comments, make re-tweets of other people and this can become the first step to connect with those professionals on a more personal level.
Like the pages of the companies you'd like to work for
By liking the company pages on Facebook, you will subscribe to their news and get regular updates on their activity. Chances are you'll soon hear that they are hiring.
Fill out the "Professional Skills" and "Work History" sections
Specifying your professional skills will boost your professional appeal in the social media. These skills will also help the hiring manager make sure if you're someone they're looking for.
Add links to your LinkedIn profile or your resume posted online
Most social media can't give a detailed picture of you as a professional. Thus, you can add links to a resource where your professional competences are described in deeper detail. Make sure these links are visible in "About me" section or at the top of your timeline.
Create a 'job hunting post'
If you've got lots of friends on Facebook, this step can be very helpful. Write a post stating that you're currently seeking an employment, list your competences briefly and add a link to your resume. It will be even better if you get your friend repost your ad. Chances are that hiring managers come across your posting and get in touch with you.
Post the results of your latest work
If you are a web designer, a makeup expert or a writer, you can find more opportunities by simply sharing your previous work online. Publish the link to your article or the pictures of design developed by you, and the people who get interested in your services will easily find you. This step might not lead to an employment, but at least you can get more clients on a freelance basis.
Use the Social Jobs app
Social Jobs is an application developed by Facebook in collaboration with the US Department of Labor. It can connect you to job openings countrywide. The application allows you to search for jobs based on your preferences and even offers you the fitting opportunities, so you should definitely give it a try.
Find a job of your dream
Now that you are aware of how to get the best out of the social media in your job search process, it's time to modify your online pages to make sure they look the way the employer wants it to.
Make sure you've also did a resume makeover to prepare it for sending in. Struggling to edit a resume on your own? Consult our resume writer on how to present your skills and qualifications best. We are open 24/7!
Has the social media posts ever ruined your job search?