What Employers Look for in Your Professionally Done Resume?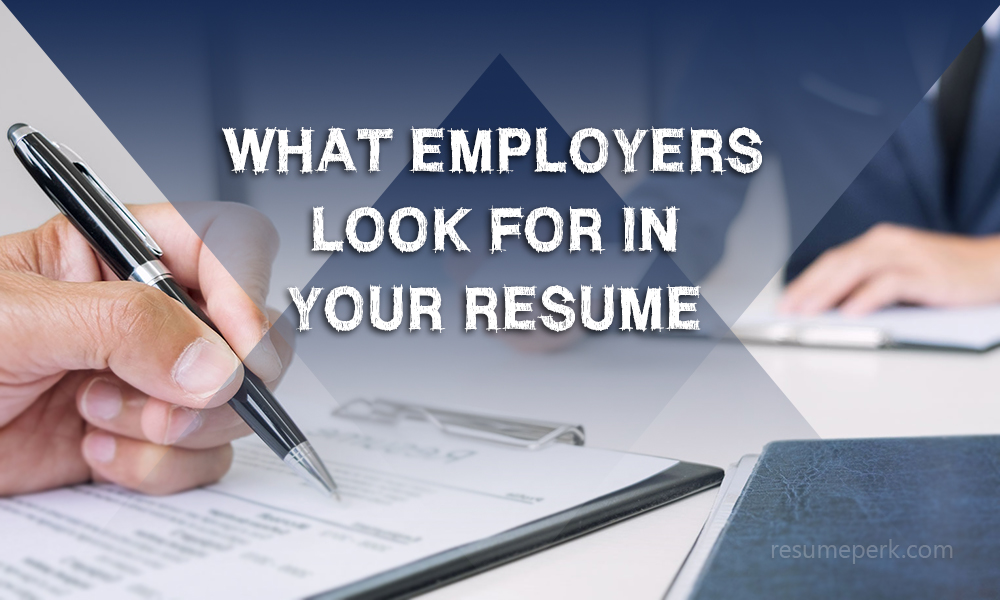 Have you ever dreamed of composing a resume which will turn the recruiters' heads? Despite the great competition, a really great resume is rare. You might have encountered the situation when you kept rewriting, editing and formatting a resume but still received little responses from the companies.
One of the biggest secrets about resume writing is knowing what kind of information the hiring managers are looking for in your resume – and giving it to them. Today, one of the experts of Resumeperk.com will explain what kind of information employers want to obtain from the resume and how to create your resume that will exceed their expectations.
Receive pro help doing a resume
If the possibility of not getting the interview call daunts you, you'd better seek professional assistance. Our team of American copywriters will relieve your job-hunting stress by preparing a top-notch resume for you. We adhere to the most recent writing trends, are aware of the recruitment process and will use this knowledge to create an effective resume for you or revise your old one. No need to seek resume writing companies for cheap any longer – we have the most attractive prices on the market and give an additional 20% discount for new coming customers.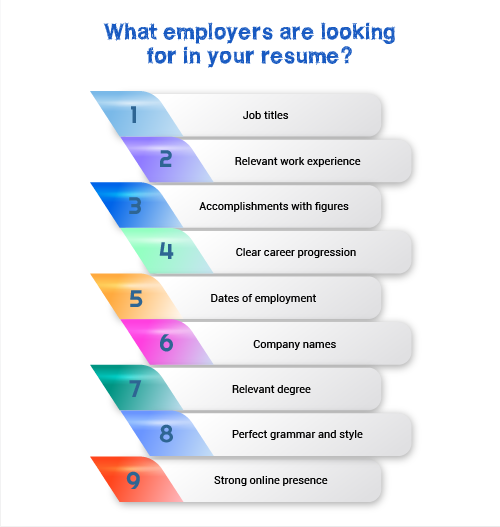 Get resume done professionally: What the employers are really looking for in your resume?
Every experienced job-seeker has heard that the hiring manager spends between 6 to 10 seconds on the initial resume scanning. Here's what employers expect to find in your resume to send it to "Maybe" pile:
Your name – if you've met with the hiring person before or they have heard of you, your chances to be chosen for an interview skyrocket comparing to the unknown applicants.
Relevant professional experience – what you've been doing and what you've achieved in your most recent role is an indicator of what you could deliver to the company if hired. It's important not only to highlight how great you were in your most recent role, but also how what you did correlates with your target job.
Job titles – the hiring person is looking for relevance, career progression and level of responsibility. Resume consultant tip: there's nothing wrong about modifying your job title to make it more relevant (for example, replacing the Marketing Analyst with Customer Marketing Analyst). So, if you've managed to find my perfect job, it's okay to adjust the title.
Start-end dates – a quick glimpse at the employment duration can tell a lot about the candidate. Gaps in employment and job-hopping are surely seen as negative factors and you need to take care of them in advance (check out how you can address the job-hopping: http://resumeperk.com/blog/how-to-create-my-cv-valuable-tips-for-job-hoppers). A few years with the same company show loyalty and indicate that the person has been fulfilled in their career.
Company names – they can be overlooked if you worked for smaller employers. However, if you've been with the industry leader or a trending startup, a famous company name will absolutely evoke the interest.
Location – the location factor can become a reason for rejection if the employer isn't willing to compensate the relocation expenses. So, when applying for jobs outside of your area, use the local address or indicate that you're ready for relocation at your own expense.
Education – a certain degree is a must for some job openings. In case if your degree is somewhat relevant (for example, when they are looking for a Marketing degree and you've majored in Journalism), it makes sense to list relevant coursework.
At this point, the initial scanning is complete and if you've met their expectations, your resume is shortlisted for the closer review.  Note that since nobody is reading your resume entirely at this stage, it needs to have a neat formatting and be easy to look through. Although bad formatting is not an official resume mistake, a busy recruiter might choose not to waste their time reading into a cluttered and poorly organized application.
How employers read resumes: choosing who to interview
After the initial screening, hiring managers weed off around 80% resumes and consider the shortlisted ones more closely. To pick the best candidates for the interview, they evaluate the following characteristics:
Meeting the minimal qualification requirements. Of course, you don't have to meet 100% of the requirements mentioned in a job listing. However, having the must-have qualifications is necessary as otherwise you'll get rejected.
Your specific accomplishments, preferably with figures. Not everyone can impress the prospective employer with doubled sales records and industry-specific awards. However, if you can't brag even the small accomplishments, it will leave the employer wondering if you're really good at what you do. Don't give them food for thought – everyone can think of a tangible contribution such as training new employees, increasing number of customers or reduced costs.
Perfect grammar and writings style. Resume errors aren't visible during the initial scanning, but during the closer review they are the popular reason for disqualifying the applicant. The reason behind this rejection is simple: if the candidate makes mistakes when trying to write a resume to the best of their ability, what quality of work can he produce? So, if you aren't sure of your writing abilities, it's best to have an English corrector to proofread your resume. Our team staffs a few professionals who specialize in academic and resume editing. By the way, here's a quick overview of the biggest mistakes job-seekers do in copywriting: http://resumeperk.com/blog/top-10-bad-writing-habits-everyone-should-stop-doing.
Your career progression. If you're applying for mid-level role or above, recruiters also want to see how your career developed over time. Candidates with clear and smooth vertical progression are favored over those who had inconsistent way up, with career changes, employment gaps and other issues.
Online and social media presence. The interconnection of social media and career becomes evident over time. Provocative tweets and unprofessional pictures are the popular reason for rejecting your candidacy. Employers will look up for you in Facebook, Instagram, and LinkedIn to evaluate your professionalism and cultural fit. By the way, simply deleting your profile until you find the job isn't the solution either – lack of social media is also seen negatively by employers.
Moreover, social media become a popular channel of job-hunting as well – 73% of employers have hired the candidates through social media.
Other specific selection criteria. The criteria for selecting the right candidates vary from company to company. Some employers might ask you to complete a test task or assess your personality via quiz. You might be asked to answer the additional questions, provide references and complete other steps so that the employer could evaluate the traits they consider important.
To be one of those lucky ones selected for an in-person interview, take your time to highlight all of the above traits in your resume. Show your career progression, relevant skill set, notable accomplishments and work on the appearance of the document since everything is important for the quality of your resume.
Do resume online with the expert help
Want a resume that would highlight exactly what the top employers are looking for? At Resumeperk com, we provide resume services for professionals of all industries and career levels. We stick to customized approach – whether you're a college student or a finance expert, we'll work out the way to show the best of you on paper. The writer will closely follow your direction and will work on your resume until it totally satisfies you. And the charge for all these benefits will pleasantly surprise you – you can get a resume or curriculum vitae created at a moderate pay.