10 Reasons To Turn Down A Job Offer – And How To Do It Prope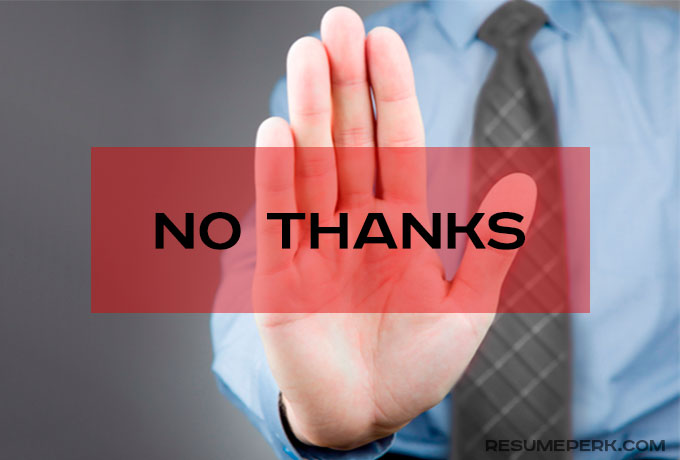 First of all, congratulations with your job offer! In this economy when the hiring managers get hundreds of resumes it's a real success that you were the one to receive that offer. However, should you accept the offer right away or are there any pitfalls to consider?
Of course, when your financial situation is tough, any job seems to be the right choice. If your house is about to be foreclosed, or you have to support family members, you cannot spend months and months waiting for the right offer.
However, if you're not in a survival situation, you can – and should – give every job offer a proper consideration. Luckily for you, there is a set of exact criteria that show whether the job you are offered will be beneficial in a long run or this is a dead end that is better to avoid.
Turn down a job offer if:
The pay is too low or different from what was stated initially
If you're seeking a job similar to your previous one, and the salary is considerably lower, it's a warning sign. If you don't know the estimated salary for the position you're seeking, head to Salary.com to find out. And don't be afraid to bring this up during an interview or in response to a job offer. If the hiring manager declines your concerns, it's a good idea to decline this kind of offer too.
The second situation is far more suspicious. If the job advertisement promised one amount and the manager gives you the other information, this might mean either poor communication or dishonest business. In any case, such offer is better to reject as well.
The communication with company representatives sounds unprofessional
According to Forbes.com, you should pay special attention to the style of communication of hiring manager and your prospective boss. Are they polite, respectful, attentive to your questions and willing to provide you with any information you might need? If the answer is yes, then working for such kind of company is likely to become a fruitful experience for you. On the contrary, if someone is showing disrespect, rudeness, if the boss neglects answering all your questions or everyone are too busy to pay attention to you, it's a sign that you'll work with unprofessional team members in an ongoing stress – is that something you're looking for?
The job responsibilities are not the same as it was advertised initially
Job postings usually advertise the position name and the daily circle of responsibilities. However, it's always better to ask the question "What will my direct responsibilities be?" from one of the managers you'll be talking to. Here are a few other questions that need to be asked during the interview. If they give you the information different from the job posting or, don't give a full answer to this simple question, it's time to become more cautious. Maybe, they're looking for "jack of all trades" or the position is new and the management isn't aware of what exactly will be expected from a person in this role. The same goes for the situation when the job ad said they were looking for a manager and the responsibilities are limited to greeting customers and filing.
The job is a "dead-end" 
There's anything bad about the dead-end job itself, except for the point that it doesn't benefit your career and professional strengths in a long run. If you're seeking a career progression (who doesn't?), this job will be a waste of your time. So, before accepting the offer, look at the role, its importance for the company and ask yourself: Is there opportunity for a promotion? Are there any new and unique skills I can learn in this role? Can this job connect me to important people in the industry? If the answer to the above is "no", then, you'll probably perform the same circle of duties month by month without learning something new. Of course, when the financial situation is tough, this isn't the worst option – however, if you have the opportunity to choose, skip this offer.
You feel the negative vibe from the prospective boss and /or coworkers
When first meeting the people you'll probably work with, try to feel their approach to work, communication style and personalities. If you don't feel comfortable talking to them, most likely working with these people will be a negative experience. Maybe, the communication and leadership style doesn't suit your personality, or the environment isn't friendly, or you feel that the prospective boss will be hard to get on with. Anyway, these might be the signs that this job isn't right for you.
The job damages your professional reputation
If you want to build a successful career as a lawyer but decide to work a few months as a waiter because the offered salary is high, remember that there are hidden pitfalls in such solution. Not only you lose touch with your major professional activities, but also a negative image can be created. When the other professionals from your network see you serving the tables in a café nearby, they will rather remember you as a waiter rather than a law professional. And this can make a negative impact during an interview – if you're really that good, why did you do the job you were overqualified for?
The position contradicts your personal values
Everyone has his own system of values and beliefs. And when you have to compromise your values as a part of your professional activity, this will make you feel miserable. For example, if you take care about the environment, a job for an oil or gas company isn't the best option. Or, when you have to sell the product that you personally don't consider good. One way or another, even if you take on the job, there'll be the day when you give it up – and that probably will happen very soon. So, choose a job that would support your moral values.
How to turn down a job offer
Rejecting a job offer is a kind of art, though. You have to do it politely and in accordance with business etiquette. Even if the offered position isn't the best option for you at the moment, who knows, maybe the company will grow or change the type of activity, and you'll be applying there again in a year or two. Here's how it's better to turn down a job offer:
Thank for the offer to show appreciation 
Although reading resumes and conducting interviews is a part of hiring manager's job, you should demonstrate the appreciation for taking their time they could've spent on someone else. Start with polite expression, such as "I thank you for taking time to consider me for the Accountant Manager position" or "Thank you for the interview and the offer for the position of Sales Coordinator".
Give a brief reason for declining the offer
Nobody forces you to give the real reasoning for not accepting the job offer (i.e. one of the reasons we've listed above). It's also nonsense to describe an excellent opportunity the other company offered to you. Be concise and up to the point by saying something like "After thorough consideration I've decided to accept the offer from another company as it better aligns with my career goals" or "Although this position seems as a great opportunity, I've decided that it's not the best time to leave my current job". Thus, you'll explain the reason of declining a job offer while maintaining a professional tone and ethics.
Keep in touch with the hiring manager
In today's digital world the odds are that you will cross paths with the person who interviewed you in the future. So, it's increasingly important to decline the job offer on a positive note. If you belong to one professional community or attend the same courses or conference, you can mention that too. When declining a job offer, you can end your letter as follows "It was a pleasure meeting you, and I wish you all the best in the future" or "I hope to meet you the next week at the public speaking workshop".
Now that you are aware of the reasons and methods of declining a job offer, you can think again over the job offered to you and ask yourself, "Does this job really fits into my career needs right now?" And, if you decide to continue your searches, consider asking for professional resume help. Maybe, the only thing that stands between you and a dream job is a poorly written resume!
Have you ever declined a job offer? What was your reason to do so?