Assess All Kinds Of Risks Of Starting A New Career
Do you feel that your current job or career path in general doesn't satisfy you any longer? Well, you're not alone: according to Careerprofiles, around half of all working professionals aren't content with their current careers.
There are lots of aspects people find frustrating about their jobs: bosses who are hard to deal with, unhealthy working environment, lack of work/life balance, mundane job that has no opportunities of promotion, etc. Many professionals of all career levels dream of quitting their jobs to join another organization or to pursue the labor of love. The grass is always greener over the fence; however, in certain cases the risk of taking on a new career is totally worth it and can lead you to results you've never dreamt of.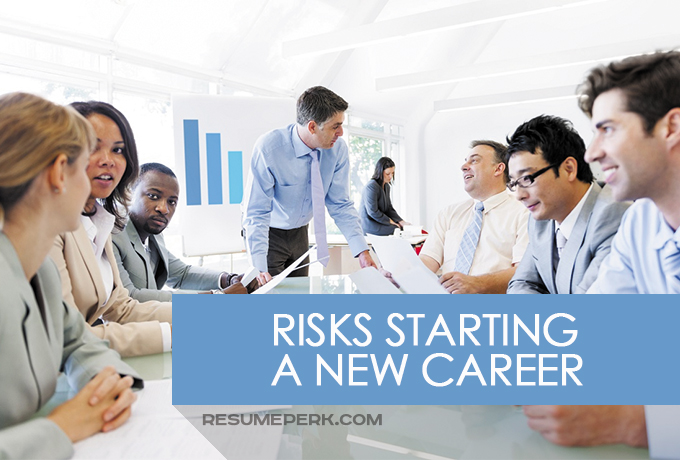 Do not rush to update and send over your resume, though. To take the career risks smart, check the below list of risks which are worth taking.
Don't just run away from the old job
Even if you are stressed by your current job, quitting isn't always the best option.
Before you start, think of your inner motives to take the risk of making a career move. Do you truly want to expand your professional horizons, grow personally or just want to get rid of tiring working conditions? If so, you should start with analyzing what dissatisfies you in the present role, and only then source the new opportunities. Your goal should be getting a job that would totally satisfy you.
Choose the company culture over salary
With a common opinion that 'money is never too much', it's not surprising that many people opt for jobs that offer big paycheck, and end up dissatisfied as the working conditions or the corporate culture doesn't suit them well. However, rejecting the high-paying opportunity to opt for less-paying, but more suitable and engaging job is a risk worth taking.
If you join the company which matches your inner motives and offers opportunities to grow professionally in the long run, you will only benefit from it. Obviously, when you do what you love in a comfortable environment, you do your best to succeed and this facilitates your professional growth.
Work abroad
If you received a job offer that assumes relocation to another country, go ahead! There's no experience that will contribute to both your professionalism and your personality as much as this. Businessnewsdaily insists that you shouldn't wait for 'the right time' as the best time to start it is now.
When working abroad, you'll learn the new practices and approaches to your standard duties, and learn to communicate on international level with people from different background. Moreover, you'll become more adaptable to different situation at the workplace. And, last not the least – international experience will become a big plus in your resume.
Work outside of cities with biggest concentration of jobs in your field
Most industries have cities where the majority of competitive and well-paying jobs are concentrated (for example, the well-known Wall Street in New York for finance experts). However, don't hurry up to pack your bags and set off to a place like this. Although it seems logical to live in a place with multiple job opportunities in your field, it's not always the right decision.
If you expand your focus and start sourcing opportunities in other cities as well, you can be surprised to see that, for example, the Silicone Valley isn't the only place offering challenging tasks and competitive salary for a software developer. You can find an excellent job with corporate culture if you opt not to act stereotypically.
Try freelancing
Despite the field your work, freelancing is something everyone should try at least once in their lives. Going solo can be daunting and brings lots of extra obligations such as taxes, budgeting, finding clients on your own, etc. Nevertheless, freelancing offers a number of attractive benefits. Firstly, you'll have the opportunity to be your own boss and only choose the tasks which are enjoyable and challenging for you. Secondly, freelancing offers flexibility that any full-time job has to offer. And, thirdly, freelancing is worth trying to find out whether being your own boss is comfortable for you, so you could learn from practice if you are ready for starting your own business.
Network beyond your industry and niche
Typically, we maintain professional connection with the people of the same industry. So, why not break the habit and start networking with those whose field is an uncharted territory for you? By expanding the circle of your business connections, you'll find new surprising opportunities that can radically change your career direction. New connections are still important - Techrepublic says that having a friend who has a friend is an excellent opportunity to change the career trajectory.
Join a startup
Have you been working with a big company with strict office schedule and clearly defined circle of responsibilities? Then, consider joining a startup. Although many experienced professionals can be skeptical about joining startups, this can be a transforming experience. When working with a small group of people, your experience expands dramatically as you learn about all roles in business and make your direct contribution. Moreover, the startup can become 'the next big thing' and you'll be rewarded by success and impressive paycheck. Isn't it the risk worth taking?
Make a career change
You've worked for several companies, advanced your skills but one day came the feeling that the role or the industry aren't inspiring you any longer. Sounds familiar? Then, you've probably faced the professional burnout. Some people tend to mistake the fatigue for desire to change career; the difference is that fatigue disappears after holidays. If your uninspired mood remains even after a good rest, it's time to take the risk of career change. To make a better career change decision, don't hurry up to enter a completely new field. Start with revision of your current skills and competences and think of how these can be helpful outside of your industry.
Start your own business
People who don't like their jobs often ask themselves "Maybe, I should start my own business?" This decision is one of the riskiest as it assumes not only change of the company/role, but change the nature of work in general. However, if some hobby motivates you to devote all of your time to it, you should definitely give it a shot.
Before you actually start a business, it's recommended that you conduct risk assessment as this is one of the riskiest decisions a person can make. Businessnewsdaily advises asking yourself the following questions:

What is my tolerance for risk? Do you tend to risk or to rely on 'safe bets' when making everyday decisions outside of work? Do you realize that your life style, habits, income, and working schedule will be affected by this decision, and are you ready for this?
What are the benefits and costs of making this change? You can't be 100% sure of the results of your affair. Nevertheless, it is possible for you to predict both positive and negative scenarios to make sure you know what you put at stake. For example, if you start a business from scratch, you'll have to put up with very low (or no) income for the first months; maybe, you won't have any spare time to spend with your family and friends. Comparing possible benefits and losses will help you to make more informed decision.
Can I affect the negative impact of those changes? To feel more secure, you can think in advance of how to overcome the possible negative results of the career change. What if you struggle finding clients as a freelancer? What if the new field requires spending all your evenings learning or taking some courses? Having developed solutions in advance you'll know what to expect, and this will reduce your stress and anxiety.
The bottom line
If you've figured out that your job isn't the right fit for you, it's time for change. Taking the smart risk and stepping outside of your comfort zone can provide you with excellent opportunities you'd never think about. If you have determined the course of action, it's time to create a new resume and step toward the career of your dreams!
Need a professional assistance with your resume? Contact us anytime and get your old resume accessed for free or get a brand new one at an affordable fee.