Why Start A New Career At 30: Tips Of Best Resume Website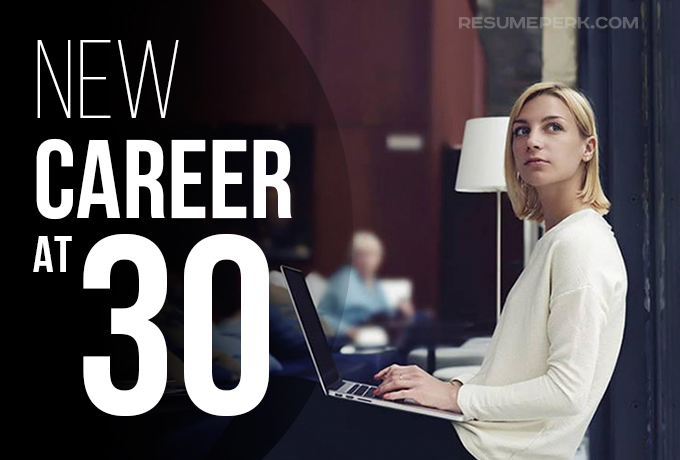 You don't have to be in the same career path for a lifetime. Times change, and so do you: your priorities reshape, and the things which enticed you ten years ago don't look that attractive any longer. And the question "Maybe, I need to switch career?" arises in the back of your head. Should you listen to the voice of your heart? The best resume website's answer is Yes – and here's why. Despite all the misconceptions about the career change (such as lowering cognitive abilities, necessity to start over again with the entry-level jobs and many more), you can and should take on a new career if you feel the need to. The expert of our professional resume services shares the main reasons you should change career and how to make this switch a success.
Also in this section:
The career choice you've made in high school can be wrong
As teenagers, we barely realize what we want in life in general and from our future career in particular. Someone realizes their true calling at the age of 10, but if you don't, there's anything wrong about pursuing a new career if you've realized that the current one isn't the best fit.
Moreover, how are most career changed actually made? They are heavily influenced by parents, friends and our own idea about the particular role (which often doesn't have much to do with real life). Thus, we graduate from the university, work for several years and one day find ourselves miserable about the job we have. At this point most resume sites recommend seeing this sense of dissatisfaction as a sign that it's time to move on.
Your work doesn't allow much work-life balance
Apparently, you made a career choice when you didn't have family, kids and other obligations. But if you are married with two kids and spend 10 hours a day at the office, it can be discouraging.
Not all careers imply a good balance between work and life. Some of them require extensive travel, regular late nights, and so on. Resume websites state that in some industries overworking is normal. So, if the situation in other companies is quite similar, making a career change decision looks like a real way out.
Career doesn't look challenging
Apart from the paycheck, a good career should motivate you use your skills on their peak potential. It should give you the space to develop key competencies and grow professionally. If that doesn't happen, odds are that soon you will find yourself checking other career options out there.
If it's been a short time that your career doesn't look inspiring, maybe you experience a short period of motivation loss or professional burnout (see how to reinforce your motivation here: http://resumeperk.com/blog/10-ways-to-find-lost-desire-and-inspiration). However, if it's been a few months and you start being negative about your career future, personal website resume recommends that career change might be the right option.
You feel that your salary expectations aren't met
When the company pays you the amount of money you agreed upon, with regular increases and benefits when applicable, it gives you a feeling of security and satisfaction at work. That's why feeling underpaid is a huge motivator to change career. If the salary isn't raised as much as you think it would, or maybe you feel underpaid because your responsibilities grow and your paycheck doesn't reflect this career change – these are equally important reasons to act.
You can start with negotiating salary increase (learn here how to do it effectively: http://resumeperk.com/blog/secrets-how-to-ask-for-a-raise-just-follow-these-tips). If that doesn't work, time to change a company or even the industry. You also can head to a website to make a resumes for resume editing proofreading service - probably, it was just your resume that didn't sell your skills on a needed level.
Other substantial reasons for career change include slow (or any) career progression, the situation when work became routine and repetitive and reaching the celling in the career line. However, sometimes it's the passion for doing something completely different that makes people leave their old careers.
Tips on making a successful career change
Prepare yourself financially and physically
Career change is a stressful process which requires accumulating your inner resources and making a big step outside of comfort zone. Apparently, you need to have savings in order to keep the level of life you are used to until you find the next job. Lack of money limits your choices so you can end up taking any job offer which arises simply because you're in debt. The experts in financial planning recommend that your savings should equal your income for several months.
As for physical health, when you are fit and healthy, you can work more productively and cope with job search stress faster than those who don't take care of their well-being.
Stick to gradual approach to changing your career
Since it can be tempting to resign at once (especially if you are fed up with that job), taking slow steps towards your goal eventually is more effective. You can start with taking online courses, speak to people from the new industry until you familiarize yourself with the basics. Then, you can continue by volunteering, doing small freelance projects or even move into a new career via a series of jobs rather than one radical move. This path is more time-consuming, however, it will relieve you from the necessity to start from entry-level roles and continue your career with approximately the same income.
Network with people from the chosen field
To make sure you have a realistic idea about the future career and understand the inner culture, it's important to communicate with other professionals of the field you are going to enter. People can give you insights on the recruitment process as well which will help you during the interview phase or even meet someone who will put in a word for you in the company. Best resumes site states that it's through networking that you can find the best employment.
Get your resume shaped by a resume professional
Needless to say that a resume written for one industry can be totally helpless when you apply for jobs in a new field. For instance, your finance management skills are unlikely to secure you an acting job. Nevertheless, some of your abilities can be transferred to a new industry and be highlighted as your key strengths.
Change of career requires a resume of different format (in most cases, it's recommended to use functional format) and the different view at your previous career path. That's what skilled resume writers do. You can contact professional cheap resume writing service and get the expert assistance with writing resume for your unique situation.
Change your perception
Success in a new field is often determined by the way we think of ourselves. You need to adopt a new mindset and start feeling comfortable in a new role of a journalist, actor, programmer, etc. The more confident you feel, the faster you'll find a desired job and adapt to a new environment.
If you still hesitate, remember that 30 years is the right age to make a radical change in your life if you feel the impulse to do so. Many people have already done a career change successfully at this age, and you will manage it if you have a clear goal. And remember, if adopting a career of love is something you've dreamt of for some time, five years from now you'll regret you hadn't done it today.
Polishing your resume and cover letter for a new career
We have already mentioned that career change requires a specific type of resume. Don't try and fail – it's safer to entrust this important task to a professional to speed up the process. If you need a cover letter as well, you can find free cover letter examples to get the idea of what our writers do. A new application package is an investment; however, with our pricing policy it's something you can afford.
Have you ever pursuit a career change and have you succeeded at it?
Popular Posts: