Cover Letter Assistance: Knowledge-Based Tips
This career document can become the most crucial obstacle on the path to your new position. It is all about an individual message you require to convey in it. The manner you build this dialogue with your future employer reflects your self even more than the facts described in the resume. So if you wish to do everything right, read these helpful recommendations on composing a superb cover letter.
This post is written from the practical background and personal observations of our team.
Creating a cover letter step-by-step
The first thing the candidate must understand is the meaningfulness of this career document.
1. Formulate the purpose of your cover letter
There are two core reasons why you require this document before you start writing it.
• Highlight your enthusiasm
A well-thought-out message determines your motivation in a particular position. Take this chance to highlight that you put much effort to join their company.
• Draw a parallel between the job posting and your capacity
This format of the document implies some freedom for expressing thoughts and interest in future jobs. Find suitable words to explain that your skills fully match the employers' expectations. Bear in mind that nowadays, corporations search not only for a professional but for a good positive person.
The job market is highly competitive in many spheres. In these situations, the cover letter will be your awesome instrument to win the battle. Maybe even more effective than a resume.
2. Think over the structure
Take this document as self-advertising. Write a cover letter with a focus on the brightest skills helping you implement work duties.
1) Salutation
Having mentioned the hiring manager's name, you contribute to your image of a polite person. Besides, it is evident that the candidate has written a letter precisely for this job and has an interest in it.
Remember where you've seen a job description, and what you appreciate in this company (maybe, it is the quality management system, products, environmental policy, etc.).
Thus, you demonstrate a personalized approach to the job application.
2) The core part
Give enough arguments to confirm that your talents and qualifications match the job posting. Recruiters expect to see that you are strong enough to solve work goals. List those accomplishments that make you a worthy candidate for the post.
3) The final words
A couple of concise sentences is enough to finish your document. Usually, candidates thank the for attention and stress that they look forward to receiving feedback.
The well-balanced structure contributes to the harmonious and clear cover letter. If you have issues at this stage, please, turn to our team members.
3. Follow rules of writing
For years of experience in the sphere of career documents writing, we have learned several crucial principles.
• One page is enough to establish contact with the representative of your dream company.
• Three - five paragraphs constitute an optimal organization of thoughts.
• The style of writing must be clear, without dubious or slang expressions.
Say, you count on the administrative assistant job. Then write "I would like to become an administrative assistant of your company and use my skills to ensure an effective environment for your team."
• Avoid using long sophisticated sentences. Try to express one thought with the help of twenty-five words or less.
• Combine the compelling style and modesty.
We sincerely wish you success in the job search! Our team is nearby to support you at any stage of this process.
Cover letters assistance from AI: Do you believe in it?
There comes the time of virtual assistants and online instruments. Documents for professional development can be created by AI-driven algorithms too. For instance, check out Zety or Resume Genius. This is how it works.
1) Input your data
The user has to give replies, that is to download information to the program.
You'll be asked to mention your contact data, professional duties, previous jobs, training courses, and other related facts.
2) Opt for a background
It is possible to pick the relevant cover letter sample from the database.
3) Let the program work
The software combines your answers, inner templates of phrases, and puts them all together on the first draft of the cover letter.
4) Edit the final draft
All the sections of the ready-made cover letter are editable. One can insert any additional words and sentences. It is also possible to delete the information.
Of course, for now, a virtual assistant (cover letter creator) is not perfect. Files generated by this tool always require further editing.
An administrative assistant cover letter example
We understand that theoretical recommendations can sound vague. It happens that one visual example can teach you more than hundreds of words. Here is a good administrative assistant cover letter example.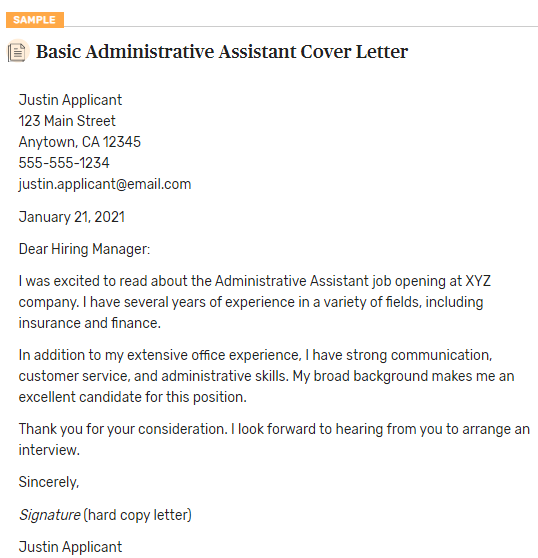 Image source
Numerous websites offer free examples of cover letters. They can be easily downloaded, and they cost you nothing.
Be precisely attentive when using templates and examples.
• Replace others' private information
If you're not Justin Applicant, change this name not to astonish a hiring manager. There are at least three places where it is mentioned in this sample: the beginning, signature, and email. The same is about other private data.
• Focus on your target
Do not rely fully on the standard administrative assistant cover letter samples. Apparently, the job you want to obtain is for a real unique person but for an imaginary average candidate.
Thus, "Dear Hiring Manager" sounds generalized, so add the name. Describe your own management roles, highlight skills, depict your work process, etc.
• Format your text
Pick one font to write the cover letter; do not overdo with Italic or Bold parameters. Everything must look harmonious in your assistant cover letter.
• Double-check everything
Revise the text of your assistant cover letter before sending it to the recruiter. The cost of your mistake can be extremely high. For instance, they can send a reply to the wrong email.
Let your administrative assistant cover letter look unique and personalized. If you cannot cope with it on your own, please, become our dear client. Apart from tips on career documents, we specialize in writing assistance too.
An assistant cover letter sample: is it a good idea?
We believe that cover letter samples work well only as sources of inspiration. You're free to analyze them and come up with your own version.
The template implies a standard solution, meanwhile, uniqueness is appreciated by practically every modern corporation. Show that you are a candidate with good imagination skills — send your one-of-a-kind letter. If you require an assistant, cover letter specialists from our agency are always willing to assist you with that.
We look forward to your message on the chat — let's discuss your cover letter! We have a bunch of practical insights on how to make this document. Place an order on our portal!