Cover Letter for Sales Executive: Expert Tips & Examples

Write a winning C-level cover letter
Sales executives are the most important people in the organization when it comes to expanding markets, driving sales, and increasing revenue. To achieve these ambitious targets, sales executives establish a new business, negotiate contracts, review sales performance, and develop marketing campaigns. However, to successfully advance your executive sales career, you need to master one more crucial skill – cover letter writing.
Your cover letter is the first document the employer sees, so consider it as a sales pitch. Ideally, your letter should spark the interest and encourage the hiring manager to read your resume top to bottom, and then invite you for an interview. And this target is achievable provided that you take that cover letter writing seriously.
In today's guide, our resume writers online will explain as follows:
What are the elements of a strong sales cover letter
The do's and don'ts of an executive letter, and
A professional cover letter example.
A powerful cover letter, created exclusively for you
A cover letter is your introduction to a target employer. Not only it will be compared against the letters of your competitors, but also your professional competencies, career history and communication skills will be evaluated. With this in mind, you want a flawless, error-free letter that clearly articulates your professional value. The resume wizards of Resumeperk.com can prepare a compelling custom cover letter that humblebrags about what makes you a perfect fit for that sales executive or VP of Sales role. The writer will work on your letter until you are fully satisfied.
Why submit a cover letter along with your resume?
The whopping 45% of recruiters will reject a resume that goes without an attached cover letter. The situation is more serious with the C-level position. The cost of the wrong hire is higher; hence the recruiters are pickier about the candidates. Since your sales role implies heavy interaction with high-profile clients, relationship building and communication, the hiring manager can easily see these qualities – or lack thereof – from your cover letter. A focused, concise, error-free letter increases your chances for an interview dramatically.
Sales executive cover letter: how to write?
The essential elements of any cover letter include contact details, introduction, body, and closing. Your C-level letter is no exception from this rule. Here are a few guidelines for you to follow:
• Address the hiring person by name. A student or entry-level professional may write 'Dear Hiring Manager', but as a leader, you are expected to have better etiquette.
• Show how you learned about the position. It's better to avoid saying 'I found the listing on a job board'. The best strategy is to show your connection with the company. For instance, you might say that a friend working for them recommended you to apply, or that you've spoken to someone during the conference and heard that the company was hiring new sales teams.
• Focus on accomplishments. As a leader, you will need to deliver tangible results. So, show how you gained previous results in the past – for example, increased market share, surpassed sales quotas, grew customer base, and built high-performing teams. You might also mention whether you encourage teamwork or individual work with your subordinates. 
• Close confidently. It takes confidence and even aggressiveness to a certain extent to succeed in sales. So, keep the tone of your letter confident and persuasive. In the closing, say that you will follow up about the progress of your application and express the confidence that you're an ideal fit for the opening.
Skills and competencies for a sales executive
In addition to listing your previous experience and accomplishments, your letter should also showcase the skills that the employers look for in successful sales leaders. The specific skills you'll want to mention depend on the particular position and your strengths. If you don't know which skills to focus on, here are some suggestions for you:
• Persuasion and negotiation
• Decision-making
• Strategic planning
• Marketing campaign development
• New business development
• Brand awareness
• Account management
• Client acquisition and retention
• Team building and motivation
• ROI analysis
While you may want to list these skill names in a resume, avoid doing so in a cover letter. Instead, give the real situation when you applied these skills and how it helped you achieve the goals set. Being a sales leader is stressful, so take a look at these ways to eliminate stress at work as recommended by our experts.
Want to obtain a sales executive position in the tech industry? Here are some tips to help you out: http://resumeperk.com/blog/how-to-start-a-career-in-tech-10-expert-tips.
Cover letter do's and don'ts
Writing a persuasive cover letter that will wow your target employer is a tough task. To help you out, we've collected some extra writing tips:
Do's:
Do tailor your letter for a job posting. Employers are looking to hire someone who speaks the same language as them. Moreover, relying on the job listing while writing will help you make that letter more relevant to the employers' needs. For example, if they are looking for someone to maintain and grow customer base on the existing territory and speaking a lot during the trade shows and demonstrations, do highlight these abilities in the first place. Being highly relevant will ease your way through the ATS and build a connection with a human recruiter.
Do use a PAR approach. The 'problem-action-result' approach in writing is the most efficient one for describing your successes in a cover letter. Instead of writing that you 'Increased sales by 55% during a year', write 'Redefined target market and improved market positioning resulting in sales boost by 55% during the first year of employment'. This approach shows your ability to solve actual business problems creatively and deliver the expected results.
Do show your connection with a target job. It goes without saying that you are writing a letter to get hired. However, your cover letter needs to focus on something beyond this simple reason. You might want to mention that a friend recommended you to apply and suggested that your experience would be of great use. Or, you might want to reveal a personal story that shows your connection to the brand and its products/services. Your letter can also address the challenges the company is currently facing, and suggest how you would handle them if hired. All these methods will show you as a candidate who wants to work for this particular company, which skyrockets your interview chances.
Do keep it brief. Recruiters who search for executives are time-pressed. Even though the executive cover letter may be a bit longer than those of an average professional, make sure not to exceed one page. 4-5 paragraphs will suffice to uncover your relevant experience, accomplishments, show your work ethics and personality. So, focus on the most important milestones of your career firstly as well as on the accomplishments which prove that you can make a difference.
Are you returning back to the office after maternity leave? Follow these expert tips to make the transition easy: http://resumeperk.com/blog/going-back-to-work-after-baby-tips-for-parents.
Don'ts
Don't list all the responsibilities and accomplishments you've ever had. Since you've made it to the leadership role, you've probably had lots of jobs and multiple accomplishments you could brag about. However, be very selective. Choose 2-3 the most impressive achievements which align with a particular job posting, and expand on them in detail. This approach will make the letter concise and focused, at the same time allowing you to present your working style and approach to solving problems.
Don't reiterate your resume word for word. A cover letter isn't a pure formality – many recruiters do read them and will reject your application if your letter simply repeats the facts from the resume. The letter is meant to add up to a resume. For example, if your resume says that you've increased brand awareness by 58% in one year only, in a letter you might explain that this was achieved through redefining the target market, launching social media and email campaigns. This approach will make your letter truly informative and will 'sell' your professional skills.
Don't submit a letter without proofreading. Have you heard that 59% of recruiters will reject a candidate because of grammar or spelling issues? Give your letter a few rounds of editing and proofreading before sending it out. Print it on paper to see it with a fresh eye, read aloud to spot awkward wording, and use online spell checkers to detect smaller mistakes. A spotless cover letter will add up to your strong professional impression.
The example of executive sales cover letter
Now that you know the principles of effective writing, let's take a look at the letter example. This letter will give you an idea of how a successful letter should look like, the overall letter structure and the tone of voice. However, avoid copying the parts or the entire letter, as your own letter should be unique and based on your experience.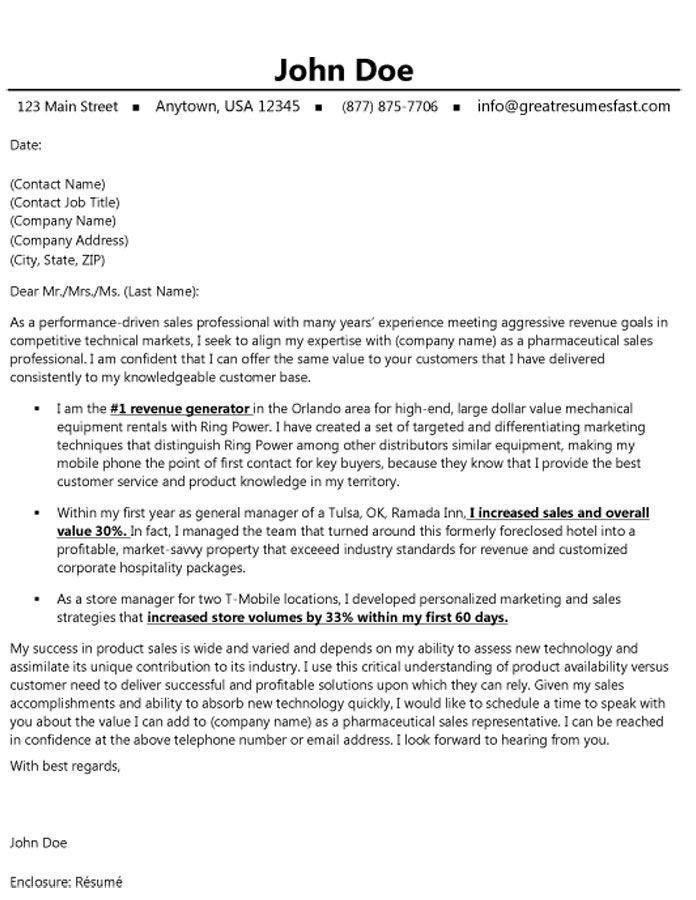 Image source: https://i.pinimg.com/originals/db/d2/4f/dbd24f3b38b5561ca4886399aa34b3b2.jpg
As you see, this candidate successfully highlights their professional accomplishments and recognition, explaining which steps they took to meet their ambitious goals. The letter uses persuasive and aggressive tone of voice as recommended for sales executives. It also uses bullet points to draw attention to the results the candidate delivered in the first place.
3 tips to get prepared for C-level interview
Once you've made it to the interview stage, you'll need to master interview skills to make an excellent impression in person. Here are some pointers for you to get perfectly prepared and ace your next interview:
Research the company and the target industry. C-level professionals determine and execute strategic vision within the organization. Hence, they are expected to have a broader overlook than simply knowing what the company is doing. Research the company in deeper detail so that you could discuss its challenges and goals with the interviewer. Also, learn the industry trends and news to show that you are aware of the company's business surroundings.
Define your personal brand. There are lots of accomplished sales executives you'll have to compete with to get the job. Hence, simply showing the results you've achieved in the past and answering the questions about your strengths and weaknesses is not enough to impress the interviewer. When preparing for an interview, define your personal brand – traits, professional values, leadership style and attitude to work that differentiate you from others. As you answer the questions, keep that brand in mind and highlight your strengths.
Dress appropriately. As an executive, in most cases you are expected to wear a business suit for an interview. Since the dress code assumes wearing conservative suits, it's difficult to get remembered when you wear the same black trousers and jacket as everyone else. The experts recommend that you add a splash of color to your attire, be it a bright tie, colored shoes or an eye-catching (yet, still professional) accessory.
Tailor your cover letter for the job posting, using the same language and highlighting the skills and attributes that the employer requests for in the first place. Being highly relevant will ease your way through the ATS and build a connection with a human recruiter.
Get your resume evaluated by a professional
Now that you know how to craft a compelling cover letter, it's time to make sure that your resume is up to scratch. Our website offers a free resume evaluation for professional and executives. Email your resume to us, and one of our resume makers will describe its strengths and areas for improvement to you.
Looking to get professional executive resumes right now? Seek no further: we offer resume writing at a competitive price. Ongoing communication with your writer and unlimited revisions are included. Order today to get a 20% off your first order with us.