Cover Letter Help for Finance Professionals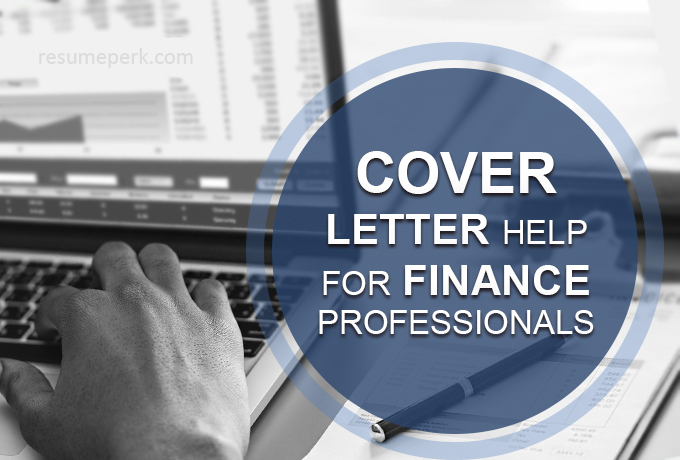 Are you a finance/accounting specialist looking for a new employment? Then, keep in mind that the financial services companies expect to receive a well-written covering letter along with the resume in response to their job posting. And although submitting a cover letter is obligatory, don't treat it like a pure formality: a poor cover letter will scupper your chances of getting an interview.
What if writing isn't your cup of tea or you lack time to write and rewrite your covering letter over and over again? In this case, consider contacting professional resume writers Chicago for a covering letter that will sell your financial expertise best for your future role.
Take advantage of a reliable cover letter helper
Although the rules of writing winning cover letters are similar for all industries, every field has its specific secrets to crafting effective cover letters. Financial services sector isn't the exception: you need to write your letter in a particular way and add certain information to become top of mind for a hiring manager.
Cover letter writers of our team have rich expertise in building interview-winning cover letters for finance and a cover letter expert counting professionals. Our writers are well aware of what the employers expect from a potential candidate; therefore, they can create a strong letter for you and help you avoid the most common cover letter mistakes. Don't lag behind with your job search – get your application documents done by an expert and increase your chances for an interview.
Also in this section:
Help writing cover letter for finance industry: 10 tips
Succeeding in a finance position takes accuracy, high attention to detail, and orientation at increasing profits. Consequently, these are the traits that your cover letter should communicate at the first place. Here's more advice on building an attention-grabbing cover letter:
Start strong
An effective resume typically starts with summary of qualifications that highlights your areas of strength at a glance. The same should be done in your cover letter. Avoid the standard openings like "I am writing to you in response to your advertisement in … and I would like to join your team". These introductions are used in nearly every cover letter and won't help yours stand out.
Instead, summarize your key professional strengths in the first paragraph to capture the reader's attention. Don't speak about your needs yet – an introduction should be solely focused on what you expect to deliver for the company. Avoid copying and pasting the information from your resume – a cover letter should serve as an addition to it.
Note that a cover letter is typically written after your resume is complete. If you have troubles putting your finance resume together, here are a few tips to help you out: http://resumeperk.com/blog/must-dos-and-donts-for-modern-resume-you-should-know.
Add relevant finance keywords
Just like the resume, your cover letter will be ran through the applicant tracking system to evaluate your match for the role. And if it doesn't have enough keywords, you'll miss the chance for any further consideration.
The most reliable source of keywords is a job posting. Read it carefully, highlight the required skills, qualifications, certifications and education – these are likely the keywords you are looking for. Include as many keywords as possible, and concentrate the most important ones at the top of your cover letter – some ATS pay attention to the place in the cover letter where these keywords are used.  For instance, if you are seeking a financial analyst job, such keywords as business modeling and financial analysis definitely should be used in your cover letter.
Use as many figures as possible
Since figures are your second language, adding relevant accomplishments with figures will help your cover letter to get noticed. Giving the prospective employer numbers and percentages will not only show that you're qualified, but also will demonstrate your ability to communicate the numbers to a relevant audience and persuade the decision-makers. Tip: use digits rather than writing the numbers with words – digits and percentages capture the reader's attention and your accomplishments will surely be noticed.
Address the person by the name
Finance hiring managers don't tolerate inattention to detail. One of the common displays of such inattention is addressing your letter to 'Dear Sir' or 'To whom it may concern'. Recruiters who are especially picky will disqualify your application after a salutation like this.
Always address the hiring manager by their name, including titles, if any. If the job advert doesn't give this information, you have LinkedIn at your disposal; it's also acceptable to call to the company and find out whom you should address the letter to. Personal attitude always pays off. If, despite all your efforts, you haven't managed to find out the person's name, stick to the 'Dear Hiring Manager' option.
Apart from attention to detail, there are a number of personality traits that turn you into a wanted employee. Check out all of them here.
Incorporate an effective structure
Coherence, sharp focus and logical skills are a must for established finance and accounting professionals. However, don't use these skills as buzzwords – it's much easier to communicate them to the prospective employer through concise writing and structure.
So, how do you structure a cover letter? Ideally, it should be 3-4 paragraphs in length, depending on your experience, but don't exceed one page (it is considered outdated even for finance executives). The first paragraph is an introduction – as mentioned above, it is used to showcase your key selling points and express your interest in the role. If you have a recommendation, include their name at the very beginning of the letter. The second and third paragraphs are used to give a few highlights of your accomplishment, relevant skills, professional and educational background. The closing paragraph is typically the shortest one; it expresses common courtesy and a call to action.
Tailor it to the company needs
There are several reasons why one-size-fits-all covering letter do harm to your job search. Firstly, they generate little feedback – the vast majority of such letters are trashed by the ATS. Secondly, hiring manager who has scanned hundreds (if not thousands) of resumes, can spot such resumes at a glance by looking up for cookie-cutter phrases. And finally, when looking at such a letter, they see a candidate who didn't bother to find out about the company and it needs.
An effective cover letter is always tailored to the specific company and role, and this tailoring is not limited by keyword staffing. Do your research about the company's market place, their challenges and the expectations from the opening in a finance department, and address those needs. If you can share the success in handling the kind of problems the company is facing, it will increase your chances for interview dramatically.
Follow the employer's instruction
Employers often instruct the candidates on where and in which form to apply for the opening. The standard application includes a resume plus covering letter. If the employer mentions that cover letter is optional, be sure to send it in anyway. However, if they specify to apply with resume only, don't bother them with a letter (this is a rare exception, though).
Note that some of the employers will also give the instruction on what to include in your cover letter or its appropriate length, and you should follow those directions closely to be considered.
The hiring process for some financial or investment openings includes phone interview before a face-to-face one. Find out how to prepare for phone interview to make it to the next stage.
Proofread with utmost attention
You won't have the second chance to make a first impression with your cover letter, so don't let this impression to be spoiled with an occasional typo or missed comma. As mentioned above, finance hiring managers are especially picky, so your letter should be flawless in all aspects – otherwise, they will reject your application without taking a look at your resume.
Proofread it for several times by yourself – print it out, read it aloud and use other proofreading techniques that writers and editors use. Then, ask your family member or a colleague to proofread it for you once again. Ideally, get help with cover letter by a professional editor – we offer cover letter editing at an attractive price. An editor will spot and eliminate not only the obvious errors, but also advanced issues you never knew existed.
As a finance professional, you also need to make a factual check before submitting your application. Double check the company names (they might have changed), addresses, figures and percentages used to avoid confusion.
Remember that a covering letter serves as an introduction for your resume, and if you manage to engage the employer with your skills, credentials and accomplishments, your resume will get more consideration. Moreover, a well-crafted finance cover letter can motivate the hiring manager to invite you for an interview even before they read your resume!
Why hire our career expert for your cover letter?
A well-thought-out finance cover letter improves your chances to receive a dream job in the financial industry. We know how to convince your future employers that you are a worthy candidate for the particular position.
✓ Wide knowledge about how to write a cover letter, create resumes and other career documents
Our job is to assist people with texts for career promotion. We constantly research offers from job hunting agencies and employers to stay informed about their expectations. As a professional resume writing agency, we have enough theoretical knowledge of how to write persuasive and meaningful letters.  
✓ A database with finance cover letter examples
For years of fruitful experience in this writing business, we have collected a bunch of unused drafts. Obviously, we won't blindly use a finance cover letter sample to come up with a career document for you. Still, such materials bring new ideas and inspiration. Plus, a draft with the right resume format can serve as an initial file for a future custom document and, thus, save time. 
✓ Proven track record in writing job application documents
Our team has already helped hundreds of candidates to win finance jobs. We are proud to have such a big client base. For now, we are aware of all the nuances, pitfalls, trends, etc. If you need an efficient cover letter with a modern twist, you are in the right place. Get the best digital copy of your career document here. 
✓ Wide specialization in creating documents for job seekers
Our resume and cover letter writing services are in high demand today. We are glad to compose career documents for all levels of specialists, including finance internship, financial advisors, senior-level experts, etc. 
✓ A personalized approach to cover letters
When we work on your CV, create cover letters, or any other career documents, we always find optimal solutions to your specific issue. Our employees carefully analyze your:
job title; 
specifically stated points of the job description;
facts from your Linkedin profile and other personal documents (i.e. companies referred to in your CV and resume, such references give helpful information on your professional background);
specifics of your profession. 
What makes an awesome cover letter for finance jobs? Tips from experts
It all begins with your future employer. An efficient cover letter is one that shows your value to the respective holders of the company. And the best solutions lie at the intersection of your professional capacity and personality. 
Come up with a wow introduction.
Let your cover letter be visually organized (come up with a logical structure, use bullet points if possible).
When demonstrating relevant finance skills and experiences, try to show more figures. 
Highlight your enthusiasm for the finance positions. 
Where to find a perfect cover letter template
✓ Use a free generator. Such websites as Jobseeker, Zety, Canva offer free online cover letter builders. One can find a perfect resume template or a cover letter example there. 
✓ Get inspired by good examples. It is possible to find a perfect CV template on the web. Try to google this phrase, search on Pinterest or websites specializing in resume writing services. 
✓ Purchase a ready-made cover letter from professionals. Maybe you are not interested in too popular, dull, or any other cover letter examples. Please, turn to our team, and we'll compose an impeccable document for you. 
We hope these tips will make you stand out among other applicants. We sincerely wish you success with the search for your finance job! 
Need a cover letter for your next finance role? Get it done by a professional writer
If writing your cover letter seems overwhelming, let us know. We staff resume writers who specialize in many industries, from finance and accounting to technology, sales and nonprofit. Just send us your resume and a job posting, and get a professionally crafted, perfectly tailored cover letter with attractive design and relevant keywords. Rush delivery is also available – if you need a cover letter as soon as possible, we can deliver it to you in less than 24 hours.
Entrusting your cover letter writing to a professional will release you from stress and give you more time to prepare how to ace a job interview.
Popular Posts: