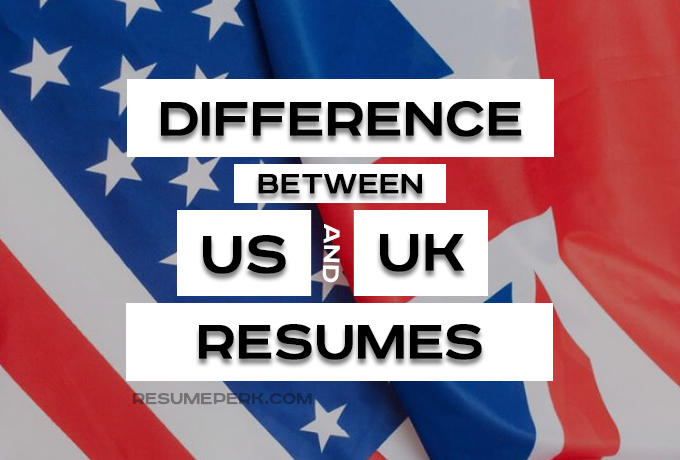 Ever wanted to apply for a job abroad? Then, watch the resume you send in to avoid the confusing situations. The rules of business world vary from country to country, and the documents used for job application are not the exception. And the standard "Please apply with a CV" might mean totally different things in the US and Western Europe. The practices CV writing service UK uses are also different from the American resume writing rules.
Today, a certified professional resume writer will explain the differences between the US and European resume (for instance, British or German one). Upon learning those differences, you'll know how to create a resume in England for a foreign job, learn how to tell a CV in england from resume and demonstrate your knowledge of cultural differences in business.
Also in this section:
What is the difference between a CV and resume?
Basically, a CV or curriculum vitae is the document that embraces all your academic and professional history. It has more sections (such as Academic publications, Conferences, Community involvement, etc.) and is usually longer than a resume. A resume, in its turn, is focused solely on your professional history. It only shares the information which is relevant for the employer and the prospective position. Now, before you start writing a CV online UK, let's have a closer look at the international resume differences:
Length
In the US: An American resume is traditionally a document one page in length (if you are at the beginning of your career) or two pages (if you are a professional with 10+ years of extensive experience). A CV length starts at 3 pages – and 10 pages are not even a limit. To learn more about the appropriate resume length, please click here: http://resumeperk.com/blog/perfect-length-of-your-resume
In Europe: CV services UK state that the perfect length for a European CV is 2-3 pages. However, note that there's a slight discrepancy between the term CV in the US and, for example, UK. In the United States, CV is only used to apply for academic, teaching or government positions. Otherwise, you need to apply with a resume. In most Western European counties CV and resume terms refer to the same type document which is used in all industries.
Personal information
In the US: American standards of resume writing only allow you to share the contact information on your resume. No photo, no marital status or anything that might refer to your ethnicity, age or race. This is considered unprofessional and most employers don't accept such resume to avoid claims of discrimination. There's one exception that allows you to attach your photo: if appearance matters for your career (for instance, modeling, acting, etc.)
In Europe: It is acceptable to share some personal information in a CV, as well as photo. Usually, it is limited to marital status and age. You can add more information, but that's optional: the employers don't usually ask for it (unless otherwise is stated in a job posting).
Education
In the US: When writing an American resume, you are expected to put high school information only if you haven't earned any college degree. Moreover, if you have a MA in Marketing, you can omit the Bachelor's or Associates' degree in the same field. If you have graduated over 5 years ago, it's not necessary to include any detail about your college such as awards, scholarships, etc. – just the school name and the major.
In Europe: A European employer expects to see some information of secondary education – at least the school name. CV writers UK recommend that you specify all the milestones of your education, including the degrees which aren't relevant to the potential job.
The content
In the US: The US resume is often mentioned as a 'marketing document'. This is true to some extent – an American resume is often rewritten many times to fit each specific job opening. You aren't expected to be detailed about all your experience – you need to include only the relevant professional background, education and achievements.
To learn more about how to make your resume flawless, check here: http://resumeperk.com/blog/tips-for-flawless-resume-proofreading
In Europe: A European CV provides the overall picture of your experience and strengths as an employee. It has the same tone as an American resume, but, unlike the latter, it's not so limited in space – as you remember, it's normal for a European CV to be 2-3 pages in length. Thus you can be more detailed about your career history, responsibilities and strengths.
Personal interests/Hobbies
In the US: It is not uncommon to list your hobbies at the end of the resume. It is assumed that they don't add much value to a potential employer. However, if your hobbies are highly relevant to the job (i.e. learning foreign languages if you apply for a job as an export manager), be sure to include them at the end of the document.
In Europe: European CVs often contain the information of applicant's hobbies – and often they take more than one line at the end of the document. So, when applying for a job in Europe, be sure to add more personality to your resume. Moreover, you'll benefit from the helpful tactics to submit resume online
Reference list
In the US: A resume has to be short and up to the point, so you don't have to put your references there. References available upon request make no sense as well. So, when applying for the US job, you shouldn't list the references on it. However, do prepare a separate list of references to bring it for an interview or provide on demand of the employer.
In Europe: CV typically includes a list of both professional and personal references. You'll need to provide them in a traditional format (i.e. name, organization, phone number, e-mail).
Skills
In any CVs and resumes worldwide you can feel free to add Skills section if you feel the need to. It is not obligatory, however, it gives the employer an outlook at your biggest strengths at a glance. Computer and language proficiency, professional software, leadership and industry-specific skills – all of them belong to this section. It's better to use bulleted lists for skills to make them easy noticeable at the first page of your CV/resume.
Objective/Summary section
In the US: Using a resume objective is considered obsolete and is appropriate for career changers only. In all other cases, you should use a summary which highlights your professional strengths and competences.  A summary is optional to use in CVs.
In Europe: It is acceptable to use both objective and career summary. However, if you opt for an objective, try making it unique and avoid copy-pasting like "professional looking for challenging role to develop his skills". If you find it hard to create a compelling objective, ask for help of professional CV writing services UK.
Conclusion
As far as you can see, there's a plenty of differences between the resume/CV writing in the United States and most Western European countries. And, if you want to succeed in getting a job overseas, you need to take into account the specifics of resume writing in the country given. Using the above tips, you can effectively create a free resume online and be one step ahead of the midst of other candidates!
Moreover, you might need a compelling cover letter to get your foot to the door. Here you can find free sample cover letters you can consult when creating your own one.
Looking to continue your career abroad?
Our certified writers with 9+ years of profile expertise can assist with creating application documents for you. A resume or CV, cover letter, and LinkedIn profile will be written for you at an affordable price and considering the specifics of the country and industry you're interested in. Moreover, you can take an advantage of our resume critique free of charge to find out whether your current resume is effective enough and what can be improved about it. It is free and doesn't oblige you to place an order.
Have you ever written a resume to apply for a job abroad? Did you get a job offer?
Popular Posts: