CV help: How to choose a professional CV writer?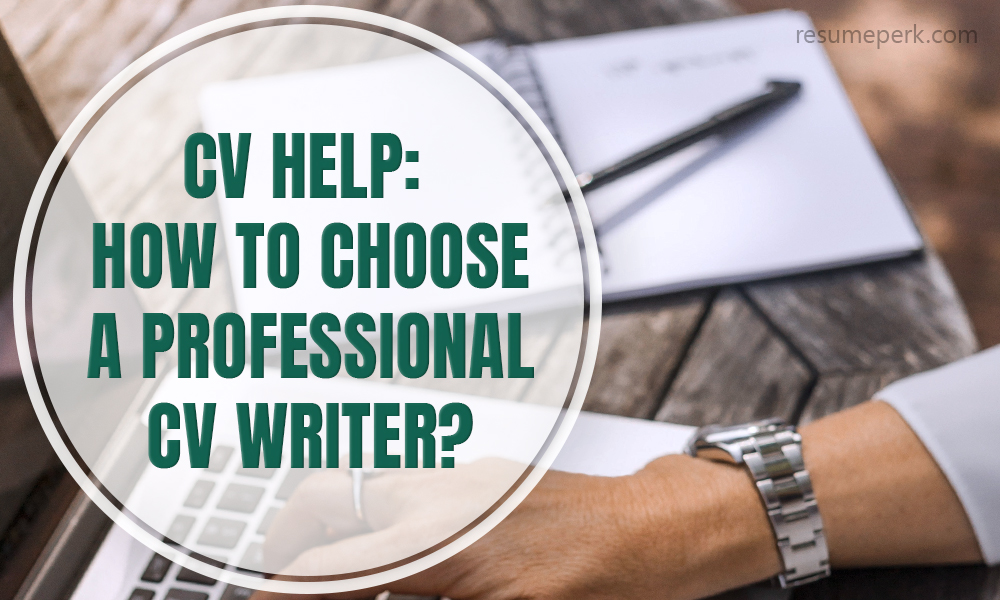 Today, the internet offers the abundance of resume writing services. Both small companies run by a single writer and big organizations staffing writers, editors and salespeople offer the help with resumes, cover letters, LinkedIn profiles and more. The price range is impressive as well – from $100 to $1000+ for a single resume or CV. However, decent professionals can be found in all price categories, as well as scams which will take your money for nothing.
So, how to choose a resume writer to complete your most important career document? Read on to learn how to pick the writer who can develop a quality product.
Why seek professional CV help?
Hiring a professional can do a lot of good both to your resume and career accordingly. Professional writers help you eliminate the worst resume mistakes, pass the ATS screening, and catch the recruiters' attention with punchy and quality writing. They follow the standards of modern resume writing to maximize your chances for interview and a job eventually. Moreover, assigning your task to a contractor saves time – think of how many hours you would spend writing, rewriting and editing your resume to create an attention-worthy copy.
Not every writer is of a big help, though.  Before you pay someone, make sure that the writer is qualified and experienced with your type of resumes.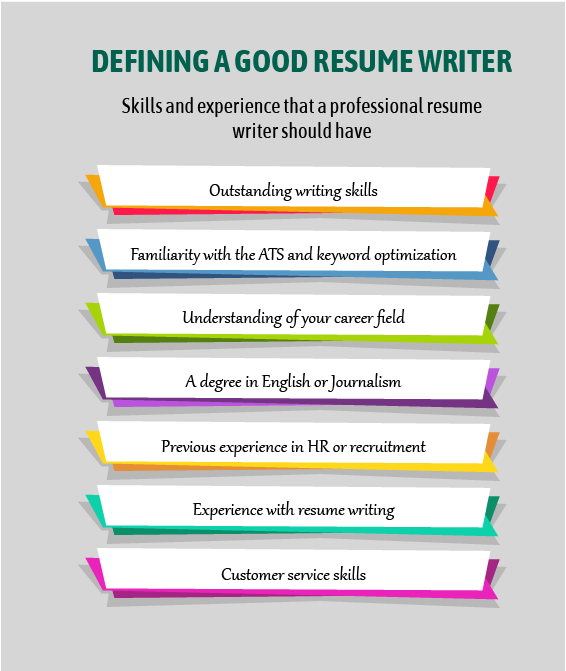 Get help with CV writing: qualifications a good resume writer should have
Strong writing skills
High-quality writing is just one of the attributes of a successful resume. However, without it, all further efforts in creating a sleek design or stuffing the document with keywords mean nothing. 59% of recruiters reject candidates because of the poor grammar and spelling.
Not only professional writers produce error-free resumes, they also pick the right words and phrases to better reflect the candidate's experience. As a result, thanks to the persuasive writing, people with professional resumes tend to find the job faster.
The easiest way to access the writer's capabilities is to browse their samples of previous work. At Resumeperk.com, you can check the resumes that our writers have created before in the Samples section of the blog. Along with the 'before and after' samples, we also share the strategy our writer used to highlight the candidate's strengths.
Familiarity with resume ATS optimization
The applicant tracking software is widely used by mid-sized and big companies for a reason: they weed out the irrelevant resumes, helping the companies save money on recruitment process. Unfortunately, if you don't know how to optimize your resume for passing the ATS, your resume will be sent to a 'resume black hole' before a human actually sees it.
Experienced resume writers know how to use power words for resume to help you pass an automated selection. What is more, they can maximize your resume's relevance for a particular job by tailoring it towards the job listing. As a result, you'll look like a perfect candidate.
Are you curious what personality traits should the perfect candidate have from the employer's perspective? Here's the answer.
Relevant experience in your industry
Some resume writers have previous experience in the industry they create resumes for. It allows them to spend less time researching and analyzing what skills and accomplishments are the most important for a job-seeker in this particular field. However, this isn't mandatory for a good resume writer. An experienced writer who has created dozens of resumes in your career field and knows how to use career resources is capable of creating a winning resume for you as well. 
A degree in English literature or Journalism
Resume writing is not taught in colleges or universities. That's why the preferred qualification for a resume writing is a degree in English, Journalism or similar one that has something to do with writing. University writing courses teach multiple writing styles, approaches and techniques, and some of them can be successfully used for creating resumes. And, as we've mentioned above, strong writing skills is what helps your resume stand out.
The earlier you invest time in your career, the faster your efforts will pay off. Learn the key things you should do for your career to reap the fruit after 35: http://resumeperk.com/blog/things-to-do-for-your-career-by-35.
Previous experience in recruitment or human resource
Many resume writers originally started their careers as HR specialists or recruiters. They've browsed thousands of resumes and maybe conducted interviews and know all peculiarities of the hiring process. Resume writers with this kind of experience understand what companies look for in candidates and how to highlight these traits to help the applicant get noticed. A sound understanding of the sourcing and hiring process 'from the inside' helps them develop a resume that speaks to employer's needs.
Resume writing certification
A resume certification typically means that the writer is familiar with all aspects of resume writing and has their skills confirmed by an organization that issues certificates. The most popular certifications for resume writers include CPRW (Professional Association of Resume Writers), NCRW (National Resume Writers Association), and ACRW (Resume Writers Academy). All of these certifications are paid – it also shows that the writer takes their career seriously and invests in it.
However, a certification itself can serve as a single proof of the writer's professionalism and skills. Many talented resume writers have no certification at all and still create exceptional resumes and have a steady number of customers. 
Years of experience
The writer's experience in creating resumes is probably one of the key factors that you should consider before paying them. Established writers with years of expertise in creation of resumes, cover letter, and curriculum vitae typically have an eye for resumes. They can determine the strengths and weaknesses of your application at a glance and fix the errors efficiently.
Our company only works with the experienced resume writers – our professionals have at least 1 year of experience in creating resumes. Seek no more for a professional company to get resume services – we can offer you the full range of services and the attractive bonuses as well.
High level of customer service
Creation of the first draft of your resume takes days, and after that you might need the writer to make amendments to the document. that's why it makes sense to access the quality of the customer service in the company you're going to work with. Ask them the questions about the process, turnaround time, guarantees and the writers' qualifications. Reliable companies usually have prompt customer support that works 24/7. Checking out the quality of customer service in advance ensures that you'll receive positive impression about the collaboration with the resume company.
Although not all of the above qualifications are obligatory for a good resume writer, the more of them your writer has the better.
Can a professional custom CV helper guarantee you a job? 
Since even the best resume writers have no control over the hiring process, they cannot guarantee you an employment. And if someone promises you a job, run – you are dealing with a scam.
What a professional writer should guarantee is the high quality of writing. Business writing style, strong action verbs, flawless grammar and formatting are all the essentials of a successful resume. Basically, this is how professionally created resumes are different from those quickly written in MS Word. And thanks to the high quality of writing and formatting, professional resumes pass the ATS software easier and generate more interview invitations.
Speaking about guarantees – at Resumeperk com, we guarantee the outstanding quality of writing for your resume. Firstly, each written resume is checked by an in-house editor to secure the perfection in writing, looks and punctuation. And, more importantly, if the newly created resume didn't fully satisfy you, your writer will revise it free of charge.
Pick a qualified writer and get help doing a CV online
A corporate job opening attracts around 250 resumes, and only 5 of them will land an interview. And, although a reliable writer won't be promising you a job, they can do something just as helpful for your career. An experienced writer can significantly improve your old resume or write a completely new one which will differentiate you from the midst of other candidates. It's important to find the writer who has the above qualifications we've listed: in this case, they'll help your resume stand out using the combination of writing, design and marketing skills. So, if you find your resume not much impressive, a bit of professional help can go a long way for you.
Our company is extremely picky about the writers we collaborate with – we only work with the experienced resume writers. We offer the full range of career documents you might need for the job search – check out the list of packages and prices. Moreover, if it's first time you've visited our website, you can get a personal discount code – contact us via live chat to claim yours.