How to Write a Chronological Resume: 7 Simple Steps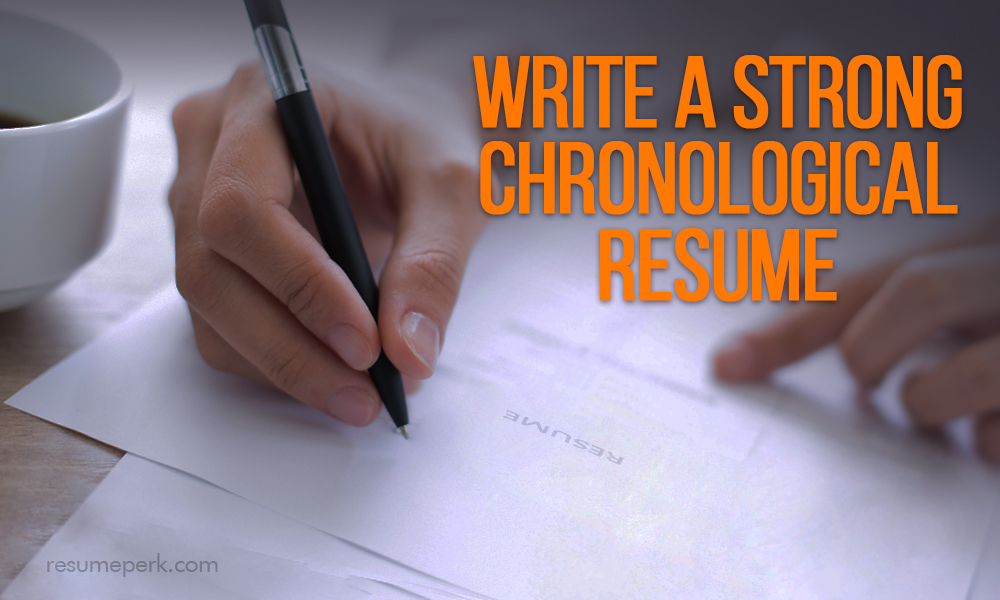 Your path to a new employment, a promotion or an internship starts with creation of a strong, convincing resume. Since you have 10 seconds in average to draw the recruiters' attention, each aspect of your resume writing should be taken seriously.
One of the controversial issues is picking the right format. There are different types of resumes, and each of them is more effective in a particular career situation. Chronological resume is the most popular one among the candidates of all career levels. And today, our professional CV writer is going to guide you through the process of creation of the strong chronological CV.
What is a chronological resume?
Chronological resume format is easiest to define as a resume emphasizing your professional history. It highlights all the juiciest facts recruiters typically seek for – company names, job titles, and past experience relevant for a target position. We'll share our of online resume writing tips for composing your resume below. The key fact you should remember is that your career history starts with most recent job and goes back in the past – that's why a resume is called reverse chronological.
Millennial HR managers favor chronological resumes as well as they allow to quickly evaluate the candidate's background and expose the 'red flags' if any. As you might remember, recruiters only spend between 6 and 10 seconds for each resume, and this resume is easiest to quickly browse through.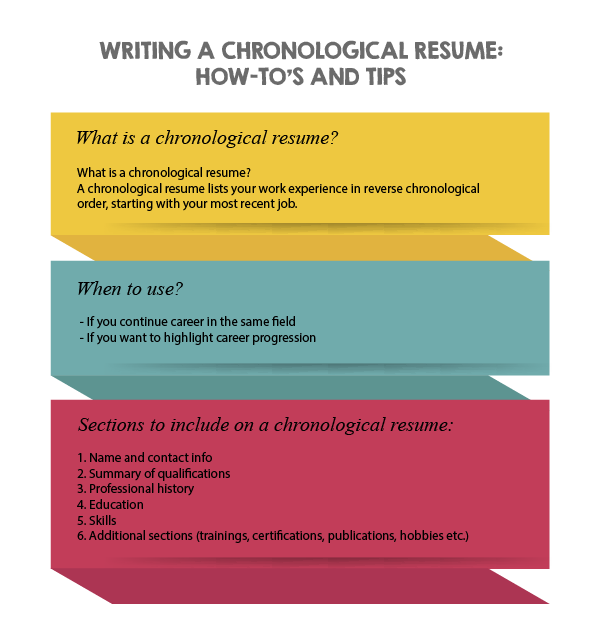 If you've went through the ranks or gained years of solid experience in the same industry, a resume chronological order will help draw the reader's attention to this important information.  If you already have a written resume, consider relying on professional resume editing to ensure it's free from mistakes.
Reverse chronological resume: What to include?
Depending on the resume type, the structure and the components of your resume will vary. As you approach writing a resume, consult the guide below and go step by step so as not to miss any important information. So, here are the sections your chronological resume should contain:
Your contact info – Name goes boldfaced at the middle of the first line, followed by your contact details. This includes:

address – city and the street are sufficient;
cell number;
email – the one that looks like 'janethmccarthy@gmail.com', not 'instagramqueen@aol.com';
LinkedIn URL – optional, but if you have an active professionally-looking profile, go ahead with it.

Professional summary or objective – this is an optional section, but I strongly recommend that you use it. Summarize your experience into 3-5 sentences that best define you as a professional. Spruce up this section with figures, accomplishments and key skills and mention how these specific strengths relate for the job you're applying for. To ensure its relevance for the role, write it for a specific job and add your target position's name. If crafted well, a summary for chronological resume format will motivate the recruiter to read the document through.
Work experience – this section is the biggest asset of your resume. Simply listing everything you've ever done is the simplest strategy, but it won't get you hired.
Try making your bullet points not task-driven, but result-oriented. Start each bullet with an action word. Outline the problem you were tasked to solve, show what you've done and the result. This is called a PAR (problem-action-result) approach. For instance, you can say 'Consulted clients in the store' or 'Applied innovative sales techniques to increase an average check by 35% and ensure client satisfaction'. Which statement sells your skills better?  
The length might be any you deem sufficient to show off your successes and potential. However, experts recommend sticking to 5-6 bullets per role.
Education – put your most advanced degree (for instance, PhD or Master's) first and go backwards just like you did in the experience section. If you have any college degree, even the incomplete one, omit the high school.
Pro tips for students: If you're the UK or American student, put this section above the work experience. Mention the academic awards, honors, and relevant coursework – all this is appropriate for students and graduates.
Just like there are different resume types, the types of interviews you might be invited to vary as well. For example, there is a structured interview, group interview, panel interview, and behavioral interview. The latter is considered to be tough – but not with our expert advice: http://resumeperk.com/blog/behavioral-interview-questions---and-how-to-answer-them.
Skills – only include job-relevant skills. Examples: IT skills (such as software proficiencies, programming languages and more), foreign languages (fluent German or French will be a huge plus for international companies), job-related skills and soft skills (such as problem solving, project management, conflict resolution, etc.). If you've used our advice on how to start blogging and set up a professional blog, this deserves being mentioned on your resume too.
Training/certifications – this isn't one of the mandatory parts of a resume, but if you have state licensure, a prestigious certification or have passed relevant training, include them. This information adds your value as a candidate for a hiring manager.
Volunteering – another additional section that presents your unpaid experience. If you're a student with lack of relevant experience, you can list the voluntary positions under the Work experience section.
Hobbies and interests – show your personality and highlight personal interests to help your CV look more human. However, generic statements such as "music, cooking, cycling" cannot evoke an all-important personal connection with the hiring person. Be more specific about your interests:

Star Wars movies
The Far East traveling
70s classic rock, etc.

References – in some Asian countries, it is still common to include the references into a resume. You can simply mention that they can be provided upon request.
Using our above guide, you'll create a resume emphasizing your career progression with ease. As you have completed the writing, don't forget to proofread the paper, correct mistakes and apply an eye-grabbing formatting.
Strive for the clear writing
Another important component of a strong resume is a clear, concise writing. How to achieve it? Firstly, give context to your job descriptions. Instead of 'Supervised cashiers', write 'Oversaw the work of team of 7 cashiers, ensuring 100% billing accuracy'. Secondly, avoid using jargon or internal company language. Stay on the commonly accepted names of processes and software. And finally, write in a plain language which will be accessible for associates who might be the first to review your resume.
Land your next job with a strong chronological resume sample
Chronological resume definition is pretty self-explaining about its purpose: to draw attention to your relevant professional experience and career progression. With today's competition for the corporate job openings, it's often necessary to go an extra mile with your resume to make sure you get noticed.
A poorly written resume can let you down even if you're ideally qualified for the job. If you doubt the quality of your resume, an experienced editor of Resumeperk.com can review your curriculum vitae for free. We will point out the strengths and weaknesses of the paper. If you want to receive a personal assistance with writing a winning resume, explore our affordable prices for resume assistance. 20% first-time discounts available off your first order with us.