Resume VS Curriculum Vitae (CV) Difference & Writing Tips
The Difference Between Resume and a CV
Going to apply for a job? Start by figuring out what document the prospective employer expects you to apply with. The two most popular types are CV and resume, and these two terms often confuse job-seekers. Although these documents look similar at the first sight, there is a difference in writing them and each document type has its purpose. Today, our online resume writers are going to explain the difference between the CV and resume and share a few professional writing tips.
A quick note: if you want a CV/resume prepared up to the most recent standards, let our assistants help. The talented writers of Resumeperk.com have all the right experience for composing a resume that will truly impress the recruiters. The writer will focus on your strengths and showcase the exact qualifications employers are looking for.
The main differences between English resume and CV [Infographic]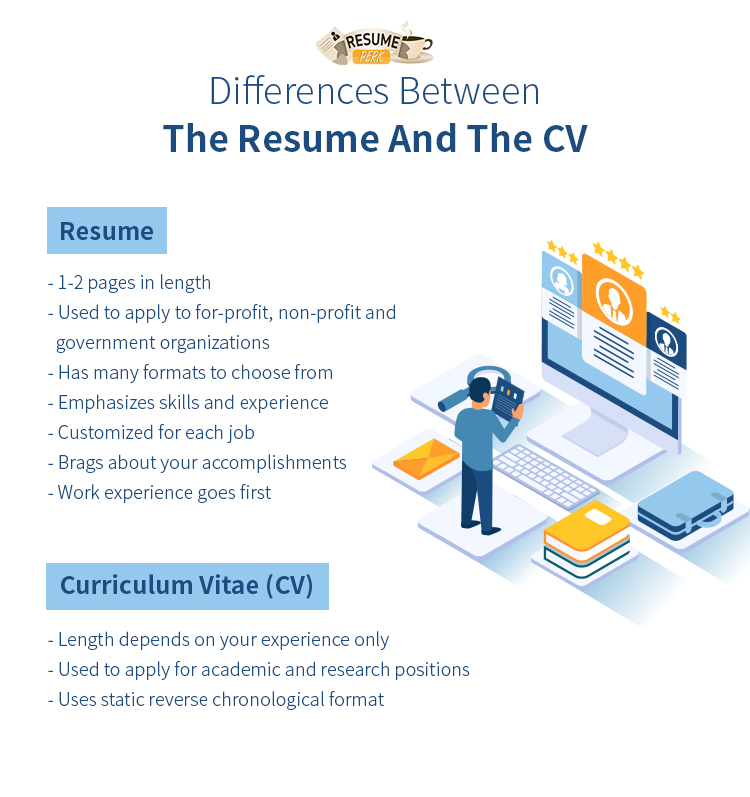 The length
CV – as you can see from the infographic above, curriculum vitae doesn't have length limitations. If you have impressive academic accomplishments and rich work history, take as many pages as it's necessary to reflect your credentials. You won't surprise anyone with a 15-page CV. Moreover, the more is considered better here as it shows the candidate's involvement with research activities, teaching, and publications.
Resume – recruiters and career coaches have a common opinion here: a resume shouldn't exceed two pages. Third page might be forgiven to C-level and technical job-seekers. It's easy to evaluate the candidate's skills and competencies upon reading the half of the first page, so long resumes make no sense. Because of length limits, candidates should prioritize their career information and only include the most relevant details.
The purpose
CV is used primarily for academic and teaching positions or to apply for grants, research programs and scholarships. It has the purpose of showing off the candidate's education, publications in journals, presentations at conferences, certifications and research projects. CVs are credential-based, so the more of these credentials you have, the higher are your chances for getting a job.
Resumes are used for the rest of jobs in the US. Most non-profit, for-profit and government employers expect to receive a resume. However, there might be exceptions for some law and executive positions. When you apply to a small local business or corporation, what interests the employer in the first place is what you can bring to the table. Hence, resumes are focused on professional competencies, relevant experience and accomplishments.
The format
CVs have a static format. Objective or summaries of qualifications are optional (although our writers always recommend including them). CV starts with an education followed by academic experience such as teaching, research projects, publications, honors and awards, professional affiliations and work experience. The approach to writing is simple: you add the sections you have information for, and list all your experience and credentials regardless of the relevance to the position you're applying for.
Resume has more than one format, and deciding which format to use is up to you. The three main formats are chronological, functional and hybrid. The order of subsections and the general structure of resume varies depending on your chosen format. The two main sections are education and work experience, with experience going first. If you're writing a resume on your own, also take a look at these top mobile apps for writing to help you stay organized.
Customization
CV – as we've mentioned above, CVs have a static format. Moreover, the lion's share of your CV space is taken by listing certifications, events, journal publications, and other academic credentials. For this and other reasons, CVs are not customized or tailored for different academic positions. You apply everywhere with the same version of a CV, and only adapt a cover letter for various roles.
Resume – the majority of companies use applicant tracking software to search for relevant keywords in resumes. Therefore, it's better to you apply with a customized resume as it increases your interview chances. Adapting the resume by using the language and key phrases that were used in a job posting also helps you come across as a suitable candidate for the hiring manager. A generic resume, on the contrary, now looks as if you haven't bothered. To strengthen your writing skills, check out the list of bad habits in writing you should get rid of in the first place.
The major differences between a CV and a resume are summarized in the above four points. CVs are mostly required for academic and some senior-level positions. Resumes are more common across the US. The style of writing these documents slightly diverges as well.
The international meaning of terms 'CV' and 'resume'
The differences we've talked about above only work for the American labor market. In Europe, all kinds of employers expect you to send a CV which is an extended version of the American resume. Sounds a bit confusing, doesn't it? There is a standard CV format called Europass for all countries in European Union, so if you consider finding a job with the German or French employer, download the Europass template and fill it out.
Situation is similar in the UK and New Zealand. CVs are used in all contexts and the word 'resume' is rarely used. Note, however, that a CV in these countries takes around 2-3 pages and it's acceptable to include personal information. If you need a CV to apply for job in Europe, our writer can help rewrite your American resume and adapt it for European CV requirements.
Resume samples and writing tips
A resume is the document aimed to communicate your professional value to prospective employers. Its format is flexible, and the style of writing encourages bragging about accomplishments and strengths. Here are a few recommendations to write a strong resume:
Start each sentence with a strong action verb. Strong words like 'orchestrated', 'initiated' and 'spearheaded' highlight your contribution to the project and the fact that you took initiative rather than just perform what was required.
Use a PAR (problem-action-result) scheme. It will help your resume sound more convincing and specific. Here's an example: "Improved customer retention rate by 25% through conducting survey and facilitating training for sales staff".
Create a catchy summary statement. A good summary increases the odds that your resume will be read top to bottom. For more advice, read the guide on summary statement writing from our resume creator.
Need more inspiration for writing a resume? Take a look at the examples of our work. 
Curriculum vitae tips and advice
If you are a college professor or a Biology research scientist, get ready to composing a CV. The term 'CV' means 'course of life', so get ready to list all your academic, research and professional activities since the high school. Here are a few tips to help you succeed:
Don't include personal information. While European CV include such information as picture, age, marital status and more, this is inappropriate in the US. A CV should be more detailed, but not about your personal life.
Be as detailed as possible. In resume, you would have to prioritize the information to fit into the length limit. In a CV, include all professional responsibilities, trainings, awards and other details. More details here indicate your professionalism and activity in the scientific community which means higher chances of getting a job.
Keep the language professional and reserved. Unlike resume, CV isn't about bragging your accomplishments. Just let your credentials and projects speak for themselves.
What order of sections to use? For step-by-step guidance on writing a CV for PhD program or research position, see here: http://resumeperk.com/blog/academic-cv-writing-insights-from-professional-cv-services. Our writer has amply described each step of academic CV writing.
Want more examples of professional CV and resume?
CV examples are helpful when you want to get a grasp of its format, writing style and structure. But why not entrust the writing of your CV or resume to a professional writer? Partnering with a professional resume consultant helps ensure high quality of writing and increases your chances to get a dream job. Our experts can create your resume from scratch or rewrite the existing one, fixing mistakes and making your strengths more visible.
Unlike other low-cost resumes writing websites, we offer a satisfaction guarantee – the writer will work on your CV until you are happy with it. Our prices are affordable for everyone – the pay for a custom high-quality resume is under $100. So, if you are not sure if your resume represents your strengths well, contact us for a personal resume assistance and hire resume writer.