Career Change Resume: Tips From Professional CV Company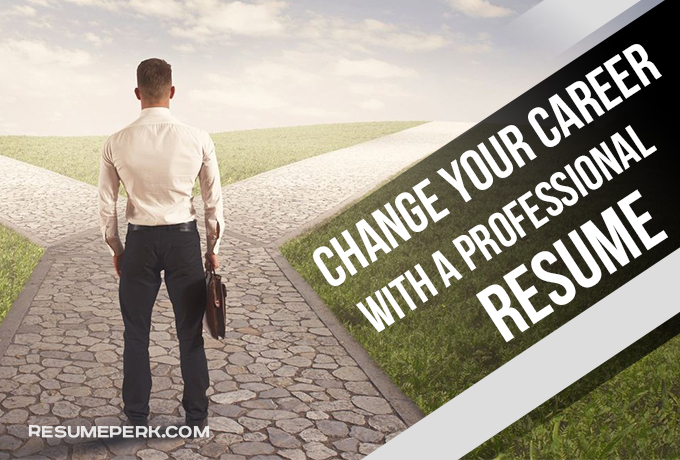 So, you've decided to pursue a career change. Whether there's a recession in your industry, you've reached the glass ceiling or would like to follow the dream of youth the fact is that you're ready to start over again. And to make a career transition successfully, you'll need a brand new resume. Mid-career changes are not rare these days, and many professionals go through at least one career change. However, landing your first job in a new field won't be easy. Most applicants get rejections on the resume stage as they compete with candidates who have years of relevant experience. Given this, writing a resume for career change is quite complicated, and here's when the best resume writer can help you out.
Career change resume requires a whole different approach: it should highlight your soft and transferrable skills and include any experience (even unpaid activities and your hobbies) that might connect you with the prospective role. Resume writers of our team can create a resume which will align your past experience with the new career field. By enriching it with relevant keywords, applying the right resume format and tailoring your application for the desired role, we will increase your visibility and showcase your fit for the new role. And you'll feel free to focus on job hunting and how to post resume online successfully.
Also in this section:
Resume for career changers: Tips from the best professional CV writing service
Showcase your new career objective
Since your new career direction isn't obvious from your previous experience, it's a good idea to put it right at the top of your resume. If you aim for a particular position, indicate the position name (Corporate IT recruiter, Finance operations analyst, etc.); otherwise, use the area of preference (Project management, Human resources). Therefore, you let the hiring manager know what kind of roles you are after.
Understand your transferrable skills
If you are ready to try yourself in a new capacity, it's time to reflect that on your resume. You probably have read lots of job postings and industry websites to know what kind of qualifications a potential employer expects. Now, it's time to compare the job requirements against what you have to offer.
Write a list of skills you've gained throughout your career. Then, list out the skills required for the role and look where the qualifications match. The found matches will form the base of your future resume and make it look relevant from the employer's prospective. For instance, if you switch jobs from customer support rep to German teacher, your abilities to explain complex information in easy language, software proficiency and communication skills can be used as strengths for the new career.
Wondering what does it take to succeed in a new industry? Read our quick guide: http://resumeperk.com/blog/brief-guide-to-achieving-work-success.
Keep relevant skills in focus
As soon as you have identified your transferrable skills, it's time to include them at the top of your resume, right after the Objective section. A quick overview of your credentials and relevant skills will convince the hiring manager that you possess the needed knowledge to handle the role. This is especially important since your previous position names are irrelevant and if you don't list your qualifications upfront, your resume will be tossed out, CV making service states.
The list of skills should be complemented with your soft skills as well as they can guarantee you a competitive advantage. If you've been a successful leader for years with your resume giving enough proof, you can apply for leadership roles in similar industry since you've got the soft skills required. Thus, you won't have to start over from entry level jobs. You can also incorporate the professional tricks to make your resume eye-catching.
Take advantage of unpaid experience
When you don't have professional experience in a chosen field, be sure to include any side activities which exposed you to the target field. If you've gained skills though professional affiliations, volunteering, or internships, highlight this in your resume. For instance, if you're looking for a social media manager's role and have the experience promoting your friend's small business on Facebook, this deserves mentioning on the resume.
Moreover, if your hobbies and interests have anything to do with your target industry, mention them as well.
Choose the resume format wisely
As our CV building services has mentioned above, applying with your old resume won't work since you'll lose to the candidates with relevant experience.  The same applies to your resume format – obviously, a reverse chronological resume isn't your best option. Career changers should opt for functional or hybrid resume type to get an opportunity to highlight relevant skills and experience. These resume types put your hard and soft skills in focus and will draw the attention away from your irrelevant career history.
Curious how to write powerful resume? Although recruiters don't like functional resumes, it's your best option if you are making a radical career change. Functional resume allows you to focus solely on the skill set you've gained throughout your work history. Chronology of jobs is put after this section, and only includes position names and employment dates.
Keep your professional experience relevant
Career change resumes don't tolerate listing every job you had just for the sake of it. If one of your past jobs was considered prestigious back then but adds no value for your prospective career path, remove it to keep the resume focused. When describing your previous roles, focus on those responsibilities which can be translated into the prospective role. For instance, if you are a lawyer making the transition into programming, no need to expand on your legal knowledge. Instead, focus on your analytical and problem solving abilities.
If you are on your way to turning hobby into a full-time job, see here how to do this right: http://resumeperk.com/blog/tips-how-to-turn-your-hobby-into-a-dream-job.
Avoid looking overqualified
When looking to build a career in a new field, many applicants are looking to start with lower level of position and smaller income than they are used to. Nevertheless, if you come across as an overqualified candidate on paper, hiring managers may reject you due to this fact only. They believe that overqualified candidates won't find the work challenging and won't be effective eventually.
If you've been in a senior role in your previous field, it makes sense to downplay your senior level accomplishments and focus on routine tasks. When applying for mid-level management or even professional position, no need to showcase your expertise in leading multimillion projects. List only the qualifications required for the role. Having completed writing a resume, use a quick resume proofreader to make sure your document is error-free and flawless in all aspects.
Create a career plan
Preparation to your new career path shouldn't be limited to updating your resume and landing the first job. You need to have a clear vision of the future goal and visualize your path to it. That's where writing a career plan can come handy – it will help you set your goals and control the career progression. It can be used to plan your career direction both in short and long term and will help you to succeed regardless of career type you choose.
Pursuing a career change requires a great deal of enthusiasm and decisiveness. If you create your resume according to the hints above and reflect your past experience under the right angle, you'll find a new job you'll love. Even if the process turns out to take longer than you expected, remain positive – an upbeat attitude and genuine interest can work for you during the interview even if you lack relevant experience. Looking for a job without a resume?
Get your career change resume tips from a professional CV writing company
Writing an effective career change resume is a daunting experience for many job-seekers. Without strong human resource and writing skills it's hard to evaluate which of your skills will be in-demand for the prospective role. A qualified resume writer can ease your stressful job-hunting by creating your resume and tailoring it for the position in a new field.
What does it takes to get help? All you need to do is to send your old resume and share your career plans with your writer, and we will prepare a brand new application documents for you shortly. For new clients, we offer attractive discounts – check our pricing policy. You'll also have two weeks to get a free revision if the resume doesn't fully meet your requirements.
Have you ever changed your career direction? Did you manage to find a new job fast?
Popular Posts: