How to Write Achievements in Resume (Tips and Examples)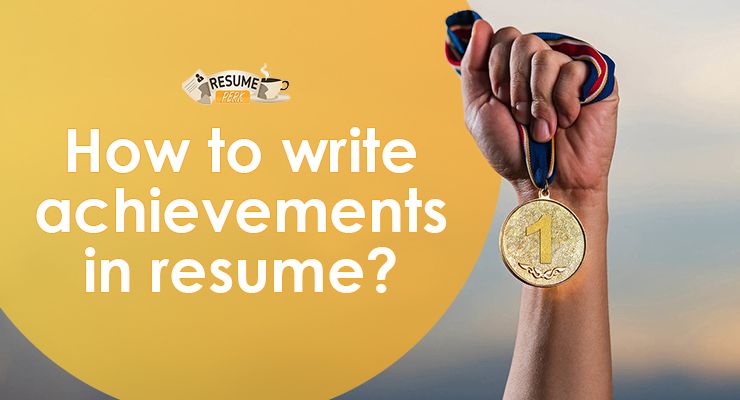 Most job-seekers underestimate the importance of writing professional accomplishments on a resume. Meanwhile, it's the accomplishments that distinguish a great resume from a mediocre one. Not only they show your commercial value, but also communicate that you are result-oriented and give a glimpse of what you can accomplish for an employer if hired.
Concentrating the resume on accomplishments rather than on typical duties for the role will give you a competitive edge over other applicants. However, simply adding figures or mentioning that you met expectations is not enough for writing achievements efficiently. Today, our team of the best online resume writers is going to share the professional secrets so you could list your accomplishments in the way that captivates the attention of a hiring person.
Don't have time to learn resume writing rules? Get your resume written by an experienced writer of Resumeperk.com. Our professionals have the expertise in creating achievement-driven resumes and will help to present your background on paper efficiently. We will also work on the writing style, keywords and design to maximize your chances for an interview.
What are resume accomplishments?
In a nutshell, resume achievements show how well you performed in the previous roles. Employers want to see the results you delivered, as your previous results are seen as a guarantee of your future successes. That's why all career experts insist that you focus on results instead of job duties in a resume. Responsibilities don't give the hiring person an idea of what kind of employee you are, so resumes which mostly consist of responsibilities are often overlooked.
The success of your resume also depends on crafting a catchy summary. If you struggle to write your summary of qualifications, simply follow our guide: http://resumeperk.com/blog/how-to-write-a-resume-summary-statement-10-examples.
7 tips to write resume achievements effectively
Even if you don't consider yourself as a top performer, you certainly have plenty of achievements worth bragging. It's time to look at your past successes under a different angle and present them in a way that catches the attention of the hiring manager.
1. Recollect all your past achievements
Start working with your accomplishments by listing all recent career achievements. Doubling the sales target in a quarter isn't the only kind of achievement that counts (although it's great if you have achievements like that under your belt!). Receiving positive feedback from your boss or colleagues, meeting and exceeding performance goals, solving a complex problem or winning an internal corporate award are all examples of accomplishments. Write down as many of them as you can remember – later, you'll review and prioritize this information for further use.
2. Use a 'so what' formula
Sometimes the accomplishments we are proud of look weak. Let's say you've implemented a new inventory management system for a warehouse. This is a great example of accomplishment, however, it doesn't give the reader much context and doesn't show an impact. To write accomplishments on resume and make them more specific, ask yourself "So what?".
Wrong: Implemented a new inventory management system for a warehouse
Right: Implemented a new warehouse inventory management system, resulting in 20% less downtime and faster order processing.
Now, it's obvious that your accomplishment made the difference for your former employer and the hiring manager can predict what kind of employee you are.  For more examples of accomplishments, see below.
3. Add figures and percentages
Good resume accomplishments are always specific, so you can't go without figures and percentages. Add them wherever possible to quantify your impact, show that you are a result-driven professional and prove our contribution. "Continuously exceeded quarterly sales targets" doesn't make your impact clear. "Exceeded the quarterly sales goals by 35% in FY2018 and recognized by senior management" is much better. Figures build trust. Moreover, they naturally stop the eye of the reader and draw more attention than words. However, avoid stretching the truth to receive an interview invitation. Lying on resume is hardly worth it, especially considering the fact that all your resume information is easy to check.
4. Use a PAR method
PAR method stands for "Problem-Action-Result", and it also works great if you don't know how to describe an important achievement effectively. The name of the method speaks for itself. You mention the challenge, the action you took and the results of your work. For example:
"Addressed order cancellations (Problem) by introducing new customer retention techniques (Action), resulting in 15% fewer cancellations (Result)".
The best thing about this method is the hiring manager clearly sees what kinds of challenges you resolved in the past and how well you performed. Listing several accomplishments using this method will make you a wanted employee.
5. Use high-impact action verbs
Choosing the right action verbs gives your accomplishments a final touch. Most people write bullet points in a resume using verbs like "Managed", "Led", or "Supervised". There's nothing wrong about using these verbs, except for the fact that they sound dull and are overused. On the contrary, verbs like "Spearheaded", "Initiated" and "Overhauled" make the reader slow down and take notice. They sound dynamic and put an emphasis on your active contribution to the success of the project. Revise your achievements and replace all weak verbs with the strong ones. "Consolidated project resources" sounds more impressive than "Managed the resources", doesn't it?
Can't choose the right words for listing accomplishments? Check out these examples of strong action verbs: http://resumeperk.com/blog/top-200-most-powerful-resume-words-with-examples.
6. Tailor accomplishments depending on the employers' needs
Just like the rest of the resume, achievements should be adjusted depending on what your target employers seek in ideal candidates. Review a number of job postings in your field and highlight the main qualifications and attributes the employer put emphasis on. Then, make sure the achievements you've listed correlate with these attributes. For instance, if the company looks for a copywriter with blogging experience, mention that you used to make your own blog and the results you've accomplished (growing visitors, social media shares, and more).
7. Put accomplishments in the right place
Put the achievements in the resume strategically so that the hiring manager notices them. You can list professional achievements along with the job duties, putting them at the top of the list for better visibility. If you have plenty of truly impressive accomplishments, consider creating a separate section for achievements. Name this section as "Selected accomplishments" or "Professional achievements" and place it above the work experience. Finally, you might want to add 1-2 most important achievements to the summary section, making them a part of your personal brand.
5 Examples of good resume accomplishments
✓ Grew the list of email subscribers by 300% while staying in the budget by launching a successful campaign in social media.
✓ Answered 100+ customer calls per day, maintaining the problem resolution rate at 95%.
✓ Saved $3,500 a year on office supplies after negotiating a deal with a new supplier.
✓ Expanded the client base by 30% by leading business development and marketing efforts, and maintained client retention at 90% rate.
✓ Increased operational efficiency by 25% by developing a new website administration panel with higher performance.
Need a professional achievement-centered resume?
Does your resume lack accomplishments and undersell your professional value? Consider collaborating with a professional resume consultant. If you want to choose best resumes writing site, note that our company has been offering resume assistance for over 10 years. Our British and American writers are up-to-date with the most recent resume trends and specialize in resume help for all career level.
The writer will focus on your accomplishments, add relevant keywords and customize your application for a specific job posting if necessary. We guarantee client satisfaction – you have two weeks to ask for free improvements. Check out our services and prices or get in touch with us in the chat anytime to learn about special offers.