Secrets for getting a job at Apple, Google or Microsoft
Thousands of aspiring software engineers, designers and IT managers dream of getting hired by Google, Microsoft or another tech giant. Young professionals are attracted by the opportunity to contribute to challenging projects that change the world as well as lucrative salary and impressive perks. However, since the major tech companies are huge attractions, the competition is also fierce – some job postings receive thousands of resumes.
If you have always dreamed of becoming a part of Google or Facebook team, our today's guide is for you. Getting hired by a tech giant is tough yet manageable if you know what exactly it takes to get an interview and eventually a job offer. Read on to find out what big tech companies pay attention to when picking candidates.
9 tips to get a job with Google, Apple or another big tech company
1. Write a strong resume focused on achievements
The first step of the application process is uploading your apple cover letter on the Careers page of the company's website. To compete with other applicants, your resume has to describe your background concisely with a focus on your accomplishments. For example, instead of 'significantly increased software sales', go for 'increased software X sales by 30% over 5 months'. If you need help crafting an effective resume, our professional resume writer can write you a resume for a specific job posting. Our expert will apply unique design and focus on your professional strengths to help you get the desired interview invitation.
Speaking about resumes, here you can take a look at how the resume of Apple's founder looked like: http://resumeperk.com/blog/5-resumes-of-famous-people-what-you-can-learn-from-them.
2. University degree still matters
Google staffs a lot of professionals who don't have any college degree. Nevertheless, a relevant degree can increase your chances for consideration. Recruiters pay attention to the school name – if this is a prestigious institution, your interview chances will increase even more. On the other hand, GPA isn't a major decisive factor. Top preferred degrees are computer science, finance management or another degree in business and finance. So, if you are a student, consider switching to one of the above majors.
3. Make sure you have the required set of skills
People who want to work for Microsoft or Google should possess the required set of skills. Without these hard skills, your application won't be considered because the competition is fierce. For example, here's the list of required skills for Google engineers: C++/C#, Java, Python, Javascript, Agile methodologies and SQL. If you don't meet all these requirements, it makes sense to apply for a smaller company and catch up where you lack knowledge so you could apply to your dream company in a year or two.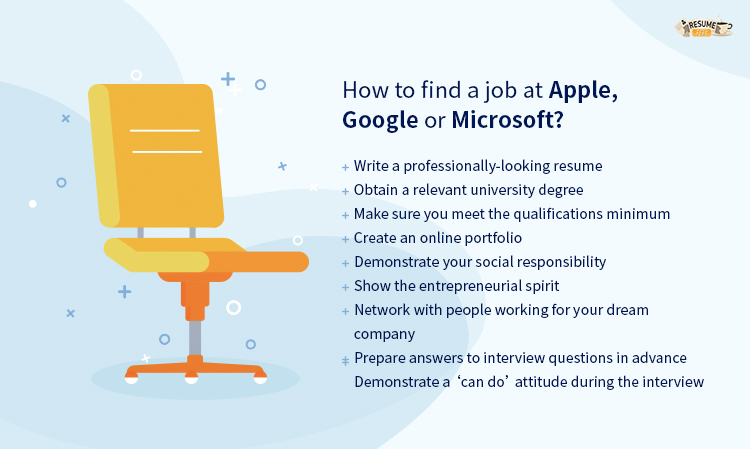 4. Create an online portfolio
If you're a software developer, create an online portfolio to show your previous work to prospective employers. Create a plain website with brief information about you and list the most significant projects you work on. You might also want to add a link to a GitHub page to your resume. If this information falls under NDA, consider sharing some of your own projects. If you are a student or graduate with no commercial experience, this might be the only way to show your coding skills. Moreover, chances are that recruiters stumble across your portfolio online and get in touch.
5. Tech companies value social responsibility
Apart from the extensive set of hard skills companies pay attention to your activities outside of work. If you dedicate your time to volunteering for educational or charity organizations, include it in your resume because this can make a lot of difference. Tech companies look for versatile people with out-of-box hobbies and community involvement, and if you are one of those people, your chances for an interview increase.
6. Show your entrepreneurial spirit
If you developed a website or an app but it wasn't successful, don't see it as a useless experience. Tech companies value entrepreneurial spirit, and the fact that you tried to make a go of your own project sets you apart from other applicants who only have an employment track record. For the same reason, if you have an app or service idea but aren't sure of its commercial potential, start developing it anyway. Even if it fails, you can write it down in a resume and tell about it during your interview with Microsoft.
7. Network with people who work there
The best way to get an interview with a huge tech company is through referrals. Expand your professional network and try meeting with people who work for your dream employer. Cross paths with them during the conference or connect with them on Facebook. This is a win-win situation because if the company hires you the person who recommended you gets a bonus. However, avoid being annoying and following dozens of people you don't know in person.
8. Practice answering interviewing questions
If you make it to the interview stage, prepare to a lot of work since such companies can have up to a dozen interviews. The best way to reduce the stress caused by uncertainty is to look up for common interview questions of all kinds and practice answering them at home. Answer these questions aloud in front of the mirror and watch your body language. The stakes are high, and rehearsing an interview at home will help you feel more focused and confident.
9. Don't get distressed by creative interview questions
If you're after a job at Google, be prepared for strange interview questions. For example, you might be asked "How many cars travel across the bridge every day?". Many of these questions don't have a correct answer. But even if they do, their primary purpose is to expose your critical thinking, creativity (here are some tips that help to increase creativity) and problem solving attitude. So, don't be silent – use a creative approach if you aren't sure how to respond. Another thing that these questions do is show your willingness to act and find a solution in tough or unknown circumstances, which is what such companies look for in their employees.
Want a professional resume that will help you stand out?
If you have the right set of skills and personality traits that big tech companies look for, make sure that your resume represents those strengths well. At Resumeperk.com, we have professionals specializing in writing IT resumes. Our expert will choose the right resume format, show off your outstanding technical skills and focus on results. Moreover, our prices are more than reasonable – check out our prices for resumes for sale.