List Of Profitable Job Positions For Writers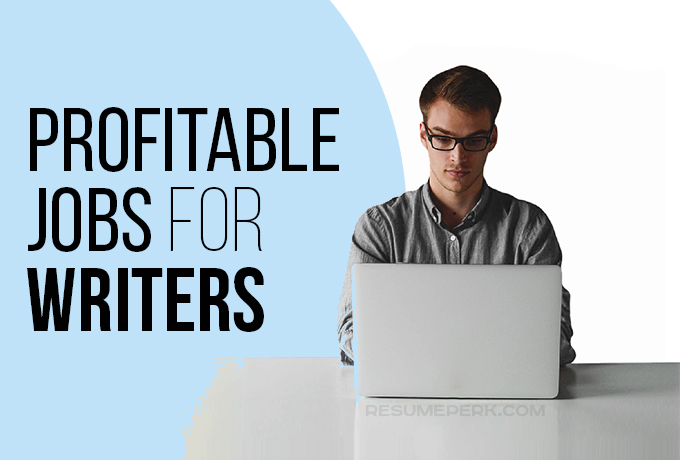 Have you ever dreamt of making good money as a writer? In the age of the internet, your dream can easily become true. Although it can be tough for a beginning freelancer to get your first jobs and to establish your name, if you devote enough time to it and work smart, this effort will pay off. 
The times when writers could hardly make their living have passed decades ago. Everyone with strong writing skills have the opportunity to earn money writing, or even become a high-paying writing professional.  If you are determined to generate a good income from writing, take your time to read the list of highest-paying writing jobs prepared by our executive resume writer.
Also in this section:
Business Writer
A business writer creates white papers mostly, including press releases, speeches, reports, advertising materials and many others on demand of the corporate clients. Business writing requires superior language skills and often a formal education. However, business writing pays a good hourly rate: even the beginning writers charge from $20 per hour. A writer with years of experience and established reputation can make much bigger amounts.
Freelance copywriter
Copywriters write promotional pages for websites, social media, advertisements, etc. They work for companies, advertising agencies or independently as freelancers.
Among all writing careers, freelance copywriting allocates you most space for creativity and most flexibility. You can choose one area of specialization, broaden your knowledge and build the client base in it. You can use it as a source of extra income while getting a degree or working on long-term writing project (for example, writing a novel. Here you can find more advice on how to make your novel a success: http://resumeperk.com/blog/how-to-start-your-first-novel-15-winning-tips).
Copywriting is considered one of the most lucrative careers. Talented, in-demand copywriters can make up to six figures if they get a percentage from sales.
Writer of lengthy web content (e-books, guides, etc.)
While freelance copywriting field has a low entrance barrier so everyone can start a career in it, with long form web content it's not so easy. E-books and reports often involve deep understanding of the subject and require heavy research to get the project done. So, businesses and online companies will rarely risk to entrust this important task to someone they've never worked with.
There are two major ways to land a writing gig of this kind. First is to build a strong online presence with multiple positive reviews and recommendations from former clients. However, it can take you years to get the desired reputation and recognition. So, you can get in touch with clients you've previously worked for on less complex projects and offer your services for writing an e-book and report.
The importance of quality content and user education in building relationships with clients only grows. And the companies are willing to pay good money to those capable of providing complex, informative content.
Affiliate blogger
Everyone knows that a blog can generate income, and many use Google Adwords tool to get money from ads that Google posts in their blog. However, this income is peanuts comparing to how much you can earn if you join the affiliate program of some business.
As an affiliate blogger, you'll get money if the reader visits the website of the company you promote and make a purchase. To make this strategy a success, you need to choose an appropriate subject for your blog, such as beauty, fashion, travel, tech and gadget news, etc. In other words, the topic of your blog should be relevant to the type of goods you promote – otherwise, your readers will unsubscribe if you suddenly start posting off the subject, promotional content. To get started, you need to seek the companies that collaborate with affiliates and then add links to the company to your blog posts.
If you enjoy writing reviews about consumer goods, you'll find the affiliate blogging especially fun and rewarding.
Writer of company emails/newsletters
Email marketing is still a popular way to keep in touch with a wide audience of company subscribers. To keep them engaged for a long time, they might want to hire a professional author of email newsletter, event announcements, staff picks, etc. And, since emails need to be sent out on a regular basis, this is going to be a long-term project – provided that you prove your professionalism and understanding of the needs of the audience.
To get hired, you'll need to provide the samples of your previous blog posts to show how well you connect with the readers or other marketing samples of yours. Knowledge of email/online marketing tools and principles will be a huge plus.
Brand Journalist
Brand journalism has a lot of common with content writing, but there's one major difference – quality. Since you'll need to manage an online magazine owned by a company, you'll need to post quality, highly informative content for current and potential clients.
To start a career in this field, you'll need to research the companies that value quality of writing – these are usually big businesses with established online reputation. As the projects of this kind are more complex than traditional copywriting, they pay accordingly.
Writer of online courses
In the digital era, the field of online education grows constantly. And so does the need in the authors/developers of those courses globally. Universities, corporations and even online platforms publish new courses in the wide variety of subject, and you can become the author of such course or translate it if you speak several languages.
Moreover, there are big companies in need of in-house training courses for their staff, and this is really lucrative job. To get started, you need to do some research on e-learning. It's not so complicated to enter this market; however, previous writing or teaching experience might be required.
Writer of case studies
Case study writing is a kind of business writing. However, it falls under marketing category too. Basically, companies need them to show the example of how their client benefited from using their product or service. It's especially helpful for tech solutions, or complex product/services when one can't see the effect of purchase immediately.
The best writers get up to $1000 for case studies written for various businesses. However, you will need the examples of your previous work to enter this market. You can get the experience by doing some freelancing or volunteering jobs.
Technical Writer
The technical writer's job is to produce a wide range of user instructions, manuals, and inside documentation. It's a complex, involving job that requires analytical thinking and implies less creativity than other writing job opportunities do. However, it pays accordingly: experienced writers can make over $100 an hour while working independently.
A technical writer usually collaborates closely with the company to understand the specific of the operations or finished product. They usually specialize in one industry, for example, IT, airplane manufacturing, etc. and provide the inside documentation while collaborating with engineering teams. However, most often they create instruction booklets and manuals for end users to educate them on the use of equipment and software. Thus, a technical writer needs the ability to explain complex concepts in simple words for non-technical users.
Proofreader
Proofreader's career path doesn't look as attractive and romantic as the writer's. However, a skilled and educated proofreader working for a reputable organization can make much more than the unknown freelance writer.
To get started, you'll need to evaluate your proofreading skills by passing the test online or with the company you'd like to work for. You'll also need an utmost accuracy and attention to detail to succeed in this role.
If you want to master proofreading techniques on your own, start from learning the key strategies here: http://resumeperk.com/blog/tips-for-flawless-resume-proofreading. By the way, these techniques are also applicable for proofreading your own resume.
Novelist
Surpirsed? Yes, even in the digital era you can make good money by creative writing – provided that your novel becomes a success. This career line is mostly for true writing enthusiast as novel writing isn't as simple as writing website content. Nevertheless, if you manage to understand the needs of the modern audience and release a few novels, you can make a fortune. George Martin's example is pretty inspiring, isn't it?
Keep in mind that printed books sales decline, so you might want to learn the modern trends of e-book publishing to reach your audience in the digital era.
The bottom line
As you see, the writing career can not only be a competitive line of career, but also make you rich if you're really good at what you do. All you have to do to get started is to determine which types of writing you're going to focus at and start sourcing new opportunities both online and within your existing professional network. Now that you are aware of highest paying jobs, you'll find it easier to find a dream job!
Want an impressive resume to advance your writing career?
You can consult the writing advice from our blog to find out what makes a successful resume. Need a resume right now? Then, you will benefit from a resume maker online. Feel free to contact our resume experts anytime to get your resume updated in no time.
Have you had an experience in one of the above types of writing?
Popular Posts: