Should You Add a Photo for CV? The Pros & Cons Explained
Should You Add a Photo for CV? The Pros & Cons Explained
Including a photo on a CV is a debated issue. Some recruiters state that it can give you a competitive edge and draw attention, while the others insist that adding a picture is a big no-no and will get your resume rejected. At resumeperk.com, we have analyzed the conflicting opinions and prepared a detailed guide for pictures in CVs. Continue reading for explanation who and when can use a picture, and who shouldn't to avoid negative consequences.
Why you shouldn't include a picture on resume?
We are starting with the cons because in most cases it is not recommended to include a photo. It can lead to unnecessary bias, discrimination or may be considered unprofessional. Here are the main reasons why you should avoid adding a picture:
It can lead to discrimination
Workplace regulations prohibit discriminating candidates based on their gender, age and other factors. Many recruiters do not consider resumes with pictures to avoid discrimination claims. For this reason alone, a photo is not the best idea – especially if the employer requests not to add it.
It can take space and distract
A CV is meant to concisely present your strengths, qualifications and your fit for the company. If you add a picture, you'll probably need more pages to fit all the needed information. Moreover, the recruiter will probably be reviewing your picture instead of reading the summary of qualifications resulting on unintentional (or deliberate) bias. In this case scenario, your look becomes the decisive factor, not your qualifications.
It might not open correctly in ATS
Large and mid-sized companies use applicant tracking systems to automate the selection process. Such software often recognizes only text and removes any graphic elements. If you use pictures, the formatting of your resume could be destroyed, or the entire resume will be tossed.
It is not common in the US or UK
Although there are exceptions, photos in resumes are generally rare in the US. Unless you are 100% confident that pictures are acceptable in your industry, it is best to restrain from adding them. If the recruiter expected a text resume, a photo of the candidate can confuse them.
A bad picture can spoil the impression
Nothing can spoil your professional image faster than a resume picture taken in the garden, in the summer vacation, or if you use a selfie taken in the nightclub. In situations when a picture is welcomed by employer, an unprofessional picture can do more harm than good.
When can you include a picture on a resume?
Resumes with photos are less common that purely text ones. However, they are acceptable – and even welcomed – in these cases:
It is common in your industry
Including picture in a resume is welcomed if you work in the entertainment or beauty industry, for example, as an actor, model or a TV presenter. Adding a picture may be required for some real estate and sales positions. If most employers in your industry expect a resume with a picture, be sure to add it.
It is a rule of thumb in your country to include a picture
In countries like Germany, France, Belgium and Portugal, as well as in the Middle East and South America, it is common to include a photo as it is a part of the work culture here. So if you plan to apply for jobs in these regions, be sure to include a professional picture even if the employer does not specifically ask about it.
To enhance your professional image
Like it or not, people are social creatures, and we evaluate each other based on appearance subconsciously. If your photo is taken in a professional setting, you are well-dressed and smile confidently, such a picture will make a positive impression.
How should a resume picture look like?
Your resume photo deserves just as much attention as you pay to the rest of resume content. When in doubt, follow these tips:
Take a picture from the shoulders up. A full height photo does not belong to a resume. Your face and shoulders will suffice.
Use a good professional background. Ideally, your picture should be taken somewhere in a professional setting, but this isn't a must. Take it in front of a wall of a curtain of a neutral shade so that there are not distracting elements in the background.
Make sure it's well lit. Choose a location with good natural light, or experiment with several locations. Taking a picture outdoor or near the window is usually the best idea.
Your face must be in focus. Blurry pictures are irritating and unlikely to make the needed impression. Smile is the best possible facial expression.
Use natural colors in your picture. Avoid heavy color processing and black-and-white pictures. You can slightly adjust the contrast or saturation to make the picture look better.
Dress professionally. No crop tops and bare shoulders. Ideally, take on something that you typically wear to the office or a professional conference.
Use a current picture. Avoid adding the one you've taken seven years ago, even if it's professional and you like it. Misleading the employer about your look can undermine credibility right from the start.
Hire a professional photographer. Ideally, find a photographer who can take care about all of the above aspects. The result will be better than if you tried to take photos by yourself. Moreover, a photographer can also take pictures for your personal website, LinkedIn account and other professional resources.
If you apply for a job as an actor or a model, an employer can ask for a full height photo, or set other requirements. Follow their requirements closely, otherwise your application might not be considered.
Photo for a resume: Good and bad examples
To get a better idea of how you should look in a resume picture, take a look at the examples below: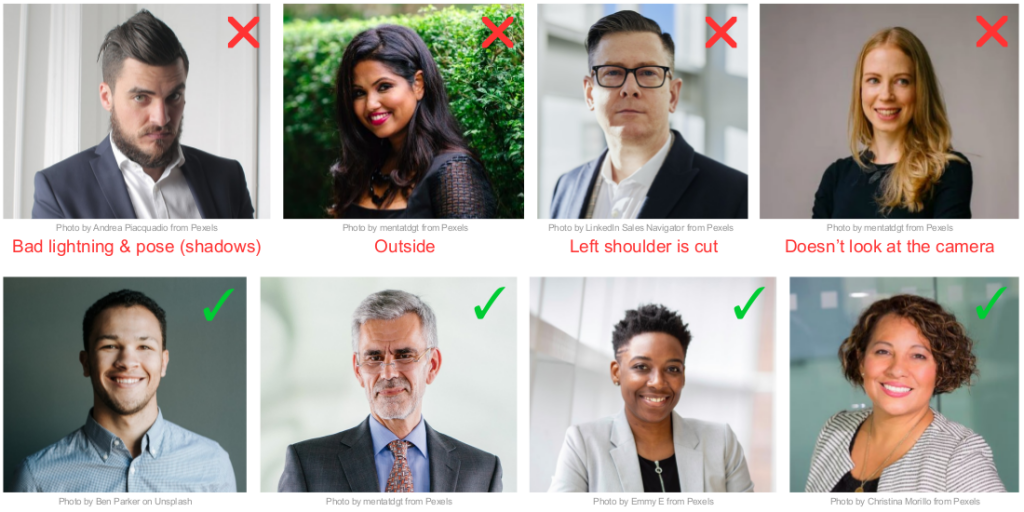 The four pictures at the top are examples of how your picture shouldn't look. The first image has bad lighting and shadows on the candidate's face so it's difficult to see. Moreover, the candidate has a weird facial impression that doesn't look professional. The second candidate's picture is taken outdoors, and in addition to bad lighting, there are issues with the background. The green leaves distract us from the person's face.
The third picture is generally good, but the shoulder is cut, which is not recommended. And in the fourth image, a woman isn't looking at the camera, so she doesn't look professional and approachable.
In the lower row, there are all good examples of what type of photo to make. The background is even and neutral, people look at the camera and smile. All of them are dressed professionally and make a positive impression.
So, should you include a photo on your resume?
As a resume agency, we work with job-seekers in many industries, and our general recommendation is no. Including a photo is not necessary if you apply for jobs in the US and UK, and if you add it, this can lead to bias or get your resume tossed if the employer wants to avoid discrimination claims.
If you want to show off your professional appearance, here's the solution. Add a professional picture on your LinkedIn account. Add the link to your LinkedIn in your resume next to contact details. Pictures on LinkedIn are expected and welcomed, moreover, you can expand on your experience and skills in an online profile.
Whether to include a photo in your resume depends on many factors: your industry, location, and employer's requirements. If you want to receive personalized tips and advice about your resume, you are welcome to use our Free CV Review service.
An experienced resume consultant will critically review your old resume and explain whether it can bring results in your job search. You will also receive an email explaining the strengths and weaknesses of your resume, and tips for improving it. This service is free of charge, and your personal information is secure with us.