How buying a professional CV writing can help your career?
Is changing a job is one of your top New Year's resolutions for 2019? To make your dreams come true, you need to approach the job-hunting process seriously – sending out a couple of generic resumes every other day won't work. The experts creating customer service professional resume say that devoting as many hours a day as you can to job search can guarantee you a positive result.
Speaking about resumes – when was the last time you updated yours? If it's been a while, your resume might need a good revamp with a resume professional. And here's why.
Why professional CV writing actually works?
Unless you have a really extensive professional network, a good resume is your only way to land an interview. Copying the skills from someone's resume online and robotically listing the professional responsibilities won't take you anywhere. Needless to say that the competition is fierce and such generic resumes are weed off even before a recruiter sees them.
Feel you might need some help writing resume? At Resumeperk.com, we employ resume writing specialists in 60+ industries. Our writers understand the peculiarities of the hiring process, know how ATS selection works and will make your key strengths noticeable at a glimpse. With efficiently organized content and sleek formatting, your resume will get more chances for getting noticed. Learn more about our writers' qualifications.
Reasons why a professional CV writer ensures you a competitive advantage
A professional cv writer can make your resume more focused
One of the biggest problems with resumes that job-seekers create on their own is lack of focus. People simply don't know what to leave out, so they stuff their resumes with lots of less important, secondary details which adds no value and doesn't increase their chances to get noticed. The more isn't the better when it comes to resumes.
As the top resume writing services say, the best resumes always have a clear focus. Your job titles, skills, and responsibilities you choose to include should instantly communicate your value for the target employer. And they need to be noticeable at a glance since employers review resumes extremely quickly. So, if you are confused by prioritizing the facts from your career history, a resume writer can give your resume a sharp focus by concentrating on the details that matter.
Results matter more than your ordinary duties
Resumes that list the duties which are typical for your role are of little interest for decision-makers. Hiring managers and recruiters have seen the hundreds and thousands of likewise resumes and left unimpressed. Moreover, HR managers are busy fellows – they can devote less than one minute to a single resume and immediately look for indicators of quality. So, they skim through the career summary, job titles and accomplishments – and if nothing captures their attention, they pass on to the next application.
Professional services generate resumes which are focused on the results you've managed to accomplish for the previous employer. By highlighting your contribution, they ensure you more results of the recruiters. Moreover, rewriting a resume with achievements in mind will make you look as a career-driven individual, which is undoubtedly a plus for most companies. By the way, here are a few insights about effective career planning: http://resumeperk.com/blog/planning-a-future-career-are-you-for-or-against.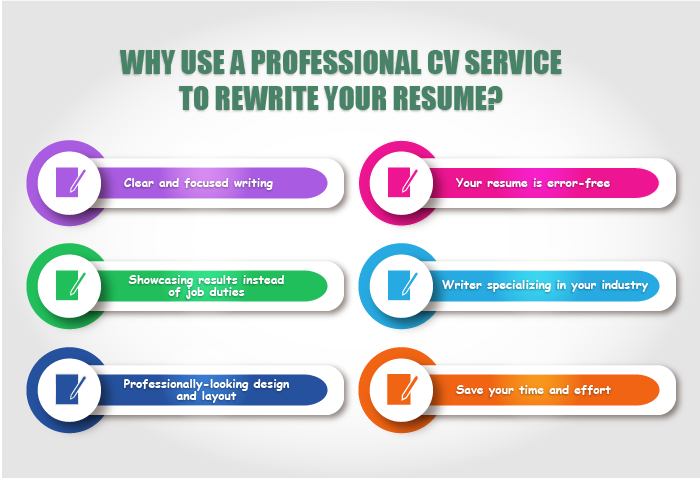 They understand the importance of design in a professionally written CV
As they say, you'll never have the second chance to make first impression. This is especially true for resumes – a recruiter doesn't know you in person so far, so make them take to your resume at the first sight. 
Resumes created by professional writers are easy to distinguish thanks to its neat formatting, sleek design and clear structure. Curriculum vitae professionals know how to make your resume visually appealing for the readers at all levels of the company while keeping it ATS-friendly. For example, the experts of our company don't use resume templates. They apply the design and formatting individually for you to highlight your major professional strengths.
They help you submit an error-free application
Resume errors of all kinds are the most popular reason for rejections. The tricky thing is that your resume might be rejected because of the mistakes you never knew existed. For example, the biggest resume sins include as follows:
Typos, grammar and punctuation errors – they show lack of attention to detail and poor proofreading skills;
Outdated and irrelevant information – the college activities you took part in 20 years ago are of no interest for a prospective employer;
Inappropriate information – pictures, marital status, nationality and likewise facts are a big 'no-no' for resumes;
Poor formatting – you won't believe it how many great professionals were discarded due to poorly organized resumes with huge blocks of text, little font or incorrect structure;
No keywords – you need to learn the basics of ATS optimization to get your resume in front of the human eyes.
The good thing about hiring a resume editor is that they will eliminate all kinds of resume mistakes at a time, so you won't have to worry about its quality.
Specialization is a key
You're good at what you do – and this is probably because you put in a lot of time and energy to your career and professional growth. The same rule works for all areas. If your tablet breaks, you take it to the repair services instead of trying to fix it by yourself. And if you run out of milk, you head to the local store instead of starting the small farm.
For the same reason, it makes sense to entrust writing of your resume to professionals who know exactly what they are doing. A resume writer who is familiar with the steps of screening and recruitment process and has created hundreds of resumes already knows how to make your resume shine. Therefore, they will position your experience and skill set to give it maximum exposure and help you get more interviews. Meanwhile, you can concentrate on your own career.
Professional CV writing from UK helps you save time and effort
Whether you like it or not, creating a resume is a time-consuming process. Not only it's complicated to take in the resume writing rules and tricks, but also it takes a lot of effort to rewrite and adapt the resume for every job posting. And if you spend hours every day rewriting your resume and covering letter, you'll have no time left for other activities associated with searching for a new job.
Cooperation with a professional makes this period less frustrating – you set a task and grab a newly created resume in a matter of days. Moreover, knowing that you have a resume advisor at hand helps you feel more confident during both application process and the interviewing stage. The writer can also adapt the resume for a particular job, skyrocketing your chances for success.
Some resume services providers will also gladly help you with interviewing – they can recommend what to wear to an interview and instruct you how to prepare for it.
Help your career take off with custom CV writing help
The number of benefits you're getting from collaboration with a resume creator goes beyond those listed above. Thanks to the combination of experience and expertise, they can create a truly effective resume for you – the one which will present you efficiently and in a way that appeals to the reader at once. As a result, such resumes bring better results. You can also get other documents professionally prepared – including cover letter, curriculum vitae, LinkedIn page, and follow up note.
Want to give your career a head start in the new year? Contact the writers of Resumeperk com to pick the type of service your career will benefit most. We know that the holiday gifts are costly, so we haven't increased the prices for resume writing for 2019 yet. Make a small investment and get 100% prepared for job-hunting right now!