Working For A Friend: Pros And Cons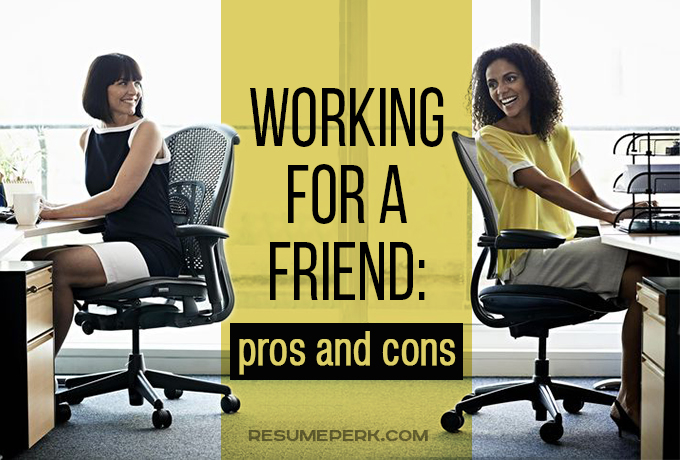 Have you ever dreamt of working for someone you know well and share similar values with? In this regard, working for a close friend may look like a dream come true. You might even want to quit your current job to obtain a position with your friend's company as soon as possible.
Nevertheless, working for a friend isn't going to be all fun and games. Before accepting an offer, you need to consider all peculiarities of transforming your casual friendship into a manager-employee relationship.
Why working for a friend is a good idea
You'll skip the stressful interviewing process
No need to explain how stressful the interviews are for an average job seeker. Waiting in queues, scanning the websites of every company that interviews you and repeatedly answering the 'Tell me about yourself' question can frustrate even the most patient person. When a friend intends to hire you, things are totally different. No interviews, no resumes – it often takes a short casual discussion about the job and career goals, and if the job suits you, you're in. Getting hired by a friend will ultimately save your time and effort on a job-search process.
Also in this section:
Your friend is aware of your strengths and weak points
Since you're close friends with a potential boss, he/she knows what you're great at and which tasks you dread of. And even if he doesn't, you'll be able to tell about them without a fear of being eliminated from consideration for a job. More importantly, a friend will care for your career goals and aspirations, which is a great disadvantage in the long run if you want to build a career with the company.
Communication will run smooth
Many people find it difficult to put forward their ideas during the meeting or communicating whatever matters to their managers. Well, not you – having a close friend as your boss, you'll have no problems with workplace communication. You'll feel more confident when proposing new ideas or problem solutions, discussing new strategy, etc. And, of course, your friend will be a far more considerate about your suggestions than a boss who isn't your friend. A friendly environment allows you to contribute more effectively which will have a positive impact on business.
You'll be the last person to be sacked in tough times
If the business happens to face the tough times, you will be definitely immune to them. If, in addition to being friends with your boss, you are good at what you do and make a valuable contribution, you can be sure that boss will fire anyone but you. Moreover, you won't have to deal with any sort of workplace discrimination as your boss will take care of proper working conditions for you.
Your contribution will be definitely appreciated
Have you ever faced the situations when your ideas are not getting enough attention, or aren't approved, or they are – but the boss takes all the credit? You can forget about it when working for a friend. There's no doubt that you'll be an active participant of discussions of business decisions even outside of your circle of responsibilities. And, since you have a direct access to the boss, your input will be appreciated and your ideas will receive proper consideration.
You'll spend a lot of time together
And, don't forget the major advantage which speaks for itself – you're working for a friend, which means that you will see each other not only in a pub on Fridays, but every day in the office.  Having a friend by your side in the office makes it look less like work, as you'll be having coffee breaks, networking and having fun in general. As long as such breaks don't interfere into the working process, they make such a job a way more enjoyable.
But consider these possible downsides:
Consider the job responsibilities over the opportunity of working with a friend
It can happen that your friend needs a trusted colleague by her side and he/she is looking for someone well-known not taking into account the professional skills and career goals. So, before accepting an offer from a friend, take your time to evaluate whether the job itself is right for you. Of course, if you don't have any job, an offer from a friend is a good chance; however, if you're looking to advance your career, think of whether this job can help you with that.
Don't expect to be treated differently just because you're friends with boss
Being friends with your boss doesn't excuse your being late, having lunch for two hours or shying away from unenjoyable tasks. If you start acting like that, you'll likely lose both the job and a friend. Your friend, on the contrary, probably expects you to set the example for the entire office and might even assign you extra responsibility outside of your routine duties. Put yourself into his/her place – your friend has a business to run, and expects you to do your best to make it a success.
Communicating the tough issues will be harder than usual
Although in general communication is better when you're friends with boss, this doesn't apply to discussing tough things. If you want to earn a bigger salary (here are a few tips on how to ask for raise: http://resumeperk.com/blog/how-to-get-paid-more-tips-from-professional-writing-service), or are not satisfied with tasks assigned to you, you'll probably feel uncomfortable when bringing up the subject in conversation with a friend. And, if you wish to resign, how will you discuss this? Think about how you'll be handling touchy issues even before you've accepted the job.
You may have tense relationships with coworkers
As the coworkers will find out about your friendship with boss, they might think you're paid more, or have less job to do just because of that friendship.  And, this can make the office environment quite uncomfortable for you. Anyway, if you do not accent your friendship in conversations with colleagues and don't give cause for gossiping, this problem will not arise.
The nature of your friendship may change
As soon as you've started working together, your relationship with a friend will change. And the biggest challenge is that your professional and personal life is mixed. For instance, if your friend criticizes your monthly report, you might not want to go out with him/her tonight. If you're dissatisfied with some stuff going on at the office, you won't feel comfortable and relaxed during the leisure time. So, it's important to separate your work from leisure time if you want to save the friendship and succeed in a job.
Working for a good friend can become an inspiring experience and can be helpful for your career. However, do consider the cons of this decision as if you accept the job and won't be prepared for them this may cost you a job or/and a friend. So, think this decision through – and make sure that working for a friend will be beneficial for both of you.
If you haven't updated your resume for a few years, your resume might be looking outdated and you must be missing on excellent career opportunities. A modern job seeker should keep his resume up-to-dated as the right opportunity can come into sight as a surprise.
To make sure you're 100% prepared for an intensive job search refer for help of a professional resume writer. Not sure of the quality of your resume? Order a professional resume critique free of charge. Get your resume critique instantly!