Writing an HR Manager Resume: Tips & Examples

Prepare an HR resume that shows off your unique strengths
As an HR professional, you probably have an eye for resumes and a clear understanding of what makes a good one. Yet, it makes it even more challenging to create a strong resume for yourself. You might find it difficult to look back on your own career history objectively or fall into the trap of perfectionism and keep rewriting that resume over and over again.
While you should be concerned about the way your resume looks – your job chances depend on it, after all – there's a good news, too. According to the statistic, 72.8% of employers have a difficult time finding skilled candidates. It means that finding ways to communicate your business value and results you've generated on a resume will skyrocket your interview chances. Our online resume writers are here to show some of these ways to you. And later in this post you'll also find an example of an effective HR resume.
Streamline your job search with our professional help
As an HR pro, you know that delegating the task to the right person is half of the success. And when it comes to the effectiveness of your job search, hiring an experienced resume creator can bring great results. Our resume writers will help identify your key selling points and highlight them in a resume, helping you to get noticed and shortlisted. We guarantee delivery according to your deadline, 24/7 customer support and unlimited revisions until the resume fully meets your expectations.
Key tips for writing an excellent resume
HR managers at all levels are one of the most important professionals for running a successful business. They hire, onboard, train and develop people for all other functions and go to great lengths to retain the top talent. Hence, these are the traits your resume should reflect in the first place. Whether it's due to talent vs hard work, show that you have a knack for finding the right people and getting the most out of them for the company. Here are the exact steps you should follow:
1. Add a headline that frames your expertise
Nearly every job-seeker knows that objectives are out of date, and it's better to use a summary instead. Yet, little applicants use a headline. Adding a headline is efficient because it communicates your specialization and biggest strengths in a second. Your header can consist of the target job title, followed by 1-2 areas of specialization, for example:
Human Resources Generalist ~ Payroll & Benefits ~ Employee Retention & Development
See? This sort of title immediately shows what your specialization is. You can use the following summary to expand further on these areas of expertise and mention your biggest accomplishments, if applicable.
2. Use a summary of qualification to pique the employer's interest
You know that the recruiters don't read each incoming resume top to bottom, right? Thus, your goal is to concentrate the core information about your qualifications at the top of the document where it is most likely to be read. Experts recommend that you use 3-4 bulleted statements to list your areas of expertise, practical proof of your skills, industry certifications or awards.
Summary is seen as a written form of an elevator pitch. So, be sure to concentrate all facts that can persuade them to make a hiring decision in your favor. Using figures is not necessary. But if you'd like to brag the fact that you've reached the employee retention rate of 90% in one year, why not?
3. Add details about your former employers
Another little-known tactic that additionally highlight your competencies is giving the context about your previous employers. Don't just write a company name and location. Mention the company size, number of employees and directs, annual revenue and the industry. You may also brag the company's accomplishments, i.e. "XYZ company, a #1 manufacturing company in New York State".
By doing so, you'll accomplish a better level of destabilization for your experience. Being a compensation and benefits specialist in a staffing firm, small business or a corporation may imply a whole different set of responsibilities. Thus, by showing that your experience was gained in the similar company, you further show your fit for a target role.
4. Capitalize on your accomplishments
This piece of resume advice is as old as the world, but it's because it works. In fact, the two resumes of similarly qualified HR managers sound pretty much the same. And the only thing that can distinguish you is the specific accomplishments and results of work. If you don't think you've achieved much in your career, simply think of any situation when you solved a problem, improved the organizational culture, retained the top-performers while staying in budget, etc. Then, think of which of these results can be shown through figures, and add figures or percentages when it's possible.
Resume experts recommend that you create a specific "Key Accomplishments" section and list the top highlights there. By the way, if you aim for quick vertical career growth, pay attention to these must-do for your career before 35.
5. Show off your business acumen
By hiring you, a company wants to solve their particular set of problems. Therefore, your resume needs to show your ability to think from the business perspective. Any successful HR manager should understand what each role in different departments entails and how to choose the best suitable employee for it. Moreover, the HR professionals need to understand business goals, budget restrictions and plan the hiring roadmap in a way that will ensure the smooth business functioning.
These are the qualifications your resume should to particularly highlight. You can do it in your Skills section or by showing results of your work that prove your ability to think from business perspective.
Did your previous job cause an excessive stress? Here's how to handle stress and anxiety in the workplace: http://resumeperk.com/blog/how-to-deal-with-anxiety-at-work.
6. List skills specific to human resources
Resume makers recommend that you create a Skills section and list your relevant qualifications there. Thus, a recruiter can get an idea of your strengths without having to read the resume top to bottom. Moreover, these lists of skills are extremely ATS-friendly. The examples of skills you should list as an HR pro are onboarding, training & development, performance management, budgeting & compensation, and project management.
It's equally important to show your familiarity with software specific to HR management, such as HRMS, HRIS, and other software specific to your function. Be sure to list general software skills, such as office suites, operating systems, and programming languages.
7. Don't forget the basics
As you write result-oriented statements and list impressive skills, don't forget the essential rules of effective resume writing. Keep your resume to 1-2 pages, depending on how many years of experience you have. Use short sentences and leave plenty of space between different section, thus making the document reader-friendly. Format strategically to highlight the most important points of your resume and guide the recruiter's eye.
Rely on the job posting heavily as you choose what experience to highlight and which skills to list. Use the same words for skills and experience as the job posting uses. The more your resume is similar to what the job listing asks for, the higher are your odds to pass the ATS smoothly.
Effective HR resume sample
To get inspired to write your own resume, take a look at the example below: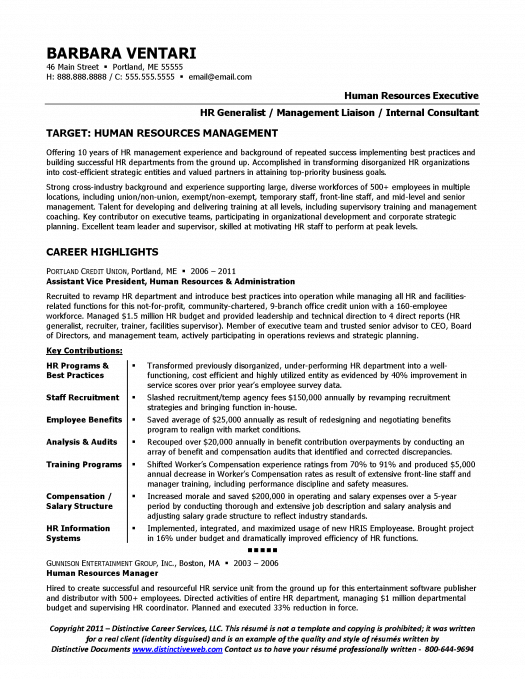 Image source: https://i.pinimg.com/originals/67/fd/29/67fd290cd693074862325e4f997aefe3.png
As you see, this resume has a strong headline that shows the areas of expertise of this HR manager. Their summary extensively lists the breadth of experience in managing diverse staff across multiple locations. The work experience section is rich in accomplishments organized by functions (i.e. saving $25,000 annually and shifting worker compensation experience ratings from 70% to 90%). Check this article to know how to write a sales assistant CV.
Can your resume make the cut?
It's hard to evaluate your own resume. That's why our professional resume writing company offers a free resume critique. Email your resume to us, and get a detailed report covering its strengths and suggestions for rewriting.
Want to have your resume done by an experienced writer? We offer custom writing of your resume at a very cheap fee.