Functional Resume Sample + Writing Tips
In its core, a functional resume deemphasizes your career progression. It focuses on your skills and core competencies, putting them above the fold. In fact, this is why career changers and candidates with employment gaps can benefit from this resume type – when you don't have a stellar career record to show off, the skills become your primary asset.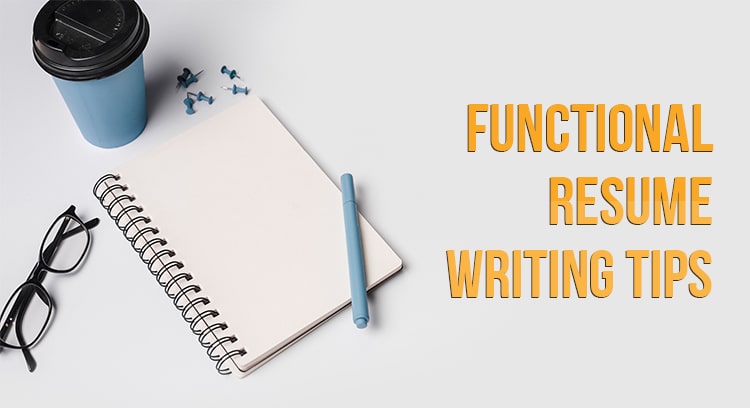 Meanwhile, a functional resume is the least used resume type, and it's not for everyone. Today, our resume experts will throw light on this resume type and explain when you should be using it. We will also share some insights on how to create a professional resume, avoid the most common resume mistakes and share a great example of a functional resume. Interested in a handwritten resume writing? Check here!
Pro tip: For detailed description and comparison of all resume types, see our guide: http://resumeperk.com/blog/write-my-resume-for-me-resume-formats.
Receive professional help with a career change resume
Want to make a dramatic change of industry but not sure how to make your past experience more appealing for the new employer? The resume wizards from Resumeperk.com can assist. We offer 10+ years of diverse expertise in resume writing and staff highly specialized American and British resume writers.
Your personal resume creator will translate the old experience to a new industry, focus on transferable skills and apply a catchy design to get you noticed. We offer timely delivery according to the deadline specified by you and unlimited changes within a 2-week revision period.
Frequently made resume mistakes that prevent you from getting a job
A functional resume might seem relatively easy to write: you start with describing your skills, and then proceed with listing a career history briefly. Yet, you might unknowingly be making one of the following mistakes which are pretty costly for your job chances:
• Putting your name or contact info in a header or footer
The biggest problem with this approach is that ATS doesn't read headers. Thus, the system won't be able to identify contact information and will send your resume to trash. Use the all-important contact info in the body of the resume.
• Being too brief
A functional resume type doesn't assume adding job descriptions. Yet, it means that the descriptions of your skills and accomplishments should give the recruiter the right amount of details and context. If you simply list the skill names such as "Customer service, cold calling, account management", it won't make it clear why should the company hire you.
• Displaying lapses in time
OK, you might be using a functional resume because of employment gaps. But even in this case try and make your career history as consistent as possible. Don't skip years from your work history. If you were unemployed during that time, consider including a volunteering position or a freelance job.
• Going overboard with the design
A functional resume format gives you more diversity with design. Yet, stay away from extravagant resume templates, the excess of bright colors and fancy fonts. You might want to get creative with some color or graphic elements, but keep in mind that it's a professional document in the first place.
When a functional resume is your best bet
A resume focused on skills works well not only for ambitious individuals looking to transition from a manufacturing industry to website design. Here are plenty of other career situations when a functional resume will be more efficient:
• You pursue a dramatic career change. What if you're eliminating work-related stress and switching from an accountant role in logistics to a college French teacher? In this case, hiring managers will see absolutely no connection between your past experience and current goals, so a functional resume is your best bet.
• Your relevant skills come from non-conventional jobs. If you've gained public relations skills during volunteering for a large nonprofit agency, a summer internship, or freelance work, a traditional resume might not give this skill much emphasis. So, it's better to put your competency above the fold and downplay where and how you've learned it.
• You have a track record of short-term jobs. Not to blame the job-hoppers – there might be thousands of reasons why you've changed six jobs in two years. But don't make the prospective employer question your loyalty and use a functional resume to downplay this fact.
• Your target job is skill-based. Some jobs require many technical skills, and the more skills you show off, the higher is your chance of getting hired. This rule mostly applies to tech professionals, such as programmers, web developers, engineers, and more.
• You want to make an employment gap less visible. If you've been out of the workforce for over a year, this inevitably evokes questions. In this case, it's better to impress the recruiter with your professional capabilities and explain this fact later so that it doesn't turn them off immediately.
Why do employers frown upon functional resumes?
You've probably heard that the hiring managers and recruiters don't like functional resumes. And it's true: their first notion upon opening a functional resume is that a candidate has something to hide. Because this resume kind is vastly used to hide employment gaps, job-hopping and lack of experience, hiring professionals have every reason to think so.
Hence, they might be prejudiced against you from the very beginning. However, returning to a chronological resume is not always an option: if you have zero relevant experience, an irrelevant track record will send your resume to the 'no' pile even faster. If the functional resume type is recommended for your career situation, as mentioned above, go ahead and use it. But you need to create a truly persuasive and informative resume that gives the hiring person the right amount of context and sells you for the job. Our resume tips below will show you how to achieve it.
Composing a resume for a career change
A functional resume is different in terms of structure and focus. Yet, the writing process still requires you to reconsider the career history and recollect your key accomplishments that relate to the target position.
Start with a resume objective
In most cases, it's reasonable to use a career summary instead of an objective. But when your career history isn't steady or you're changing fields, your professional goals might not be obvious. Here's when an objective comes handy. In 2-3 sentences, it is meant to humblebrag your transferable skills, relevant professional strengths and explains your further career direction. See how it looks on the example:
• Detail oriented-accountant with 7+ years of experience looking to transfer fields to data science. Eager to leverage strong analytical, mathematical, data interpretation and trend identification skills to contribute to the success of XYZ company.
• Proactive and ambitious professional experienced in meeting customer demands in a fast-paced environment, multitasking and building working relationships at all levels. Seeking a hospitality role with a company looking for increased customer satisfaction, strong organizational skills and work ethics.
Lead with examples rather than skill names
Following the objective should be the main selling point of your resume, a Core Competencies or Areas of Expertise section. Be thoughtful when crafting this section – it takes more than listing skill names to get noticed.
The best approach here is to list 2-4 groups of skills (i.e. Customer support & Customer service, Administration & Office management, Project management & Coordination) and give a few examples of how you used this skill in your professional history. Since this is not your job description, focus on the most prominent highlights, and use figures where it's possible. For instance, here's how you can describe the administrative skills:
Administrative Support
• Maintained 300+ client papers and assisted with transition to a paperless filing system
• Oversaw the processing of mailing checks and confidential reports meeting 100% of deadlines
• Coordinated team meetings, reserved the locations and prepared meeting presentations.
Pro tip: If you're an experienced professional (even if that experience lies beneath your desired field), omit the obvious skills. Younger professionals can include such skills as time management, ability to meet deadlines, and even familiarity with office etiquette rules for employees.
Target the skills towards the desired career
The above tip has explained the principle of listing your skills on a resume. However, bear in mind that not each skill you've gained is worth being mentioned. If you're switching from a finance consultant to a creative field such as public relations or copywriting, your expertise with accounts payable and receivable will be redundant to say the least. On the flip side, your experience analyzing data, writing reports, presenting the findings and build relationships across departments can be transferred to a new field, so concentrate on them in the first place.
Are you a manager running meetings on a regular basis? Learn how to make the most out of them: http://resumeperk.com/blog/10-tips-to-run-productive-meetings.
List your experience and education
The rest of your resume is reserved for the factual information. You need to list job titles, employers, and dates. But writing these details requires a bit of thought as well.
Do you have gaps in employment? Consider combining both paid and unpaid experience under one heading. Simply list your volunteering and part-time positions along with full-time ones. Here's how this can look:
ABC Company, 05/2018 – 01/2020
Marketing coordinator
ABC Company, 07/2017 – 11/2019
Fundraiser (Volunteering)
XYZ Company, 06/2016 – 06/2017
Online Marketer
If you have a few months' gaps, this problem can be solved by specifying years only.
Have you gained little experience in a new field already? In this case, you may want to group it under the Relevant Experience section, and place the irrelevant jobs under the Other Experience title.
When writing about Education, list your degrees reverse chronologically starting with the most advanced one. If it's been over 2 years since you've graduated, leave the coursework and academic awards out.
Keep it to a single page
In most cases, keeping the functional resume to one page will suffice. Since this resume type doesn't assume job descriptions and you list relevant skills only, you can easily show your value, competencies and accomplishments without adding the second page.
There are exceptions from this rule, though. If your experience extends to 15+ years, you wore multiple hats in the course of your career or you're in a tech field that requires an extensive set of skills, reaching to the second page is acceptable.
Still sounds too challenging? Take a look at the resume example below.
Functional resume example for career change
To get a grasp of how an effective resume should look like, see below. This example of the functional resume highlights the exact skills needed for an office support role, and gives the recruiter the right amount of number and accomplishments. Dates in work experience hide possible gaps, and the entire document fits into one page.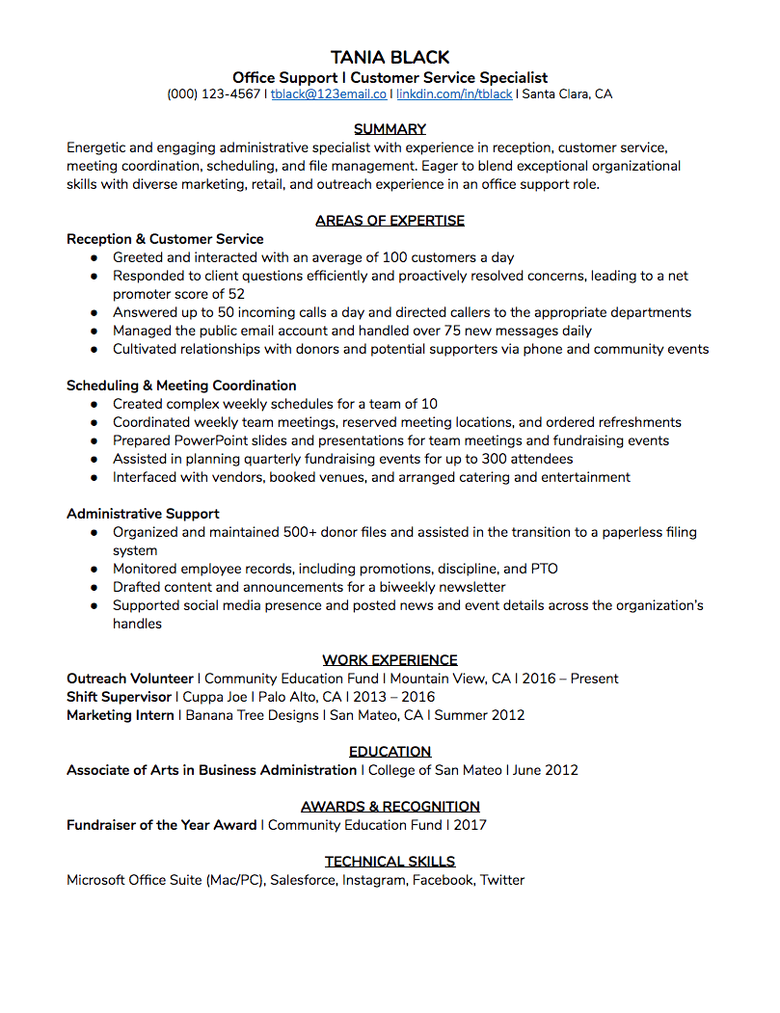 Image source: https://pilbox.themuse.com/image.png?url=https%3A%2F%2Fassets.themuse.com%2Fuploaded%2Fattachments%2F40177%2F2cbf4f22-8072-4acc-9600-a8371da3313d.png%3Fv%3Dc44b34bc8c96cd02694f9179e0855211dd2c3bf1feb3525bd95ba37fadd70c06&prog=1&w=780
A well-thought formatting is imperative for making a strong impression. When giving your resume finishing touches, take these pro tips into account:
• Clearly distinguish the sections. Make sure that sections are clearly separated, font is easy on the eye and the entire document is pleasant to look through.
• You may use colors and graphics. Use colors to divide sections, highlight the key information or achievements. If you have a track record of successes, you might want to include a small graph or chart.
• Add enough blank space. If you've had a long career history, it's better to add a second page than try to pack 20 years of experience and an extensive skill set into one page.
Writing a cover letter for a new field
A strong functional resume is great, but an accompanying cover letter that tells your story and reveals personality boosts your chance of getting an interview. Basically, a cover letter for career changers has the same structure and requirements as that of someone continuing their current line of career. The key principle is to explain your motivation behind pursuing that change and to show how your previous endeavors have afforded you the right skills to excel in a new industry.
Key takeaways to make your resume shine
• Decide if the functional format works best for your career situation;
• Start with an objective highlighting your transferrable skills and further career ambitions;
• List the main skills and competencies which are relevant to the employer's needs and expectations from someone in your target role;
• Add figures and percentages where possible.
How to spin a career change resume professionally?
Adjusting your past experience for a dramatic career transition is not a walk in the park. For the successful outcome, you might need perspective from a professional dealing with resumes on a daily basis. For instance, at Resumeperk.com, you can get your resume evaluated by a professional resume maker, for free. Email it to us, and receive a detailed report that outlines the mistakes and suggests the improvements.
By the way, we also offer low-priced resume writing for students and professionals. Take a look at our resume writing prices and claim your 20% discount this month.