10 Forbidden Habits During Job Interview
Many job-seekers feel relieved as soon as they get a desired Job Interview invitation from a hiring manager. Obviously, your resume had what it takes to convince the recruiter you might be a good fit for the position. However, an interview is just another chance for you to sell your professionalism and skills, this time in a form of face-to-face conversation. And you should make every effort to make an interview a success, as the tiniest mistake can cost you a job.
You've probably already learned the major rules of interview success and know what to wear for interview and which questions to ask to leave the positive impression. However, do you know what are the biggest interview no-no's?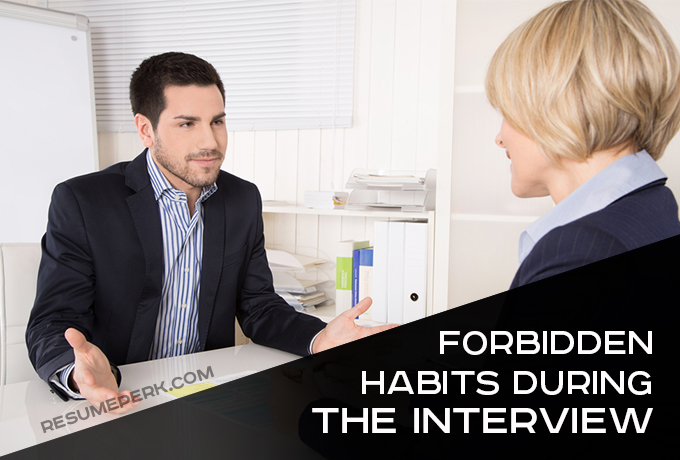 Below you'll find a list of habits you should avoid during the interview to make the positive impression on a hiring manager.
Applying for multiple jobs within the same company
When you apply for three jobs available out there at the company website, you believe that the multiple applications will increase your chances to get in. You think that you possess a versatile skill set which will enable you to do any of those jobs. Although, the hiring manager from his part sees an individual with the lack of focus in his career. Or, they may think you're so desperate to get a job that you are ready to pursue any opportunity.
However, being a 'jack of all trades' won't get your foot to the door.  Focus on one or maximum two positions and target your resume for them to look more determined and focused, Businessnewsdaily recommends.
Being late
Being late sends a number 'red flags' to a person interviewing you. It shows that you are unable to manage your own time and demonstrates lack of respect to time and efforts of the interviewer. Moreover, it makes you look irresponsible and gives a hint that you can let someone down at work. So, calculate the commuting time in advance and allocate the extra time for traffic or other unexpected situations. It's always better to be half an hour early than to rush in at the last moment.
Showing lack of research about the company
The questions like "What does the company do?" or "How many offices you have in Los Angeles?" show you're totally unprepared for the interview. With today's technology, it takes only a few minutes to research the company in Google and at least learn the basic information about them. Failure to do so indicates lack of interest in the company and the position, which won't help you in getting a job.
Bad-mouthing about former or current employer
Even if you and your past boss didn't part on a good note, it's not the reason to let your irritancy out during the interview. Each hiring manager knows that the employee who criticizes his past employer might speak the same things about their company one day, so they will prefer not to hire such a person.
Giving short responses to questions
Due to a natural shyness or the interview stress, some applicants respond to the interviewer by short phrases and don't demonstrate any enthusiasm in conversation. However, such an approach won't help you persuade him you're the best candidate for the job! So, put that shyness aside and respond to the questions truthfully and fully, using every opportunity to showcase your rich potential. And don't forget to show the value you brought for the past employer.
Asking about salary or benefits
First of all, the question about money should be first raised by a hiring manager, not you. It usually happens at the end of the interview or during one of the next interviews. So, be patient enough until you're asked "What salary do you expect?" and then reply with a range of salaries, Toughnickel recommends. If you ask about the pay at the middle of the interview, they might think that you're not interested in making a contribution and only want to make quick money.
Using slang language
During the interview, not only your professional skills are being evaluated, but also your body language, your conduct, and your language. The recruiter analyzes if you can express your thoughts clearly and communicate your point of view in good English. Such mistakes as overuse or interjections or slang can spoil the positive impression. Although use of casual language is not prohibited, it makes you look like you're not very serious about getting a job, which can reduce your chances to get it.
Unwillingness to ask your own questions
At the end of the conversations, the hiring manager typically asks you if you have any questions for him. And it's a huge mistake to answer that you don't. Asking smart questions is a great chance to find out more about the company, the role and to make it clear whether this job will be a fit personally for you. Moreover, the right questions will add you points in the eyes of a hiring manager, as they will show your genuine interest in contributing to the company. However, it's still not the best time to focus on financial matters.
Revealing the private details of your biography
One of the questions asked at every interview for any job position is "Tell me a bit about yourself". The question is pretty open; however, don't take it too serious and don't reveal all aspects of your biography. Do not overload the HR manager with your secrets of a happy life. Focus on sharing a few sentences about your school, alma mater, and your major contributions at your previous jobs. You can add a few words about your hobbies and leisure activities, says Toughnickel. Again, just like in your resume, you should not share any information that can indicate your age (provided if you are 21 years or older), orientation, marital status, religious beliefs and political affiliation. The employer, from his side, is not legally allowed to request such information from you until he's offering you a job.
Refusal to tell about your weaknesses
When asked about strengths and weaknesses, applicants are often unaware of how to handle the second part of the question. Saying something like "My weakness is working too hard that's why I often stay late in the office" sounds insincere and stating you don't have weaknesses at all shows you either lie or can't analyze your strong and weak points, both of which are huge disadvantages. So, how to handle this question best? The good idea is to tell about your real weakness and support the answer with explanation how you work to overcome it. For example, you can say "I am a shy person by nature, that's why last month I've joined the discussion club which helps me get on with people better and I also work on my presentation skills".
As you see, all of the above habits are easy to overcome, especially if you have a desired job at stake. Remember that even the tiniest details contribute to the overall impression you make during the interview. By being informed and thoroughly prepared, you'll cope with the trickiest situations and questions with confidence. And, if you strengthen the positive impression by sending a meaningful thank-you note you'll definitely be one step ahead of your competitors!
Looking for a job in customer service? Check our how-to on resume writing in customer care for any industry. Use the niche tips to make your resume highly targeted and effective in generating more interviews for you. And, if you still have questions pertaining to resume writing, contact us anytime and the experienced resume writer will assist you at an affordable price.