7 Morning Routines for Better Productivity
Starting your morning productively sets the right tone for the rest of the day. However, many of us snooze an alarm clock for a few times, drink hot coffee for breakfast, get ready in a rush and often run late to an office. And the rest of the day goes just as messed up and your energy levels are down. Meanwhile, it's easy to change everything for better simply by introducing a few morning routines.
Our resume writer online is going to share the most effective yet simple morning routines that you can start doing tomorrow. They have a positive effect on your health, productivity and general outlook at life. And if you are on the lookout for a new job, we can help rewrite your old resume to make it impressive and maximize your interview chances. We staff well-trained resume writers who are aware of the freshest resume trends and the employers' expectations.
7 morning routines to increase your productivity
1. Wake up early enough so you aren't in a rush
While snoozing an alarm is tempting, trust me: 20 minutes of extra sleep won't make you feel chipper. Instead, you won't have time for doing something important, such as exercising or having a proper breakfast. Your optimal wake-up time will depend on your individual routine and the number of good habits you decide to take up upon reading today's guide ;) The rule of thumb here is to allocate enough time so you could do all your morning routines without hurry and keep your mind peaceful.
2. Drink a glass of lemon water as soon as you're out of bed
This routine is amazing because it's effortless and at the same time is extremely good for your health. Lemon is rich in nutrients, antioxidants and vitamin C; moreover, lemon water helps your stomach function better. Some sources recommend that you squeeze a juice of half a lemon into a glass of water, but it tastes too sour, a few slices will do. Note that you should take 15-20 minutes before breakfast until the water absorbs.
3. Exercise, stretch or take a walk
In other words, do any sort of physical activity to warm up your muscles, energize your body and feel more cheerful. The latter, by the way, has been proven by scientists: people who exercise during the workday have more energy. However, if you are not a morning person and the idea of exercising once you're out of bed depresses you, go for breathing exercises or meditation. The main idea is about involving your mind and body into a wellness activity to make you more concentrated and productive in the office.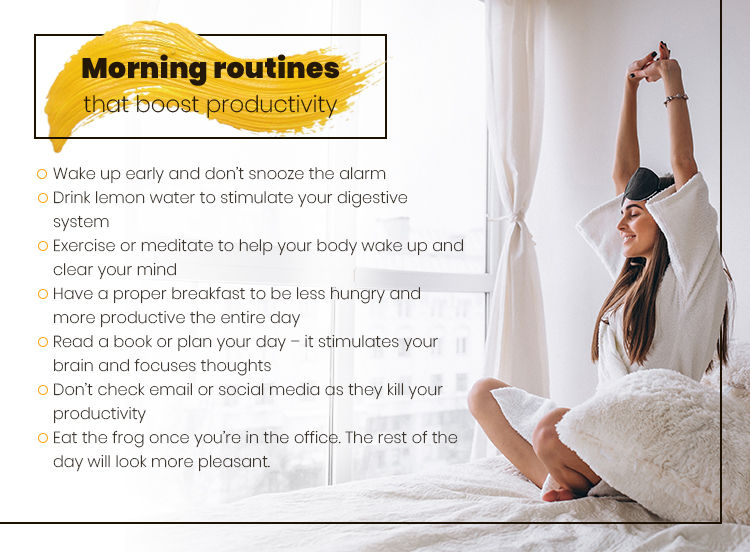 4. Have a healthy breakfast
You might object that you don't feel hungry in the morning and a cup of black coffee is all it takes to get you up and running. Then, you will be curious to know that people who have a good breakfast have more stable levels of blood sugar, are more productive and feel less hungry during the rest of the day. The healthiest breakfast options are eggs, porridge, yoghurt smoothies, and fruit salads. You can go for other options as well, just try to avoid fast food.
5. Read, plan your day or journal
In other words, dedicate at least 10-15 minutes to a mental activity that doesn't directly correlate with your office tasks. All of these activities set your mind for working but in a smooth, positive way. You might want to spend this time creating a daily plan, but if you have already done it the evening before, read a book. Be sure to read a fiction book or short story though, not the business book or career blog. Journaling is also a good idea to put your thoughts together (take a look at how to make your own blog).
6. Don't check email, social media, and put your phone away
Many of us instinctively check the phone once we're out of bed or sipping the morning coffee. However, scrolling a social media feed wastes your mental energy as you spend it on others instead of taking this time for yourself. Replying to emails and talking to colleagues, in its turn, is a proven way to feel stressed before your day even started. So, take care of your productivity and don't check the phone for at least one hour since you woke up. It will help you stay concentrated and focused which, as you know, is the key to success in workplace.
7. Eat the frog
Once you've arrived at work, take the advice of productivity gurus and eat the frog before you get down to anything else including emails. 'Eating a frog' means to complete the most challenging, complex, important and therefore dreadful task early in the morning instead of postponing it. At Resumeperk.com, we love this technique because it gives you the sense of accomplishment. And as you're done the most challenging thing, the rest of the day will go smoothly.
All these practices make a small contribution to your productivity and energy levels during the entire day. And since these are routines, they need to be repeated every day for maximum impact. So, choose whatever appeals to you and incorporate them into your morning schedule, and enjoy higher efficiency in the office. You might be also interested in things that are better to do for your career early: http://resumeperk.com/blog/things-to-do-for-your-career-by-35.
Recharge your job search with a professional resume
If you are currently looking for the job, one of the best practices that pay off is purchasing a professional resume. At Resumeperk com we can create you a resume that reflects your current professional goals and helps you pursue them. Just share your expectations with the writers and receive the application done up to the most recent resume standards. Moreover, our customers enjoy unbelievably low prices for resume writing and seasonal discounts.