Differences between Boss and a Real Leader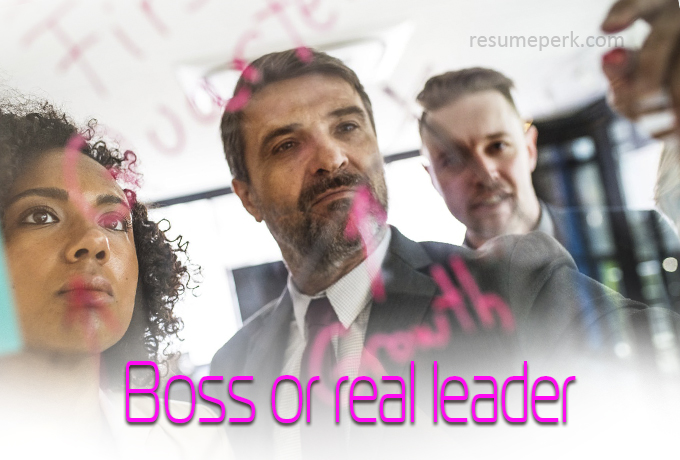 Are you in a leadership role or planning to pursue a managerial position in the future? Then, you might be interested in the ways to strengthen your influence and drive the performance of the team. Setting tasks and deadlines, controlling the processes and developing the team members are all the tasks of a manager.
Being a boss doesn't mean being an effective leader, though. In fact, even though these terms are used interchangeably, they have slightly different meaning. Today, our business professional resume experts will draw the light on the core differences between the boss and the leader and give you a few hints on developing your leadership qualities.
Boss Vs Leader: The Difference in Terms
A boss is defined as someone who is in charge of a worker or organization. The word 'boss' doesn't imply the specific skills or personality traits but indicates the person who was hired to manage the department, team or the entire organization. Boss is someone whose task is to get the job done using whatever methods and management style he/she finds appropriate. Boss is not always a hard working man, but he always sets clear tasks and makes sure the job is done on time and as per requirements.
The situation is whole lot different with business leadership and the leader. This word stems from 'lead' which means showing others the direction. Unlike the boss, the leader tells people what to do not in a strict, demanding way but rather support and provide motivational advice and is focused on the process. In fact, a leader can be not the actual boss but a team member who is respected for his professionalism and ability to inspire others. On the contrary, a boss can't be called a leader if he doesn't set an example or inspire others.
Also in this section: 
Obviously, the best boss is someone who possesses leadership traits as well. Managers who have the ability to motivate, inspire and drive the employees tend to achieve better results and lead the company to success. However, the above difference between the boss and the leader isn't the only one. Below, we'll explore their difference in further details. 
The Key Differences between the Boss and the Real Leader
If you are looking to pursue a supervisory role, you can simply apply and get hired to manage a team. However, the sole fact that you're in charge won't make you an effective leader. Becoming an effective leader takes effort, ability to communicate and motivate others rather than give orders; however, it's a far more rewarding and allows you develop tremendously as well.
A true leader vs. a boss
| | |
| --- | --- |
|                                              Bosses |                                         Leaders |
| As a rule, bosses are assigned managers. | Leaders are influencers, former or present team members. |
| A boss manages the team with the help of financial motivation. | A great leader inspires the team by new ideas and worthy values. |
| The management system is based on fear. | They motivate employees due to leadership skills, professional knowledge, and charisma. |
| A boss feels the authority to dictate rules and leaves little room for individual decisions. | Strong leaders focus on constructive discussions; they are ready to talk over problems. |
| Bosses give strict commands. | Leaders listen to team members and appreciate the feedback. |
| Bosses dominate conversations. | True leaders understand the real value of the whole team and establish a decision-making process. |
| Bosses tend to criticize the negative results of employees without delving into details. | Good leaders apply constructive criticism and offer hands-on solutions. |
| The work of the boss is mainly about control. | Effective leadership implies the support of workers and help with the most difficult tasks.                        |
| The assigned business managers are not interested in the nuances of the working processes and focus on the results of the group.  | A leader usually knows the working process from the inside out and, thus, can work alongside other employees. |
| Bosses create an atmosphere of strict discipline. | Top talent leaders ensure a trustful business environment. |
Key differences between great leaders and common bosses enable us to understand what type of business management is better in today's world. Obviously, leaders bring more success in contemporary reality.
It's all about fast-changing conditions for business. The practice shows that big corporations and little enterprises survive mostly due to flexible management. And a talented leader becomes one of the key figures in this case. Every next project is getting more profitable with a skillful manager.
Editor's Choice: 
Create My Resume: 10 Rules to Follow
evel1 lfo1;tab-stops:list 36.0pt;background: white'><>·Write My Resume For Me: Resume Formats   
Need a powerful resume that highlights your leadership abilities? Get one written by one of our in-house resume experts. In less than 5 days, you'll get a brand new resume, created especially for you and with your career goals in mind. Interested? Find out more about our prices and discounts.
How to improve your leadership skills: 10 tips
Have a clear vision – and communicate it
As a leader, you should have clear understanding of what you are driving the team towards. With a vision of the result you want to achieve or the change you'd like to implement, you'll be able to set clear goals for the staff.
You need to communicate your vision to the rest of the staff in a way that would motivate them share it. Take your time to explain not only the benefits of your idea to the organization, but also how each team member will benefit from it as well.  And if you manage to align the long-term goal with the personal career goal of every particular employee, they'll be highly motivated for taking on more initiative and driving the company to success.
Understand your strengths
Leaders are made, not born, and one of the things you'll need to learn as a leader is to identify and take advantage of your biggest strengths, both innate and those you've developed over the lifetime. If you know your strengths, you'll pick the best leadership tactics that fits into your personality type and style of work. Moreover, it will help you downplay your weaknesses and minimize the wrong decisions in the workplace. While personality traits of an ideal employee are pretty much the same for any job, a leader shouldn't develop all of them – just focus on your innate gifts to develop personally and gain respect of the team.
Accept your failures and learn from them
Everyone makes mistakes, but what distinguishes a real leader is the ability to accept the mistake and willingness to learn from it. If they've made a wrong decision or something didn't go as expected, they face this mistake and try their best to fix the consequences. A leader should also be able to speak about their mistake in front of the team to find a sound solution – this not also facilitates the problem resolution, but also builds the atmosphere of transparency and trust.
To develop this ability, stop seeing your mistakes as something critical. Anyone can make the right decisions all the time, so see your mistake as a chance to learn new practices and develop your expertise. By the way, here's the list of most popular resume mistakes you might need to correct.
Commit to continuous education and growth
To manage people in a fast-paced environment and remain competitive, it's highly important to constantly learn and challenge yourself. Being a leader means showing the way and setting an example for others, which requires you to be on top of things going on in your organization, your industry and countrywide. Successful leaders always learn, expanding their subject matter expertise, mastering new skills to broaden their mental horizon and exploring new leadership practices. A person who is an ongoing learner has more chances to motivate and lead others effectively. Moreover, a leader who admits not knowing something and is willing to learn is more effective in a modern organiaiton than a boss who always uses tried-and-true approaches and avoids anything new. Also, a leader will likely to have a career development plan and pass the essential career milestones by 35.
Listen actively
One of the essential aspects of communication skills is active listening. Active listening is more than just asking questions to find out some information. It's about getting involved in a conversation to connect with your interlocutor on the human level and fully comprehend their thoughts, mood and attitude, which will make an excellent base for the right decision-making.
To master active listening, focus solely on the person you are speaking to, eliminating any outside distractions. Maintain eye contact, follow their body language and ask questions as they speak to clarify the issue on the go.
Motivate and inspire others
People don't perform equally under different circumstances. One of the most noticeable traits that the great leaders possess is the ability to motivate others towards meeting the goal. A good way to motivate others is by setting an example. However, understanding the hidden needs and wants of the team member can literally work wonders on motivation and inspire people in no time. For instance, if an employee feels that his/her efforts are not appreciated, you can simply praise them or recognize their contribution in front of the rest of the team – and this will make better effect on their productivity than a bonus.
Handle conflicts and maintain positive environment
Positive working environment matters a lot for employee engagement and productivity. If there are any issues interfering with the working process (such as conflicts, negative attitude, workplace bullying), it's the leader who should take charge and resolve the situation. Handling tough or conflict situations require courage, but it's necessary to let the team function effectively. You'll also need a lot of empathy to listen to the arguments of each side and make the grounded decision.
As a leader, you need to treat everyone equally to avoid possible conflicts. It doesn't mean you should have no friends at work, but keep in mind that if your best friend gets a promotion or a pay raise, you might be blamed of a biased attitude.
Be passionate and enthusiastic about your job
Leadership is more about setting an example for the rest of the team than just assigning tasks and monitoring the progress. However, to inspire people follow your example, you need to display genuine passion and enthusiasm for your projects. It's impossible to become a great leader if you don't truly love your job – if you don't care much about the project success, why should everyone else do?
When you have this passion and right attitude, don't forget to communicate it to the staff. Highlight the importance of the project and work hard with your team rather than just direct them.
Set clear, measureable goals
Bosses often have a problem with setting tasks and goals for the subordinates. The most common problems with goal setting are neglecting the employee's professional interests, setting unchallenging goals, or failure to set the criteria of success. Needless to say that the wrong goal setting demotivates the team rather than challenges them.
As a leader, you'll need to set the clear, achievable and measureable goals for each of your team members, taking their preferences and strengths into consideration. If an employee finds the goal motivating and sees the criteria for success, it minimizes workplace stress and boost satisfaction as the goal is achieved.
Be open for feedback
One of the personality traits that distinguish a good leader is openness for feedback from the employees. Great leaders don't have a huge ego, therefore, they don't think they're always right and are open to listen to the opinion of qualified staff members. Employees' feedback is an important decision making factor for them – leaders use it to resolve problems proactively and, if everything goes right, to improve the situation further.
To take advantage of feedback, you need to foster the culture of openness and transparency; otherwise, the staff might be saying exactly what you want to hear. Showing that you value their opinion, both positive and negative, will help you direct your team more effectively.
If you develop these qualities of a successful leader, you'll significantly increase your chance of getting promoted to a management role in your current company. However, if your employer doesn't provide the opportunity for growth, it might be the time to seek the leadership role elsewhere. A professionally written management resume will showcase your biggest professional strengths and make your candidacy more attractive for a prospective employer.  At an affordable price, you can get your cover letter written and LinkedIn profile completed as well.
If you want to become a better leader, develop both your professional and soft skills. Having understood the key difference between the assigned manager and a real leader, you'll focus attention on the correct priorities.
Most of the recommendations on how to become an awesome leader boil down to the following moments.
✔ Be a true professional
A good leader serves as an example for his/her team. Grow your professionalism and learn how to manage people. Your knowledge and skills will motivate other employees to reach your level.
✔ Respect your team
Do not take your employees as a faceless resource. Every team member contributes to your common cause, so appreciate his/her value. 
✔ Communication matters
Learn to express your thoughts and ideas. Alongside email communications, try to talk to every employee directly. By doing so, you will make contact with everyone and receive valuable feedback.
✔ Learn to make difficult decisions
A good leader is the one who knows the balance between risks and prudence, freedom and strict discipline, friendliness and familiarity. Train your problem-solving skills to reach new heights in the development of your office, dynamic parameters, reputation, brand awareness, etc. 
We are sure, soon you will succeed and lead your team to awesome achievements.
Becoming a real leader takes time – take the first step today
The greatest leaders have the vision, know their strengths and possess an utmost ability to communicate their vision and drive their team towards reaching the big goal. If you thrive in a fast-paced environment, are enthusiastic and love developing others, you'll feel comfortable in a leadership role. Finding the role that suits your abilities takes time – however, you can get more interviews with a great resume.
Contact us anytime and let us know your career aspirations, as well as your largest accomplishments from the past. We'll provide you with a resume you'll be happy with, as well as professional interview help – otherwise, we will revise it free or charge. Check out our list of services.
Popular Posts: Do you consider yourself a real leader?