7 Resume Skills That Will Increase Your Earnings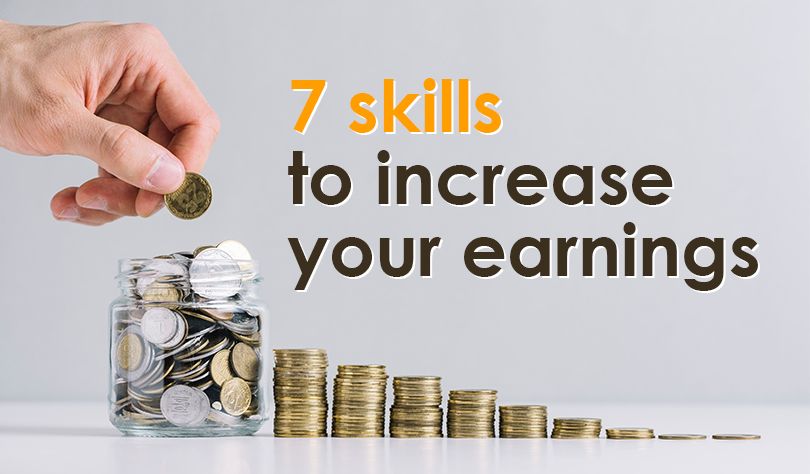 Your potential for career advancement depends a lot on the skills you have under your belt. Skills and competencies influence your earning potential, too. So, if you feel stuck in your career or would like to earn more, start with developing in-demand skills that will help you excel in the role and negotiate a better salary.
Some companies offer in-house training in accordance with your career plan. However, if your employer doesn't, you can take responsibility for your own career and learn the necessary skills on your own. Today, our online resume writers will list the in-demand skills that might lead you to a pay raise, a promotion or a better paying job.
Get a resume that markets your skills effectively
Not sure how to reflect hard and soft skills on your resume? The resume creator from Resumeperk.com is here to help. We staff competent writers and help with graduate, mid-career and professional executive resumes. Your writer will capitalize on the exact skills the employer is looking for and tailor the application for a specific job posting. It's affordable and we guarantee your satisfaction.
Top 7 skills that will increase your earnings
If you are not sure what to learn to advance your career, take a look at the skills below. They are in demand for many industries and have a proven effect on your paycheck:
Microsoft Word and Excel
These skills are extremely overused on resumes. Yet, not many professionals are proficient with these classic tools. MS Word can be used to generate reports, write letters, or format business letters. On the other hand, Excel has even wider application – it can be used for accounting, analysis, and project management. If you don't feel comfortable with any of these classic office programs, why not challenge yourself and boost your level of proficiency? Use online resources such as YouTube videos and courses on Coursera or attend an offline class to gain new knowledge.
Business writing
Written communication might sound like an obvious skill. However, the writing skill is one of the top 10 in-demand skills for employers, and not everyone can write well. The inability to compose a clear, well-structured client email can be pretty costly for your business. And writing issues such as typos and grammar mistakes turn off the recipients of your emails, reports and memos. The resume errors can even cost you an interview, as the hiring managers don't welcome bad writers.
If you feel that writing isn't your strong suit, consider taking a class with a local college or evening training. You might also check out these successful writing tips to get started.
Project management
Whether you're in a leadership role or not, project management is a universal skill that can position you as a top professional in any industry. Project management is about organizing and directing the work of others towards a certain goal. It also entails overseeing the processes closely so that everything goes as planned. If you are looking for advancement in career, be sure to master the basics of project management early on. You might want to observe the work of managers in your organization and ask them for advice. There's also an option to take external training and get certified, however, it's pretty time-consuming and costly.
Can't put yourself together in the morning? Discover the helpful routines that boost productivity.
Public speaking
Mastering the various forms of verbal communication can also make you more successful in the workplace. According to Warren Buffet, mastering public speaking can grant you a 50% pay increase over the course of your career. So, if your legs are shaking as you intend to speak in front of the audience, challenge yourself and hone your public speaking skills. The ability to confidently speak in front of your team or a larger crowd will add value to you as a professional. Verbal communication and collaboration skills are also important. The hiring managers are likely to hire someone who gets along well with others rather than a person with superior hard skills.
Are you attending interviews to land a better paying job? Check out these pro tips for job interview preparation.
Digital marketing and social media
One or several digital skills on your resume will instantly add points to you as a candidate. Companies increasingly encounter the need for attracting more prospects through social media or the internet, and need professionals who know their way around digital promotion. There's plenty of digital skills that you can master – social media management, online marketing, SEO, digital design and many more. Choose the one that correlates with your role and try to find your way around. Online learning platforms like Coursera or Udemy offer an abundance of courses for digital skills. Also, chances are that your company will compensate for your tuition expenses.
Coding
Demand for programmers and tech professionals is on the rise. It's not surprising that more and more people are learning to code. However, coding skills are important even if you don't plan to become a developer. Understanding the basics of coding makes you more flexible and self-sufficient. For instance, you won't have to call an IT department if something is not working in your browser – you'll try and fix everything on your own. For this and many other reasons, you can expect a significantly higher salary if you show off the strong coding skills. If you don't plan on entering a programming path, knowing HTML, CSS and JavaScript will be sufficient.
Foreign language skill
Many businesses become international, and professionals who know foreign languages are in increasing demand. All in all, it's more cost effective for an employer to pay you extra for language proficiency than to hire a translator. Knowing more than one language will enable you to communicate with the company's clients and partners, write copy, or perform similar tasks. So, if you've always had an interest in learning German or Spanish, it's high time that you realized your dream. You might want to find a tutor, join the evening or online classes, or even explore the language learning apps.
Curious about which skills the top employers want to see on your resume? Take a look at the top skills here: https://resumeperk.com/blog/10-professional-resume-skills-for-all-types-of-jobs.
Advance your career with a professional resume
As you acquire new skills and grow professionally, make sure that your resume reflects this growth well. An up-to-date professional resume that puts your skills into the spotlight is absolutely crucial for getting noticed by the top employers. If you struggle to create a persuasive resume, we can help. Check also the list of the most powerful resume words here.
Our staff resume maker will work one-on-one with you to improve your resume content, structure, and design. It's affordable for professionals of any career levels – take a look at our services and prices. This month, we also offer an extra 20% discount for all resume packages.