10 Professional Resume Skills for All Types of Jobs
Writing a resume but can't decide on which skills you should include? Are you supposed to write those skills as a list or give the examples of how and when you used them? Resume skills are meant to show the employer that you can succeed in a role if hired because you possess all necessary knowledge and competencies. At the same time, simply putting everything you can do on a resume isn't the best idea because it will blur the focus of your resume.
To help you put the right skills in the right place, our local resume writer has prepared you a list of skills that work for all careers. These skills, which are in demand with most employers, will increase your value as a candidate. If you want to get a resume written by an experienced resume writer, get in touch with us. An expert of Resumeperk.com will access your background and highlight the exact skills your potential employer is looking for.
How to write skills in your resume?
Create a separate Skills section. In this case, you list the skill names without going into details about putting them into practice. The skills section is usually placed above work experience since skill names serve as keywords and help your resume pass the ATS screening.
Demonstrate how you put the skills in practice. Instead of giving a skill name, i.e. Communication, you give the reader context for using this skill. For example: Communicated program status to key stakeholders in the form of presentation. This method doesn't assume creating a separate section for skills – you wrap them in descriptions of your previous jobs. 
Job skills for resume: how to list your hard skills
Hard skills mean all specific knowledge and skills which are learned through training. For instance, hard skills for a B2B marketer will include data analysis, SEO, content development and social media management.
Hard skills that you need to include are hugely defined by your career path. If you hesitate about which ones to include, open a job posting and highlight the hard skills that the employer specifically seeks for. For a marketing position, examples of such skills might be copywriting or proficiency with CMS.
Don't assume that some of your skills are obvious for a specialist in your field. Remember that the employers can't read your thoughts and if something isn't on your resume, it doesn't exist for them.
Have you planned your career track years ahead? If you haven't yet, check out why you need career plan and how it will help your professional development.
List of qualifications for resume: 10 essential skills
While specific soft skills will vary from position to position, these 15 skills are in demand in professionals of multiple industries:
1. Communication
One of the most frequently used resume skills, communication means articulating your ideas and collaborate with others respectfully in business environment. Communication includes maintaining contact with coworkers, management, clients, vendors and other parties. Depending on what your job entails, you might want to specify that you are proficient in verbal/written communication, active listening or public speaking
2. Customer service
Customer service is another popular skills which anybody who deals with company's clients should include in a resume. Whether you're a salesperson, technical support rep or a key account manager, include one of the customer service skills: active listening, relationship building, or interpersonal skills.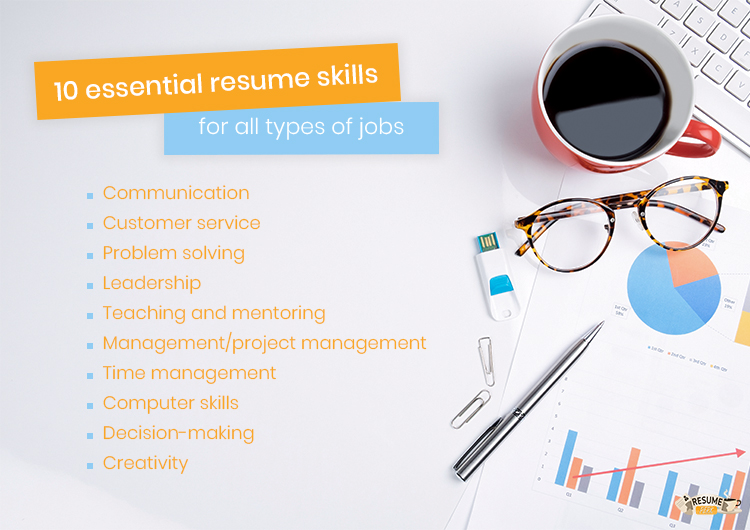 3. Problem-solving
Problem-solving skills are a must to include for professionals whose job is to find and fix problems (actuary, accountant, or PC technician). Nevertheless, the meaning of this skill is broader: it assumes finding solutions to problems or issues that arise in your daily work. For problem-solving or research skills, it's better to include context, i.e. specify what kinds of problem you resolved for a previous employer.
4. Leadership
Generally, leadership skill means organizing other people to reach a shared goal. However, it's so overused on resumes that it turned into a buzzword. That's why it's better to specify where exactly you took charge. Did you train others, managed risks, led a project, or were in charge of team building? Use a more specific skill name instead.
5. Teaching and mentoring
Did you mentor interns or supervise the newly hired employees? Then, don't hesitate to specify that in a resume. This is one of the invaluable skills as it shows your professionalism, ability to teach and communicate with others well.
Handling workplace criticism is an important soft skill too – and here's how to master it: https://resumeperk.com/blog/effective-ways-to-face-criticism-at-the-workplace.
6. Management/project management
Emphasize management skills if you are in a leadership role or plan to go to managerial side of things soon. Show your ability to manage people, resources, tasks, projects – with this skill, it's better to provide context. "Managed a team of 6 in a busy call center environment" tells more about your competencies that the skill name only.
7. Time management
Along with business ethics, dependability and willingness to learn, this skill is great to put on a resume of the student or recent graduate. If you are an experienced professional, it goes without saying that you know how to organize your working day. The only exception from this rule is if your job is all about managing time and tasks (i.e. secretary or personal assistant, or healthcare professional).
8. Computer skills
In addition to your industry-specific software, there are certain PC skills that add value for any professional. These are the operating system names, MS Office suite, presentation software, spreadsheets and tools for video conferencing and collaboration. If you work as a software engineer or systems administrator, consider creating a separate section for your software and PC skills.
9. Decision-making
Decision-making skills aren't for managers only – as a professional, you make multiple decisions in your area of knowledge. Which marketing plan to approve, how to handle client complaint or calculating yearly budget all require decision making skills, so make them part of your resume.
10. Creativity
Creativity is a must-have resume skill for designers, programmers, writers, marketers and other professionals whose job is connected with creating something unique. If it isn't obvious in your resume right now, specify how your creativity helped you succeed in the workplace. And, if you're an author, take a look at these profitable jobs for writers.
Curious what other skills employers value? Read here.
How to highlight abilities for resumes best?
There are two main rules to follow. Firstly, match the skills to the job description. If the job opening says they are looking for verbal/non-verbal communication skills in a candidate, use the exact phrase in the resume. And secondly, the higher you are on the corporate ladder, the less obvious skills you should use. Entry-level professionals need to specify, for example, their knowledge of MS Office, QuickBooks, time management, and business ethics. Experienced professionals and managers should focus on more complex, specific skills and leadership abilities.
Take a look at the best CV samples and get a custom professional resume
If you are looking to have your resume skills highlighted in the right way, you've come to the right place. The professionals of our qualified resume writing website create top-notch custom resumes for the professionals in all industries. Your writer will show off your strengths and skill set, positioning you as the best candidate for the job. You can browse the Samples category in our blog to take a look at our previous work. Moreover, the prices are highly affordable and the first-time users are eligible for a 15% discount.