Administrative Assistant Resume Example + Writing Tips
The smooth functioning of any office is impossible without a proactive administrative or clerical assistant. These professionals take on file management, internal/external correspondence, scheduling of appointments, and staff support, helping other team members to perform better in their own jobs. Not only most administrative professionals find their job satisfying, but also there is a steady demand for them across all industries. According to Glassdoor.com, average base pay is $44,285/year.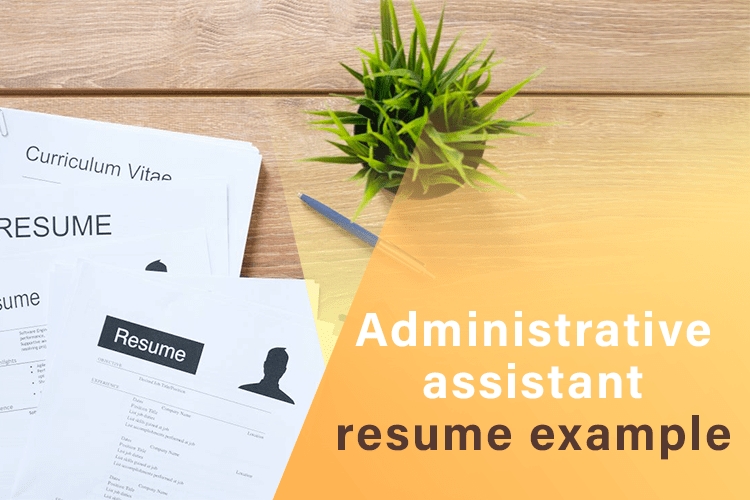 Whether you are planning on starting a career after graduation or already have years of experience under your belt, your path to the desired job starts with a resume. The experts from our resume services NYC will guide you through the process of composing a competitive resume, answering the following questions:
➤ What skills and competencies to include in an administrative assistant's resume
➤ How to describe your job duties effectively, and
➤ Winning resume example and expert tips.
Too busy to write a resume on your own?
We can help. The resume makers of Resumeperk.com offer a decade of resume writing experience and full adherence to the modern resume writing standards. We offer 24-hour delivery so that you could apply for hot jobs immediately. Your resume creator will work one-on-one with your, taking all your suggestions into account and capitalizing on your accomplishments to create an impressive resume that will sell your skills for the top administrative jobs.
What does an administrative assistant job entail?
Administrative assistants perform a wide range of routine tasks, saving time of the managers and allowing the entire office to function smoothly. Basically, their responsibilities are connected with the information management and distribution: they handle correspondence, answer inbound calls, maintain records and databases. Depending on the industry and the company, they might also schedule appointments, manage office supplies, and greet visitors. The nature of the work of an office assistant requires the ability to multitask, be on time with multiple assignments and resolve problems on the go.
Writing an administrative assistant resume summary
Unless you are transitioning to an administrative assistant job from a dramatically different path of career, your resume should start with a summary. This 3- or 4-sentence introduction serves to present your crucial competencies and personality characteristics to the reader, persuading them that you're ideally suited for the job. A good summary is always customized for the job advertisement, so be sure to use the names of skills and qualifications the company requires.
To get inspired, take a look at the summary examples below:
➤ Proactive and detail-oriented Administrative Assistant with 5+ years of experience managing calendars and schedules, organizing international travel and managing a database of clients and vendors. Tech-savvy with working knowledge of MS Office and Google Suite, and certified in Microsoft Computer Applications.
➤ Organized Administrative Clerk with a track record in handling multiple time-pressed projects simultaneously, organizing office for efficiency, and providing top-notch support for busy executives. Adept at external communication, capable of preparing well-researched and accurate documents, and recognized for excellent customer service skills.
How to describe your job duties?
Professional experience is the most extensive and important part of your resume. Based on it, recruiters predict your future performance and evaluate how your skills match the particular industry, employer and role. Therefore, you want to be very specific and concise when describing past experiences. Here are a few hints if you are not sure where to get started:
✓ Write 5-6 bullet points per job. Less won't give the recruiter a big picture of what your job entailed. More will take the valuable resume space and make the paper longer than necessary. Don't overload the job description with secondary and irrelevant duties.
✓ Be specific. Don't say 'coordinated travels', 'answered phones' and 'updated database'. Instead, write 'coordinated and scheduled a travel calendar that included 7 business trips bi-annually', 'answered 25+ inbound calls per day, resolving or transferring customer enquires', and 'Supported the transition from paper to an electronic database and finished the project 1 week ahead of deadline'.
✓ Keep it relevant. Let's say you've mostly maintained inventory, office library and composed emails in your previous role. However, if your target opening requires heavy customer interaction, maintaining client database and assisting the executive, try and focus on these experiences in the first place, even if they weren't the top priority in your previous job.
✓ Know the limits. Even if your experience in office administration spans over decades, you needn't list each and every job you had. Limit the experience section to the most recent 15 years, or 5 jobs if you've changed job frequently.
✓ Don't forget your accomplishments. List your achievements and recognition along with regular daily duties. 'Received an award for excellent work ethic' or 'Renegotiated office supplies contracts, saving the company $7,500 a year' count as great accomplishments.
Thinking of making some extra money without quitting the day job? Check out how to turn your hobby into a source of income.
Which skills to list in a resume for work?
Creating a separate Skills section serves two major goals. It makes your expert resume keywording easier and captures the attention of the reader, showing that you've got the exact proficiencies they're looking for. The best way to present your skills is to use 2-3 columns or to organize them by sections (i.e. Administrative, Customer Service, Software, etc.). CV consultants recommend that you list between 8 and 15 skills. Here are some good examples you can add to your resume today:
• Microsoft Office
• QuickBooks
• Event Coordination & Planning
• Certified Administrative Professional
• Writing & Editing
• Presentation development
• Database management
• Verbal & written communication
Curious about what soft skills are in demand in any industry? Take a look at the detailed characteristics of ideal employees.
Administrative assistant resume example & writing tips
Now that you know how to compose the most important resume sections, it's time to put your resume together. Review the example below to get a grasp of how to structure the resume, which additional sections to include, as well as the powerful resume verbs you can use when describing your experiences. After the example, you'll find the pro tips that will ease your writing process, as well as the list of things to avoid in your resume.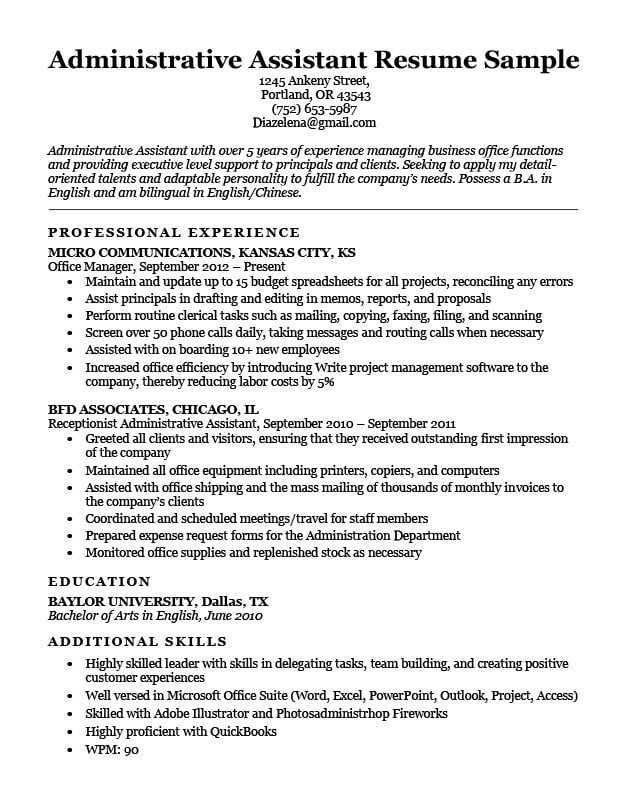 Image source: https://resumecompanion.com/wp-content/uploads/2015/09/administrative-assistant-resume-sample-download.jpg
Writing tips from a resume consultant
• The above example uses a chronological resume format. It lists the experience in a reverse chronological order and lists some of the key skills at the same time. Unless you are transitioning to the administrative field from a completely different industry, stick to this resume type.
• Add figures. This job-seeker uses figures and percentages when it's possible to prove their impact. You should use numbers, too – they make you look more accomplished and give the reader a clearer picture of your professional capabilities.
• Include the extra sections. If you have volunteering or community service experience, certifications, passed relevant training or speak German and Chinese languages, be sure to humblebrag about it on the resume.
• Work on visual appearance. The above example has plain black and white design, but you might want to elaborate on yours and use color to highlight the section headings, your name, or other important details. In the era of visuals, the way your resume looks matters a lot.
• Take your time. Unless you have rich experience with resume writing, this process takes significant time and effort. Take your time to recollect all important achievements, decide on what to include and polish the paper until it's perfect.
What to avoid in your administrative assistant resume?
Hiring managers expect to see technical literacy, interpersonal skills, organization and communication abilities on your resume. However, there are also things that they absolutely cannot stand. Before sending your resume, make sure it's free from the following issues:
• Grammar and punctuation mistakes. As an admin assistant, you are expected to be accurate and attentive to detail, thus, typos and misused commas are not acceptable. Moreover, 59% of recruiters will reject a candidate because of resume mistakes.
• Inappropriate email address. Are you still using that high-school email that sounds like 'sweetstrawberry95@gmail.com'? It can become a stumbling point, too. Create a professional email consisting of your first and last name.
• A document that's too long. If you have under 10 years of experience, keep your resume to one page. Two pages are acceptable if you have changed multiple roles and companies. Employers won't be wasting their time reading longer resumes. 
• Too creative formatting. Highlighting your name and section headings in red is fine. Using a black font on the spring green background is not. Remember that it's a professional document in the first place, and should look accordingly.
• Casual tone and slang. Administrative assistants handle office communications, and should have strong business writing skills. Avoid using slang, abbreviations, casual expressions or anything which might portray you as unprofessional communicator.
Want a free expert resume consultation?
If you're looking for someone to recommend best resume writing service in USA, you've come to the right place. We offer custom resumes for sale, and the experienced writer will help present your qualifications and achievements professionally. More importantly, now you can hear a professional opinion about your resume free of charge. Send us your resume, and received a detailed evaluation along with hands-on tips for improving the paper. The writer will respond you in 2-3 days.