Watch and Learn: Top 15 Qualities of the Ideal Employee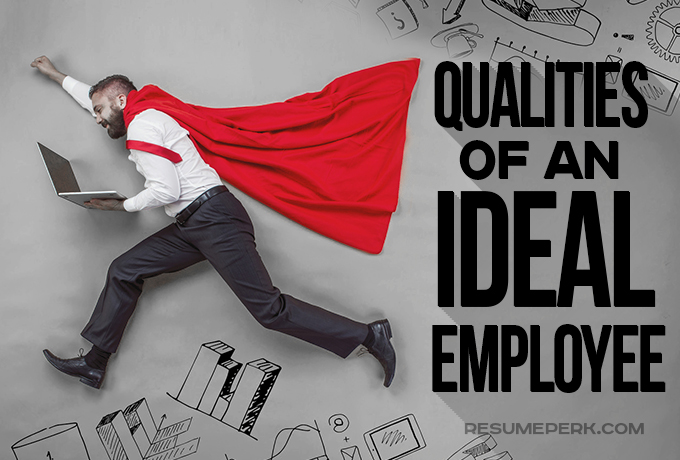 As an employee, you have probably wondered what hiring managers expect to see in you as a candidate. Which qualities do they value and whom they consider as perfect employees? And what does it take to make them fall in love with you during the interview (for tips on successful interview, see here: http://resumeperk.com/blog/20-important-tips-for-successful-job-interview) and consider you as a perfect employee when you're hired? Your background, knowledge and skills matter, but they are not everything. Managers are aware that it's employees that drive organization's success. And, although knowledge and skills are important for doing the job well, they still can be taught. What can't be taught, however, are the inherent personality traits such as attitude to work, adaptability, willingness to learn new things and intelligence.
Moreover, the most successful people develop the following habits that help them achieve success: http://resumeperk.com/blog/professional-executive-resumes-habits-of-successful-people. These attributes form the core of personality and determine how well someone is going to handle challenges, get things done and communicate with other members of the team, as well as clients and vendors.  Thus, companies are more likely to hire someone who lacks in subject knowledge but possesses the right attributes of personality and attitude.
So, if you've made up your mind to become a dream employee, check the professional resume writers cost to delegate your resume writing to seasoned professionals. Meanwhile, learn our list of characteristics of a good employee below and start developing the attributes you lack in.
Also in this section:
Top 15 good worker qualities
Ambitious
It goes without saying that ambitious individuals are more valuable for the organization than the average workers who only care about a stable income to pay their bills. They want to work their way up the career ladder, they are thrilled about huge success and that's why they are focused on getting things done more than any other employees.  Moreover, ambitious people often demonstrate such traits as openness, creativity and go-getter attitude. The above qualities are critical career success – and do a lot of good for the organization.
Have you recognized yourself in the above description? If so, it means that you are focused on constant development and growth and will benefit from adopting a few habits of successful people: http://resumeperk.com/blog/professional-executive-resumes-habits-of-successful-people. Moreover, here's a huge post on how to ensure your personal development at work and why it is important.
Culturally fit
Cultural fit determines whether your approach to work, your values and beliefs align with those of the company. In the long run, cultural fit also defines whether you're likely to stay with the organization and contribute to it success. Basically, culture of the company can be obvious from its dress-code (you can learn more about the dress code for the interview here: http://resumeperk.com/blog/what-to-wear-for-a-winning-job-interview), communication style and team-building activities. Nevertheless, to be considered as a valuable candidate, you need to connect with the company representative on a much deeper level. You need to show you are aware of the company's mission and goals, and explain how they are aligned with your personal values and beliefs.
Do you feel that your current company doesn't resonate with your true passion? Then start searching for a new employment with a resume crafted by resume experts to boost job search.
Self-motivated
In the fast-paced environment, managers need to be focused on driving the organization forward. That's why they have less and less time explaining particular tasks or motivating their subordinates. Self-motivated, result-driven individuals, therefore, are in a huge demand.
Firstly, self-motivation implies that you can operate effectively under very little guidance and direction. Secondly, it means that you can control your levels of motivation at work on your own, and can get engaged in getting work done for a long time. The latter is only possible if you set professional goals and are committed to achieving them.
If you lack motivation at work and feel stuck, here are a few hints on how to retrieve it: http://resumeperk.com/blog/simple-ideas-to-regain-motivation-for-working.
Initiative
Willingness to take initiative is one of the most valued qualities of an employee. Initiative basically means that you are willing to take on the new tasks, develop more effective approaches to work and come up with the new suggestions related to work of your department and organization in general. Initiative personalities don't just perform their duties as assigned (reactive approach), but demonstrate interest in company growth and therefore can predict upcoming issues and develop the needed course of actions (proactive approach).
If you've always been a shy person, you can start small. Attend meetings and express your opinion on various matters, and start taking on more diverse responsibilities than your role implies. Initiative is closely connected with another important train – ongoing learning. Initiative people are eager learners as well, as they are curious about how things work and how to make processes more effective.
Wondering about the other skills that you might need for an accomplished career? Learn more about them here: http://resumeperk.com/blog/10-skills-for-career-success-from-cv-proofreading-service. If your resume doesn't reflect these skills, consider paying a professional for quality resume writing.
Perserverant
Perseverance is often explained as an individual's ability to complete tasks, even complex and unenjoyable ones, through the end. Perseverant employees are more willing to take on the new challenges and get things done rather than complain about some sort of circumstances. It's the critical trait for the majority of intellectual roles that require analytical skills. Nevertheless, it is important for any industry, as perseverant individuals tend to achieve success everywhere.
Flexible
Today's world of work requires that the employees must be flexible and adaptable for ever-changing working environment. If schedules, priorities change or an unexpected circumstance arises, you need to respond to change proactively and perform in a way that will be beneficial for the company. For instance, if you suddenly identified a block of spare time in the middle of working day, think of how you can spend it productively. Or, when the client or vendor calls you with a non-standard issue, will you be able to come up with the solution on the go? This is how flexibility is tested. Readiness to perform the duties that are outside your usual scope of work is valued highly in any company.
Your resume needs to be flexible, too; make sure yours reflect the modern tendencies of resume writing: http://resumeperk.com/blog/must-dos-and-donts-for-modern-resume-you-should-know.
Great communicator
Developed communication skills matter a lot in any role – resume and career experts have been saying it multiple times.  Communication abilities determine how well you deliver the messages across the organization and outside of it, grasp the ideas and information given to you and how effectively you operate it. Communication skills are often associated with work ethics, courtesy and knowledge of the business communication rules. Nevertheless, it is also closely tied with collaboration, teamwork and relationship building – good communicators usually excel at all three. Moreover, for roles that involve heavy interaction with customers and stakeholders it's employee's communication skills that make or break the company's success.
Good communicators know how to respond to feedback from their bosses in a right way. If you have problems facing criticism and responding to it, read here: http://resumeperk.com/blog/effective-ways-to-face-criticism-at-the-workplace.
Confident
Confidence is a good asset for any motivated employee; nevertheless, in leadership roles it is a must. Confident leaders are more likely to handle challenges and take risks, which is crucial to leading the company or project to success. Here are the two major reasons why confidence is important:
Confidence evokes trust – confident individuals evoke more trust in business environment than those who are shy or doubt their knowledge and abilities. Trust, in its turn, is essential for building relationships within the company, as well as with clients and outside vendors who are more likely to deal with confident, enthusiastic manager.
Confidence is connected with expertise – we tend to see confident people as more knowledgeable and experienced than those who are shy and reserved. So, if you want to be recognized as a subject matter expert, you need to look as confident as possible.
Your resume needs to exude confidence as well. The seasoned resume writers of our company achieve this by highlighting your accomplishments – contact us to find out how we can benefit you.
Passionate
Passionate individuals are far more productive comparing to those who see their work as a mundane routine. When you are truly excited by what you do, you're always willing to go an extra mile at work to achieve the result. Passionate employees face challenges positively, are not afraid of complex tasks or new responsibility and, moreover, they create a comfortable working environment in the office as they really enjoy what they do. They say that people who truly love what they do never work a day in their life.
Do you feel that you ran out of energy and passion at work? If you love what you do, probably, you just need to change your everyday routine to become more inspired and productive.
Good writer
Surprised? You shouldn't be. In a technology-oriented world, your ability to clearly communicate in written can really open doors. Even if you aren't writer by trade, you'll need to create multiple memos, business letters, e-mails and other written documents. Moreover, when applying for jobs, you'll need to write and re-write your resume, covering letter and other application documents. And your writing can reveal a lot about your intelligence, ability to express your thoughts clearly, convey the main idea to the reader and knowledge of business correspondence rules. If writing skills is your weak point, check our tips on content writing. They can also be used to create effective documents and e-mails at work.
Problem solver
As we've mentioned above, one of the important traits of a good employee is their willingness to work under minimal guidance. This becomes twice as much important when problems arise. Good employees don't rush to their boss for a solution of interpersonal or client issue. On the contrary, they come up with their own creative solutions aimed to improve business processes, image, or client relationships. Managers have their own responsibilities and can't devote all their time to micromanagement; thus, by demonstrating that you can proactively resolve any issues arising in the office and giving your suggestions to management you have a chance to become a dream employee for them.
Moreover, problems solvers have more chances for promotion; since they offer solutions rather than simply acknowledge the problem, they get noticed faster and look more responsible and ready to take on extra work.
Organized
Although being organized doesn't contribute to your professional skills, it makes an overall good impression. Organized individuals have developed time management skills; they can effectively prioritize tasks and never (or nearly ever) miss deadlines. They tend to keep everything under control, and that's why typically they get more work done and get it done better than those who lack organizational abilities, thus making more valuable contribution to business success.
Moreover, organized employees typically have things outside of work in order as well, which helps them maintain an effective work-life balance. That's why, if you are organized, don't forget to mention it and give the examples during the interview – it can add you extra points.
Team player
Most of job-seekers put on their resumes that they're "work well in a team" but not all of them fully realize what an effective teamwork means. The matter is a team built in the right way achieves more than the sum of contributions of each particular person. This is called the synergetic effect. That's why working in a team is much more than sharing the office and discussing the project details in the meeting room.
Effective team players possess a diverse set of skills, including active listening, negotiations, conflict resolution, and communication. Although they are focused on achieving career success, they also want every member of the team to succeed, as this is the only way to the company's prosperity. Moreover, if you learn to function effectively in a team environment, it will help you develop leadership skills in the future.
If you're an ambitious individual, you'll benefit from our guide to achieving work success, both as part of the team and individually.
Positive and optimistic
All employers will definitely prefer hiring an optimistic individual over pessimistic, negative one. Most importantly, optimists face any upcoming challenges with an upbeat attitude, which helps them get the work done efficiently and productively. Optimistic employees are focused on finding the solutions rather than explaining why something wasn't done on time. Moreover, they keep the team spirit high by creating a productive environment and literally light up the space around them. Needless to say that positive approach to work makes them always in demand.
Although positive attitude can be learned, it arises naturally when a person truly loves what he/she does.
Respectful
A blend of confidence, initiative and motivation at the workplace mean nothing if the employee lacks respect to people he/she works with. Respect at work starts with displaying courteous and positive attitude towards everyone you meet. Here's what respect at work should involve:
Respect to coworkers – best employees know how to maintain positive attitude towards everyone they have to deal with (even if there are some disagreements between them). They value the opinions of others and give them credit for their contributions. Moreover, they foster collaboration and teamwork rather than argue and impose their own ideas.
Respect to customers – needless to say that rude, selfish salespeople and customer support reps are disaster for any business. An employee dealing with clients need to be open-minded, patient and respectful even in conflict situations and disagreements.
Respect at the workplace has a lot to do with communication. One of the forms of respect is keeping the conversations at work neutral and avoiding the touchy subjects with colleagues.
Although most of the skills mentioned above aren't work-related (or hard) skills, they determine your emotional intelligence. Hiring managers worldwide tend to pay attention to your personality type and attitude rather than the pure amount of your knowledge and abilities. The skills you lack in can be taught; nevertheless, changing your personality type is more complicated task.
Nevertheless, you can develop the above traits through practice. By focusing your thoughts on finding the solutions on your own and fostering positive attitude to work-related duties, you'll become a proactive personality and in-demand employee.
Popular Posts:
What does it mean to be a good employee?
Contemporary employers are constantly finding employees for various work tasks. Despite a big competition in the labor market, there is a demand for true experts. Importantly, professional development is not enough to appear among the most valuable employees. Soft skills matter too.
All good qualities of the dream employee boil down to the ability to solve the company's issues efficiently. And numerous particular skills and talents derive from this fact.
As a professional resume writing agency, we constantly deal with modern recruiting companies. Thus, we know firsthand about expectations from great employees. Here is a list of the top qualities and most popular requirements:
professional technical skills (ability to work with software, instruments, equipment, programs. language);
a talent to generate fresh ideas and provide helpful solutions;
strategic planning and analytical skills (high-quality work with information);
strong communication skills;
self-confidence backed by expert knowledge and experience;
a detail-oriented approach to solving work issues;
respect for the company culture and co-workers;
ability to work efficiently in a team-focused culture;
an autonomous employee (such employees are good at making independent decisions);
passionate employees (enthusiasm is one of the best qualities, as it gives inner power to cope with the biggest challenges);
participation in work-related events (it is good when apart from your own work, you have time and desire to take part in additional company events);
honest employees (such positive traits as sincerity and fairness help people build strong business relations);
reliable employees (employers prefer to hire employees who take responsibility for the results and ensure great quality of work).
The contemporary recruitment process focuses on searching for the most decent candidates for a particular position. The development of the above skills will help you get closer to a dream job.
How to become a great employee?
Our experts have collected helpful tips on how to stay good employees these days. For this purpose, we have analyzed the details of the current hiring process and key qualities from job descriptions.
Become confident employees — invest in your professional development
Expertise is still among the important qualities of a valuable specialist. Today one can find numerous opportunities for professional growth. Some webinars and courses are even free. In any case, education and development are good investments in future success. New knowledge helps you find different perspectives for existing problems.
Be flexible
Recruiting agencies claim that new employees have to adapt to current changes quickly. Modern time requires fast reactions to new events and circumstances. So train your problem-solving skills and learn to establish new ideas. Brainstorming techniques can come in handy. Do not dwell on old algorithms and experiences, try to look at the issue from a fresh perspective.
Develop excellent communication skills
Good communication skills are essential for any workplace culture, especially when it deals with a team-oriented philosophy. A skillful team player has to interact with other co-workers: discuss work moments, generate new ideas, analyze current issues, etc. If you want to be a valuable team member, learn to hold a constructive dialogue.
Do not forget to train your own abilities that are specific to your professional field: stress resistance, diligence, entrepreneurial skills, compassion, etc.
Does the hard work really matter?
For many job-seekers, success is closely associated with hard work. Most people believe that working overtime and harder than everyone else can make you the perfect employee. Nevertheless, hard, exhausting work is not enough.
Today's world of work requires you to work smart, not hard. This means putting reasonable effort into work, allocating all possible resources and identifying ways to make the processes more effective. Moreover, if you spend evenings and days off working, it's a sure indicator that you're a workaholic, not a hard worker. Workaholism tends to be frowned upon in today's society. Firstly, working more doesn't imply that you work more efficiently than the others do. Secondly, constant overtimes lead to burnout and drop of productivity, which decreases the organization's efficiency.
How to showcase that you're the perfect employee
During the interviewing process every trifle matters. As this is your first eye-to-eye contact with the company representative, it's the best possible chance to showcase you're the perfect employee they're looking for. There are multiple ingredients of an irresistible first impression: your body language, your clothes, your manners and the way you answer the interviewer's questions.
When answering to the most popular interview questions, follow the guidance below to sell your strengths more effectively:
Where do you see yourself in five years from now?
However obvious it may sound, this question can say a lot about your goal setting, planning skills and your motivation. So, don't neglect it and don't answer something just for the sake of answer. Show that you have a career plan, know your direction and the company is an important step in reaching your goals. Moreover, don't limit yourself by a short answer such as "I'm planning on getting promoted to a leading accountant" – give concrete examples of the steps you are going to take to achieve this goal, such as the training you are willing to take, skills you need to advance, etc.
If you do this, a hiring manager will see a highly motivated individual with strong planning skills, ambitions and willingness to get things done. This is what you're aiming for, aren't you?
Can you tell me about your relationships with coworkers in your previous job?
This question is typically asked by interviewers to identify how well you collaborate in a team environment. Are you easy going, respectful of other's opinion, open to discussion and willing to collaborate? But, more importantly, the way you answer helps identify whether you will be happy and productive as a part of their team. Is the leadership and communication style similar to the one you had and what sort of collaboration do you prefer? This is how your people skills and cultural fit is checked.
To look like a dream employee, give examples of your success while working both individually and as a part of a team. If you already know their corporate culture, highlight the past achievements that can be aligned with it. And, in any case, avoid bad-mouthing your ex-boss and colleagues.
What do you consider your most significant career accomplishment?
This question speaks for itself – however, don't just pick the achievement and go into whatever detail that come to your mind.  Firstly, make sure that your answer is relevant for the prospective role and employer. Secondly, it needs to highlight your confidence and professionalism = but avoid exaggerating during the interview. And finally, make sure you've given credit to all others who contributed to this achievement as well. Companies prefer hiring employees who had accomplishments previously, so use this question as a chance to sell yourself.
What prompted you to apply for this job?
An answer to this question helps reveal your motivation for joining the company. Make sure you can provide a strong and unique reason why you're the perfect match for the role. Ideally, you need to demonstrate your knowledge of the company's mission and goals, as well as other non-monetary benefits of working with them. Show your personal interest in working as a part of their team, and what you are planning to achieve by this.
When answering this question, don't name any of the benefits offered by company as your motivators. It won't impress the interviewer to hear that you want to work with them because of the lucrative compensation package, convenient office or pizza Fridays. Giving financial reasons as your only motivation don't contribute to your image of the ideal employee.
If hired, what are the first three things you'd do on the job?
If you've done your homework well and know about the company's mission and goals as well as what is expected from a perfect candidate for the role, it's a great chance to showcase your understanding of requirements of the job as well as your readiness to approach a new situation. Confidence, willingness to take initiative and adapt to the new tasks and environment – all of your key strengths can be highlighted in your answer to this question. Be sure to response with business needs in mind and display strategic thinking abilities when explaining what exactly you would do.
It's time to promote yourself as the top employee
It takes months and years of planning and work to develop the traits of perfect employee. Nevertheless, it's equally important to be able to effectively showcase that you possess those qualities. And the first place to sell your skills is your resume.
Do you feel that your resume lacks personality? Or maybe, it doesn't highlight that you've got what it takes to excel at your future job but you don't know how to fix it? Our affordable resume writing service can save the situation for you.
Just drop us a line and we will match you to a highly skilled writer who will prepare a resume in accordance with all your requirements. He will use powerful words in resume to make a stronger impact on the prospective employer and add keywords to make sure your resume passes the ATS selection. Moreover, you can support your resume with an eye-catching cover letter to strengthen the application and increase your chances for an interview.
Don't know what type of service you need to look like a perfect employee on paper? Request our free resume critique and ask all your questions to the writer free of charge.
Do you possess any of the above qualities of a perfect employee? What is your biggest strength?
Editor's choice: