Resume for Teaching and Education Jobs: 7 Tips
Just like in any other industry, your chances for a job interview in education sector depend on a quality resume. If you apply for the job of a school teacher, teacher assistant or online English teacher, your resume needs to highlight industry-specific traits and qualities. Remember that a school administration or principal will spend less than a minute reviewing your application to determine if you're a good fit.
Today, our writers of professional resume paper have collected the resume tips specifically for teachers and educators. Follow the professional advice to apply the effective structure, highlight your accomplishments and format for success.
Want a truly professional resume that would expose your potential and impress your target schools? Our writers specializing in education resumes will make your core strengths pop up, use a professional language and eliminate errors to help you make an irresistible impression on a potential employer.
7 tips for an eye-catching teacher resume
1. Put your certifications and awards in focus
Certification isn't mandatory to be a great teacher. But if you have any, especially the state Teacher Certification, mention them early in your resume. For example, you can include it in your career summary. If you have multiple certifications or awards (such as Milken Educator Award or National Board Certification), consider creating a separate section and putting it above the work experience. Accomplished teachers are sought after by many schools, so you want to give this information a high priority.
2. Focus on 10 most recent years of experience
Highly experienced teachers often list every job they've had in the course of their career. Meanwhile, if you've worked as a teacher for 10+ years, it makes sense to include only the previous 10 years in a resume. More will make the resume unnecessarily long, let alone the fact that jobs you had in the 1990s don't reflect your current professional level. Speaking about resume length, it's better not to exceed 2 pages.
Even the creative teaching job can turn into a routine over time. Check out the inspiring tips how to get away from work routine.
3. Show your technology proficiency
Modern education goes hand in hand with technology. While you don't have to be a tech geek, it's welcomed or even expected that you are familiar with the modern office software and classroom tools. Here are a few examples of general tech skills that should be mentioned on a teacher's resume: Microsoft Office, Google Docs, Website Design, Social Media, SMART Board, MyEdu, Khan Academy, and more. You might want to create a specific section for your tech skills or list them along with other hard and soft skills.
4. Use strong action verbs
The use of strong action verbs is the classic of modern resume writing. It assumes that each sentence in the list of your responsibilities and achievements should start with a verb. However, verbs like 'managed', 'led', or 'organized' sound generic and weak, whereas 'orchestrated', 'monitored', and 'encouraged' are strong verbs that highlight your contribution. It's better to use strong action verbs whenever possible. If you haven't used action verbs in a resume before, here's our guide on using action verbs and adverbs.
5. Make your resume student-centered
One core difference between the teacher resume and resumes in other fields is that an effective teacher's resume is mostly about students, not himself. When writing your responsibilities and accomplishments, think about what they matter for students. 'Boosted student engagement in class discussion by 50%' works better than 'led class discussions'. Specify the successes of students in your class (for instance, if they won Kids Philosophy Slam or other prestigious contest) as they reflect your efficiency as a teacher. Last but not least, when listing your previous jobs, write a couple of words about what kind of school you worked for, the student grades and subject to make it easier for a principal to access your background.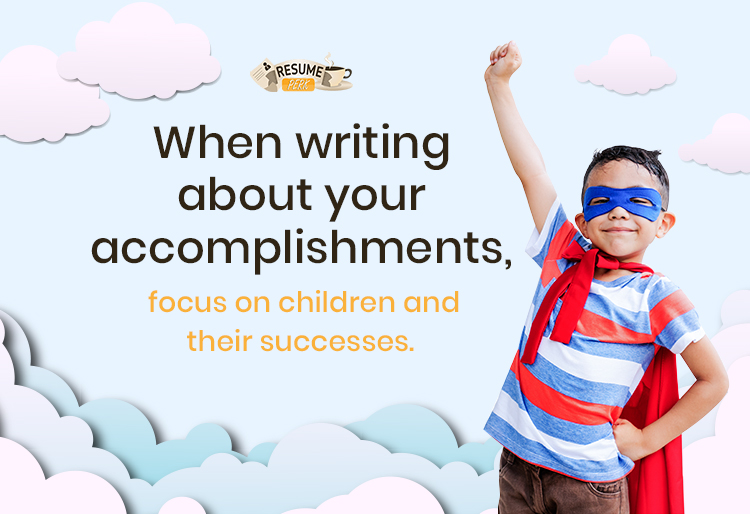 6. Specify the accomplishments
The best examples of teacher's achievements are those associated with the success of his students. When writing about other types of achievements (such as the projects you started or contributed to, saved costs, improved processes etc.), be as specific as possible. If you organized the extracurricular initiative or club, add a few details about its success. If you designed educational presentations for teachers, mention the outcomes as well. Make your resume result-driven rather than simply listing your daily duties, and you won't have a single chance to remain unnoticed.
7. Use professional formatting and design
Keep the design of your resume professional. The fact that you work with children doesn't mean that your application needs to look childish with bright fonts and pictures. Use the same font and formatting consistently from top to bottom of the document. Your resume looking neat and organized is the best demonstration of your attention to detail and organizational skills. Last but not least: make it easy to read. It means using shorter sentences and paragraphs, bulleted lists, and clearly visible subheadings the reader can navigate through.
As your resume is written, proofread it as well as other documents you send to school for potential employment.  Typos and grammar issues don't help you to create an image of experienced and competent educator.
Land your next teaching job with a professional resume
Our economical custom resumes writing services have been helping people land interviews for 10+ years. We staff the experienced writers and resume consultants who understand the requirements of modern employers and can help you comply with them. Whether you need a resume written or edited, we can help you look professional and present your experience in the favorable light. The writer will work on your resume until you are totally happy with it. Interested? Check out our prices and services – we keep them affordable for our clients since we work exclusively online.