Teamwork vs Individual Work: Find Your Ideal Option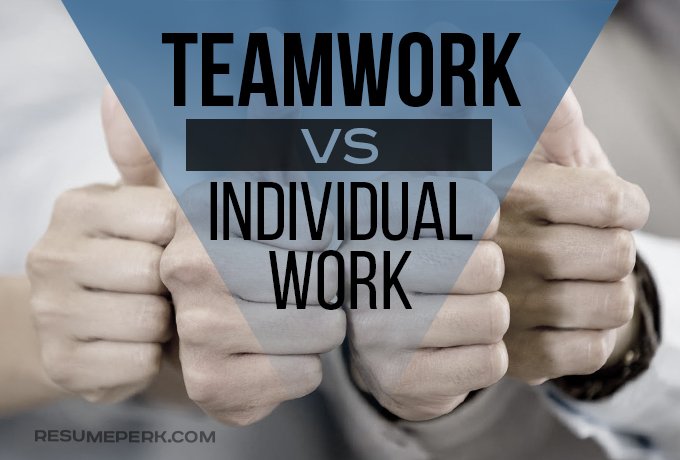 The question "Would you rather work individually or as part of the team?" is asked frequently during interviews. Indeed, choosing between teamwork and individual work is a critical task for success of business and each individual involved. Many career experts and local resume services state that work in a team, if organized right, brings better results. Nevertheless, it's nearly impossible to say that one working style beats the other in all situations and challenges the employees might face. What is even more, it's all about choosing the type of work that suits your personality type better, as you can thrive and develop at the workplace only if you find working style comfortable. Today we are going to consider the difference between teamwork and individual work, their advantages and disadvantages and help you identify your best option.
Teamwork
A team is the group of three or more individuals who are working together towards the achievement of a common goal. The neat thing about teams is a synergy effect which assumes that the output of the team exceeds the sum of individual contribution of each member. In this case, joint effort helps reach the targets set faster by consolidating the strengths of several personalities.
Team is the standard working unit within most companies. However, putting a few people together and aiming them towards a certain goals are not enough to create a team which functions effectively. Before joining a team, consider the following factors which determine whether the team will be a success or not.
Also in this section:
The components of effective teamwork
Developed soft skills. Teamwork is seen as a drive of success in the modern workplace, that's why most job openings require that you have developed soft and communication skills (for more skills which are critical for career success, read here. The ability to face criticism and respond to it is a must, too.
Psychological well-being and trust. Trusting each other and sharing responsibility for success and failure seems impossible if the office looks like a snake pit, doesn't it? You don't have to make friends with your coworkers, but respect and positive professional attitude is a must.
Effective management and direction. Productive teamwork is impossible without quality leadership. A team leader or manager has to organize work of the team, motivate them and direct the resolution of any issues arising. It's the manager who sets the goal, communicates it to each member and oversees the completion of tasks on time. The team may function without a good leader; however, their results will be average as the effort of each member won't be used productively.
Pros of working in a team
Shared responsibility. Launching an important project while knowing that you're the one to blame if something goes wrong can be a pretty daunting experience. As a part of the team, you can delegate responsibility to other team members and set yourself free from a complete control. If you happen to make a mistake, your coworker will point you out to it – and in a fast-paced business environment it's important to have someone to cover you. Moreover, sharing responsibility reduces your stress levels.
Highly effective brainstorming. It's possible to come up with a bunch of ideas you've thought of on your own. However, the ideas born in a collaborative environment are far more creative and have better commercial potential. A melting pot of different personalities let the creative juices flow and even short brainstorming team session are indispensable for ideas generation.
Feel tired and uninspired? See how to find the lost inspiration here.
Better problem solving. Since the team is formed by the individuals with different skills and viewpoints. Therefore, they can see the problem under the different angles and develop an effective solution. In the process of discussion or even arguing about the point only the best ideas and approaches survive.
If you've resolved problems while working in the team, however, don't hurry up to put this on your resume. Saying you're a 'problem solver' is a popular resume mistake; see here to learn about and correct other popular mistakes.
Teamwork is more effective. If organized right, teamwork is more effective than individual work due to the synergy effect mentioned above. Thanks to the ongoing discussion, errors are eliminated along the way and the entire process goes faster and smoother. A group of individuals working together can cope with large scale projects which may seem too complicated for an individual.
Stronger professional relationships. It's through the teamwork that corporate values are maintained and built. However, don't neglect the basic rules of office communication – see here to learn what not to discuss with colleagues.
Cons of teamwork
Meetings can go out of control. While working in a group, people may feel the need to conduct meetings all the time to discuss secondary issues. It can occur that these meetings will take a plenty of time which had to be spent on work, not discussions. As a result, work will get slower and deadlines won't be met.
Unequal involvement of team members. Ideally, people in a team should do their best to reach the common goal. However, in reality, there's often a guy who is quite laid back but gets the same salary and recognition as the hard-working individuals. This can lead to increased dissatisfaction of other members and cause conflicts. Some may even want to resign because of the unhealthy work climate (if you want to leave your current job, see how to do it in the right way.
Conflicts. Either caused by unequal contribution to the project or by other reasons, conflicts in teams are inevitable. For instance, there might be a disagreement about which idea to approve or how to resolve a particular problem. Or, you and your colleagues can fight about the work methodology and approaches to working process. Sometimes conflicts are caused by private issues – for instance, if someone had a romantic relationship and split up. If not addressed and resolved timely, conflicts can become a serious setback on the way to reaching goals. Reaching your own goals in this situation will get tougher, too.
One team member may want to stand out. In your team there might be someone who is so obsessed with their career or the idea of getting higher salary that he/she will put his individual needs before the needs of the group. What's in it for the team? First, team effectiveness will drop as such a person is likely to play their own game instead of putting all the effort into teamwork. Needless to say that an individual like that won't communicate effectively or may even gossip and sabotage the work of others – and for you it's going to be a source of great stress.
Authoritative or incompetent team leader. All undisputable advantages of teamwork can be destroyed by weak leadership. If the leader lacks knowledge or experience to organize work of the team in a way that fosters productivity and appreciates the interests and contributions of each member, then you will have problems. In fact, dysfunctional teams are less effective than individual work. You can also find working in a team inconvenient if the leadership style of the manager doesn't work with you or for some reasons they ignore your ideas or your approach to work.
Teamwork can bring results to the company faster due to the number of factors. Nevertheless, to achieve this and to make your collaboration with other team members comfortable and productive, leader and other employees should foster friendly environment and team spirit.
If you are not happy with your working surroundings or projects assigned and the management doesn't give you the room for flexibility, it may be the time to start sourcing new career options. With proficient resume help online, you can forget about your resume worries and focus on job hunting solely. Our resume experts with prepare all application documents for you – and this won't cost you a fortune.
Going solo
Despite the popularity of teamwork, sometimes you can choose (or have to) work individually. For instance, if you work for a small business which can't afford a marketing department, you'll likely to be the only marketer in the organization. Or, you can realize that your colleagues pull you down rather than help you grow and ask the boss to work on your own for some time. Inforgraphic resume writing is another example of task which is typically done solo.
Individual work, just like teamwork, has its advantages and disadvantages. Most importantly, it is about your sole responsibility for all projects assigned, for their successes and failures. If you intend to work individually (or even become a freelancer), start with learning more about this working style to make sure it's the best fit for you.
Editor's Choice:
The components of effective individual work
Discipline and self-management. Working individually often means there won't be a boss standing over you all the time and colleagues to encourage and motivate you. Therefore, you'll need a strong inner discipline and motivation to meet deadlines and get the job done. Discipline means creating to-do lists and sticking to them. If you have troubles pushing yourself to work, you'll soon feel discouraged and bored.
Knowledge and competence. Needless to say that individual work isn't the best option for entry level specialists who need to learn a lot. The great advantage of teamwork is that you can always ask for a piece of advice or recommendation. Working on your own requires experience and knowledge, as you won't have any colleagues to cover your back, and if assigned a tough task, you'll have to invent a solution to it on your own. So, if you're a graduate planning your future career, it's better to start it by joining a team (for more tips on career planning, see here: https://resumeperk.com/blog/planning-a-future-career-are-you-for-or-against).
Productive working environment. Working on your own needs deeper concentration on the task than teamwork. That's why effective individual work is impossible in a crowded office space. To get the best out of your individual work, take care of getting a separate room (or at least the cubicle where no one will be bothering you). If you're a freelancer, create a quiet home office rather than work from kitchen or backyard.
Benefits of individual work
Work in your own pace. One of the biggest benefits of working alone is the possibility to plan your working day on your own and stick to the tempo which is convenient for you. It doesn't mean that you'll have relaxed working days. Just the contrary – you'll be busy but less stressed as you can change priorities in the middle of the working process, and this flexibility will motivate you. The order of tasks to complete, ideas to put into practice and scheduling – as long as work is done on time, you choose whatever is convenient for you.
You are the boss. When there's no team you work with, the necessity to negotiate, adapt your schedule for the needs of the team and to report disappears. It's you who control all the aspects of your work, including the priority of tasks. To some extent, you'll be your own boss. You are still accountable to your manager, but the methods of work are totally up to you. The ability to control your working process is also a great way to overcome the work routine.  
No outside distractions. Are you tired of constant interruptions and extra meetings? When working individually, you can forget about them. Nobody is going to interfere with your working process to discuss a team task or to argue about responsibilities of each team member. Moreover, you won't have to waste your time discussing the quality of your work and your order of task.
Such minimized distractions often lead to increased productivity. And it's no surprise – when you are solely focused on work rather than on discussion and arguments, you do things faster and better.
You will work faster. In addition to minimized distractions you'll be relieved from pressure and the necessity to get things done by a particular time and in a particular way. You won't need to wait for feedback or approval to proceed with your work. When assigned the entire project rather than a part of the project, it may sound like more work to do. However, in reality it can mean much less work, as there won't be the above mentioned meetings, negotiations and arguments along the way. As a result, you devote all of your time to work, which makes you a faster and more effective employee.
This doesn't mean you should turn into a workaholic, though – check the comparison of workaholic versus hard worker.
Get all the credit. All 'team players' know the situation when the person who literally didn't do anything for the project gets the same recognition as everyone else – or, moreover, one person gets a promotion for the job done by entire team. It can totally frustrate the ambitious individuals and even lead to a career crisis.
When you work alone, this problem disappears. You'll take the full credit for the job done. Therefore, you have more chances to get non-monetary perks for your contribution, be recognized and maybe even promoted, and avoid the situation when someone gets the credit for your ideas.
No in-team conflicts. Despite what they say, teamwork isn't for everyone. If you're an introverted, reserved personality, you may feel uncomfortable expressing and defending your point of view. Or, on the contrary, if you're an opinionated individual who doesn't take direction well, you'll cause lots of conflicts with your colleagues which will slow down the work of the whole team. So, if you feel that working alone fits with your personality type better, opt for this working style whenever possible.
However, even easy-going people can be engaged in conflicts sometimes. Working individually will reduce the number of in-team conflicts to zero.
Cons of individual work
Full responsibility. As you get the full credit if your work is success, you have the full responsibility if something goes wrong. There will not be anyone to cover your back or share responsibility with, as well as redo the task. This factor can be pretty stressful so you might spend a plenty of time thinking over whether you are doing things in the right way or not. So, if you are thinking of becoming a freelancer, make sure you are aware of this side of individual work.
Easy to get bored or frustrated. When you're working alone, there'll be anyone around to discuss the peculiarities of the job you are doing or share your ideas. Therefore, sooner or later you'll feel isolated, especially if you're a people person who needs to communicate with other people. And if a tough situation occurs, you'll have anyone next to you to ask for help, which can lead you to work dissatisfaction and frustration. Everything is up to you – and if you happen to need help, you'll have to find a solution by yourself. Talks by the water cooler can be a solution, but they can't replace a productive collaboration and work-related discussions.
No outside motivators. While working in a team, people typically motivate each other during their tough or stressful times. Indeed, when you're a part of a truly enthusiastic team, you are more positive about the job and can motivate others in return. As you work individually, there won't be any motivation or psychological support as you get down to the job or feel stuck with some project. However, if you're a highly motivated individual and don't need outside support, this won't be a problem for you.
More time to get things done. Teamwork is valued by employers worldwide because it brings results faster. When you take on a project to complete by yourself, you'll have to work at all of its stages consistently and getting the entire work done will take you weeks. A team will share the responsibility and complete it in a matter of days. Moreover, if you lack in some of the skills needed for completion of the job, you'll need to learn them along the way which can be pretty stressful.
Stress and pressure. Completing the project by yourself is quite a challenge, especially in front of the upcoming deadline. As there's anyone you could share the work with, this can become a huge disadvantage.
Individual work's indisputable advantage is that it helps you organize your working process in a way that allows you work most productively. That's why people love remote work and freelancing – the ability to choose the type of tasks and utilize your vision is inspiring. If you're a freelancer seeking the new projects to contribute, make sure your resume sells your skill set best.  You can also get your resume and covering letter done by our experts at a fee you can afford.
Choosing between teamwork and individual work
Now that you are aware of pros and cons of both working style, you can make a grounded decision of what style of work fits your personality type better. However, the perfect option exists not only for you personally, but for various types of tasks as well. In other words, some projects are tacked more efficiently by isolated individuals, while the others require group collaboration:
Projects that require high focus are better done individually. When we speak of intellectual, analytical and complex tasks, it goes without saying that teamwork minimizes productivity. These activities include programming, web design, writing, analytics, engineering, and many more. Ongoing collaboration is not necessary for these roles; on the contrary, it serves as a distraction.
Learning new skills (unless these are interpersonal or soft skills) requires deep concentration as well. With distractions minimized, you'll learn a new skill or software much faster than if you'd been involved in discussions, meetings, etc.
New ideas generation works better in group. With many people with diverse skill sets and background involved in a discussion, the best ideas are born. Moreover, a group of people creates collaborative, fun environment where everyone is welcome to speak up the craziest ideas. Under these conditions brainstorming often brings amazing results.
Troubleshooting. Problem solving requires watching the situation from different points of view. Such approach to problem solving helps work out the most effective solution. When one person has limited experience and has the risk of making a biased judgment, a group of people can discuss and develop a win-win approach to a problem. For instance, if you don't know if your job is right for you, it's better to have a professional or a friend to discuss your concerns with to come to a more effective solution.
"Do you prefer working individually or in a group?"
This is one of the most frequently asked questions during job interviews. If you are job-searching in the moment, you must be curious how to answer it in the way that would increase your chances for a job. However, the truth is, there isn't a 100% right answer as everything depends on the particular rule. Still, you can use the advice below to
Be honest – if you are only comfortable working on a team, don't brag your willingness to work individually. The hiring manager might understand you are lying which minimizes your job chances eventually.
Don't stick to one approach – even if teamwork is really your cup of tea, don't show that you strongly prefer one way over another. Most jobs require combination of teamwork and individual assignments, depending on the nature of work and other factors. Instead, you can say that you are more comfortable working in a group, but can productively work alone as well, and give your examples.
The bottom line
Both teamwork and individual work can be effective under specific circumstances. When it comes to completing large-scale, complex projects within the short time frame or generate ideas a new marketing strategy, teamwork can work miracles. On the contrary, complex intellectual tasks which require deep concentration on the subjects are better performed by individuals.
Your personal challenge is choosing the type of work that fits you best and the company you'll feel convenient working with. As soon as you find yourself in an environment which is best for you, you'll get more productive and satisfied with the job you do.
To make the next move in your career a success, you need to be 100% ready for your job search. For instance, a professionally written resume is a proven way to increase the number of interview calls. If you're not sure whether your current resume is effective enough, you can contact us for a free resume assessment or choose the resume package that fits your career needs. 
Value of teamwork and individual work
As we've described above, both teamwork and individual work have their areas of application. If used for the right purpose, they stimulate the employee productivity and engagement, helping the organization achieve its business goals. Now, let's take a look at the value of both types of work:
✓ Teamwork creates a connected work environment where everyone contributes to the success of the large-scale task or a project. It allows taking advantage of the strengths of each employee, while downplaying their qualifications gaps and weaknesses. As a result, the task is done quicker than if only one person was working on it. Another value of teamwork is that it allows the team members to learn from each other and stimulates a healthy competition.
✓ Individual work is invaluable when it comes to completing routine tasks and ordinary responsibilities. You can get down to the task straightaway without the need to discuss it with others or distribute to several people. In this case, job is done faster and you have full control and responsibility over the process and the result.
So, group work vs individual work: Which is better?
Obviously, there isn't a definite answer. The most effective style of work depends on how the processes are established in the company, the task or project that needs to be completed, and your individual preference for a particular type of work. Let's return to the marketing example we've considered above: when it comes to conceptualizing a strategy for promotion of a new product online, the team will brainstorm the ideas and complete the task faster. However, when it comes to writing copy for social media and blog to support this strategy, an individual will do it better.
It's also important that you choose a company that prefers the same pace of work as you. In other words, if you're an introverted person who works under minimal supervision and prefer completing tasks in your way, you might feel uncomfortable in a large team where each step and task is being discussed.
Do you prefer working on a team or alone? Would you take the job if their working style doesn't match yours?
Popular Posts: