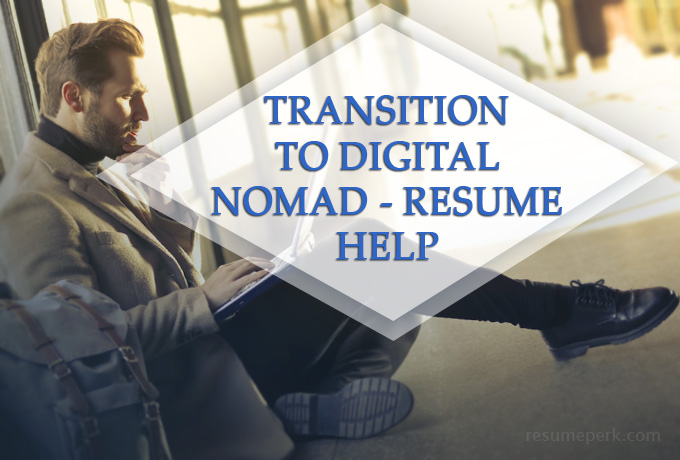 When we say 'job', we normally imagine a busy office downtown, working hustle and 9-to-5 schedule. However, the workplace digitalization makes its corrections into the way we work and a lot of new professions continue to emerge. The number of remote and freelance job opportunities grows, and the fact you don't have to show up in the office every day is encouraging for many. Digital nomad lifestyle, though, is more than just working remotely – it assumes traveling around the world and chasing new experiences. If it sounds enticing for you, continue reading to find out how to prepare a CV to apply for remote jobs worldwide.
Resume writer service for freelancers and digital nomads
Digital nomads are always chasing for new gigs and projects. To win the competitions with other freelancers, your resume needs to be spotless, with your most significant relevant projects highlighted and skills showcased. Our experienced resume writers will take on your resume writing to relieve you from resume worries and provide you with a quality document which will increase your chances to make it to the interview with the client. We offer individual approach – your resume will be written and designed specifically for you, we don't use any templates. Our support team is there for you 24/7 to answer the questions of clients in all time zones.
Since you are offering your services globally, we also recommend that you leverage the power of the biggest global professional network – LinkedIn. The experts of our cheap resume writing service can assist with creation of a winning LinkedIn profile for you as well.
Also in this section:
Switching to digital nomad life: 7 tips
Becoming a digital nomad will take you more than just a few days, the experts of our resume writer services say. To a certain extent, you'll have to reorganize your entire life as well as the way you think about ordinary things. On your way to freedom, make sure you've done the following:
Access if the digital nomad life is right for you
The image of a digital nomad who travels around the world with his laptop and a pair of T-shirts and chases new experiences is often romanticized. But will this kind of life and work actually be comfortable for you?
Before you go any further, ask yourself the following questions:
Will you feel comfortable without a steady source of income? Freelancers don't have a monthly paycheck. You can earn a decent amount in this month and stay jobless for the next week or two.
Are you willing to learn new skills apart from your actual job? For instance, you'll have to find clients, sell your product/service in a competitive marketplace, manage conflicts and negotiate financial issues – for instance, how to ask for a salary increase. Are you ready to be in charge for every organizational aspect of your work?
Can you perform at a high level without a stable workplace? Will you be able to focus while working from a café, hotel room or the park?
Finally, will you feel comfortable in a new country with different language and traditions? Will the challenges of constant traveling motivate you instead of discouraging you?
If your answer to the above questions is "yes", then life of a digital nomad can become a thrilling experience for you. Note that the better you prepare, the more comfortable you'll feel in the trip and the more money you'll be able to actually make.
Make a career transition, if necessary
Not every profession can secure you a digital nomad lifestyle. If there are no remote or freelance job opportunities in your field, you'll have to master one or several digital skills which are in demand to get paid.
The best freelance work options are writing, blogging, search engine optimization, social media management, programming, web development, web design and more. Most of these skills don't require a formal education – there are lots of courses on Coursera, Udemy or Skillshare where you can learn them at your pace. In certain cases, you'll only need to make a small transition – for instance, if you wrote for a magazine earlier, you can write copies for corporate websites. If your current job has little to do with the above skill set, here are a few remote career options you should consider:
Find a remote job or long-term project
You don't want to leave your country while your career situation is unstable. If you're only starting to freelance, work from home for several months until you start making enough money to provide for yourself and find loyal clients. Great, if you find a long-term project or a remote position to avoid spending weeks on job-hunting and interviewing while moving from country to country. By the way, check out our list of forbidden habits during job interview.
To make a go of your freelance business, start with worldwide known platforms such as Freelancer.com and Upwork.com. As you broaden your qualifications and build the client base, you'll be able to charge more and work independently.
Put your finances in order
Unresolved financial issues or poorly organized trip can become a real pain in the neck for a beginning nomad. Before you start planning your travel, make sure you've tackled the following points:
Choose a minimalistic lifestyle
As you plan to spend months travelling, you'll need to reconsider the way you approach your possessions. Most digital nomads stick to the concept of minimalism – it's necessary to sacrifice your possession in favor of new, fresh impressions and experiences. Minimalism is a whole different mindset, as it assumes that you don't need many possessions to feel happy and enjoy your life.
If you are used to having many clothes and devices at hand, you might find it difficult at first to bring three T-shirts with you instead of ten. However, as soon as you realize that you need to abandon the lion's share of your possessions to enjoy the trip in full, your perception is likely to change. Be very practical about the things you take with you and don't grab lots of things simply because you are mentally attached to them or they remind you about something. If you think twice whether you need this particular piece of clothing or item with you, chances are you don't need them at all.
Join a digital nomad community
You are not alone in your desire to break the routine and travel around the world. Connecting with likeminded individuals will help you overcome the setbacks of living abroad and enrich you with the new impressions.
Before you set off, our resume writers online recommend that you network with some local digital nomads. They'll share you the peculiarities of living and working in the country you are aiming for and help you assimilate. Moreover, you can make friends with people who share your passion for traveling.
Join the virtual community of digital nomads such as nomad list or groups in Facebook. Since you don't have coworkers and are likely to miss small talks with colleagues, these groups are the perfect place to share and get advice on professional development, meet new friends or even find a new challenging project.
Make sure your resume sells your skills well
Comparing to a traditional office employment, the career of a digital nomad is often unstable. You'll need to find new clients and employers all the time and find the ways to impress them with your skill sets and previous accomplishments. Under these conditions, a quality resume can significantly ease your life.
Forget the frustrations of writing and rewriting your resume. Our resume writer can access your background and create a resume targeted for the type of roles you're aiming for. All you need to do is to fill out a short questionnaire and respond to the writer's questions.
We offer ongoing contact with your writer so that they could understand your background and goals better and come up with the product that serves your needs better. Moreover, we are dedicated to customer satisfaction – if you're not happy with the resume, we will revise it absolutely free of charge. We will also gladly accompany your resume with a matching covering letter and a compelling LinkedIn profile. Our resume fees are affordable for everyone – check our packages and pricing for more information.
Have you ever dreamt of becoming a digital nomad?
Popular Posts: