Brand New Resume Format: Key to Success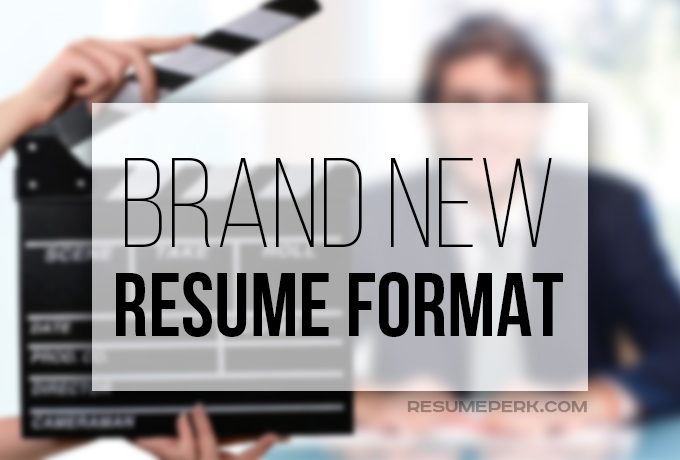 When someone says 'resume' what crosses your mind first? Let me guess: the black text on white background, formatted as a .doc or .pdf document. Since the old-fashioned paper resumes made their way to the web, little has changed in their appearance and layout. On the contrary, the application process has changed dramatically due to the availability of internet. You can read more about online application here: http://resumeperk.com/blog/how-to-submit-your-resume-online.
Although traditional chronological or functional resume is what companies expect in response to a job listing (here you can find more details on three most popular resume formats: http://resumeperk.com/blog/write-my-resume-for-me-resume-formats), many creative digital resume types have appeared. You've probably heard of (or even used) an infographic or web resume. There is an ongoing argument about whether they will replace traditional resumes. To help you catch up with the freshest resume trends, our best resume services would like to shed light on the most popular new resume formats and when it's appropriate to use them.
Alson in this section:
As it's obvious from the name, infographic is the way of presenting the information using graphic design elements. Multiple researches have proven that we convey visual information faster and better than plain text, which makes infographics incredibly popular. You can find infographic literally about everything, and creating them for job hunting has become a trend as well.
Infographic resumes are considered non-traditional. Nevertheless, non-standard and bizarre can pay off, especially in creative industries (there are also out-of-box ways to find a new job: http://resumeperk.com/blog/out-of-box-ways-to-find-a-job-by-cv-editing-services). If you've made up your mind to impress the potential employer with a great infographic, keep in mind the following:
Remember that it's still a professional resume. When you start trying various fonts, icons and backgrounds it's easy to get carried away and end up with loud or cartoonish graphics that has little to do with a professional document. Also, since this is just another version of your resume, don't add any information you typically wouldn't include into a traditional one, e.g. your hobbies, personal information, beliefs, etc.
Limit the use of colors and fonts. Use only the most popular web fonts, such as Cambria, Calibri, Tahoma and Times New Roman. The number of colors used should be limited as well: no more than 4 colors per document. An infographic needs to be bright (this is what you create it for), still, readability is the top priority.
Keep it structured and tell the story. An infographic shouldn't be a mess as it'll only turn the reader away in this case. In a traditional resume, we typically put contact info at the top, and then include a career summary, skills/accomplishments, job history, education, and other activities. Try your best to create an infographic that would have the similar structure – you'll make it easier to read. And, if you lack writing skills, you can check our content writing tips for beginners.
Moreover, a good resume is always short – and this rule applies to infographic as well. Your story needs to be concise and relevant. Excessive resume length isn't your competitive advantage but is rather an indicator that you cannot prioritize.
Use an infographic template. If you're not a graphic designer by trade, you'll have troubles creating your own infographic design. Look for a ready-made template out there in the web and just fill it out with your professional detail.
Add a call to action. Traditional resume is too formal for it; nevertheless, you can end your infographic encouraging the reader to proceed to your blog, LinkedIn profile or elsewhere. Call to action shows that you know your strengths and selling points and are confident enough to guide the hiring manager through them.
Need to support your infographic with a good old text resume? Learn more about the services we provide or check most popular resume packages and prices. 
Video resume
Video resumes have been a common practice for actors, TV journalists and other professionals of media and arts. Nevertheless, over the last years the number of industries has expanded and it's not a surprise to see a manager, lecturer or sales representative creating a resume of this kind. What is so great about video resumes? Well, first and foremost, it can give a potential employer a glance at your personality even before they call you or meet you in person.
If your dream job requires people and presentation skills, a video resume can clearly highlight that you've got what it takes. (Are you a customer service specialist? Then, check what will make your resume a success:  http://resumeperk.com/blog/custom-resume-for-a-customer-service-rep) Still, even if it's not typical for your industry sending a video resume is worth trying: the hiring manager is likely to appreciate your willingness to make an extra effort to get the job.
Stick to the common video length. As the practice shows, best video CVs are 1-3 minutes long. Remember that your purpose is not to reiterate your entire career history, but to showcase your strengths during the short presentation. In fact, a lot of important professional information can be told in a minute or two. See it as an elevator pitch: you only have a few seconds to capture the attention of person watching the video, so get to the point straightaway.
Be sure to deliver quality video. If your speech isn't clear, the sound is poor or you read the text from a paper during the entire video, such a resume won't give you any points. If you are ambitious enough to create a video resume, take your time to do it well. Use the video editing tools to make corrections and improve the video quality. Rehearse in front of the mirror to make sure you look calm and professional in front of the camera and speak clearly.
Prepare as if you were preparing for an interview.  To a certain extent, video resume is very similar to Skype or face-to-face interview. That's why the first point which requires specific attention is your body language. Follow your posture, your gestures, smile and other non-verbal signs you send as they often send much more information than your words do. Secondly, you need to dress appropriately based on the company's corporate culture. In other words, if the industry and a position assume a dress code, you might need to wear formal outfit. If the etiquette rules of this specific company allow dressing casually, that's what you need to do while recording the video. And be sure to cope with stress in advance if you don't feel confident in front of the camera. Luckily, it's not the real interview, so you can do as many takes as necessary.
Focus on your key selling points. A busy hiring manager won't be watching a full video unless you capture their attention from the first seconds. Just like the actual resume, video shouldn't contain irrelevant details or fluffy information that adds no value to them.
How to create a killer video resume? Choose your biggest accomplishments and strengths which are relevant for the position and expand on them in deeper detail than you'd typically write in a traditional resume. Use the list of powerful resume words to make your speech sound more solid and confident. As for your daily responsibilities and major accomplishments, keep them for a standard resume – an expert resume writer can assist you with creating one.
LinkedIn profile resume
LinkedIn profile is often seen as a digital version of a resume. However, it has much bigger capacity and shouldn't be the exact copy of your .doc resume. Multiple features and global availability turn LinkedIn into a perfect tool for personal branding. Moreover, today all employers scan the online profiles of the candidates – and LinkedIn is shown in search engines. And while the resume needs to be short and address the requirements of the specific job posting, LinkedIn is more comprehensive and can embrace your entire professional history. 
More and more hires are made through LinkedIn alone – 87% of hiring managers start looking up for candidates in this platform. So, new attractive opportunities can find you even if you're not job-hunting at the moment. To get more offers, your profile needs to be popular, though – check how to boost your LinkedIn profile views: http://resumeperk.com/blog/best-resume-writers-tips-to-boost-your-linkedin-profile-view.
Fill out all profile sections and add as many connections as you can. The popularity of your profile and your access to new opportunities depends on whether your profile is displayed in top search results. To achieve that, you need to fill out all sections of your profile and connect with your professional acquaintances (avoid scamming and adding just everyone, though). If you don't know which information to add, our writer can complete LinkedIn profile for you at an affordable charge.
Add a professional picture. Although pictures don't belong to your resume, you need to upload one to your LinkedIn page. Profiles with pictures have 11 times more views and make better impression. Your profile picture will determine how other people perceive you, so be sure to upload a professional image – keep your casual shots for Instagram.
Create a high-impact heading and summary. If you want to promote your personal brand and impress the hiring manager, career summary is the perfect place to do it. In one or two paragraphs, you need to summarize your selling points and convince them to consider your candidacy. In its turn, effective heading is displayed in search results along with your picture and, if written right, will urge the hiring manager to view your page.
Connect your profile with other professional web resources. For instance, if you've already created a video resume or presentation, you can include a link to it right in your profile. Maybe, you've got your own website or professional blog? Be sure to share this information too. You can also use it to share the samples of your previous work or recommendations from former employers and coworkers. All of the above makes your profile more comprehensive and more effective in terms of job-hunting.
Not sure if your current job is the right fit? See here to find out: http://resumeperk.com/blog/how-to-know-if-your-job-is-right-for-you.
Personal website/resume website
Personal website is often seen as a digital version of your resume. Nevertheless, creating your own website gives you much more opportunities to get noticed and advance your career. The types of content you can add to your website are almost unlimited (be sure to leave personal details off the professional site, though). The biggest advantage of your own website is that it allows you to share multimedia content and get found by employers or clients worldwide. If you're a freelancer, it offers you additional promotional opportunities.
There are multiple platforms allowing you to create your own site fast and for free, so you only need to pick one that suits you best. Here's how to make your website informative and effective:
Add detailed information about you. Depending on your goals, you can vary the information you'd like to share. You can use the About page to share your brief biography, professional values and career goals, which will show your personality type to a prospective employer. If you wouldn't like to be detailed about yourself, create a Contact page with links to your social media profiles and contact details such as phone, e-mail, Skype, etc.
Share your actual resume. To provide detailed professional history to those interested in hiring you, you can upload a text document or use one of creative resume types. If you lack inspiration for writing or designing your resume, see our tips to rediscover inspiration and motivation.
Create an online portfolio. If your work allows you to provide real example of what you've done in the past, be sure to do so. Everyone can claim that they're "a highly professional logo designer", but if you have a number of great examples at hand, this will increase the attention to your website and your candidacy accordingly.
Include feedback and testimonials. For both freelancers and full-time employees it's important to ask for feedback from clients, colleagues and managers. Not only it helps you to ensure a rapid career growth, but also you can add their feedback about your work on your website (or ask them to leave a comment there). With multiple positive comments, your candidacy looks more trustworthy.
Decide whether you'd like to blog. Keeping a professional blog is a powerful promotional tool itself. So, when creating a site, decide whether you have time and desire to maintain a blog (keep in mind that you'll have to post at least once a week). If blogging isn't your cup of tea, you can stop after you've created the previous sections and only check your website from time to time to ensure everything works and is displayed correctly. 
If you are seeking to become a popular blogger and promote your services this way, learn the tips how to make your blog popular.
Creating a personal website/digital resume is totally up to you, but if you need any assistance with traditional resume, be sure to ask for help of our professional resume writers.
Editor's choice:
Tips to keep in mind when creating a brand new digital resume
Consider the industry and the company prior to submission. Creative resume can give you a head start and help you get noticed. However, you should respect industry standards and employer's requirements above your creativity bursts. If you're in one of the traditional industries like banking or federal, your creativity can be frown upon. And if the employer in their job posting specifies that candidates should apply with a resume in .pdf only, be sure to comply with their requests. Otherwise, your candidacy will not be considered.
Don't let your infographic (or video) be your only resume. When sending an e-mail to a hiring manager, you can attach the file with your creative resume in addition to the text one. Never apply with a creative resume only! It can fail to open on someone else's computer correctly, or the hiring manager can ignore it simply because they're not interested in applications of this kind. In this case, you'll feel safe with an old good text resume they can review if something goes wrong. So, choosing between traditional versus online resume is not even a question – you need to have both.
Moreover, if you apply for a job in a big company, there's one more reason to send a traditional resume first: ATS. Visual resume may not be acceptable for this kind of system and your application won't be seen by a person.
Make it result-focused. The problem with traditional resumes is that applicants often fail to highlight their strengths effectively so they get tossed among the ordinary responsibilities. However, visual resume of any kind is perfect for bringing your accomplishments into light. So, the main tip for creating any non-traditional resume is to be accomplishment-driven. Use the graphs, charts and color to show your accomplishments (with figures). Focus on successful projects, satisfied customers and revenue growth. Since this isn't your main resume, you don't have to mention secondary detail, so specify your loudest successes and show off. This is what you are even considering creating a non-traditional resume, aren't you?
 Keep it simple and short. When getting their hands on creating a digital resume, some candidates get carried away and add too many details into their resumes. This leads to creating a document that is hard to read, or the video which is too long. So, don't try to make your creative resume too detailed and complicated. Unnecessary detail will only irritate the hiring manager and take their time. Also, take care of the readability of your infographic or website – people won't spend their time on something which is hard to read or navigate.
If you are doing it, do it well. Probably, this advice summarizes everything mentioned above. If you bother to create an additional resume which wasn't specifically requested in a job posting, do it well. Don't just apply with a creative resume of average (or less than average) quality just for the sake of it. A poorly done video or infographic will irritate the hiring manager rather than impress them with your creative approach. Consequently, such an application won't affect your chances to win an interview or even minimize them. On the contrary, if you create a stellar inforgraphic or killer personal website, you can get an interview invitation just because you managed to wow them.
Mind the use of colors. It's no surprise that colors have a subconscious effect on us. The creative non-traditional resume needs to be colorful and eye-catchy – thus, you need to think in advance which colors you are going to use. First, don't use too many colors (above 4), since it makes the visual information harder to comprehend. Secondly, avoid including colors which are too bright and cartoonish – our eyes get tired from such colors quite fast, let alone the fact that it looks unprofessional. And lastly, keep in mind how colors in resume affect us to pick specific colors depending on the effect you'd like to make on a hiring manager.
Send a link rather than upload the attachment. The attached multimedia file can fail to open correctly or even not fit into an e-mail due to its large size. The smartest and safest bet is to paste the link so the employer could watch your video or see the infographic online. And, if they're not interested, they'll only use the traditional resume you've attached.
A bright and attractive digital resume can make the way to success for you. If you develop a quality website or record selling video, you can win an interview just thanks to your creativity and increased interest in the role. So, if you came across a dream job and your industry encourages creativity, be sure to apply with a resume of brand new format along with traditional one. It can work wonders on your job hunting!
Getting the most out of your text resume
To successfully find a new employment, you'll need a well-written text resume in addition to a creative one. If you don't have a resume at all, or it's outdated, you can ask for help of professional resume writers and get a resume which is really up to scratch. However, don't limit yourself to simply e-mailing it in response to job postings. You can publish your resume online at such platforms as indeed.com or Monster.com – just be sure to hide your personal and contact information from general public.
Add a winning cover letter. Always send your cover letter when applying for jobs (unless the employer requests otherwise). A cover letter is a perfect tool to highlight your cultural fit, motivation and connect with the employer on a human level. If you don't have one, learn how to create an effective covering letter.
Need a high-quality text resume immediately?
If you need to apply straightaway but you don't have a traditional resume at hand, be sure to contact us 24/7. Our professional resume writing services for you offers the next day delivery of your resume and cover letter. Learn more about the services and prices and choose the package that fits your career needs best.
Have you ever applied for a job with a resume of brand new format? Was the application a success?
Popular Posts: