15 Highest Paying Majors for College Students
If you aren't one of those lucky ones who know what they want to be since middle school, the process of picking the future occupation can be pretty intimidating. Many students rely on their parents' advice, the experience of older friends and their own interests. Another important aspect to consider is how much your future profession will be paying.
A lucrative job will help you pay off the student loan faster, let alone the fact that good pay contributes to our sense of well-being. In today's entry, our resume writer services have collected the highest paying majors in college. If you are still considering multiple options, this list will help you make a grounded decision about your future career.
Applying to college also involves submitting a resume. If you don't have one yet, the expert writers of our company will help you write a strong high school resume. We will focus on your academic achievements and extracurricular activities to portray you as a top student. Our consultant can also assist with creating a resume for a job.
Top 15 lucrative college degrees
Not surprisingly, the top jobs that allow you to maximize your earning potential are STEM majors. However, it is possible to study a well-paying specialty that has nothing to do with math or engineering (if these subjects aren't your cup of tea).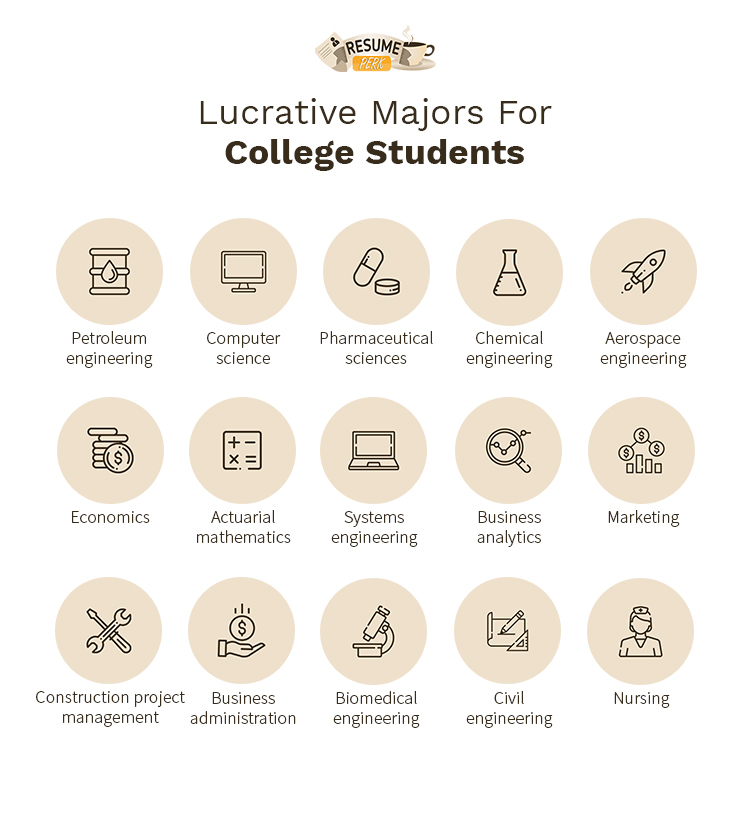 1. Petroleum engineering
If good pay is your top motivation for career choice, you should seriously consider this option. Petroleum engineers ensure the accuracy and efficiency of drilling operations and work with oil and gas companies as well as consulting firms. As a part of college program students learn physics, thermodynamics, geology and engineering. This job is also physically demanding, often includes traveling and working extra hours. However, all these efforts pay off: the median salary for this career exceeds $135,000 per year.
2. Computer science
Computer science is another promising major that attracts students passionate about operating systems, hardware and software applications. It is a broad degree that can lead to multiple career opportunities – software and app developer, quality assurance engineer or database administrator. While working towards this major, students study the scientific, theoretical and practical computer applications as well as discrete mathematics. The work of computer science graduates is often rewarding and challenging – they work on innovative software products and solutions. The job market for these specialists will also grow, and the average annual pay is around $111,000.  
3. Pharmaceutical sciences
Majors related to the pharmacy and pharmaceutical science is another good chance for a lucrative career. An increasing number of drugs being created and tested along with the aging population creates the demand for multiple specialists in pharmacy. Possible career options include pharmaceutical sales, drug testing and marketing. Students considering a career in pharmacy should be good at math and science and enjoy working with people. This major is one of the highest paying on the market with a median salary above $112,000.
4. Chemical engineering
The growing number of products we use every day is created with the help of chemical processes – food, clothes, smartphones and many more. This tendency creates a steady demand for chemical engineers. These professionals work on large industrial plants or chemical laboratories and use raw materials to create various types of commercial products. During years in college, students learn engineering, physics, chemistry, production and mathematics. The median income for this profession is $102,000 but note that the American economy doesn't need too much chemical engineering. Good news is this major also allows you to find a well-paying job in pharmaceuticals or chemistry.
5. Aerospace engineering
A degree in aerospace engineering is perfect for students who are excited by the opportunity to design airplanes and space satellites. This major allows you to apply the engineering knowledge and creativity to develop and test prototypes to make sure they function as planned. The training programs include courses on avionics, structural analysis and space mechanics. Aerospace engineers make in average $90,000 per year.
Are you going to major that requires high creativity and imagination? Then, check out our tips how to increase creativity.
6. Economics
Economics is one of the highest-paying business majors than brings average earnings of $101,000. This major is quite broad and opens doors for careers as a financial analyst, investment manager or data analyst. You can also find a government job as an economist. In college, future economists are taught how the goods and services are created and sold as well as math and statistics. This career requires an analytical mindset, attention to detail and critical thinking combined with the strong ability to analyze the findings. It is also predicted that the demand for economists will continue to grow so it's one of the most promising majors to pursue.
7. Actuarial mathematics
Students who major in actuarial mathematics study the evaluation of costs of risk and uncertainty. This program is only for young people who are good with figures, as students mostly study financial mathematics, calculus, probability and the basics of micro- and macroeconomics. This degree allows you to work as a risk analyst and commercial loan analyst and earn approximately $100,000 per year.
Would you like to work from a comfortable dream office with a stunning view? Then, take a look at the top company offices in America: http://resumeperk.com/blog/top-7-company-offices-in-america.
8. Systems engineering
Briefly speaking, systems engineers translate technical needs into simple step-by-step processes. They ensure the successful and efficient operation of the systems in any industry. The principles of work are the same everywhere, so young professionals with this degree may work in the field they like. One of the most popular career options is logistician which includes managing the life cycle of the product and its distribution. The average salary for this major is a bit lower than those of the majors listed above but is still relatively high - $74,000 per year. 
9. Business analytics
Business analyst is a professional who gathers business needs and requirements and analyzes complex sets of data to design a solution to business problem. In college, they study management, data mining, and gain operations research skills. The knowledge of multiple types of analytical tools and approaches allows them to work as marketing, finance or systems analysts. The insights that business analysts derive from data are then used for making effective business decisions. If this sounds like you, you will also be pleased by a high salary that exceeds $94,000.   
10. Construction project management
Construction project managers supervise the project from concept to finish including managing resources and people. If you decide to obtain this major, prepare to study construction laws, allocate resources, schedule project activities and calculate costs. The area of application for such a degree is quite obvious – any kind of construction project. This specialty is right for you if you want to develop leadership skills, are interested in building and highly organized. Like any project management job, it might be stressful, though. Project managers in construction earn over $71,000.
Do these high-paying jobs sound like too many calculations and engineering? Maybe, you'd like to go for something humanitarian? I'll give you a hint: top writers earn good money as well. Check out the advice and tips for writing first book.
11. Business administration
Another popular and lucrative business major, it allows you to understand and optimize functions within a company. To achieve this understanding, business administration students learn business communications and ethics, marketing, management, accounting, and business applications. Another argument in favor of this major is that you are not restricted to one industry – you can choose one that appeals to you. The number of job positions available is also impressive: financial manager, accountant, office manager, business consultant and more.
12. Biomedical engineering
Biomedical engineers work on versatile projects in healthcare industry, combining the passion for engineering and helping people. These professionals are typically hired by the leading healthcare companies which ensures a competitive salary. The job functions entail designing diagnostic machines and medical equipment. College classes you'll need to take include lots of science and math, and also expect a lot of laboratory work before getting a diploma.
If the college asks you to provide letters of recommendation, here's an expert guide on how to write perfect ones: http://resumeperk.com/blog/7-steps-to-compose-powerful-letter-of-recommendation.
13. Civil engineering
Civil engineers design and supervise the construction of airports, roads, office buildings and water supply systems. The broad application of civil engineering skills ensures a lot of job opportunities to choose from. The demand for civil engineers is much higher and there are more job openings than for some above-mentioned engineering majors. The professors of civil engineers teach them structural analysis, thermodynamics and construction management. This career is best for students with critical thinking, creativity and collaborative spirit. You can expect to get around $82,000 yearly at this position.
14. Nursing
Nursing is a promising major with a constantly growing demand that doesn't require an engineering education. Nurses take care of the patients in healthcare facilities such as hospitals, doctors' offices and rehabilitation centers. They provide physical and emotional support and ensure that the doctor's prescriptions have been followed. Moreover, nursing is the most meaningful career of all mentioned in this list, based on a survey. As part of their college study, nurses learn anatomy, chemistry, nutrition and psychology. This major has one of the highest prospects for growth due to the aging population and the pay is competitive either – median salary is $69,000.
15. Marketing
In their daily work marketing specialists identify target audience, plan promotion strategy, develop pricing strategy and determine effective channels of communication. All this is done to build brand/product awareness and increase sales. Students take classes in marketing communications, PR, microeconomics and finances. Marketing major prepares you for such jobs as marketing consultant, brand manager, PR representative or social media manager. The average salary for this major is $131,000.
As you see, there are multiple college majors that can bring you a good income by the middle of your career. If you are looking to pursue a specialty that is both rewarding and well-paying, give the above majors a closer consideration and choose one that fits your personality and your interests best.
Need a professionally-looking resume?
To ensure a successful college admission, you'll need a professional and informative resume. Our professional resume creator can write an effective resume for you from scratch, focusing on your educational achievements and work experience. If you already have a resume, we can polish it to perfection – our resume editor will fix mistakes and improve the formatting. We offer unlimited revisions – your writer will edit and revise the written resume until it fully meets your requirements without extra pay. Speaking about prices, our fees for resume writing are cheap and we make additional discounts for college students.