7 Steps to Compose Powerful Letter of Recommendation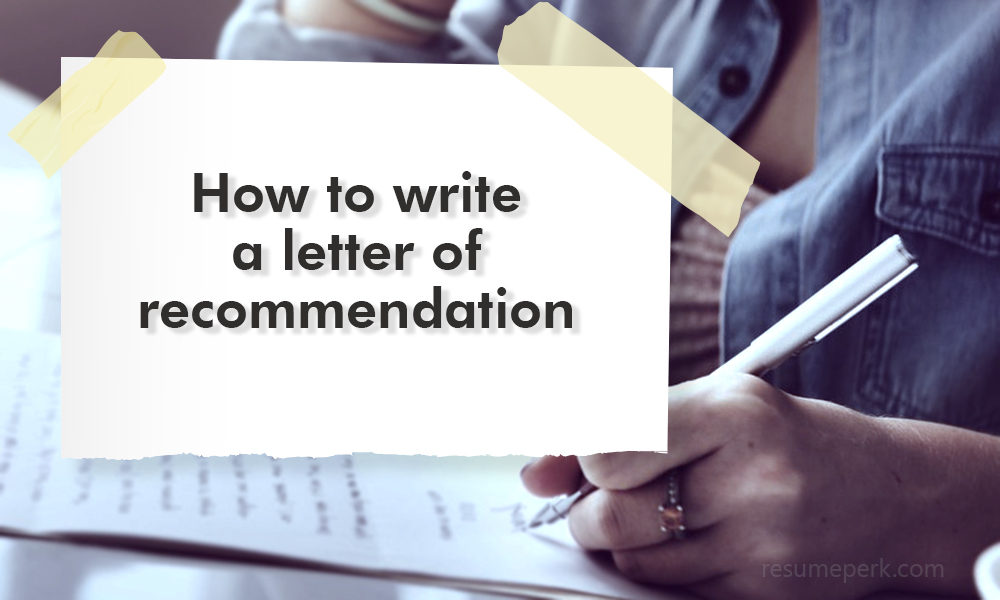 Imagine the two recent college graduates applying for an entry-level position in finance. They both have a high GPA, relevant coursework and done voluntary work while in college. They both seem to be qualified well for the job opening. However, the first applicant attached none or poorly written recommendation letters while the second person uploaded several highly informative letters from their thesis supervisor and professors. These letters expand on the positive personality traits and knowledge of the applicant and recommend them for the position.
This brief example is given to show you how a well-written recommendation letter can influence someone's academic or professional path. If someone you know well asked to recommend them for a job or the educational program, they expect you to describe their traits in the most favorable light. Today, the professionals of our best resume services have collected the main tips for writing this type of letter to ease the task for you.
Get expert assistance with reference letter writing
If you are dreaded by the necessity of composing a recommendation letter and aren't sure you can create a really good one, consider outsourcing the task to the Professional copywriters of Resumeperk.com. Our experts specializing in all kinds of career writing will develop a persuasive synopsis of candidate's hard and soft skills, achievements and personality traits that portray them as the perfect fit for the program or the job. Moreover, we allow unlimited number of revision to make sure you are happy with the letter we've created for you.
How to write a good recommendation letter: Things to consider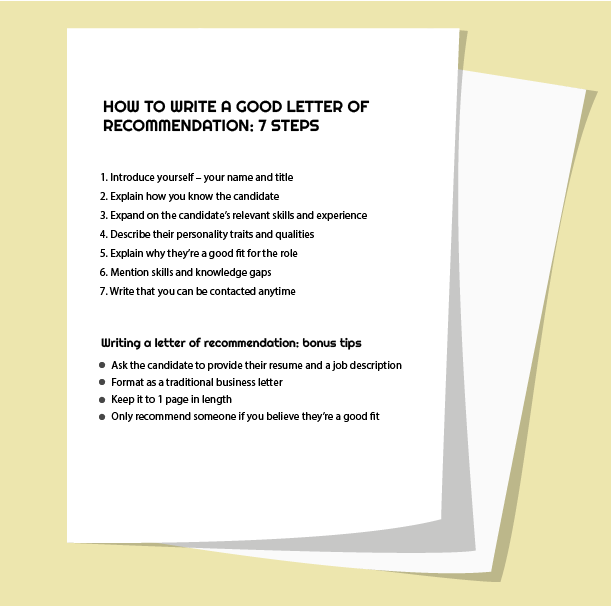 If you intend to write a letter on your own, consider the steps below before you get down to the writing:
What if you cannot recommend the candidate?
If somebody asked you to advocate for them but you personally don't believe they'll make the cut, politely decline their request. Only agree to write a recommendation letter for someone that you know have the right skills and attitude. All in all, giving the false information or stretching the truth might damage your professional integrity in the future.
Collect the necessary information
To write a quality letter, you will need a resume of the applicant and link to the job posting they're going to apply for (or university program requirements). If they don't have a specific job in mind, ask about their professional goal. For instance, if they switch from office to customer service position, you'll need to focus on customer care skills rather than office management ones.
Sign a written letter
Writing isn't your cup of tea? Suggest the applicant to sign the pre-written letter. It's a common practice that the person seeking an opportunity writes a letter themselves and only sends to you to sign it. This approach is convenient because it relieves you from the stressful writing process; yet only sign the letter if you 100% agree with its content.
Order a letter from the writing company
Find a custom writing agency that specializes in career writing and get the letter written by them. For instance, our writers will only need a resume and a job description to craft an impressive letter of recommendation. Moreover, when you order writing from professionals, it guarantees the high-quality content and formatting of the letter.
Writing a good letter of recommendation USA: 7 essential steps
Introduce yourself
Start an opening paragraph by introducing your position and experience briefly. This is meant to explain the reader that you are qualified enough to evaluate the candidate and recommend them for employment, admission or scholarship.
Explain how you know the candidate
Show the connection between you and candidate – how long have you worked together and give the context of your collaboration. You can include the company name, department name and other details you feel might be informative for the letter recipient:

"I have worked with Janeth as her manager for 2 years at XYZ Technologies…"
"I supervised David's thesis on marine pollution…"
"Liz worked as a team leader of software development team on the project I managed"

Outline the skills and experience of the candidate
The letter body is meant to list professional or academic strengths of the applicant. If it's been a while since you worked or studied with the person, you might want to review their resume to recollect some important details. Describe their key skills, educational qualifications and accomplishments – and the best way to do it is by giving a practical example of how the person demonstrated these traits and which result they delivered. Saying 'Denis used Agile and Scrum methodologies and improved communication to deliver projects on time' makes a stronger impact than simply indicating that 'Denis has project management experience'.
Give a brief description of their personality traits
Letter of recommendation is also meant to throw light on the applicant's personality type. Describe their main characteristics. Focus on 2-3 traits such as dependability, motivation, focus on the results, etc. Here's the example of how you can show someone's personality in context: 'Richard has an upbeat attitude and great sense of humor which made him extremely popular among the store clients'. Avoid listing all positive traits which come to your mind – it will make the letter sound unrealistic. Specifically indicate how the person you're writing about interacts with team members, customers and management and if they have leadership skills. These traits matter for all academic and professional positions.
Want to create a persuasive recommendation letter? Then, stop doing bad writing habits than most people do.  
Explain what makes them a perfect candidate
This tip is closely tied with the previous one. Now your task is not only to explain that the applicant performed well in the past, but also to outline how these characteristics make them a perfect fit for the educational program or the professional position. Express your own opinion, but do explain your conclusions logically so that your thoughts are persuasive for the decision-makers.
Are you writing a resume along with the recommendation letter? Then, check out this cheat sheet for efficient resume rewriting: http://resumeperk.com/blog/a-cheat-sheet-to-rewrite-resume-like-a-pro.
Mention skill and knowledge gaps
Your recommendation letter's goal is to show the person in a favorable light. Nevertheless, you have to give an honest description of their professional traits, so you also need to mention their knowledge or skills gaps. For instance, if the person you're describing has some issues with time management, mention that despite their positive characteristics the person might need some guidance with organizing and prioritizing their schedule.
Mention that you can be contacted anytime
To logically conclude your writing, sum up that you recommend the person for a job or inclusion. Also note that you can be contacted in case the decision-makers want to clarify something. "Do not hesitate to get in touch if you would like to receive further information or speak to me personally" works great as a conclusion.
Letter writing usually goes hand in hand with interview preparation. To help your former student or coworker manage the tricky interview situations, send them this response to sexist interview questions in case they encounter inappropriate questions during an interview.
Creating a professional format for letter of recommendation
Make it look professional – use letters of recommendation examples if necessary. 
Given the importance of this letter, you'll want to format it as per the highest business writing standards. Use a professional font and make it big enough so that the reader doesn't have to zoom the document out. Leave enough white space around the text and between the paragraphs for better readability. For the same reason, keep the paragraphs short – no more than 6-7 lines per paragraph is a good idea.
If you've never written this type of letter before, Google or check out Pinterest for some online samples to get a brief understanding of how to organize the content and describe the person in a way that motivates the hiring authority to interview them. However, don't copy content from another letter you've found online as the letter should reflect your own opinion on the candidate. And finally, proofread the copy – typos and mistakes won't impress the hiring authority or committee.
How long should a letter of recommendation be?
The ideal letter length is one page, unless the guidelines you were given require otherwise. Two pages are acceptable for high-profile job applicants when it's impossible to fit all their qualifications and extensive experience into a single page.
Curious how long should a resume be? Check out the professional opinion on the resume length here: http://resumeperk.com/blog/perfect-length-of-your-resume.
Remember that the way you describe your student, former employee or a co-worker might significantly influence their chance of getting a job or an enrollment to a dream education program. Following the above tips will help you promote the applicant under the right angle and format the letter to strengthen the positive impression about them.  
Your recomendation letter, written by professionals
If you are a busy professional who doesn't have time to compose a recommendation on your own, the professionals of our company are always ready to assist. With 10+ years of experience promoting people for the jobs and programs they want, we know the expectations of the hiring managers and are ready to develop the letter which highlights the exact necessary qualifications. You can have an original letter created from scratch by our website or we can edit the one you already have to ensure flawless grammar and style. If you're an ESL speaker, having the letter checked by an American copyeditor will help you sound even more accurate and persuasive for the US workplace.
Our online resume writing services offer personal assistance of resume writers. Moreover, all our writing services come with satisfaction guarantee – the writer will work until you are completely satisfied. The cheap prices will pleasantly surprise you – learn more about our resume packages and use a 20% limited discount offer.