Best Paying Office Jobs From Professional Resume Creator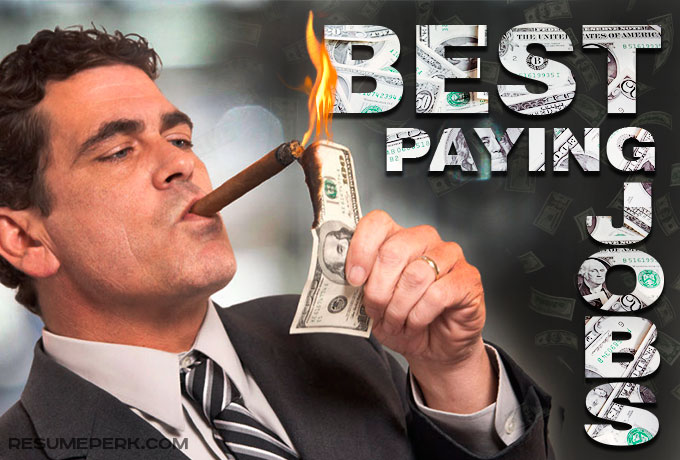 Do you believe that your job must not only be fulfilling, but also bring you a financial well-being? Do you want to receive big paychecks even if the economy is tough? Well, you are not alone. Both students and professionals monitor the job market to be aware of the industries and job that would ensure them the desired level of income.
Although many of well-paid jobs require special and expensive education (like in healthcare and scientific fields), there's also a plenty of opportunities to earn a good salary in the office environment. The competition for such position is fierce, but if you got what it takes it's definitely worth trying! And a creative professional resume from our writer will substantially increase your chances for an interview. There are also a few jobs you can apply for without a resume.
Best paying office jobs
Sales manager
Sales managers are responsible for delivering the product or service to the consumers. They set goals, develop strategies and ensures that business goals (volume of sales, number of customers served, expanding sales territory) are met.  To meet the above objectives, sales manager establishes relationships with client, hires and trains new sales associates and supervises sales teams in general. Business insider reports the annual salary of $126,040 for this position.  
Business operations manager
Business operations manager is a position that requires years of experience in related jobs as they need practical skills in managing and motivating people and handling huge variety of tasks that keep the business operations running smoothly. In particular, their tasks include leading teams and hiring new members, negotiating terms of contracts, setting strategic goals, etc. The variety and complexity of tasks set before the business operations manager requires him to be a multitasker with good communication skills. However, the job pays well: 117,200 in average.
Finance Manager
Finance managers supervise the preparation of financial reports (i.e. income statements, balance sheets, analysis of future earnings, etc.). They also often analyze the cash flow, oversee budgeting and audit, and resolve credit issues. This position requires the extraordinary attention to detail and the ability to communicate the financial statements to management and teams. Several years in finance or accounting positions are also a must. The pay is competitive, though: around $130,000 per year.
Marketing Manager
Basically, marketing manager analyze the behavior of consumers to devise the strategy for promotion of goods or services. They determine for whom, how and where to merchandise to reach the sales goals. Marketing managers don't have a strict set of responsibilities as they often handle a variety of other tasks related to promotion, design and management of marketing team. As this job is always in-demand, the pay is more than competitive: approximately $135,000.
HR Director
Human resource directors usually work for large-sized companies and are responsible for the functioning of human resources within the whole organization. While in small and mid-sized businesses managers usually perform hiring and supervision, bigger organizations need someone who would oversee all the personnel in the company.  HR directors implement training and development programs and oversee the results of training. They collaborate with the upper management and ensure the success of training programs and their alignment with company goals. According to Forbes, the salary equals or exceeds $116,000 a year.
IT Manager 
Today more and more organizations feel the need in IT managers. They have a wide variety of tasks to complete, including managing hardware/software purchase and upgrade, ensuring the security of private company data and office networks, and making software related recommendations to upper management. Sometimes duties of the IT manager also involve hiring and training of new IT staff. IT managers need a solid technology stack combined with the ability to communicate technology issues to non-technical users. For their efforts, IT managers usually get the amount of $136,280.
Lawyer
The responsibilities and specialization of a lawyer varies depending on the size of the company they work for (provided they work for a company) and company's field. Lawyers research the information and apply to the law in specific circumstances their clients or organizations face, and serve as advocates and advisors. This career path requires attention to detail and the ability to work really hard. Lawyers are paid $133,470 in average.
Accounting Director
Accounting director directs and oversees the accounting functions of the organization. He establishes accounting strategies, keeps the integrity of the accounting system, and oversees the accounting transactions, A/P, and A/R. The duties of accounting director also include performing financial analysis, communication with accounting teams and management and generating reports for management's perusal. This sort of career requires an extreme attention to detail; also, the candidate must be good with figures. The annual pay is above $128,600.
Software Developer
Although software development isn't a traditional office job, it's always well-paid and a bachelor's degree is enough to get a job. Their duties include development, design, testing and engineering of computer or mobile applications. This job has challenging tasks and, as the industry is developing, there's always room for growth. According to Money.usnews.com, the average salary for this position equals $96,260.
Information Security Analyst
Another IT-related position that is in growing demand and pays well. Today, in our society, as the amount of digital information grows, people who could protect company's digital privacy are needed at most of the companies. Information security analysts implement the measures to protect the private data within the organization and deal with leakages and security breakages. If you have a related BA degree and the job sounds challenging, you can update a resume and apply. The salary is around $91,220.
As you see, it's possible to earn a decent amount of money even if you don't have a medical or engineering education. All the above roles require BA or MA degree and several years of experience, and if you've got what it takes, you can apply and start making more.
Update your resume to increase your chances
Well-paid jobs often get hundreds of resumes in response to a job opening. To stand out from that pile, you need to look really outstanding on paper. So, it's a good idea to consider getting help from a professional resume creator. Our writers with years of experience in HR and resume writing will edit or totally rewrite your resume to make your skills and expertise more competitive. You can try it right now by ordering free resume critique and see the weak points of your resume.
Does your current job give you a rewarding payment? If no, would you like to get a new job?