Got Promoted to Manager? Follow These Leadership Tips
Getting your first promotion to a managerial role is exciting. You realize that your hard work and dedication were recognized. You make the huge step up on the corporate ladder. At the same time, as you dive into the working processes in a new capacity, you begin to realize that leading people is not as simple as you expected.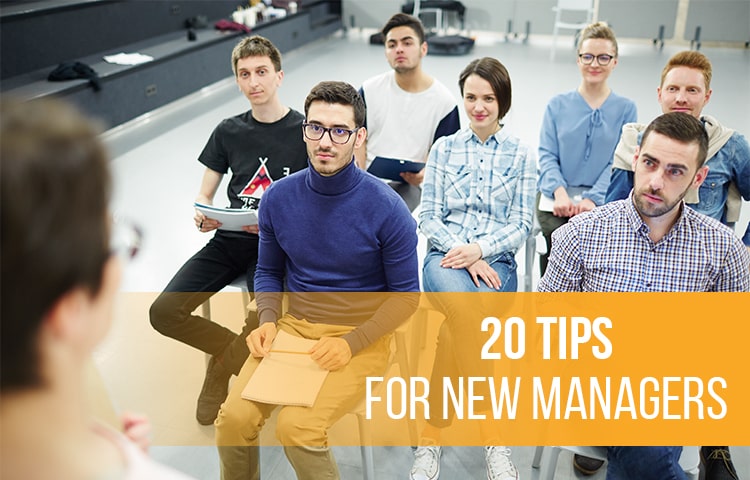 Managing a team requires a whole different set of skills. Even if you excelled as an employee and outperformed, chances are that you'll find it challenging to build interpersonal relations, manage conflicts, and set expectations. Luckily, all these soft skills can be learned even if your company doesn't provide management training. To help you out, follow the below leadership tips for new managers that our federal resume writers have prepared.
Landing a promotion is easier with the right resume
Whether you are expecting a promotion internally or want to apply for a management role elsewhere, you'll need a strong resume at hand. In both cases, your resume should display a progressive career growth, strong record of achievements and the willingness to take initiative and lead others. Our best resume writers online are always there to help you out. Your American or British resume maker will prepare a resume according to your requirements, helping you get the attention of your target employers.
20 tips for being a leader
Becoming an effective and respected manager that people look up to can take you years. And in fact, 60% of new managers underperform in their first two years in the leadership role. To smoothen the transition, start with mastering the basics of managing people:
Find your management style and stick to it
There's a plenty of leadership styles to choose from. Some leaders are autocratic whereas others lead democratically and encourage everyone's contribution. Some stick to the approach of giving little directions to their subordinates while others work as coaches and focus on developing individual strengths as team members. Understand what your approach is and stay true to it, and being genuine and authentic will make a positive impression on subordinates.
Master the effective communication
One of the key skills that make a world of difference in your performance as a manager is to communicate effectively. Your responsibilities as an employee involved communication with peers and management either, but now the quality of communication directly impacts the success of your team. Get used to informing your team about the project goals, deadlines, priorities, milestones and other details their performance depends on. Also, communicate the expectations clearly to make it easier for your team members to achieve the goals set.
Build relationships with your employees
The best way to build a loyal team that is receptive to your suggestions and ideas is to connect with them on personal level. Make time to meet each of directs and learn more than just basic information about them. Find out more about their strengths, goals, likes as well as their life outside the office. This will help you use your human resource more efficiently since you'll know their personalities professionally, as well as build genuine trust. Let alone the fact that relationship building skill is the key to career achievements.
Seek mentorship
In your first weeks or even months you might feel confused by various workplace situations and hesitate about how to address them. In this case, one of the top leadership pointers is to rely on the mentor's help. Ask about the internal mentorship program for new leaders or look for an external mentor. A person who has been in your shoes years or decades ago will provide valuable help and inspiration when you feel at loss and don't know how to handle the challenging situation.
Take the leadership training
If you don't have an educational background in leadership or management, the whole concept of leading, motivating and overseeing people might be challenging to you. In this case, getting some training will help you feel more confident and act efficiently. Inquire about education or training for new leaders within your company. If your employer doesn't offer such an opportunity, browse the online courses or evening classes on management. Planning to work your way up to the top? Consider enrolling for the university course.
Recognize that it's a completely new role
Even though you've excelled as an employee, admit to the fact that your managerial position requires a completely different set of skills and attributes. Leadership doesn't require a perfection in your specialization. It's all about inspiring and organizing others to do their best. Don't make a common mistake and take this advice for future leaders. Understand that a leadership position challenges you to develop new skills, and start building on those skills without relying heavily on the skills you've used as an employee.
Learn how to delegate
Your responsibility as a manager is to get big things done by others' hands. Beat the temptation to roll your sleeves and work on significant tasks on your own. Learn to identify the most qualified employee for each particular task and let them surprise you with what they have to offer. Avoid micromanaging and don't look over your subordinate's shoulder when they are getting things done. Give just a general direction and communicate expectations rather than dictating how each minor milestone should be completed.
Remember that you're a boss, not a friend
If you were promoted over your peers, it might be challenging at the beginning to set boundaries. People are used to seeing you as a friend, and now they have to work under your supervision. However, if you want to be treated with respect and expect your requirements to be met, you need to set boundaries and define the new rules of collaboration. You might remain friends outside of the office, yet at work you're a boss and need to conduct appropriately.
Are you afraid of facing criticism as a manager? Here are the tried and true ways to react to criticism positively and professionally.
Master active listening
To get the most out of your subordinates and help them feel valued and appreciated, use active listening. This means asking people's opinion and feedback, and paying maximum attention to their opinion. When talking to team member, focus completely on your interlocutor and what they have to say. Avoid interruptions, maintain eye contact, nod when you agree with the speaker and pay attention to non-verbal clues. Ask questions to clarify their point and use the question "What do you think?" every time when discussing an important point with your subordinate.
Always be available
Being a good leader is not about sitting all day in your brand new office. To manage the projects and operations efficiently, you need to be always available and accessible for directs. Be always open to hear about their concerns, issues and inquires, both personal and professional. This builds trust and helps you get respected by the subordinates. More importantly, when you're approachable, an employee is more likely to report when something goes wrong so that you could take corrective measures.
Not getting along with some of your coworkers? Here's how to fix the situation: http://resumeperk.com/blog/how-to-be-on-good-terms-with-colleagues.
Don't get concerned with the generations issue
When reading about leadership, you have probably faced the conception that people of different generations, such as Gen X and Gen Z, need different types of leadership. But in fact, the best tactic here is not to generalize and not to judge people based on their age. Treat the subordinates of all ages with equal respect and value their contribution. See the people on your team as individuals, not as representatives of their generation. This will help you to find an individual approach to everyone and build better relationships.
Set clear expectations
People tend to leave their jobs due to unclear expectations. Nobody wants to be guessing what their manager had in mind when setting a vague task or to guess whether they perform up to the standard. Moreover, employee turnover costs company time and money, and your goal as a manager is to minimize any losses. So, when setting tasks for your subordinates, clarify the requirements to make sure you're on the same page. Clearly explain the project goals and the significance of their contribution. 
Learn to manage your time efficiently
As a leader, not only you should complete your to-do list by the end of the day, but also to address the unexpected issues escalated by your team. Under these terms, organizing and managing your time is crucial. To avoid spending late nights in the office, you need to set priorities and handle the most important and high-pressure tasks in the morning (they call it 'eat that frog'). Organize your emails – unsubscribe from useless newsletters, mark the top-priority senders and don't check the inbox every hour. Make use of an online time-management app such as Wunderlist or Workflow to keep an eye on your schedule.
Schedule individual and team meetings
Organizing meetings is one of the good leadership ideas you should take into account. Group meetings are invaluable when you need to resolve a problem, brainstorm ideas or introduce changes. For meeting to be effective, create an agenda in advance and encourage the exchange of ideas between the team members. Don't neglect scheduling individual meetings either. They can be used to discuss the project stage with a person responsible for it or to talk about the individual's performance.
…but don't overdo with the meeting frequency
Meetings are the perfect tool for getting informed about issues, broadening your perspective and resolving the challenging situations. Yet, nobody likes meetings that are called for the sake of them. Meetings that don't introduce any new information or don't serve an important goal are the waste of time. So, before scheduling the meeting, ask yourself whether your goal can be achieved through an email, a phone call or a quick one-to-one conversation. Only invite people whose presence in the meeting is essential.
Recognize the team's efforts and contribution
One of the crucial qualities of a good boss is to recognize and reward the input of your subordinates. Monetary rewards work well; yet, people also need the proof that their hard work and dedication matters, so giving credit to the team members is always important. This approach carries a number of benefits. Firstly, it helps your employees feel valued and motivates them further. Secondly, it establishes trust between you and the team. You might want to praise a successful employee in public, add a small gift along with the verbal recognition, and ask them to share their success story.
Focus on helping your employees succeed
The success of a good leader is measured by success of their subordinates. Whereas your minimal goal is to get things done, the best leaders focus on developing and growing their team members. As we've mentioned above, get to know your employees. Understand their strengths, weaknesses, professional ambitions and more. Help them with creating plans for professional development, and assign tasks which would develop the right skills. By helping the employees realize their potential, you increase the team productivity and their workplace satisfaction as well.
Clarify expectations with your new boss
When you move to a leadership role, you're likely to have a new boss. And, once you obtain a leadership position, make sure to reach out to them to clarify expectations. Your boss is likely to have their vision of how your department should develop and have the results in mind that they'd like to achieve. So, before you start making strategic decisions, make sure you're on the same page with the management. Also, it makes sense to discuss any changes or improvements that, on your opinion, will help your team perform better, such as hiring more employees, using different software, etc.
Considering applying for a job elsewhere? Check out the company types you should avoid: http://resumeperk.com/blog/7-types-of-companies-you-should-never-work-for.
Learn to do performance reviews
One of your crucial leadership responsibilities is to monitor the performance of your team. Many companies conduct bi-annual or annual reviews, but even if they aren't the part of your company's policy, take the initiative to conduct individual performance reviews anyway. Use the one-to-one sessions to look back at each person's performance, provide insights and motivation, and address performance issues if necessary. Have a dialogue with each employee. Recommend, guide, and inspire to find ways to perform at their best. Also, performance reviews are a great time to reward your stars.
Rewrite your resume focusing on leadership capabilities
If you want to enter a leadership role, your resume should look differently than if you were applying for a professional position. Firstly, it should emphasize leadership and management capabilities, be it leading a project or replacing an absent manager. Secondly, it needs to highlight the soft skills. A good leader can emphasize such personality traits as communication, decision-making, empathy, motivation, and more. And finally, a resume of an aspiring manager should look more solid, be more accomplishment-centered and communicate confidence.
Being a leader is a challenging yet very rewarding experience. Use the above tips to be a good leader to make your transition to a leadership position smoother, build trusted relationships with your team members and start working towards the big organizational goals.
Need a resume to apply for a leadership role?
Being a good leader requires a thorough preparation. If you don't have much time to adapt your old resume according to your new career goals, rely on professional help. The professional resume makers from Resumeperk.com will assist with creation of a new resume or edit the one you already have. The writer will work on the content, layout, design and presentation until you are satisfied. The prices are affordable for everyone – check out and make sure. 20% discounts for first-time clients are also available.