Perfect Length Of Your Resume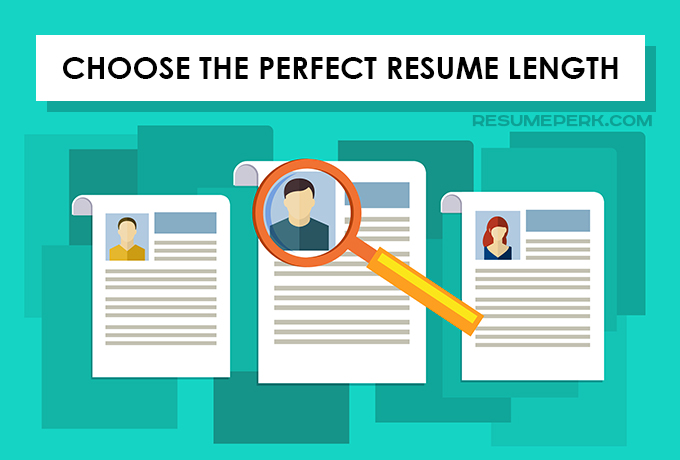 Everyone has heard the so-called 'unwritten rule' which states that a resume should not exceed one page in length. Many job-seekers went to great lengths trying their best to fit all their experience into one single page.
Probably, this rule made sense in the era of paper resumes as the second page could get lost or mixed up with other resumes. In the digital age, however, this rule is absolutely groundless. The only factor which determines the length of your resume is your experience and career goal. If you're not sure how long your resume should be, follow the below guidance to make a well-grounded decision. Our tips will be helpful for all job seekers, including graduated students.
One-page resume is for you if:
You're just out of college
Student resumes have their peculiarities, and one of them is making a resume no longer than one page in length. As a student, you probably have little (or no) relevant experience, and will be able to fit your most significant college and extracurricular experiences into one page. Keep the information in a resume relevant, and you won't even need the second page.
You're making a radical career change
Let's assume that you have significant professional experience, but would like to pursue a job in a completely new field. In this case a one-page document will be enough for you to get an interview and go ahead the career ladder in a new industry. Why? The great deal of your experience will be probably irrelevant to the new field, so you'll have to focus on transferrable skills only. By the way, a radical career change requires a well-written cover letter to explain this change.
You've only worked with one employer
You could hold the same position for years or be promoted once or twice, but if this happened within the same company, no second page of resume is needed. The matter is, as the company was the same, you've probably competed repetitive tasks and dealt with the same kind of problems, so you will be able to keep your job descriptions and achievements short and concise.
Two-page resume is the right length if:
You're a professional with 10+ years of experience
As your professional experience grows, your areas of competency expand as well, and it's already tough to fit everything into one page. And you don't need to: a long career record assumes that your resume will be two pages in length. However, Monster.com highlights that this should be a relevant experience in your industry, and the skills must be relevant to the desired job.
You're in an IT/engineering position that requires an impressive skill set
Technical and engineering resumes must include the full list of the technical and computer proficiencies of the candidate, as it's often the skill set that determines whether you will get an interview invitation or not. So, if you've put your mind to getting a job in IT or engineering field, don't hesitate to list all your technical skills and projects where you used them. Length doesn't matter much as long as you list the information which is crucial for employer.
Three-page resume or longer is acceptable if:
You apply for a top management position and possess a long track record of achievements
Accomplished individuals with proven accomplishments in management and leadership and relevant experience on a top management position might need even more than 2 pages to have all relevant information included. To describe the key milestones of your long career, you can use a three-page resume. You might also want to add more sections (i.e. Selected Accomplishments, Publications, etc.) to give more in-depth information on your proficiencies.
You're in the academic or scientific field
Academia and science have completely different rules for job application. Instead of a resume, they are expected to provide a CV which contains information on their publications, speaking engagements, professional courses, and licenses, Monster.com states. For someone who has been in this field for over 10 years, this information might take four, five or even more pages, and this is welcome. However, if you struggle prioritizing the information for your resume, you can ask for help of a resume writer and he will help you find out the optimal lengths for your resume.
Key guidelines for resume of any length
Whatever resume length you opt for, make sure it's written in accordance with the below principles:
The most significant information belongs to the top third of the first page
You probably remember that a resume is your marketing document, so it must catch the reader's eye from the very beginning. Otherwise, your resume will end up in a No pile. So, make sure to place the key facts from your career history, your accomplishments, or key skills at the very top of page (Summary or Career Profile section works best in this regard).
A resume should take the three quarters of the last page
For example, if your resume is two pages, make sure that it takes one two full pages or at least one full page and three quarters of the second page. If it doesn't, reformat your resume in that way so it could comply with the above rule.
Don't sacrifice the resume readability in favor of length
Sometimes applicants go to awful lengths to make a resume fit into one page, Livecareer states. In particular, they often use small font and destroy the formatting, which make the resume impossible to read. Hiring managers prefer to receive a longer document with convenient layout and clear structure than one page of unstructured text. Don't use the font smaller than 10 pts and make sure to use bulleted points to make your resume more reader-friendly.
Add page numbers and headers to keep the document consistent
If you send a resume consisting of several pages, it's important that the reader won't get lost in them. Make sure to include the page numbers and your name with contact details as a header of every resume page. So, even if one of the pages gets lost, they will still know how to contact you.
Concerned about the appropriate resume lengths or any other resume writing matters? Then, consider contacting a professional resume writer for help. Our in-house writers possess extensive experience in resume writing for any field and will assist you with crafting a competitive resume copy. You can use a free resume critique to hear the professional opinion on your current resume or buy resume paper.