Help Making A Resume For Freshers: 15 Tips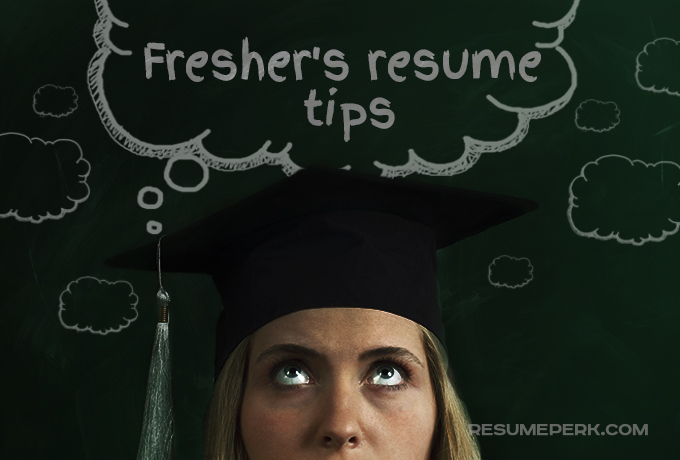 Recent graduates often face numerous problems when trying to compose a resume. How to fill out the Professional Experience section if the only experience you had was waiting tables during the summer holidays? Which information about your college should be included on a resume? And, finally, which resume format to choose for the better effect?
If you are a fresher looking for help with making a resume, remember that your college or university experience is your best asset and your task is to present it in the right way. Resume tips from our writer will explain how to make the best impression on your potential employer. (If you lack confidence in your writing skills, contact us today and say, "Help me make a resume!" and our resume experts will assist.)
Keep it to one page
Since you don't have an impressive work history, you don't need to make your resume longer than one page. One page is enough for a graduate to present all necessary information. If your resume is longer, it probably contains details which make no sense to an employer.
Ditch the traditional reverse chronological format
The widely used reverse chronological format is aimed at emphasizing the work history of an experienced candidate. As a graduate, you probably have little to no experience, thus, the emphasis should be put on the education. That's why your best options are to stay on functional or combined resume format.
Plan first, write later
The process of resume writing should start with a thorough planning of your career goals. Think of the industry, company type and the job type that are preferred for you. If you start writing a resume without planning, you'll have the set of facts about your education, skills and experience put into paper. If you pre-plan your career, you'll probably write a targeted document which will evoke more interest to your candidacy.
Put your goal into Career Objective section
Although the objective makes no sense for established professionals, an entry level specialist should definitely take the advantage of it. The objective should explain your motivation, career goal and key strengths to your prospective employer. Avoid using generic sentences and clichés such as "goal-oriented", "go-getter" etc. Here you can find more tips that will help on making a resume objective and other sections.
Place the Education section above Professional experience
As your experience is probably limited to internships and irrelevant part-time jobs, use the Education section with maximum efficiency.
What should be listed: school name, your degree and major, year of graduation. These three are a must. Then, focus on your achievements and distinctions: include GPA in the resume (if above 3.0, dean's list, summa cum laude, and scholarships, says Monster.com. If your overall GPA isn't impressive, make sure to put the GPA of your major instead. You can also mention the most relevant courses in this section. 
Include unpaid experiences (such as internships, volunteering, etc.)
Can't impress a hiring manager with years of relevant experience? Then, focus on any job-related experience you had, even if you weren't paid for it. List the most relevant internships, practicums, campus activities and don't forget to mention the challenges you faced and how you handled them. In other words, describe this experience as if it was your "normal", paid job.
Expand on your relevant coursework 
Have you ever considering adding the most relevant coursework to your resume as a job? If you took a course or a project as a student which is very relevant to the job you would like to obtain, write more details on it to let the hiring manager know you're familiar with the similar type of activity. In a few lines, briefly outline your responsibilities and results achieved.
Put your irrelevant jobs under the right angle
An average student usually holds a few jobs during years of his college study. Should these jobs be included on a resume if they have nothing to do with the position you'd like to occupy?
If the job is totally irrelevant, for example, you would like to work as a junior finance analyst and you were babysitting as a student, you can simply mention this job in a resume without going into any further detail. If the job is somewhat relevant (like, if you once worked as a cashier and willing to work as a customer service rep for an IT company), be sure to include it and make the stress on the customer service experience.
Use strong action verbs
Even if you lack the real-world experience or didn't have much responsibility, it's not the reason to hide your potential under the weak verbs such as "helped", "was responsible for" and "assisted". Strong action verbs like "consolidated", "spearheaded" and "accelerated" catch the reader's eye and highlight your own valuable contribution at the academic setting or workplace. So, make sure to replace your weak statements with more impressive ones. Check also top 200 powerful resume words.
Enrich it with keywords
All resume efforts will lead you to nothing unless your resume is enriched with relevant keywords to ensure the ATS selection success. Job titles, your skills, company/university names, etc. – all of the above can be used as keywords. Where to find the right keywords and how to optimize your resume for passing the electronic algorithm better? Check out our keywords tips and review the job listings for your desired job to get the idea what the employers are looking for, and use the same words and phrases in your resume.
Pay attention to typography
Resume font, size and capitalization all contribute to the visual appearance of the finished document. So, make sure to focus on choosing those which will help your resume look advantageously. Here are the best bets offered by experts: Times New Roman, Arial, Tahoma or Calibri font between 10 and 12 pts. Capitalize the section names (e.g. CAREER OBJECTIVE, EDUCATION) and company/school names. No other capitalization is necessary.
Avoid fancy formatting
There's one thing which is worse than lack of formatting – an excess of formatting tricks. Colored fonts, pictures, inconsistency in capitalization and using boldface/italic formatting can destroy even a good resume. Keep resume colors to 1-2 and preserve consistency throughout the document to make it easy and convenient to read.
Think of effective headings for sections
Each resume is divided into sections. Usually, the graduates use standard headings for sections; this is ok, however, why not to think of the effective headings which will create more professional image for you? For example, "Objective" can be replaced with "Career objective" or "Professional objective", and "Experience" might be transformed into "Volunteering experience", "Related experience" or even "Business analytics experience". These minor changes will definitely catch the reader eye and evoke interest in reading the whole document.
Check if the contact information is correct
One misspelled letter in your email address – and you won't get any feedback from the potential employer. Check your contact details several times until you are 100% sure everything is correct.
Proofread it before sending in
It goes without saying that an effective resume should be error-free. After you've done writing the copy, proofread it for the most frequent mistakes or even consider hiring a professional editor to make the copy of your resume submission-ready.
Writing a resume for recent graduates has its peculiarities. However, if you follow the above advice, you'll manage to create an effective copy that will help you get your first job. And, if you doubt the quality of your resume, you can order free resume critique  and receive feedback from a professional resume writer or buy a new resume.
Have you ever asked for help making a resume as a graduate?