How To Write Winning Cover Letter For Job Applications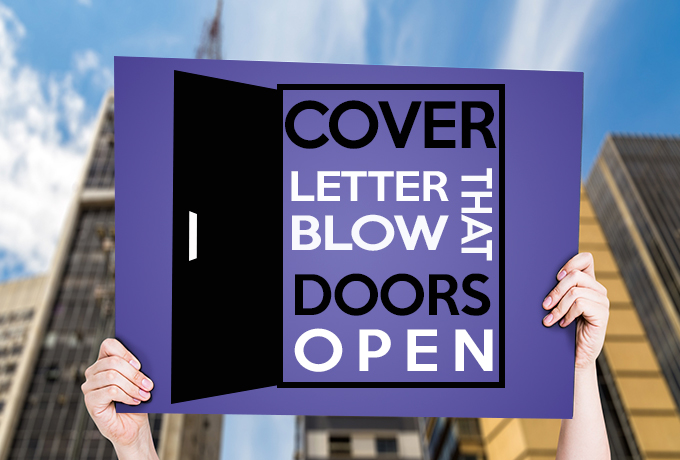 Many job postings state that they are expecting a resume and a cover letter from the applicants. And, although nearly every job-seeker has the experience of writing a cover letter, most of them still misunderstand the entire concept of this document. Nevertheless, the effort you spend on writing a worthy, informative cover letter definitely pays off – it can catch the hiring manager even before he gets to reading a resume. 
So, consider a cover letter not as a polite greeting, career history description or duplicate of a resume, but as a way to impress an employer and evoke the desire to read your resume and meet you in person. Make sure it is properly proofread (or buy professional editor's services) if you lack confidence in your writing skills. And, of course, use our guide below to make sure your resume has everything the HR manager expects to find there.
The length
The recommended cover letter length is 3-4 paragraphs, three to five lines each. However, as well as with resume, there are no 'one size fits all' situations. So, if you feel the need to write more text to persuade the hiring manager call you, go ahead. Longer cover letters are also acceptable for C-level managers, conservative industries and academia. Regardless of the length, keep the writing concise and up to the point – nobody likes to read incoherent, watery text.
What to include
A name of the person you're addressing to
Lazy applicants put 'Dear Sir/Madam' or 'To whom it may concern' in the address line. However, it's not that hard to research the name of the person doing the hiring in the company or to call them to find out this information. When you're addressing a person by name, you'll be taken more seriously than those who neglect this simple rule.
Connection on the personal level
The best way to establish personal connection is to mention someone the hiring manager knows or someone who is working for the organization. If someone working for the company referred you to the position, or you talked to the company's representative on a job fair, or you had any connections with the company in the past, be sure to mention it! Statistics shows that hiring managers are more likely to consider the person referred by someone than someone who simply sent the resume in response to a job ad. Where to mention the mutual acquaintance or a referee? The first paragraph is best.
Explanation why you want to work for them
Most candidates just say that they are 'eager to work for the company' or 'excited about the opportunity', which makes little sense to a person who is reading this. For instance, if you are applying for the big company with strict environmental protection policy, write why this matters to you. If you want to get a job in a startup, explain what makes you want to work for them. Honest, personal explanation instead of a cliché will definitely catch the attention.
Evidence of your professionalism
An effective cover letter should demonstrate you're qualified enough for the position and prove that you succeeded doing similar things in the past. However, don't think of a cover letter as a place to list all the positions held and accomplishments.  Stay on the most recent and relevant ones.
Private/professional issues your resume didn't cover
Resume is based on giving evidence and facts. However, a number of issues just have to be explained in a cover letter to avoid your resume being tossed. For example, you've changed jobs once a year or even more often; you've been out of workforce for three years to raise kids; you're doing a career change so your latest position aren't much relevant to the job you're applying for. Cover letter is a perfect place to explain any controversial issues of your professional biography in 1-2 lines.
This method is not applicable to all jobs; however, if your cover letter can offer a solution to a problem or improvement within the company, your chances for interview rise dramatically. Analyze the financial statement to point out at the possible business problems, offer a new design of the corporate website or make suggestions on the PR strategy.  This approach will encourage the HR manager to give you more consideration.
Although this part adds no value to your cover letter, be polite and add the formal closing paragraph in the end. Thank the recruiter for their time and consideration, express your interest in an interview and inform how and when you will follow up on the status of your application.
3 Cover Letter Killers
Don't transform the cover letter into your biography
Believe me; recruiters couldn't be less interested in getting 2-3 page cover letters with details about your high school, marital status and relationship with your ex-boss. Cover letter isn't a biography; it's a tool to connect to an HR on the personal level and persuade them that your resume is worth reading.
Don't repeat the information from your resume
Resume and cover letter are complementary documents. Thus, the cover letter should touch upon the issues the resume didn't cover. A cover letter that reiterates the information from your resume makes absolutely no sense to a hiring manager.
Just like your resume, a cover letter should look visually attractive. Use the same font and margins you've used in a resume. Keep the paragraphs and sentences short; use power verbs and adverbs to sound more convincing. When a hiring manager sees a well-formatted copy with strict design and easy-to-read font, he's more eager to read it than if he saw just plain text with no formatting at all.
Need an example of what effective cover letter looks like? Consult these 3 cover letter examples which will help you understand the magic of a good, properly written cover letter.
Target your cover letter
One more critical mistake is to send the same version of cover letter in response to all job postings. Each vacancy requires a unique set of skills and competencies, each company has unique needs, thus, your task is to address these needs and present exactly the same skills they're looking for. There's no need to write absolutely new letter for each application; to save time and effort, you'll need one basic letter which you will slightly modify for each job opening.
The bottom line
As you can see, crafting an eye-grabbing, effective cover letter takes extra time and effort. Nevertheless, it's a surefire way to get your application read and noticed. A smart cover letter can improve the overall impression if your resume wasn't very good. So, use the advice below to create a letter which hiring manager will enjoy reading.
Still have troubles writing a cover letter?
If you spend hours and hours, and your letter still doesn't sound impressive, consider hiring a cover letter expert. One of our resume specialists will assist in identifying downsides of your cover letter and improve it – or create one from scratch, targeting it for your desired job. Contact us – we're open 24/7!