Pros and Cons of Working Remotely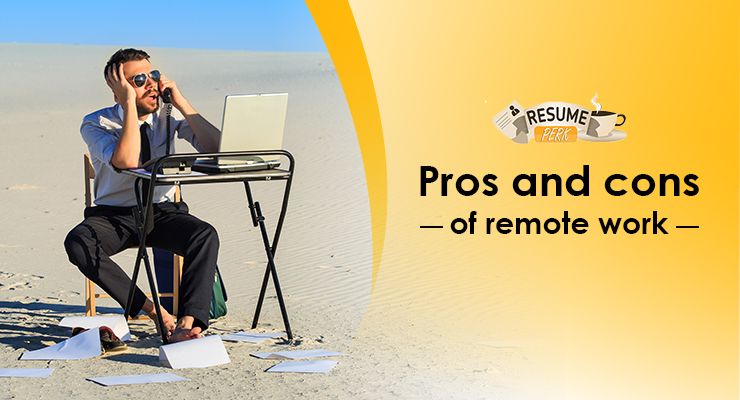 In 2019, remote working is no longer a luxury. According to Forbes, 50% of the American workforce will be remote soon. People value teleworking for the opportunity to work at their own pace and have a better work-life balance. And the statistic reflects these preferences as well: nearly 90% of US employees would like to work from home at least a few days a week.
Are you considering finding a remote job or would like to talk to your boss about more flexibility? Take a closer look at the advantages and disadvantages of working from home first. Our executive resume writer will introduce the pros and cons so you could understand if this type of employment suits you and how to achieve professional success while working from your cozy couch.
To apply for a remote position, you'll need a traditional resume. The professionals of Resumeperk.com offer eye-catching resumes for all career types. So, if you aren't happy with an old resume, our writer can edit or rewrite it in order to efficiently present your accomplishments and strengths to a potential employer.
5 pros of working remotely
Working from home is often romanticized: people think that they'll be checking emails while watching their favorite TV show. While it does offer more flexibility, in reality remote work is mostly about outperforming thanks to a convenient environment rather than having laid-back working days.
Enjoy the increased flexibility
While working in the office, you are confined to the same desk in the same office space. Lunchtime is also fixed. And if you happened to complete all today's task by 5 pm, you still have to stay in the office until the working day is over. Things are a whole lot different with teleworking. You can work from your home office, the backyard or café nearby. Unless you have a meeting at that time, you can take a two-hour break and work out. As long as you get the job done, you can adjust the working day and working style for your needs.
Save time and money
Long commute, dress code, coffee lunches in the local restaurant are the indispensable attributes of our working week. Not for remote employees, though. You'll save a lot of time you used to spend getting stuck in a traffic jam. You won't also need to invest a lot of time into getting ready and picking an outfit. Your wallet will appreciate the change, too: no more gas bills, expensive Starbucks coffee and lunches. Every time you feel like having a snack a kitchen is next to you.
Work at your own pace
Do you hate working from office because of endless meetings, interruptions and urgent assignments from your boss that don't let you work on your priority tasks? Then, you'll love working away from your head office. Colleagues won't engage you in a chitchat when you are about to prepare an analytical report and the boss is unlikely to reach out to ask you to make a few calls. As a result, you prioritize the workload and cross out items from a to-do list: calm, collected and confident.
Fewer reasons to feel stressed
The entire concept of office work contains many stressors. Long commute, office intrigues, and difficult boss don't make our lives easier. Telecommuting eliminates all these factors. Forget about the boss standing behind you or hustle of an open space that won't let you concentrate. So, you finally focus all efforts on doing the job well and your productivity increases. Most employees admit to being more productive while working remotely.
Modern tech companies create amazing working spaces to foster the productivity of their staff. Take a look at some cool offices here: http://resumeperk.com/blog/top-7-company-offices-in-america.
Better work-life balance
Let's sum up: you don't have to spend time commuting and staying in the office when the work is done, can manage your schedule and working hours. All of this inevitably results in a better work-life balance. Now you have time to take a yoga class, meet your friends and simply take some time for yourself. With this autonomy and flexibility, you'll likely feel more satisfied with your job than ever.
Remote work is a great opportunity for those who value flexibility and need to work at their own pace. But with great power comes great responsibility. Avoid getting too relaxed as it will lead to dropped productivity levels. Also, make sure that you have a detailed career plan at hand and telecommuting gives you enough opportunities for professional growth.
5 cons of teleworking
It's easy to get excited about working from home. However, first take a look at some cons and make sure you'll feel comfortable with these disadvantages:
You'll need solid time-management skills
If your productivity is mostly driven by the office hustle and the angry boss, you might find it harder to concentrate in a comfortable apartment. If you don't plan your day and stick to it strictly, you will end up sitting in front of the notebook till midnight which is probably not the balance you were aiming for. Distractions are also inevitable – personal calls, your pet or a new TV show announcement are well-known productivity killers.
Fewer opportunities for collaboration
Online chat and video conferences can't replace face-to-face cooperation when the ideas are born and fresh solutions to the problems are created. If the nature of your work assuming working closely with others, telecommuting can be really challenging. The quality of your work might suffer because of weak cooperation.  
Harder to get a raise or promotion
It's harder for remote employees to stay in the loop of what happens in the company. And when it comes to a promotion or a pay raise, you might not be the boss's first clue simply because they don't see you in the office in a daily basis. You'll need to be very active during the video conferencing sessions and stay in touch with your boss to make sure your contribution is noticed and valued.
Not the best option for entry-level employees
Physical presence in the office is necessary to acquire new skills and grow as a professional. You may learn remotely as well, but it's slower and less effective than if you learned from practice, observing the work of others. So, if you've been working for 1-2 years only, wait until your professional competencies strengthen and only then consider telecommuting.
Socialization is limited
Introverts might see it as an advantage. Still, for most adults work is the main place of socialization. Working together on a challenging project, meeting people with similar interests and going out for happy hour drinks make work quite pleasant. In this regard, remote work is best for people who have an extensive circle of friends outside of work – otherwise, you'll miss being around other people.
All these challenges can make your working life more complicated instead of making it easier and more pleasant. So, make sure that you are aware of these cons and know how to manage them before you accept a remote job offer.
Want a persuasive resume that will help you land more interviews?
The resume is meant to persuade the prospective employer that you're a right person for the job by showing them your strengths, achievements and skills. If your resume is far from impressive, consider hiring a reputable resume writing service. Our professionals with years of experience will highlight your key competencies and adjust the resume for your target jobs. With a strong resume, it's much easier to beat the competition and get noticed. More importantly, professional resume help now comes at an affordable price – check out our prices and services.