Top 15 Resume Mistakes to Avoid in 2020
Resume rules evolve, and the new ones appear every year. In particular, today's job-seekers are getting away from fluffy objectives, writing job descriptions in paragraphs, and ending the resume with 'references available upon request'. However, there's a multitude of other mistakes that might prevent you from making the right impression on a recruiter. The competent resume writing experts from our company will reveal the most common mistakes you should avoid 2020 to land a job faster.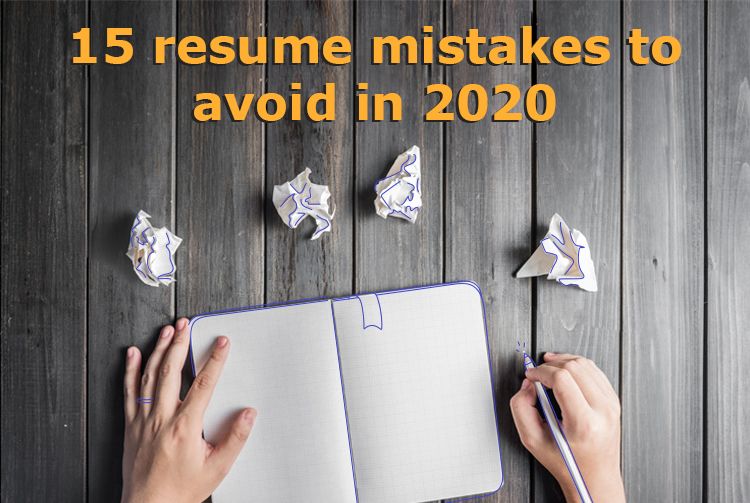 When it comes to writing a good resume, there are no secondary things. You never know what might turn off the hiring person. What the employers look for is not a course of your professional history, but rather a presentation of how your expertise can solve their business problem. Below, you'll find the list of exact signs to watch out for to maximize your interview chances.
What is the best way to avoid resume mistakes?
If you don't work with resumes on a daily basis, it might be difficult to evaluate your resume objectively. In particular, it's easy to overlook certain mistakes or fail to present your experience under the right angle. That's when a certified professional resume writer online comes in. At Resumeperk.com, we staff a bunch of resume creators specializing in multiple industries. A resume maker can create a resume from scratch or fix your old one, polishing it from mistakes in content, structure and design.
Are you looking to improve a resume on your own? Then, watch out for these 15 main issues:
Making a resume over 2 pages in length
A 3-page resume is only acceptable for C-level and tech professionals with an extensive skill set. In all other cases, the appropriate length is 1-2 pages. Even if you have decades of work history, make sure to condense this information so that only the most relevant and dated information is left. Employers want relevance, not page count.
Writing a resume that takes less than one full page
This is a common issue with student resumes. With zero experience under your belt, it might be a real challenge to extend the resume to one page. In this case, make use of your extracurricular activities, student awards, volunteering experience, college sports, etc. Include everything that adds up to your image of ambitious, dedicated and educated young professional.
Weak resume structure
A good structure assumes including all necessary subsections in the right order. Each section should be easy to distinguish to make it easy for the hiring person to skim through the resume. Lack of proper structure can confuse the reader, and a busy hiring person might toss the unclearly written resume.
Want to earn some extra cash without quitting your day job? Here are a few suggestions: http://resumeperk.com/blog/10-side-business-ideas-without-quitting-a-job.
Poor formatting in general
In 2020, you cannot neglect the importance of the visual impression your resume makes. So, which formatting issues do you correct in the first place? Firstly, use a modern font and a skimmable font size. Secondly, use bulleted lists rather than paragraphs – the latter screams outdated. Thirdly, leave plenty of blank space on the page for readability. And finally, be consistent. If you've chosen to italicize position names, apply this type of formatting throughout the document.
Writing a superficial objective
"Seeking a challenging position with a multinational company" no longer makes the cut. In fact, employers care more about what you can bring to the table. So, in most cases, adding a career summary instead of the objective is your best option. If you are returning to a workforce after a long break or looking for a first job after graduation, using an objective is reasonable. But even in this case, make it more about what you can do for the company, not the opposite.
Including personal details
In certain European and Asian countries it's acceptable – or even expected – that you add personal information such as nationality, age, or marital status on a resume. In the US, making such addition can easily cost you an interview. So, avoid including personal details to a resume. The same rule works for headshots, unless you apply for a public-facing position.
Creating a generic resume
Using the one and the only version of your resume to apply for all sorts of jobs out there is the failing tactic in the world full of ATS. Ten customized resumes will bring you better results than a hundred generic, non-tailored applications. You don't have to write a new resume every time, yet making a few changes to highlight the skills and qualifications the employer looks for and insert relevant keywords is a must.
Do you feel uninspired in the office? Check out these creative ideas to regain work motivation.
Focusing on job duties over accomplishments
In most cases, applicants write responsibility-driven resumes. At the same time, employers are interested in achievements in the first place. The secret is simple: they use your past accomplishments to predict your future performance. So, regardless of your industry and experience, put the achievements and results of your work above the fold. Consider even creating a separate section for the biggest ones and putting it closer to the top.
Not including figures
As you accompany the achievements with figures, it builds trust and serves as evidence of your great performance. Compare "Managed a sales team effectively" vs "Managed a team of 5 salespeople and increased the level of customer satisfaction by 20%". The statements of what you have accomplished instantly add value to your resume and make the hiring manager take notice.
Stretching the truth
If you are getting little interviews, it's probably tempting to throw in a reputable company's name or a prestigious degree to get noticed. Whereas this tactic might work, your exaggerations will most likely reveal during the background check. In the era of the internet, it's quite easy to check every detail you've included in a resume. And this will both cost you a job and damage your professional reputation. For more pros and cons of resume lies, see here: http://resumeperk.com/blog/is-it-worth-exaggerating-on-resume.
Making typos and grammar mistakes
Accuracy in writing helps you communicate attention to detail and professionalism, whereas writing issues make the opposite impression. In fact, many recruiters will not consider applicants who make grammar or punctuation mistakes in resumes. So, make sure to proofread it a few times. Use spell checkers such as Grammarly.com or Online-spellcheck.com to eliminate grammar and punctuation errors. Read the document aloud to fix syntax and flow.
The habit of writing without any flaw is also helpful if you want to start your own blog. Check out how to be a blogger and gain popularity.
Missing action verbs
Ideally, each statement should start with a strong action verb that highlights your contribution and initiative. Reorganized, generated, and developed are good examples of such words. Don't use the same verb multiple times – you don't want to bore the recruiter by starting each sentence with Managed. This seemingly minor detail makes your language stronger and shows confidence.
Not using relevant keywords
98% of Fortune 500 companies use ATS these days. This means that if your resume isn't keyword-rich, it will be tossed by the software before a human sees it. Even if you are perfectly qualified, you need to pass the software check first. So, copy the exact keywords from the job posting and use the industry resources for reference to understand which keywords will help you make it through the ATS.
Making mistakes in the contact information
Just a single typo in an email address, and you won't get single feedback from the employers interested in you. Double-check the contact information to avoid confusing situations. Also, make sure that your email looks professional. Recruiters won't feel comfortable reaching out to professionals who call themselves "hot.candy@gmail.com".
Neglecting the modern resume types
In 2020, resumes can be more than black text on a white paper sheet, especially if you work in a creative industry. Video and infographic resumes are on the rise. The best thing about a graphic resume is that it instantly draws the attention and showcases your strengths in a creative, out-of-the-box way. By the way, if you need an inforgraphic resume, our designers and experienced resume writers can create a custom one for you.
Get a flawless, error-free resume
Spotting and eliminating resume mistakes can take you hours of hard work. Luckily, there's always an option to rely on the help of experienced resume editor. Our staff professional can polish your old resume, eliminating all sorts of errors and helping you make the stellar impression on a recruiter. The writer will downplay your weaknesses and focus on strengths, positioning you as a perfect fit for the role. Moreover, a resume editing service is quite affordable – check out our services and prices.