Top 30 Common resume mistakes you should avoid
Despite all the advantages of the digital age, a well-written traditional, old-fashioned resume is a must if you want to get an interview. Therefore, your resume should be written according to resume writing standards and rules, and be at least 'good' so you could be considered for an interview. Many hiring managers, though, admit getting loads of resumes which contain mistakes that eliminate them from consideration.
So here's #1 resume rule: no matter how good you are at your job; if you can't compose a resume without rough mistakes, you won't get an interview. The competition is fierce and those with poorly written resumes lose in the very beginning. So, study these common resume mistakes to avoid – and if your resume has at least one of them, correct it immediately.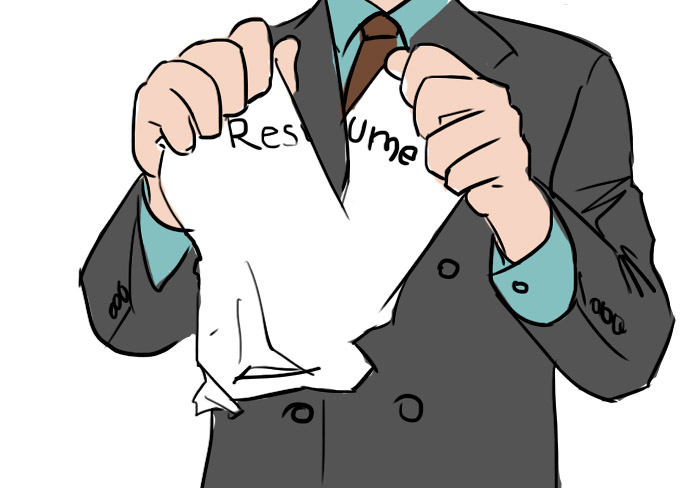 Typos/grammar mistakes. The researches show that it's a problem for over 50% of resumes. To make sure your resume is flawless, it's a good idea to have someone to proofread it for you – or hire a professional resume editor.
Too long/too short. Resume length has been a subject of discussions for years. The golden rule is to keep your resume no shorter than one full page and no longer than 2 pages (or, 1 page for 10 years of experience).
Formatting issues. Countless tables, graphs, excess of colors and plain text are two extremes to avoid. Keep the resume simple but well-structured: white paper with black font (at least 10 pt), consistent spacing, and your name on every page – this is a must.
Curly fonts. It's understandable that you want to stand out by no means. However, using non-traditional fonts which are hard to read often makes the opposite effect.
Private information. Your age, marital status, interests and any other information, not related to the workplace, should be left behind the scenes.
Outdated information. Your GPA matters only on 5 years after graduation, as well as the irrelevant college jobs. If you're a middle-level or top-level manager, your entry level positions at the beginning of career history are of no interest as well.
Incorrect information. It sounds obvious, but still, many applicants forget to correct contact information in their resume after they've changed e-mail address or phone number. One single typo can also spoil the whole thing, so be very attentive stating your contact information.
Putting your headshot at the top of it. Unless the job advert specifies that you need to attach the photo for consideration, inserting your headshot will not help you get the job or can even harm.
Sharing confidential information. It's understandable that you want to put confidential data on your resume to show how well you did. However, any self-respecting company will hire such a person as one day he/she might reveal their own trade secrets.
Condensing your career history onto one page. Some applicant take the advice of making their resumes one page literally and try to squeeze 20 years of career history in one page. The priority is, however, to make the resume readable, and if it has more than 450 words on one page, it is already hard to read.
Omitting your skills. Make sure the resume has a separate skills section or the job descriptions include the personal traits you used to achieve specific results in the company.
Putting key accomplishments at the end of job description. Your major skills and achievements should go first in the list of each list of responsibilities/duties. What is the use of writing about your effectiveness if it doesn't get noticed? 
Skipping months in employment history. It's common to give a month and year for the beginning and ending of employment. If you only specify years, the hiring manager may suspect something, i.e. that you are hiding employment gaps.
Objective statement. Instead of saying what you are seeking, start the resume with what you have to offer, i.e. transform the objective into a career summary than would make an impact on the reader.
Plain text instead of bullets. Resume must be easy to look through. Bullet points make this task easier. Plain text and long paragraphs  can turn even a good resume into a mess that no one wants to read.
Your hobbies. Unless they're relevant to the job or field, leave them out, as something generic like 'reading, cooking, comics' is just a waste of resume space and recruiter's time.
Your age. Unfortunately, age discrimination exists and if you don't want to lose the chance for an interview because of your age, it's better to omit the information that could reveal your age, i.e. graduation date and your early jobs.
Time off work. If you had some months or even years off because of unemployment, maternity leave or simply took a career gap, it's not a good idea to specify that in a resume. Gaps can be explained in a cover letter or in person during the interview.
References upon request. It goes without saying, so don't waste the space.
Personal pronouns. Using a first person or third person pronouns is not acceptable in resumes as it's obvious that the information given is about you.
Not including keywords. Everyone these days knows that a good resume should be keyword-enriched. Use the keywords from a job posting or look up for keywords for your industry in specific online resources.
Unprofessional email address. The perfect business e-mail has your first and second name, and maybe figures. No buzzwords, no full birth date – it looks unprofessional.
Your office phone and address. It can make you feel uncomfortable if the prospective employer calls to your current office and your boss finds out about it.
Internal company jargon. Many companies have their own abbreviations and names for technologies and processes. If you use them on the resume, hiring manager simply won't understand what you meant.
Buzzwords. The hiring managers have had enough of 'go-getters' and 'best of breed' with 'hands-on experience'. Prove your value by listing your results rather than using one of these words.
Lengthy self-descriptions. Summary statements containing the excess of words like 'motivated', 'organized', 'hard-working' and others which are not supported by concrete examples will not add you value.
Social media links (except for professional networks). Facebook or Instagram where you share selfies and traveling shots have nothing to do with your professional life, thus, no need to give links to them on the resume.
Desired salary. The resume is all about what you can offer the company and not what you can get. Salary is negotiated during the interviewing process and putting it on the resume can turn the HR down.
Reasons you quit your job. If you were fired because the company was merged or out of business, it's acceptable to specify that. Any other reasons are not stated in resume, but be ready to explain the reason on the interview.
Short-term employment. Your career history contains a position you held for 2 months? It's not necessary to add it in your resume, unless this was a project work that can give remarkable examples of your skills and professionalism.
Multiple internet resources authored not by resume writers or career coaches confuse job-seekers and give the background for resume myths. Nevertheless, if you correct the above 30 mistakes, this will already help you build an effective resume and be one step ahead of other job-seekers in the competition. Moreover, you can consult our blog for more resume tips totally free of charge.
If you have spotted several mistakes in your resume, you can take an advantage of our
professional resume editing
and make sure your resume is 100% submission-ready.
Did you find many mistakes in your resume? We'll be glad if you share your feedback with us.