"Why Should We Hire You?" Sample Answers & Tips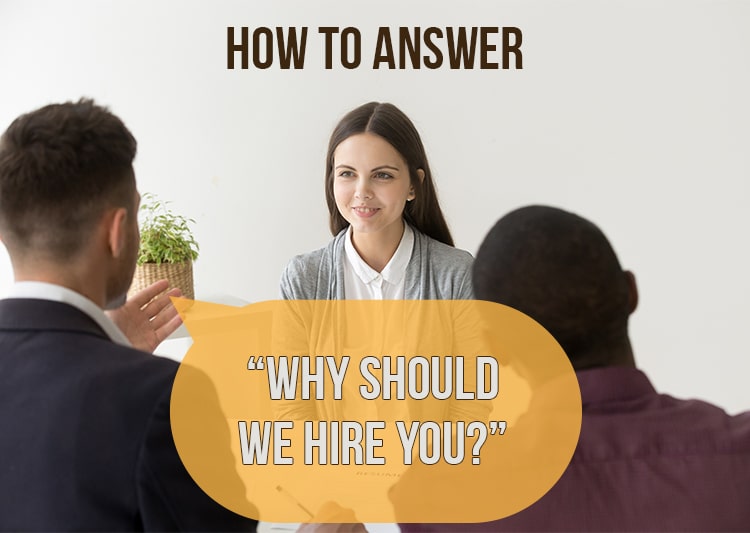 Some job interview questions are tough.
Imagine that you are sitting in front of the interviewer in a cozy office. You've already told them what sort of projects you worked on as well as thrown light on your accomplishments. The conversation is going smooth, until all of the sudden:
"Why are you qualified for the position?"
Sounds a bit overwhelming, right?
The thing is, this is one of the interview questions which are hard to brilliantly respond to without preparation. At the same time, it's one of the most important. The hiring manager wants a proof that giving you an offer will be right for the organization – and their career.
Our career experts are going to reveal the most efficient type of answer that will wow the interviewer. In today's guide, you will find out:
• Why the employers ask this question anyway
• The points you should touch upon when constructing your answer, and
• Sample responses for your inspiration.
A good resume focused on your accomplishments and professional strengths works like a magnet for recruiters. It helps you pass an ATS screening, get noticed and eventually maximizes your chances for an interview. Our resume services online have been on the market for 10+ years, and staff highly-qualified American and British resume creators.
Our advantages are the custom approach and quick, simple process. Each resume is created originally for you, no templates used, and the writer polishes it until you are satisfied. Place an order on our website, and download an application-ready resume within the deadline you've chosen. Benefit from the expertise of seasoned resume makers and use the brand-new application to the advantage of your career.
Why the interviewer asks "Why should we hire you"?
Before we get down to composing an effective answer, it's important to evaluate the employer's motivation behind asking this question. First and foremost, they want someone who will be a perfect fit in terms of skills, personally and culturally. Making the wrong hiring decision is very costly for any organization. Thus, they want evidence that hiring you will pay off and bring the company more money.
That's what all the interview fuss is all about. That's why employers use multi-stage interviewing process, set qualities that determine an ideal employee, and ask thought-provoking questions. Here's what they pay attention to:
➨ Your familiarity with the organization and the role. Do you have an idea of what the role entails and how performing well will help the organization succeed? They also want to check which steps you are going to take to deliver great results.
➨Your personality and cultural fit. Working style and communication abilities sometimes matter more than hard skills. Does your working style matches the one of the team? Will your personality fit into the team and will you feel comfortable within an organization's culture?
➨ Your professional capabilities. After all, you are being hired to solve a particular business problem. The interviewer expects to hear how the things you've done in the course of your career will help their business goals, and how you will put them into use.
➨ Your enthusiasm and willingness to go into overdrive. Does speaking about the job evokes spark of your interest or do you sound emotionless and blank? They expect to see enthusiasm, willingness to handle any challenges and positive attitude towards the target responsibilities.
With this in mind, you want to arrive prepared. But before we speak of crafting a perfect answer, let's take a look at sample 'no-no' answers.
Sick and tired of countless job interviews? Consider the path of self-employment – take a look at our expert tips on how to turn hobby into a business.
Three faulty responses that will turn off the hiring person
Your response to this question during an interview will vary from company to company. Yet, if you want to get noticed and want to strengthen the positive impression, absolutely avoid answering as follows:
• Refusing to answer or shaking your head.
That's an absolute deal-breaker. It shows you didn't bother to connect the dots between what the job requires and the skills you have under your belt, or you aren't much enticed by the job opportunity. If you've forgot a well-rehearsed answer and nothing smart crosses your mind, at least repeat the qualifications your resume presents.
• Giving a cookie-cutter answer.
Stay away from generic answers such as "I have the right qualifications for your assistant logistics manager role and want to work my way up the corporate ladder". Remember that there are other equally (or better) qualified candidates. Leverage your creativity and come up with something unique that would distinguish you from the pool of others.
• Bringing up personal issues.
Chances are, you've heard that this company pays decent money, or you don't see eye to eye with the boss. Maybe, your daughter goes to school nearby, so the location is perfect for you. But avoid verbalizing these reasons at all costs! Focus on the professional side of things and your desire to make a contribution and help the business grow.
Do you struggle to get organized and productive in the office? Take your productivity to the next level with these professional tips: http://resumeperk.com/blog/15-tips-to-instantly-get-organized-at-work.
7 tips on explaining what makes you an outstanding candidate
The employers want you to persuade them. They want a proof of your professional capabilities and enthusiasm. Just like you want the job, they're eager to find someone perfect to fill that opening.
Your goal is to give them what they want to hear. Market yourself as someone perfectly suited for the role. Promote yourself. You should write an answer on your own, as no sample you've found on the internet cannot reflect your unique skill set and career situation. And here's how to do it right:
✓ Brainstorm on the answer
Giving an impressive answer requires much thought, effort and analysis. Review the job posting carefully and highlight the top qualifications they require. Quite often, employers also specify what sort of a challenge they need to have handled. Collect the record of your relevant qualifications, skills, and education. Later on, you'll be using these facts to compose your answer.
✓ Show off your relevant competencies
Mention the previous projects and experience where you handled similar tasks and succeeded. If you are being interviewed for a social media manager role, focus on the skills and stories that reveal your ability to grow subscription base and engagement. If you are applying for the teaching position, focus on responsibility, ability to serve as a role model, and increase student test scores. Give examples – it helps your speech sound more trustworthy.
✓ Focus on the accomplishments
Just like the resume, no interview can be successful without mentioning achievements. Humblebrag about your past successes using figures, numbers and other details so that your contribution looks tangible. Did you grow quarterly sales by 22% and trained a number of newly hired associates simultaneously? Show it off. Maybe, you'll want to mention something that isn't on your resume to give the interviewer a broader perspective and persuade them in your expertise.
✓ Highlight the culture fit
Companies are increasingly concerned with the culture fit of the applicants. So, if you want to get the extra points from the interviewer, research the company's values, culture and mission. Mention how their values align with yours and highlight that you'll be comfortable with their working culture and style of leadership.
✓ Show how you would resolve the issues they encounter
Each company or department has its challenges which they expect to resolve by hiring new competent employees. Communicate your competencies and willingness to roll up your sleeves by showing how you would address these challenges. For instance, if you're an operations manager and know that the company is looking to optimize costs, highlight your experience specifically in labor and manufacturing costs reduction and suggest the practices you would implement for them.
✓ Concentrate on the traits that set you apart
Other candidates might have the same degree, experience and skills as you. Think of something that you can bring to the role that others cannot. Maybe, you have the experience in a different field, studied in French university, speak Mandarin or can give a broader perspective to the role in any other way. If you have something outstanding to tell about, show it off!
✓ Don't stretch the truth
Lying on the interview is never a good tactic. A background check will easily reveal your exaggerations, and most likely, you'll lose the job opportunity and your professional reputation will suffer. So, tell the truth, but feel free to present your strengths in the most favorable way. Display enthusiasm and positive attitude – this way to impressing the interviewers never fails.
Are you applying for C-suite jobs? Learn the expert tips for preparing your resume: http://resumeperk.com/blog/7-key-components-of-a-successful-executive-resume. Look at some jobs without resume here.
Sample answers to the question why the organization should choose you
The above principles explain which elements your answer should contain. To get inspired for writing, take a look at sample answers:
Example #1
Based on my research and the job description, you are looking for a marketer experienced in growing the business presence online. This is something I excel at – while working at XYZ company, I increased the subscribers' activity by 32% and grew the subscription base by 25% through launching creative campaign and promoting them through targeted advertising. I bring excellent communication skills and the ability to touch hearts of the prospects, and can't wait to grow your business visibility and create innovative campaign.
Example #2
You've mentioned in the job listing that you are looking for an administrative assistant who would maintain the documentation related to budget, operational and personnel issues while coordinating a range of other office duties. As a professional with strong interpersonal, tech and organizational skills, I perfectly fit into this description. Previously, I have optimized the paperwork by 20% through the software use, simultaneously handling correspondence, calls and routine office tasks. I will bring outstanding organizational skills, ability to multitask and create a good atmosphere in the office.
Answering other popular interview questions
How to describe yourself to an employer briefly?
As a rule, this question is asked at the beginning of the job interview. So, you want to think of a strong opener that will briefly introduce you to an interviewer and lay the foundation for the following discussion. While most candidates simply reiterate what's on their resume and go backwards, using some expert techniques might be more effective.
Some experts recommend using the present, past, future formula to respond to this question. Briefly describe your current role, focusing on 1-2 major accomplishments. Then, touch upon the relevant experience from the past. And finally, connect this story with what you'd like to do next and why you are seeking the role with the company. Don't be overly detailed – you want to intrigue the interviewer rather than bore them.
How to tell about your weaknesses?
Most likely, you'll also be asked about your strengths and weaknesses. And while everything is clear with strengths, the weaknesses part raises eyebrows. There are two common mistakes that job-seekers make. Some try to look perfect and emphasize their positive trait (by saying something like "I care too much about my subordinates"). Others reveal the trait which might be the red flag for the interviewer, such as missing deadlines or showing up late.
The effective strategy is mentioning that you aren't so good at a non-essential skill. For instance, if you're a programmer, you might say that your writing skills leave much to be desired. Another option is speaking about the weakness that you actually had, but worked on it and achieved great result. This approach, by the way, will additionally communicate your orientation on result and professional development.
What if they ask questions about time management?
Your ability to manage your time and completing tasks without delays is essential. However, since this is an open-ended question, avoid giving a brief and generic answer. Saying something like "I always show up on time, deliver the projects according to the deadline and use to-do lists" won't help you make the cut.
Time-management questions require a detailed response, ideally with a story or a specific example. For instance, if asked about eliminating distractions, tell which tools and practices you've used to stay productive in a hustle of an open space office. Describe how you set priorities to stay on top of everything, avoid multitasking and maintain a healthy work-life balance.
Checklist: 5 essential interview tips
Apart from thinking through and rehearsing the answers to particular interview questions, you want to make sure you're considered the key important points during the interview preparation. In particular, our consultants recommend that you pay special attention to this interview advice:
✓ Arrive 15-20 minutes early
Sounds like an overused interview advice, but when you're headed to the new area for the first time, you might get lost or stuck in the traffic jam. Showing up late, for whatever reason, definitely spoils the impression. So, arrive early. It's better to wait in the café nearby if you happen to find the needed location sooner than expected.
✓ Plan the attire in advance
It goes without saying that revealing tops, flip-flops, and body jewelry are the interview no-no's. Yet, it doesn't mean that you should absolutely opt for a classic black suit. Research the company culture and dress code, and choose the outfit accordingly. This will add you points in the eyes of the interviewer.
✓ Practice
If you haven't been on interviews for years, you'll find it hard to put yourself together and present yourself in the best light immediately. In this case, practice makes perfect. Practice interviews with family, friends or in front of the mirror. Watch your tone of voice, body language, and smile – it all forms an overall impression about you.
✓ Ask your own questions
An interview is the two-way street, so asking your questions is encouraged and welcomed. You might ask to take a tour around the office, ask about the typical working day in this role, wonder about career prospects and development opportunities. It shows that you are truly interested in the role.
✓ Always answer on the positive note
Avoid badmouthing your former employer or colleagues. Even when you are asked an unexpected and tough question, still give a confident, positive answer. Display enthusiasm and willingness to get the job done. End the conversation on a positive note and show the excitement about the position.
Hopefully, we have provided you with a lot of insights on how to position yourself as the top candidate for the role. Do your homework, identify what distinguishes you from others, and feel free to humblebrag about your professionalism and achievements, and your chances for the job will skyrocket.
Follow up after the interview
Don't neglect a common courtesy and send a thank-you note in 24 hours after the interview. 37% of recruiters reject resumes for not following up. Mention that the discussion was interesting, reiterate the important points and thank the interviewer for their time. By the way, you might be interested in good employee traits that will be helpful to you.
How to understand if the resume presents your credentials well?
Your chances to initially land the interview depend a lot on how your resume looks. And even if you poured hours of hard work into writing and rewriting of this all-important document, this cannot guarantee that it will capture the recruiters' attention. In this case, the best strategy is to receive the professional opinion of a resume consultant.
At Resumeperk.com, we offer a professional resume review service free of charge. Email the resume to us, and our American resume expert will point out at the strengths and shortcomings of your resume, as well as recommendation for improvement. If you are looking to hire somebody to do my resume for me, we offer custom resume writing, too. Check out our services and prices or contact us via chat to discuss how we can help in your job search and get your personal discount.