10 Things to Change in Your Resume to Get More Interviews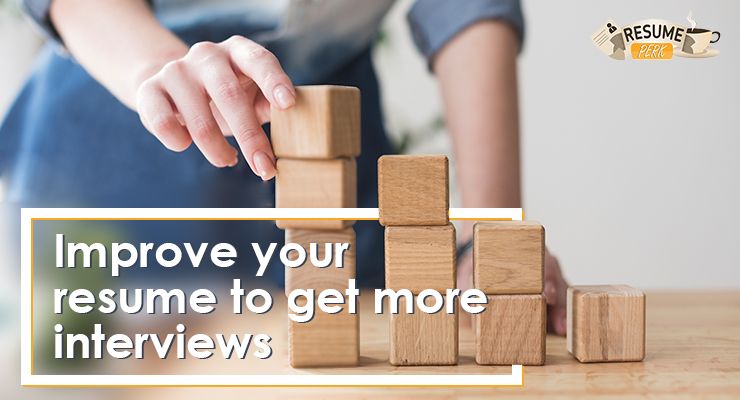 The primary goal of the resume is to land you an interview. Yet, not all resumes serve this goal equally well. Sometimes you might be amazed that, despite years of relevant experience and skills, your phone isn't blowing up from recruiters' calls. If that's the case with you right now, your resume must be to blame.
It's not an easy task to create professional resume that will turn the employers' heads. Yet, there are certain things that you can improve in your resume right now. It will help your resume look better, and ultimately will increase the number of interview calls.
Want a resume that will help you get noticed?
Professionally written resumes get more attention and more interview calls from prospective employers. If you are too busy to learn how to write effective resume, consider partnering with a professional resume creator. Resumeperk.com staffs resume experts specializing in multiple industries. We will take care of the content, layout and design of your resume, ensuring that it represents you in the best possible light. Our experts also offer unlimited revisions until you're satisfied.
10 resume improvements to get more interviews
Whether you're in ecommerce, IT, manufacturing or education sector, make these 10 amendments to your resume to make it more appealing for prospective employers:
1. Omit all sorts of personal details
Whereas in some European and Asian countries it's common to include personal details on a resume, this isn't the case with American resumes. In fact, these details might be the reason for eliminating you from the competition for a job. The employers are varying of claims of discrimination. So, no age, gender, nationality, or headshot (unless you apply for a public-facing position).
This article isn't meant to cover all resume mistakes. If you want to fix all kinds of errors in your resume, you'll find this guide helpful: http://resumeperk.com/blog/top-30-common-resume-mistakes-you-should-avoid.
Lack of keywords is a big deal. If your resume falls short of necessary words, it won't pass the electronic screening process. As a result, the hiring manager won't even see it and you'll lose the chance for a job even if you are perfectly qualified. So, take your resume keywording seriously. First, scan the job opening for keywords such as required qualifications, skill names, degrees, etc. You can find more keyword suggestions on industry websites and job search resources. Use keywords closer to the top of your resume – they are ranked higher here. Do not forget about the top words to describe yourself during the interview. Also learn words for a winning resume.
3. Remove irrelevant information
Listing outdated or not quite relevant job duties is not a big problem itself. However, if you have decades of experience and list every bit of experience you have, it shows your inability to prioritize information. It also makes your resume longer than necessary. So, sit down and reconsider your experience and accomplishments. Maybe, your internship in a daycare center isn't that important if you apply for an office manager role. The purpose of a resume is not to list the breadth of professional history, but to market yourself for a specific role. So, focus on the details that market your candidacy well.
Experiencing mid-career crisis? Browse tips for managing career crisis and getting inspired for reaching new professional heights.
4. Add a LinkedIn URL
Over 80% of recruiters start the search of candidates through LinkedIn first. This statistic alone shows the significance of completing your profile and giving it a professional look. It's also not a secret that hiring manager will look up for you online once they get their hands on your resume. So, why not make their task easier and insert the link to your profile along with other contact details? Be sure to change the custom URL to a personalized one that includes your first and second name first.
5. Add specific, measurable, relevant accomplishments
Accomplishments are a real asset of your resume. Job duties of two similarly qualified candidates may sound almost the same. Yet, your accomplishments make your unique, show your value for the company and your aptitude to exceed expectations. That's what all employers want to see. Add at least 4-5 accomplishments and make sure they are visible on a resume. Highlight them in your job descriptions or consider creating a separate section which you can put above the work experience. Use numbers and percentages, as they highlight your contribution and catch the reader's eye in text.
6. Modernize your resume look
Although design and formatting are secondary to the resume content, a poorly formatted document can turn off the potential employers. Dense blocks of text, 8 pt Times New Roman font and no formatting are just a few examples of formatting issues which may cost you an interview. How to fix it? First, browse a few resume examples via Google to get a grasp of how a modern resume should look. Make the text big enough to read, use lists, various types of formatting, and add white space. Consider making the document visually engaging with color, graphs, or charts. By the way, our website offers custom resume infographics. Contact us to learn more.
7. Get rid of clichés
People tend to use resume clichés when they have no idea what to write. As a rule, not only a resume stuffed with clichés looks like you've downloaded it from the internet, but also it prevents you from showing off your real value. Keep all statements like "out-of-the-box thinker", "go-getter", "team player" and "visionary leader" out. Instead, give an example of results that show the traits you'd like to highlight. If your career summary is full of those clichés too, either rewrite it completely or remove. Fluffy statements won't help you win an interview.
8.  Recent and relevant experience goes first
Unless you've graduated less than year ago, put the experience section above education. More importantly, be more specific about the most recent experience. Describe the projects, responsibilities and achievements for the past 5 years in deeper detail than the earlier roles. The employers care about most recent jobs most, so don't be shy about the amazing things you've done. If one of your earlier roles is more relevant than your current one, consider giving the highlights of this role in a summary. In this case, it will be noticed by a hiring person.
If you are happy with your current company and want to build a career here, check out how to move up in a company.
9. Perfect your social media presence
Social media are not directly connected to resumes. Yet, you'd be amazed to know how many great candidates lost their interview chance after the hiring managers reviewed their social profiles. The general advice is not to post (or delete) anything you wouldn't tell your boss in person. No beach pictures, no drunk selfies, no controversial discussions or anything else that could make you look unprofessional. Ideally, repost or publish something related to your job or industry. This simple gesture can add you points in the hiring manager's eyes. For more tips on polishing your social media, see here: http://resumeperk.com/blog/how-social-media-can-build-or-ruin-your-career.
10. Edit and fix errors
Did you know that 59% of recruiters will reject your resume because of typos and spelling mistakes? Errors in writing are seen as lack of attention to detail and unprofessionalism in general. Don't neglect the editing stage. Read your resume aloud, check it bottom to top or use an online spell checker such as Grammarly.com or Online-spellcheck.com. Have a second set of eyes to review it for you. Another person can spot the mistakes you've overlooked. If possible, work with a professional editor – they will give helpful suggestions for improving content and flow as well.
Confused by resume writing? Let us help
Making the above resume improvements will improve your resume's quality. However, if you lack time to write a resume on your own or your career had issues, don't let it influence your interview chances. Working with the best custom resumes writing services is an effective solution if you want an attention-grabbing resume that presents your key strengths. We will match you with an experienced resume maker who will polish your resume until you are happy. Contact us on chat for your welcoming 20% discount.