Write My Resume For Me: Resume Formats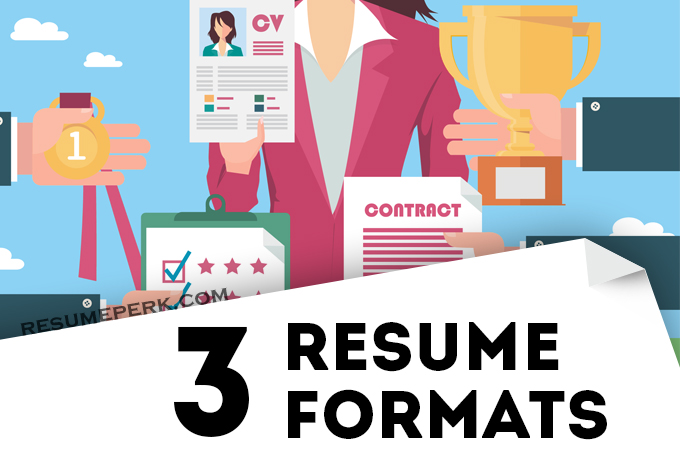 Getting a desired job is impossible without a well-written, properly structured and informative resume. However, writing a modern resume is quite a time-consuming and demanding process. Is there a starting point for crafting creative professional resumes?
Yes, there is – and it's called resume formats. Basically, resume format is a skeleton for all your future writing process. It predetermines the content you will include, its structure, the order of informational blocks and even resume length (by the way, if you still have doubts about the appropriate resume length, learn here which length is perfect for you: http://resumeperk.com/blog/perfect-length-of-your-resume). Read more about handwritten resumes here.
There are three most popular, commonly approved resume formats:
Chronological (or reverse chronological)
Functional (or skill-based)
Combination (mix of two previous types).
Also in this section:
When starting to write your resume, you should stick to one of the above formats and the structure it presumes. Creativity isn't appropriate here: if you mess up the sections, hiring manager will decide that you ignore basic business writing rules. Let's dive deeper into all of the three formats so you could choose one that best reflects your current career situation.
Write my resume for me: the three resume formats
Chronological resume
This is the oldest, most popular and easy-to-write format of resume. Frankly speaking, if you don't have any resume but need one urgently, stay on writing a chronological resume (or, hire top professional resume writing services 24/7 to save time). It is good for any career level and industry; however, it has its own peculiarities of effective use. First and foremost, your professional strengths may not be obvious from this resume types, that's why it's not the best fit for skill-based jobs.
How does a reverse chronological resume look? It lists all jobs you had in a reverse chronological order (i.e. from your current role down to your first job). "Professional experience" or "Employment history" is the longest and most significant section in your resume with no other section dragging the reader's attention away from the neat thing: your relevant experience and career progression.
When to use a chronological resume?
You are seeking the role that is a natural progression of the previous jobs – the same industry and similar position
You want to showcase how your skills, expertise and areas of responsibility grew over time, from role to role
You have stable employment history, without long gaps, job-hopping or jobs in different industry (job-hopping in professional history is easy to downplay, though. Read our guidance here: http://resumeperk.com/blog/how-to-create-my-cv-valuable-tips-for-job-hoppers)
Functional resume
Functional resume is built around the set of skills you possess. On the contrary to chronological one, it doesn't make stress on smooth transition from one role to another and doesn't pay attention to the chronology. They are organized by different types of skills and expand on them without giving a clear indication where and in which role this certain skill was developed and used. This format is extremely helpful for those in skill-based jobs and is loved by those without a stable employment history, as it allows hiding gaps or job-hopping.
However, keep in mind that some hiring managers are negative about functional resumes for the same reason: they see them as an applicant's effort to hide something from their work history. That's why it's the most doubtful format and you should only use it when you're sure no other resume will reflect your qualifications better. You don't want to be rejected simply because the employer might suspect that you used this format to hide something.
How does a functional resume look? As it was mentioned above, there are a few major areas of expertise and all the applicant's skills are grouped under them. Work history is given after the extensive Skills/Professional skills section, and basically includes only position names and company names, often without indicating dates of employment.
When using a functional resume is a good idea?
You plan on making a career change and your past experience has little to do with the prospective role
Your career does not demonstrate a vertical progression and consistency; you've changed fields, have significant employment gaps or changed jobs frequently
The job you'll apply for is highly demanding in terms of skills, and you want to highlight that you've got what it takes.
Combination resume
As it appears from the name, combination resume is the hybrid of the previous two types. It presents the employer the job history in detail and the skills set. Basically, it combines the best traits of every resume type: you highlight what you greatest professional strengths are while providing the employers with the timeline and explain when you gained those skills. Combination resume is considered the most effective resume format.
How does a combination resume look? Most frequently, it starts with a Career summary/Professional highlights section that promotes the biggest of your strengths and achievements. Then, it is followed by the Work history that expands on your responsibilities and achievements giving as much detail and necessary. Such a resume often involves the separate Skills section, either before or after the Professional history, which might list your PC/language/professional skills.
A combination resume has a wide scope of application: it can work well for most career levels and industries. However, here's who will take the most advantage out of it:
When to use a combination resume:
You are a C-level manager and need to strongly emphasize both progression of your career and a well-rounded skills set and business scope;
You want to change the industry – in this case, a functional part of a combination resume explains how your experience gained in the similar industry can be applied in a new role;
You're a top-notch professional with a stellar career history, and a combination resume can make both your skill set and professional history shine.
Tip: as this resume type combines the elements of the previous two, it can come out longer than you expected. That's why it is important to strategize content and decide on what to include in each section to avoid repetition and make a resume more concise.
To stay on a certain resume type, you need to thoroughly consider your career history and your professional goals. If your career history is self-explaining and you just continue a settled path, then a chronological resume is all you need. Nevertheless, when you are making a change or want to switch to management role, a combination resume will be a far better fit.
Support your resume with a strong cover letter
As soon as you've defined the most appropriate type of resume, you need to think of making a cover letter that will support your competitive advantages. We recommend apply with a cover letter as well even if the employer doesn't specifically indicates that in a job posting. A cover letter is great for building emotional connection with a prospective employer as well as addressing any questions arising upon reading your resume (i.e. employment gaps or change of industry).
Our blog provides a plenty of advice for writing your cover letter from scratch and making it effectively tailored. You can also start with reviewing free cover letter samples written by experts.
The importance of the proper resume format:
structures the information; 
makes your resume noticeable for an applicant tracking system;
helps perceive information better; 
emphasizes crucial moments in the resume (focuses on skills, work history);
in combination with a unique design, a perfect format makes your resume stand out among others.
Cover letter and resume writing: 3 modern ways
The path to a dream job lies through well-thought-out career documents.  Contemporary job seekers have at least three ways of how to compose them. 
We understand that you might need help when writing resumes, and we'll tell you where to find it. Today you must not do everything on your own — the modern world offers good opportunities of how to do it with ease. 
Online resume builder
Conveniently, many top resume websites offer AI-based resume builders. As a rule, such a program is established on the database of resume templates. It is possible to find a free resume builder or a resume generator. 
Draw inspiration from resume examples and cover letter templates
You can google popular professionally written resumes and cover letters. Analyze their visual appearance and content to come up with your own resume. A professionally written resume gives an understanding of the main principles of how it should look and sound. 
Hire a certified professional resume writer
Resume writing services have already become popular among modern job seekers. Due to such online companies, you can turn your career aspirations into reality. 
Advantages of working with the resume creator
A professional writer creates your career documents in accordance with your job descriptions and job title. It is about a unique paper written precisely for your situation.
For instance, our agency has experts in various directions of business, science, and arts. Besides, we can consult from representatives of the professional association belonging to your sphere. 
Unlike free popular templates, a skilled writer composes a unique format suitable for your strengths and the expectations of the employer.
Certified professional resume writers adapt the existing resume to the algorithms of modern applicant tracking systems. Thus, your documents are always noticed by recruiters.
A perfectly finished resume is not the only result that you can expect from a professional resume writer. Alongside resume services, such experts create cover letters and texts for the Linkedin profile too. 
Alongside writing services, professional writers can also provide career coaching consultations covering preparation for job interviews (including interview calls), as well as resume editing assistance. 
Professional resume writers guarantee the impeccable quality of their services. This way is the most reliable one. 
How to determine your resume score?
Would you like to know how perfect your current resume or cover letter is? You can use contemporary online programs to revise your documents. For instance, such resume score checkers as ResumeShine detect strong parts and weak places of your completed resume. They analyze the structure, informativeness, compliance with the job description, and visual appearance of your file as well as give hints on how to improve everything. Plus it is possible to order a new resume there.
Who can do my resume for me?  
Not sure that you can reflect your professional strengths effectively on paper and make your resume eye-grabbing? Need a resume fast and simply don't have time to write or rewrite your application documents? Then, affordable online resume help can come to your rescue anytime.
With 9+ years of successful operation in the resume writing market, we have completed thousands of resumes for job-seekers of all industries and career levels. Our writers can access your current career situation, choose the best-fitting resume format and develop an effective layout to display your skills. All resumes are written from scratch and all your requirements are carefully considered. You can start by choosing the resume package and learning more about prices.
Job postings from the top companies attract hundreds of resumes, and the competition is fierce. Your resume will be compared against those of others, and at this stage, you're only as good as your resume is. The candidate who manages to present themselves as a top performer and sell their skills to the recruiter wins the interview.
In this regard, the help of a resume consultant is indispensable if you want to be one step ahead of other job-seekers. A qualified resume writer will help pack your experience and achievements using the right words and use a resume structure that puts your strengths above the fold. Moreover, our professionals know the needs and expectations of hiring managers and can effectively adjust your resume to make you look like an ideal fit.
Getting help with the resume structure
Nobody knows your professional experience and achievements better than you, but it's highly important to organize this information in a way that compels the reader. A pro resume writer can give you a helping hand in putting your career story together, and working out the structure that best serves your career needs.
How will the writer organize my perfect resume?
➤ Choose the appropriate resume format – chronological, functional, or combination as mentioned above. The writer stays on the one that sells your strengths and downplays weaknesses.
➤ Use bullet points and shorter sentences. Bulleted lists make it comfortable for the recruiter to skim through the resume content, whereas short sentences improve the document's readability.
➤ Put the key information above the fold – the writer will place key skills and achievements closer to the top of the resume, focusing the recruiter's attention on them and promoting you as a suitable candidate.
➤ Focus on accomplishments as opposed to duties. Achievements and results are valued by employers as they imply that you will be just as hard-working if they hire you.
➤ Choose the font, layout, and design that favorably highlights the key information in your resume and focuses the reader's attention rather than distracts.
Why you can trust our services?
Our company has been around for 10+ years. We have helped thousands of clients from the US, UK, Canada, and other countries to with crafting their job-winning resumes. Our flexible approach is well-suited for your individual career needs: the writer creates your resume from scratch based on your instruction and perfects it based on your comments in real-time. We offer rush delivery starting from 24 hours, unlimited revisions, and guarantee full refunds in case of non-delivery. Fix your resume today!
Which resume format do you typically use for your resume? Does it allow you to display your skills and career history effectively?
Popular Posts: