Professional Help With CV – A Key To Stress-Free Life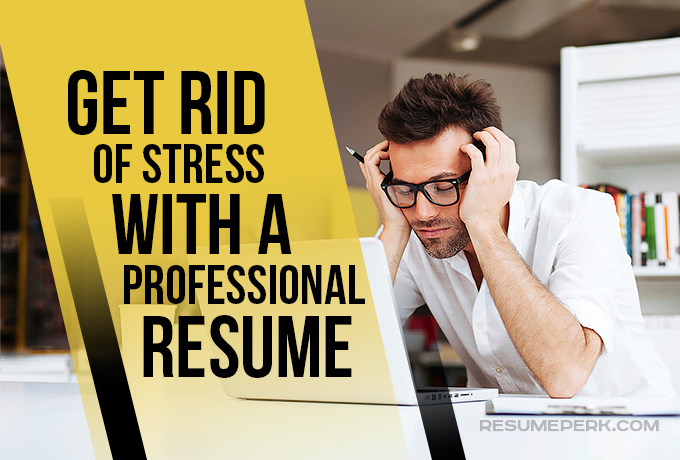 Everyone knows that searching for job is a huge stress. This is especially true when you're already unemployed and the money slips through your fingers. However, being unemployed doesn't mean that you needn't work hard to finally get that job. The uncertainty is taking over, and you start thinking "Maybe, I need to get help with my CV?"
Yes, you definitely need. And this is not only because a well-written CV is your ticket for an interview. Having delegated the part of your job-hunting duties to professionals, you'll get rid of job search stress that will help you become more focused and positive about the future.  A professional writer can craft a resume taking into account resume writing rules and reflecting the hiring managers' expectations.  In your turn, you'll get more time for, let's say, developing some of these key skills for career success: http://resumeperk.com/blog/10-skills-for-career-success-from-cv-proofreading-service.
Also in this section:
Our local resume writers explain how to minimize stress during a job search period and how collaboration with a resume service can help you feel relaxed and confident:
A professionally written resume will eliminate the phobia that your resume isn't good
When you write a resume on your own, you are barely ever sure it's good enough to land you an interview (or, you're sure it's okay while in reality it's terrible). Instead of focusing on expanding your professional network and searching for new opportunities, you rewrite a resume over and over again. Sounds familiar?
As soon as you get help with your CV, one problem is solved. You've got a quality copy of a resume which you only need to slightly modify if you apply for several roles. So, you can devote more time for hunting the best jobs available.
Professional help with CV will help you feel confident
A resume alone isn't enough these days. Depending on the organization, you can be asked to provide a cover letter or a link to a LinkedIn profile. Needless to say that it's a good tone to send a thank you note after the interview. So, do you need to write these documents in advance?
No, you don't. Just contact a professional resume writer when you need these documents and they will be ready in 24 hours only.
Collaboration with resume service will allocate more time for other important activities
Rewriting and updating your resume is a time-consuming task. What is more important, you are spending the time which could have been spent more productively: for instance, you could connect with recruiters on LinkedIn, meet the old acquaintances that could recommend you for a job, etc.
As soon as you contact a resume writer and say "Help me do a CV!" you receive a well-written resume. Moreover, you don't need to spend lots of time on it. You can allocate this time on job-hunting, interviews, and whatever that might actually get you a job.
How to minimize job search stress?
Months of unemployment and slow progress in job search can make you feel stressed. To stay positive up until the point you'll get a desired job offer, check the advice on how to stay positive during the process of applying and interviewing:
Be patient
It often takes months to find a new job. So, don't get nervous about the fact that after a plenty of submitted resumes you didn't get any interview call. Also, you'll need some patience when waiting for a feedback after the interview itself – sometimes it takes up to 2-3 weeks. By the way, here are some professional tips on how to get remembered after the interview: http://resumeperk.com/blog/top-15-questions-to-end-the-interview-with. To reduce the anxiety while waiting, focus on the practical side of application and job-hunting process. Instead of checking your inbox every few hours, visit some professional event when you can expand your network. Being active, not just passively waiting, will help you feel energetic and will minimize the nervousness.
Limit your job search by a certain amount of hours per day
It's easy to get overwhelmed by the job search routine if you look and apply for jobs all day long and worry about the result. They say that searching for a job is a job itself, don't they? So, treat this process like a job – allocate a certain amount of hours per day that you'll spend solely on job hunting activities. Spend the rest of the time like on whatever you like. This approach will help you minimize the ongoing pressure of job search and will help you totally relax during the time off.
Spend the time out with fun
The fact that you're unemployed shouldn't prevent you from enjoying your life in full. You probably will want to cut down on activities that are expensive, however, don't stop devoting time to your hobbies or spend time the way you want. Be it attending yoga class, spending Friday nights with friends out or volunteering, you need to spend time on the things you love. It gives you an outlet for your stress and helps you become more creative about your actual job.  Speaking of the volunteering, it actually can help you find the job faster.
Freelance
When you fire, you lose the regular paycheck and this fact can be daunting. However, you can take the part-time gigs until the moment you find a full-time job. If you are a writer, a programmer, a teacher or even a cook, with the help of internet you'll easily find people who are looking for the type of services you provide. Some people even decide on giving up their office career and switching to freelancing.
Exude confidence
Passing numerous interviews is another stressful part of a job-search. It's difficult to speak about your professionalism and achievements if you've been unemployed for a few months. Nevertheless, don't be shy about your strengths and don't let the anxiety take over during an interview. Learn about interview stress management techniques if you feel you can't handle them calmly. You need to exude confidence even if you don't feel this way. So, prepare properly, choose appropriate clothes, behave professionally and try to act as a confident personality. One day it will work and you'll get the offer you were dreaming about.
Be strategic about your future career
Sometimes the anxiety during job search comes from uncertainty in your career. If you haven't planned your career direction for sure, you might apply for similar types of jobs in the same industry that lead to different career direction in the long run. So, you might apply for a range of position without the clarity of what you want in the long run.
What can be done about it? Think of what you would like to achieve in the long run and what type of job can help you with it right now. By gaining clarity, you'll minimize the stress and will look more determined in the eyes of the hiring manager.
Although job search stress is often inevitable, it's manageable. During the time off, you can work on your professional skills and find a job that fits your needs and career expectations even better. Moreover, you can get CV writing help anytime you want so no need to worry about your resume at all!
How to create resume that is stunning and will generate interviews?
A resume won't get you hired; however, a well-written one will definitely increase the number of interviews you are invited for. If you are tired from rewriting your resume on your own or simply want to save your time, our writers with expertise in multiple career fields are here to help you.
You can check free creative resume templates. To have an idea of how our writers work. We believe there are no unimportant things about your resume; that's why the writer will work at every aspect of it. Developing an effective structure and resume format, choosing the right wording, highlighting your accomplishments and adding powerful resume verbs and adverbs, your writer will help your resume to stand out from the pile of incoming files. And, by taking on your resume troubles, we will help you reduce that job search stress.
So, if you are ready to make a new serious move in your career and need a resume to get hired, don't hesitate to contact us anytime. You can order a resume critique free of charge – just send us your old resume and the writer will respond you with a detailed advice on how to improve it.
Do you find the job hunting process stressful?
We help you find a dream job without any stress
Job seekers often encounter challenging and nerve-racking situations. We cannot influence all of them; still, we are able to minimize stress caused by the resume writing process.
Why writing resumes process makes people anxious
Although a resume takes only one or two pages, it is not so easy to write it. Here are the most frequent challenges of job seekers turning to our professional resume writing services for help.
You do not know where to start
Unlike professional writers, average people rarely compose resumes and cover letters. A lack of experience in this sphere results in a psychological block. Thus, the job seeker feels confused and does not know how to begin working on his/her career document.
Order our services and forget about your confusion. Our professional resume writers are experts in this sphere — we'll create the best resume for you.
Writing a high-quality resume takes much time
A quality resume usually requires significant analytical effort. In fact, it is not only about writing. The most of time is spent on the analysis of the job description, searching for resume templates and examples of professionally written resumes, testing a free resume builder, composing the structure of the document, etc.
Representatives of our professional resume writing company already know about all the trends in the job market, nuances of composing an ATS-optimized resume, peculiarities of career documents in various professional fields. Plus, our team is big enough to find a suitable resume writer precisely for your case. So an expedited delivery is also available.  
It is difficult to write a text about yourself
Your own resume is a reflection of your strengths, achievements, and professional capacity. If you want to achieve big career goals you have to find a balance between bragging and modesty, and sometimes it is not easy.
A professionally written resume by our author is the best presentation of your professionalism. Our resume expert will find suitable words to depict your work history, skills, and talents.
You have no idea about an applicant tracking system
Not all job seekers are aware of a keyword-optimized resume. Meantime, a resume written in accordance with algorithms of the current applicant tracking systems is rather efficient for online job search. Trust our experts — we create resumes that are easily noticeable by modern companies.
Our resume writing services work with any type of career documents (resumes, cover letters, profiles for social media, thank you letters, etc.). Be it an entry-level resume or an executive resume, we'll do everything with skill.
A professional resume service: What we offer
Our website is a one-stop portal, where one can receive competent assistance with job search and career promotion:
a personalized resume and cover letter (+ future resume updates during a certain period);
editing of the existing resume;
career coaching (career advice on your resume, genius ideas for career development);
answers to questions of potential job interviews, recommendations on how to prepare for your job interview;
a free resume review (limited time offer, learn more from our support managers);
other resume services.
Forget about a stressful job search  —  order our resume writing services!
Popular Posts: