Creating A Resume with No Experience: Step-By-Step Guide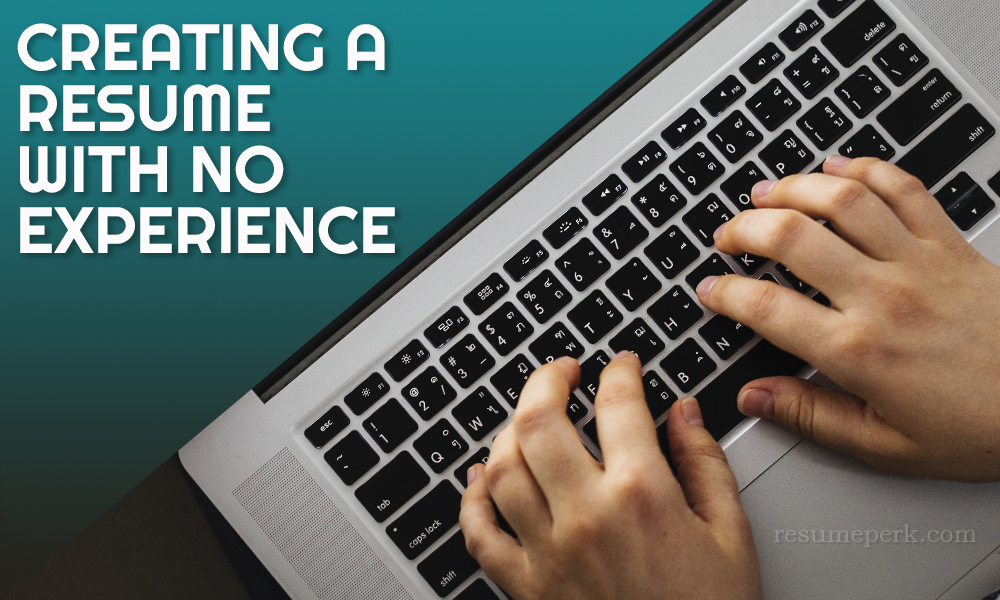 If you're a graduate seeking your first 'serious' job or a student who wants a part-time role or an internship, writing a resume is the first thing to do. However, here comes a challenge: how to put a resume together if you don't have any experience at all? Employers always prefer experienced candidates, so simply omitting your employment section proves to be inefficient. We've previously written the principles of resume writing for beginners, and today we will continue the subject with a step-by-step guide on writing students resumes and the top mistakes you should avoid.
8 steps to creating a resume with no work experience
Writing a resume for the first time can be confusing – you don't know where to get started! The experts of best CV writing company have prepared a step-by-step walkthrough – just follow it to create a superb graduate resume. And, if you find the writing process daunting or fancy a resume that looks really professional, there's always an option to seek the help of resume services online. For instance, at Resumeperk com we offer a special discount for students.
Make a record of your experiences
Writing of your first resume comes easier if you write down and categorize your experiences beforehand. To ensure that you haven't missed including something important, our first piece of resume advice is: spend a few hours (or more if necessary) recollecting and writing down your academic, extracurricular and professional history. The important university project that brought you an award on student conference, your leadership in voluntary organization, and even a recognition from the boss while you were working as a bartender – all will do. You will decide on what to include later on. Now, you're just collecting the bricks of information you'll be using for construction of a resume.
Use a combination resume format
Do resume formats look confusing? We've got a ready solution at hand: opt for a mixed format. According to it, you'll need to place the subsections in the following order:
Name and contact information
Career summary (or Career profile)
Key skills
Education
Professional experience (if any)
Additional sections (such as Extracurricular activities, Internships, Volunteering, Projects, Courses/Training etc.)
Since you don't have a career progression to show off and functional resumes are only acceptable in case of a career change, this format will use the career summary to capture your key selling points and interest the hiring manager.
Got that diploma and want to find long-term employment ASAP? Here is plenty of pro advice to help you out: http://resumeperk.com/blog/students-guide-how-to-find-job-after-graduation.
Every spectacular resume you may find online contains a career summary. And it comes as no surprise: summary allows you to put the qualifications you've got above the fold to evoke the recruiters' interest. It's also an only section that gets read – if the summary looks like everyone else's, your resume goes to the 'resume black hole'. Take your time to develop a summary that represents the best side of you and speaks to the employers' needs at the same time.
Since you aren't experienced and your career trajectory isn't clear, it's okay to add one sentence that would outline your career goals for the hiring person. Also, to pass an electronic gatekeeper called ATS, add relevant keywords to use in a resume.

Highlight your skill set
This section isn't necessary to include; however, professional resume writers of our team recommend that you do as it highlights your strengths at a glance and is helpful for passing the ATS. Write down no less than 8 skills which are necessary for the role – but be sure to tailor them to the job listing. These skills will vary depending on the industry and the role. however, there are specific skills that all employers love – include those you have from the list below:
Verbal/written communication
Microsoft Office
Teamwork
Strong work ethic
Problem-solving
Initiative
Flexibility
Continuous learning
Research
Public speaking
Attention to detail
Leadership
Focus on the education
Following the list of skills should be education section which is your biggest asset so far. Here, you need to mention the university (or college) name, location, your major and graduation date. If you're still working towards a diploma, include the anticipated graduation year. If you have at least associate's degree, omit the high school information.
As a recent graduate, you are welcomed to write about relevant coursework, academic accomplishments and include GPA in your resume if it's above 3.5.
Write down your work experience
So, we've approached the biggest challenge of writing a graduate's resume. But in fact, if you are a student or graduate, your experience section shouldn't necessarily list your paid employment. Include all kinds of experience that you have – be it a part-time job such as babysitting or waiting tables, volunteering gigs, internships and more. You might need to change the name of this section depending on the kind of experience that is prevalent.
If you were involved in lots of activities (summer jobs, research projects, student organizations, and more), you might want to create several subsections to structure your experience. In this case, placed after the education section should be the experience which is most relevant for the role.
For each role, include around 5 bullet points explaining your responsibilities and achievements. The latter can go in the form of improvements you've made or the goal you've reached. Anything that helps you come across as a proactive, result-oriented individual from the hiring manager's perspective works!
Add extra sections if necessary
Basically, you've completed writing the most important part of your resume. If you have nothing to add, you can stop here.
Extra subsections are added if the previous one didn't fully expand on your background. For a student's resume, you can also include the sections as follows:
Languages – are you bilingual or know at least one foreign language? List every language, indicating the level of proficiency (knowing how to say "Hello" in four European languages doesn't count!).
Training, courses and certifications – if you worked hard on your professional competencies alongside with obtaining a degree, this deserves being included on a CV. Not to mention that some roles require specific certifications or courses.
Accomplishments – are you a high-flyer with a series of achievements and rewards in the university and at work? It makes sense to group your accomplishments under a separate section for more visibility.
Interests – if your personal interests somewhat match your desired career path, they can be listed as well.
Format for success
Now that you're done with the content it's time to make it look attractive. Whatever they say, quality formatting and design matters – recruiters rest their eyes on good-looking resumes. The basic rule for efficient formatting is to make the document clear and easy to read. To achieve that, use plain, popular font (such as Arial or Calibri) and keep it between 10-12 pts.
Opt for shorter sentences, leave enough blank space on the page – make the document visually light and look like a quick read. The same type of font and formatting tricks that you've chosen to use should be used until the end. Here you will find more pro tricks for resume formatting: http://resumeperk.com/blog/significant-tips-how-to-format-your-resume.
Key mistakes of student resume that you should avoid
How to write a professional resume? Not only you need to include the required sections, but also to ensure that the document is error-free. Even a minor resume mistake can be a huge setback - due to a fierce competition for entry-level jobs, hiring managers often reject resumes with errors. To avoid this scenario, fix the 10 most popular deal-breaking resume flaws.
This simple check alone will help you eclipse other resumes of your peers who failed to check their applications:
An unprofessional email address – keep the "sunshine_girl95@gmail.com" for your friends and create a professional email consisting of your first and last name. Unprofessional addresses turn off nearly half of hiring managers!
Link to your personal Facebook or Twitter page – maybe, you're proud of having 2 thousands of followers, but unless your target job has something to do with SMM, this makes no sense for your future employer.
Writing a vague, watery career summary – don't use resumes you've found on the web for reference. A summary that sounds like "Enthusiastic graduate who works well with a team and learns on-the-go" says anything neither about your real skills nor about your personality.
Using an unprofessional file name – as you've completed resume writing, give it a name in the format as follows: Firstname_Lastname_Position_name_Company.doc. This will save the document from getting lost on the hiring manager's computer and make it easy for them to find it through the search.
A picture – keep a headshot, even professional one, for your LinkedIn profile. Unless you're looking for a job in Europe, adding a picture can get you eliminated from the competition for a job.
Unexpected creativity bursts – conservative hiring managers might not welcome bright, multi-colored templates, non-traditional fonts and rare file formats. A resume is a business document, and should look respectively.
Missing action verbs – the descriptions of your experiences and accomplishments should start with strong action verbs (such as Initiated, Acted, Designed, etc.). Listing your experience using nouns shows that you're unaware of resume writing rules or don't care much.
Making it longer than 1 page – a one-page rule is obligatory for students. So far, you don't have an experience which is significant and would excuse using the second page. If you've done plenty of things during your university study, just cut off the irrelevant and secondary details.
Ending it with "References available upon request" – the employers know it! Using this phrase is dormant these days and it adds absolutely no value to your resume.
Forgetting to proofread – hiring managers hate typos and grammar errors. Before you submit that application, give it a quality proofread. You can start with running it through the spell-checking software such as Grammarly.com, but then do find a human reviewer that will fix whatever you've missed.
Writing a resume for the first time can totally blow your mind. And it's understandable – creating a resume, sourcing reputable companies and attending interviews are huge stressors. To ensure that you haven't missed anything and the resume won't sabotage your job-hunting, it makes sense to consult a resume professional. The editors of Resumeperk.com have edited hundreds of student and graduate resumes, and can help with polishing yours as well.
The process of application and interviewing isn't as easy as it seems too, and you are probably making one of the mistakes that stand between you and your dream job. Read about the popular mistakes of job seekers and how to fix them.
Get the help of a writer specializing in no work experience resumes
If you've never written a resume before, just follow our step-by-step guide above and then correct the most popular resume mistakes. If you've done everything right, success is inevitable. However, what if you work and simply don't have time to use trial and error method for writing your resume? Or maybe, writing just isn't your cup of tea?  
You've already invested in your education, so consider making a small investment in your resume as well. A professional writer of our team can create a resume from scratch or edit the existing one. With years of resume writing expertise, we know what to emphasize in graduate resumes and how to help them look their best on paper. Moreover, it won't cost you a fortune – learn more about our services and prices.