How to Create my Resume With No Work Experience?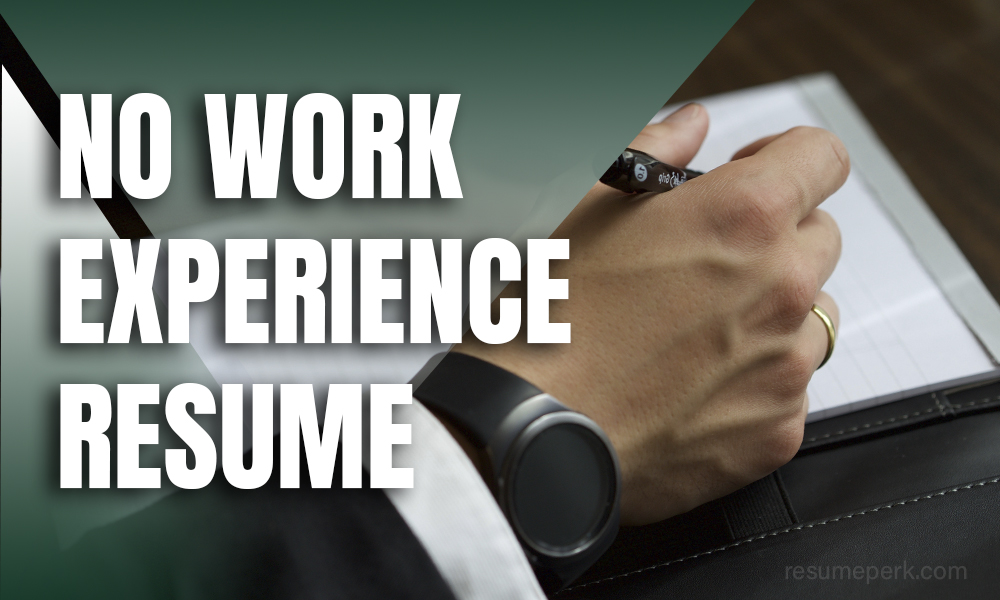 Putting your resume together is a manageable task when you have a solid work experience. However, if you're a high school or university graduate who hasn't worked a day before, creating an application document might seem a real challenge. What to put on your resume when there's nothing to include into it except your college or university degree? And given the strong competition, how to make my CV in a way that will set you apart from your peers?
Writing my resume with no experience: What to include
If your resume looks too short and pale because of the lack of professional experience, there's no need to be embarrassed about it. When companies are hiring for entry-level roles, they rather look for attitude and aptitude in your resume rather than relevant experience. At the early stage of your career, strong enthusiasm and willingness to grasp new knowledge on the go are way more important than a year or two of work experience.
Therefore, a positive and hardworking attitude towards the new challenges is what should be highlighted on your resume in the first place. You can also expand on your relevant coursework and additional academic activities to showcase the relevant theoretical background. That's exactly what our writers do when creating resumes for students – bring more light on their potential and ability to adapt quickly if hired. So, if you find yourself in need of expert resume writing assistance, contact us and say "Make my resume online!" and we'll get back to you immediately. Our specialists are online 24/7.
7 tips to create a resume with no experience
For an experienced professional, the section with work experience is the longest and the most significant for the hiring managers. However, if you have nothing to put on this section, you need to add more weight to other resume sections and make them more detailed. Below, we'll share some tips on how to write a breathtaking resume – even with no experience:
Create a strong education section
The degree you've obtained is the biggest asset in your resume and it is usually placed right after career summary. Make sure to place it after your Career summary or Skills section (if you decide to include it). For this section, be sure to include the university name, degree, major and the year of graduation. If your degree is not completed yet, it is okay to include the anticipated graduation date in your resume.
List the relevant coursework – if your dream career lies in the marketing field, it's recommended that you list the coursework that has anything to do with marketing and promotion.
Include academic accomplishments – Dean's list, high GPA, contests or scholarships won – list everything you've got. Academic accomplishments are important for the hiring managers as they show your willingness to outperform.
Not completed a degree? If you've left school after a year or two, include the major and number of credits completed anyway.
Omit the high school information – if you've got any degree, even incomplete one, feel free to remove your high school information from the resume. Including a high school diploma is only okay if you didn't proceed with further study.
Develop a catchy career summary
If you Google "help me create my cv or resume", you'll definitely get a recommendation to write a career summary instead of an objective. Even if you don't have any experience at all, it doesn't mean that you should neglect to create this section. It is the first thing the recruiters see in your resume; and if written in the right way, it can ensure your application's success.
Think of the information from your background that you could possibly wow the employers with. It's not a big deal that you don't have career-related accomplishments so far – those from your college and extracurricular activities will work. Maybe, you've won an award in university or led a team of volunteers in your local community? Or, are you proficient with the software that is required for the role? Soft skills are also fine to include – but if you do, be ready to prove these skills by providing evidence on where and how you used this skill.
However, before you decide to put something in your career summary, make sure you are listing skills and competencies that are relevant for the employer and the job. Don't just show off. A good summary is limited to 3-4 sentences, so be very thoughtful about what to put on it.
If you care about your online presence, you can also use our service to improve LinkedIn account.
Create a list of relevant skills
It's a good idea to follow your career summary with a list of skills – that's what our experts do when they edit resumes for clients. Thanks to its structure, this section will immediately draw the reader's attention to what you can do and what you can contribute if hired. To create this section properly, think of everything that you've ever done at the university, part-time job or while practicing your hobby. Then, think which of those skills can be helpful for, let's say, customers service resume – if this is your target field. It's not recommended for the experienced professionals, but as a student, you can also list your soft skills such as time management, teamwork and office etiquette.
If you are well-versed with the industry-specific software, know foreign languages or have other specific skills, consider dividing your list of skills into subsections for reader's convenience.
You might find it curious to learn what skills employers are looking for in candidates in the first place: http://resumeperk.com/blog/watch-and-learn-top-15-qualities-of-the-ideal-employee.
Expand on extracurricular and volunteering duties
If you've never had a paid job before, any unpaid experience will do. Did you volunteer in your spare time, participate in extracurricular activities or contribute to a community organization? Mention that in detail. Don't just list the names of an organization – specify what exactly you did working for an organization and which results you've achieved, either by yourself or with a team. If you were involved in multiple projects and activities, stay on those which are most relevant for your target line of career.
It's also important to proofread your resume carefully before you decide where to submit a resume. To make sure you've gotten rid of all resume mistakes, it's a good idea to ask a friend to proofread my resume or hire a professional editor.
List internships, part-time and summer jobs
Even if you think that internships and summer jobs don't count as a serious experience, they still need to be included in your resume. If you had a few months' professional internship, highlight that you've familiarized yourself with some of the working practices and gained relevant experience. However, if you babysit or served drinks in a local café, that deserves being mentioned too – just think how the skills can be translated into your target industry.
If you don't have any experience at all – don't lie. Don't invent an unreal story just to put something into your experience section – resume lies are never worth it. Just focus on other sections of your resume.
Keep it to one page
Recruiters are unlikely to spend their time reading a student resume which is 3 pages in length (3 pages are fine for CEOs and university teachers, not for someone who's just out of college). Therefore, a one-page resume is your go-to option. One page is a sufficient length to tell the prospective employer about your education, skills and activities. If your resume happened to be longer, ruthlessly cut out the unnecessary.
Take care of the appearance and formatting of your resume as well. The font shouldn't be too small (10-12 pts work best) and there should be enough white space on the page. For more guidance on the appropriate resume language in different career situations, see here: http://resumeperk.com/blog/perfect-length-of-your-resume.
Don't mass-mail your resume
You might think this is logical to send your resume to as many job postings as possible, as it increases your chances for an interview. The truth is, this tactic doesn't work. If you use the same copy of your resume to apply for all available jobs, your application will be rejected by the ATS and recruiters as irrelevant. Instead, focus on the specific type of job and the company types, and write your resume with this type of job in mind. In this case, you'll find it easier to make it to the interview stage. Don't neglect the power of networking: think if someone you know can introduce you to a hiring manager or pass your resume to them directly.
It will do you any harm to prepare for an interview in advance, too. Check out the forbidden habits during the job interview to avoid the most popular mistakes and make a great first impression.
Get an expert assistance with your resume
If you were looking to pay someone to write my resume, you've come to the right place. Hiring a certified writer will help you avoid the most popular resume mistakes that students make and position yourself effectively for the job. Our writer will work directly with you, taking into consideration your target job and your requirements to create an eye-catching and strong resume. Moreover, we offer a 20% discount for students – check out our list of services and prices.