CV Designer: Tips & Templates to Create a Beautiful Resume
How To Design a Perfect CV: 9 Secrets From CV Designer
In a professional resume, every element counts. Your document not only needs to have persuasive, spotless writing, but to impress visually as well. Since most recruiters spend under 10 seconds doing the initial review, looks matter more than you think. Using an eye-grabbing yet professional resume CV design leads to getting you noticed and hence shortlisted. Sounds exciting, doesn't it?
Yet, don't hurry up to experiment with layouts and designs. First, read our today's guide on CV design principles handpicked by our resume experts. Below, you'll find actionable tips on how to give your CV a distinct modern look, as well as a few resumes templates for your inspiration.
Want an ideal CV without spending much time and effort on it? At ResumePerk.com, we have written and designed thousands of resumes that helped our clients get hired. Our resume wizards can build your resume from scratch or improve and freshen up an old one. Just log in sign up to our site and let us know what type of service you have in mind. All CV writing services include customized writing, keywording and a creative design at no extra charge!
What are the main strategies to design your resume CV?
Basically, when it comes to designing job application documents, there are three strategies for you to follow:
Use a free resume builder.
The biggest advantage of using a builder is most of them are actually free and accessible. You can explore and choose from many attractive CVs designs. Yet, this is the downside, too. The template you've found online has been already used by hundreds of other job-seekers. You won't look unique to a hiring manager, let alone the fact that online builders don't help you improve the text content.
Do it yourself.
You can either choose a template and customize the elements and format, or build the layout by yourself. That's already much better. But if you aren't a professional designer, you might have a hard time trying to create a good-looking yet professional resume style. Too bright, unprofessional design can turn off just like no design at all.
Pay for resume design services.
Of course, this way might be costly and you might have doubts if you've never worked with a resume consultant before. However, this is the most effective way to get a perfectly designed CV. You will work with one of staff designers who consider your references and expectations. As a result, they will develop a unique design that will truly be of help in your career. The choice is yours!
9 tips to build professional CV design
Break the resume text by sections
Organize the document into sections with recognized headings: Professional Experience, Education, and more. It improves reading, emphasizes details and gives the recruiter a sense of structure as they know what to expect in each section.
Use clean, professional fonts
Professionals recommend using font size between 11 and 12 points to make the document simple to read. Moreover, fonts contribute to visual impression as well. Today, it's best to use sans serif fonts like Arial or Calibri, but if you are a creative professional, you might experiment witn serift fonts as well.
Choose colors and design depending on your industry
To get more interview calls, you need to adjust the resume to industry standards. Say, if you work in a creative industry (as a copywriter, marketer, filmmaker or programmer), you can use brighter, innovative templates or even try an infographic. If you're in a conservative industry, opt for black-and-white resume templates with the traditional layout.
Make use of the Skills section
In addition to being ATS-friendly, resume skills make your document more aesthetically engaging. List of skills focuses the reader's attention and instantly show your career focus. Don't forget to use modern job skills that are in demand in 2021 - cultural awareness, emotional intelligence, service orientation, creativity and innovation.
Add recognizable logos and names
Popular brands (like Coca-Cola, Apple, or Vogue) and names of influencers work wonders on recruiters. If you've work for big brand names, add their logos next to job descriptions. Do the name-dropping if you've assisted or collaborated with a famous person. This simple trick sparks curiousity which is exactly what you need (remember that a CV is a marketing tool!)
Create a skimmable CV structure
Skimmable means easy to look through and understand, even if you're reading in the rush. Since this is how most recruiters read resumes, ease the work for them. Use bulleted lists, not paragraphs, and make sure each bullet is 1-2 lines. Opt for short sentences, figures and facts. Leave enough white space between the elements so that the reader could choose where to focus.
Make sure it's mobile-friendly
Realities of remote work are such that you never know what kind of device the hiring managers are using to read CVs. Whether you use DOC or PDF file, make sure it opens correctly on mobiles, the formatting is not cluttered and the text is large enough to read.
Create a matching design for cover letter
All documents you submit as part of your job search should have the same focus and design. Use the same template for a CV, cover letter, thank-you note and other papers. In this way, you'll show that not only you've approached the application process seriously, but also you'll be associated with certain design and style. You'll stand out for most employers if you use personal branding!
Edit and proofread
More than a half of hiring managers (59%) toss resumes with mistakes. Typos, poor grammar and incomplete sentences can spoil the impresssion even if design is spotless. So, make sur the document is written in perfect English and free from any errors that could turn off the picky employers.
2 examples of professional resume templates
From our collection of templates, our CV designer has picked the best ones that you can use in your own resume:
Conservative CV template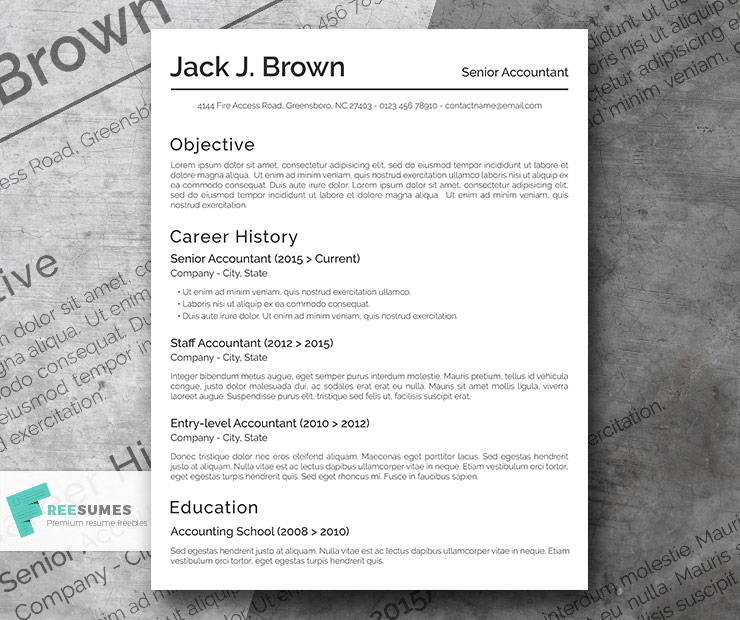 https://www.freesumes.com/free-basic-resume-template-the-conservative/
This is an example of traditional resume design and layout, but it it's not nearly boring. Positive visual impression is created by varied font size, clearly divided sections and small blocks of text. This resume is unbelievably easy to create in MS Word or other text editor, and it will perfectly suit someone with career in banking, logistics, FCMG or manufacturing.
Creative CV template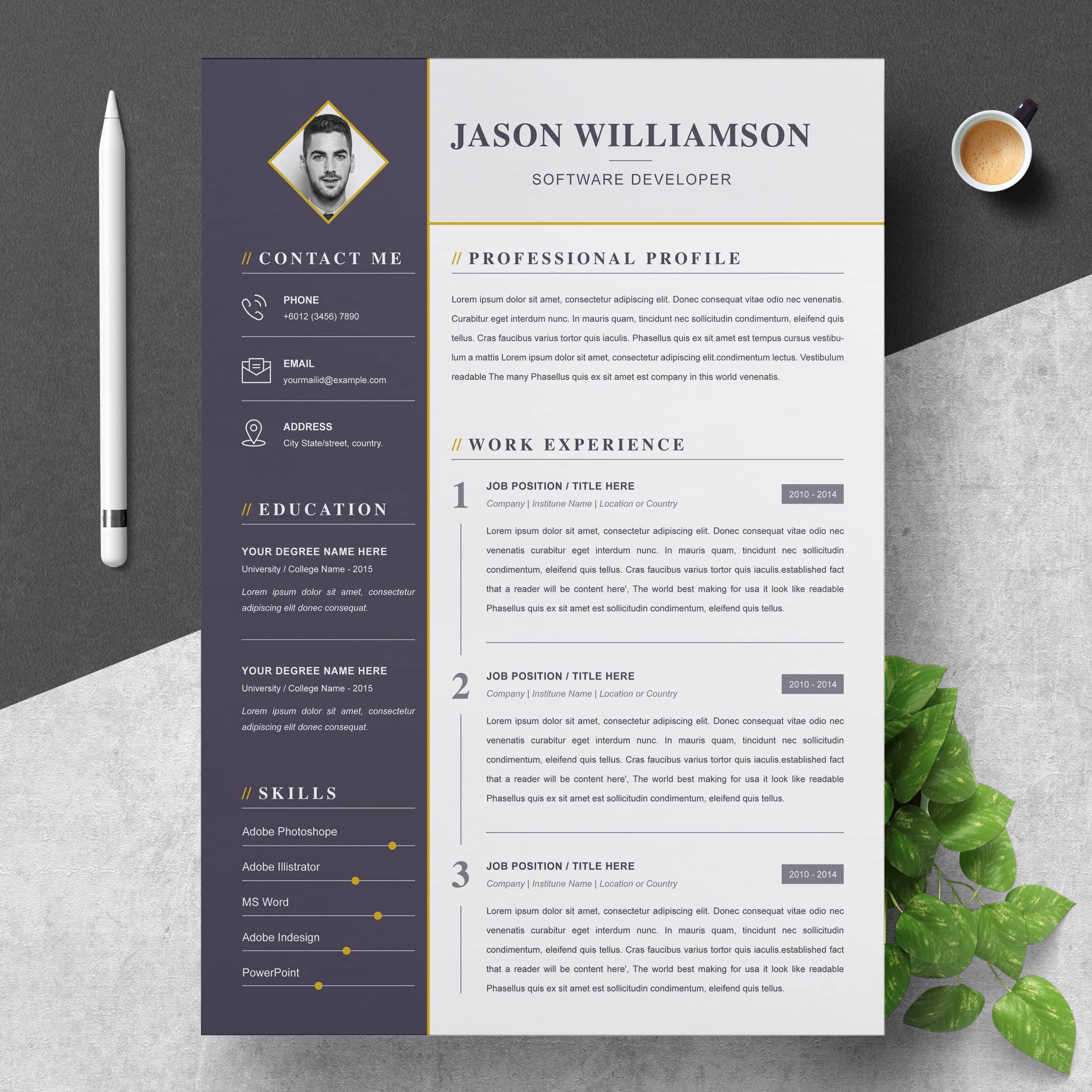 https://www.templatemonster.com/nl/resumes/90398.html
Unlike the previous one, this example is best suited for digital or creative professions, such as software developer, graphic designer, marketing manager or art director. The CV has a strict structure, emphasizing the elements of experience through the balanced use of contrast colors. It also has a place for professional picture and lets you indicate the level of certain skills. Despite being one-page, it has plenty of room for you to describe 3-4 most recent jobs.
How to effectively submit your resume?
Once you have an attractive resume at hand, it's time to think where to go next. And while sending it in response to a job ad is still an option, try these least used strategies:
Submit to a company's website
Job boards are fine, but they attract too many responses from candidates worldwide. It's more effective to reach the company through their website. However, first make sure that they accept resumes in this way!
Email it to your target list of employers
You probably have a list of 'dream companies' where you'd like to work. Why not try your luck? Email a business resume to them and wonder if there is any open position matching your skills. If you have in-demand skills, they may even create a position for you!
Send it to a recruiter via LinkedIn
Most recruiters use LinkedIn to source talent. So, you can create a win-win situation. Connect with recruiters and send your resume with a brief note of what kind of job you're after. Note that your profile should be active and complete.
Hand it in to your reference
This is probably the most effective way of job hunt. If your friend passes the resume directly to a company's hiring manager, you'll get much more consideration from the company. So, when possible, try and find a reference within the company.
Get a spotless professional resume
Our website provides job-seekers with modern resumes tailored to their career goals. We create original resume content as well as take care of keywords and looks of each document. Here's what ResumePerk.com team can offer you:
• industry specific resumes - we take industry constraints into account and approach writing a scriptwriter's and a finance consultant's resume differently;
• Unlimited edits - get 2 weeks of free revisions until you're satisfied;
• Comfortable process - log in sign up and place a new order in 15 minutes. We'll do the rest.
Questions? Contact our support team 24/7 or send us your resume for a free review.