How to Write a Formal Email for Job Application?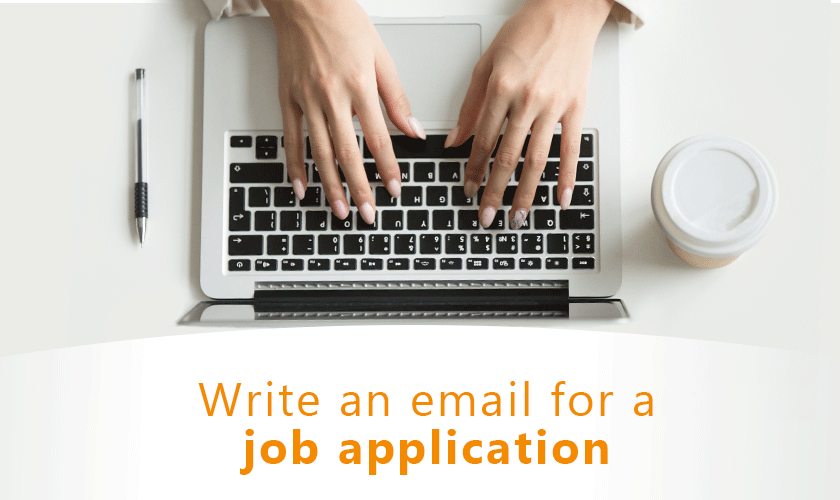 There is a variety of ways to apply for jobs online – through the job board, company's website, or the hiring manager's email. If the job posting insists that you follow the latter scenario, having a resume at hand is not sufficient. You'll also need to create a professional email that will introduce you to the hiring person.
Writing such an email is not a rocket science, but it definitely takes some effort and research. Sending a two-line email that sounds like "Please find my resume attached. I want to work for your company" is below the standard. And so is will the message that sounds too casual and is rich in slang.
So, how do you compose a persuasive professional email? Our resume writer NYC will guide you through the process and help avoid the common mistakes. Find out how long your email should be, which essential information you should include as well as formatting tips.
Get a pro resume done for you ASAP
Not happy with the way your old resume looks? Hire a professional resume maker to improve it for you. Our staff resume copywriters specialize in writing resumes for all industries and career levels. The writing wizard of Resumeperk.com will focus on results of your work, thus presenting you not as 'doer' but as an 'achiever'. Unlimited revisions come for free.
Now, let's get back to the subject and consider the particular steps you'll need to take towards the creation of an effective email to a hiring person. By the way, if you've left unemployed because of COVID, you might find this post on job-hunting during the pandemic helpful: http://resumeperk.com/blog/how-to-find-a-job-during-coronavirus-pandemic.
What are the parts of an email?
Before we get down to specific tips, let's consider the elements of any email message. Typically, an email contains five parts:
• To – here, you should insert the recipient's address. Always double-check so that your email won't get lost halfway.
• Subject – limited to 30 characters on a smartphone screen, this line should summarize the content of your message. Below, we'll talk about how to write it properly.
• Greeting – formal or informal, it precedes the main point of your letter you'll expand on in the following section.
• Body – the biggest section of your message. When writing it, use shorter sentences and keep paragraphs no longer than 5-7 lines. This section also consists attachments.
• Signoff – make it appropriate for your goal and target audience so that an impression your message makes is not spoiled.
Formal email writing tips  
1. Create a professional email address (if you don't have one)
Writing a successful email starts with thorough preparation. And one of the things to do before you get down to writing is to set up a professional email. The one you'll be using for job search should contain your first and second name, and maybe your profession (optional). For example, an email address that sounds like 'Juliethwilson@gmail.com' makes the right impression. Avoid using an email that consists of your nickname, figures and can be seen as too casual.
2. Use an informative subject line
Subject line is a powerful communication tool that lets the hiring manager know who you are before they've opened a letter. Ideally, it should contain your name, target job title and vacancy ID, if any. Here's are some good examples: "Communications Director Position (ID 4392) – Lisa McElroy", "Joel Reel: Application for Administrative Assistant". Avoid labeling your email simply as "Resume", "Job application" or leaving the subject line blank at all. This can lead to your email being tossed in a hiring person's inbox.
3. Start with a professional salutation
Ditch the casual greetings such as "Hi" or "Hey"! These are reserved for friendly messages, not for business correspondence. Ideally, you should research the hiring managers name and use it in your greeting, e.g. "Dear Olivia Mason". If you don't have a clue who does the hiring in the company you're applying to, it's also acceptable to use "Dear Hiring Manager". Seemingly a minor issue, a professional start sets the right tone for the rest of your application email.
Are you planning to land a writer or blogger position? Then, you should absolutely learn how to compose a roundup post like a pro.
4. Use a standard opening sentence
While a creative opening paragraph in an attached letter may add you extra points, the purpose of an email is different. Your goal is to quickly introduce yourself and persuade the hiring manager that your resume deserves a closer consideration. So, it's a good idea to use a classic opener, such as "Please review my application for a Customer Service Coordinator role". If you have a referral in the company, mention it in the very first sentence as well. Candidates who have been referred usually have much better chances for job interviews.
5. Highlight what makes you a fit for the role
The body of your email is reserved for marketing your strengths and highlighting the qualifications called for in a job posting. You might want to mention relevant experience and education: "As a recent MBA graduate with 5+ years of experience in finance management, I can optimize expenses and reduce costs for your company". Or, you can focus on the past accomplishments that prove your professionalism: "As a copywriter for X advertising agency, I have surpassed direct response sales goals by 25%".
6. Keep it concise
Remember that application email is not the same as an attached motivational letter. It should be much shorter – 3 paragraphs will suffice. If the recommended length for a letter is around 350 words, an email should take approximately half of that word count. Hiring managers don't want lengthy salutations and descriptions. They'll find it in an attached resume. And the purpose of your email is to introduce yourself and prove that you have the qualifications mentioned in a job application, thus motivating the reader to review the attached documents carefully.
Struggled to get hired upon completing your studies? Learn the proven ways to get a job after university.
7. Don't paraphrase your resume
Some job-seekers who lack inspiration to write a professional email restate what's already on their resume. While this tactic is definitely better than sending a one-sentence email message, it's not the best solution for two reasons. First, by reiterating the content of your resume, you keep the focus on yourself, not on the company's needs and benefits from hiring you. Second, once the human resources manager opens your letter, they will realize that you didn't bother to write a good pitch. And this may be interpreted as lack of interest in the position.
8. Close with a call to action
The last paragraph is reserved for expressing interest in cooperation. You might want to reiterate the key skills or qualifications or make a final point. Mention your phone number and email by which you can be contacted. Surely, this information is already on your resume, but make it convenient for an employer to reach out to you at any stage of reviewing your application. Career experts also recommend that you add a call to action, i.e. "To discuss how my experience in lead generation and account management can help you double sales in the next year, please contact me on XXX-XXX-XXXX".
9. Add a professional signature
End the letter politely, saying "Sincerely" or "Yours sincerely, Lisa Patterson". Your email can be short, especially if you're a student with no experience, yet it should use a professional salutation and closing anyway. It shows common courtesy as well as your familiarity with the rules of written business correspondence. This is especially appreciated in customer-facing, public relations management and similar positions requiring extensive external communications.
10. Double check the enclosures
Each hiring manager can tell the story about an applicant who went above and beyond to describe how great they are for the role yet forgot to attach their resume. Busy hiring managers rarely have time to get back to applicants to ask for missing attachments. Once you've completed writing a letter, check that your resume and other application documents are to place. Give the files the correct names consisting of your name and target job title, i.e. "Resume_JosephGillan_Bank_Teller". Naming the files this way helps the hiring manager find your files on their laptop.
Are you getting forgetful because of mental pressure at work? Learn how to deal with stress at the workplace.
11. Avoid being overly casual
A common mistake job-seekers make is believing that an email, on the contrary to other career documents, shouldn't be formal. Yet, talking to a hiring manager you've never met in person in the same way as you speak to your friends and colleagues is simply not acceptable. Therefore, no smiley faces (unless you are 100% sure that the company culture is casual and will appreciate it), no slang, no nicknames, etc. No need to use sophisticated language – keep it plain yet professional.
Do you find it challenging to find common ground with people in your office? Use these relationship building tips: http://resumeperk.com/blog/how-to-be-on-good-terms-with-colleagues.
12. Format and edit
Once you've completed writing an email and attached what's necessary, don't hurry up to hit 'Send'. First, be sure to break the email into at least 3 paragraphs. Nobody likes reading letters that look like one big chunk of text. If you want to draw the reader's attention to particular points in the email, such as accomplishments or an important certification, boldface or underline them.
It's also important that you look through the written text for a few times to spot mistakes in grammar, syntax, and punctuation. Errors in job application show carelessness to detail which isn't the impression you want to make. Use an online spell checker, such as Grammarly.com or Online-spellcheck.com.
Professional email: a free example  
Now, it's time to look at letter templates and know how to write and How to End a Letter. Here's an example of email application for a teaching position.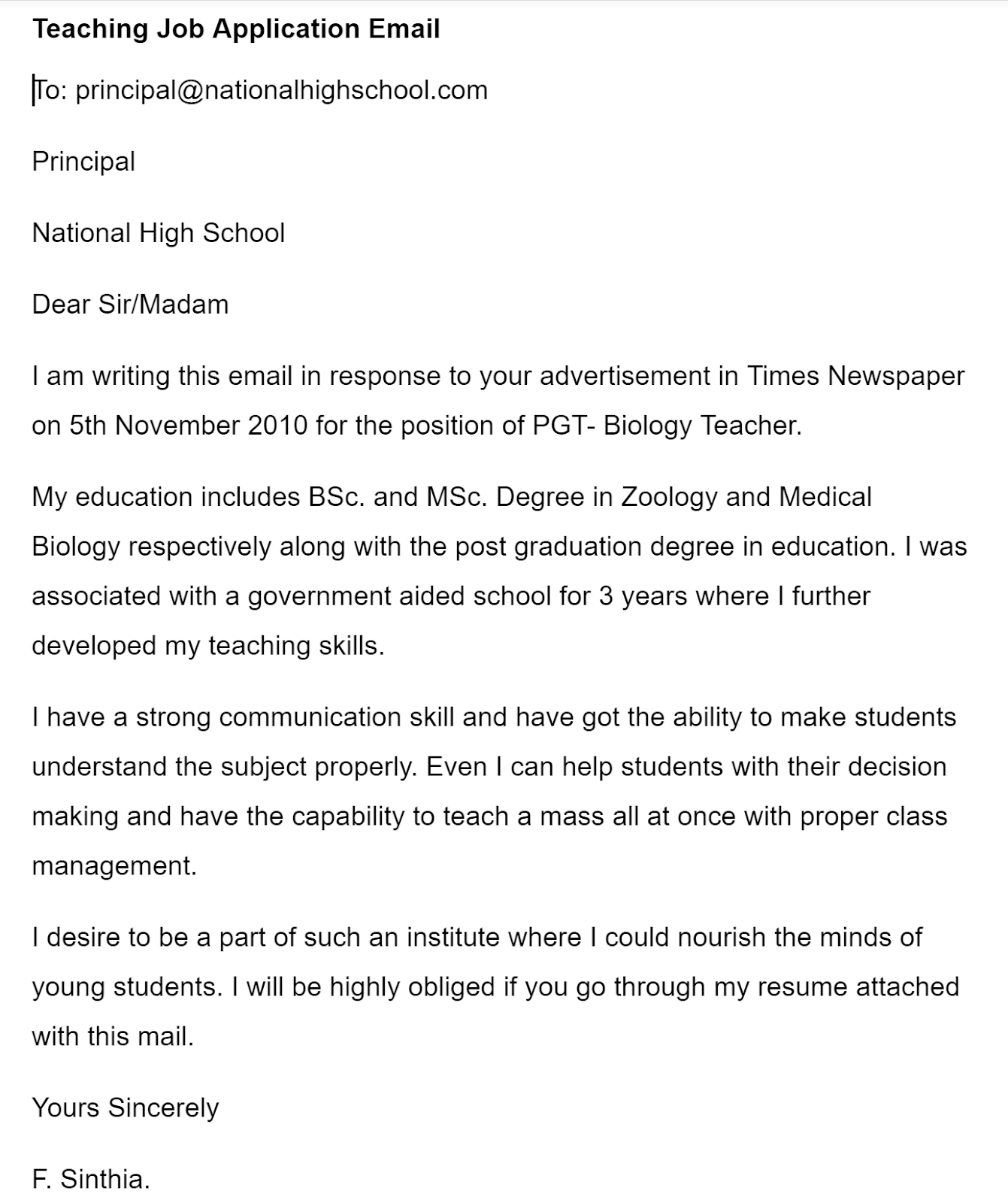 Image source: https://images.examples.com/wp-content/uploads/2017/05/Teaching-Application-Example.jpg
As you see, this candidate keeps their email message very short and sweet. They mention the target position's name and list their Bachelor's and Master's degrees. Then, she specifies that she was associated with the government aided school for 3 years. After that, the applicant points out their strengths in communication and classroom management and closes the message showing enthusiasm in joining the organization.
Although it's not recommended to copy templates word for word, you can use the common phrases and follow the same structure.
Bonus: What you should never write in a formal email?
When proofreading your writing, avoid the following elements that don't belong to business writing:
✓ Emojis – leave the smiling face, folded hands or face with tears of job for chatting with friends. They just don't belong to business correspondence.
✓ All caps – when you use all caps, the person feels that you're yelling at them. Moreover, it might also indicate your poor digital literacy.
✓ LOL, FYI and other abbreviations – internet slang sounds too casual, therefore, should be kept to personal texts as well as smileys.
✓ Lowercase letters only – failure to proofread can be seen as a don't-care attitude or poor writing skills.
✓ Jokes – while they may be appropriate for emailing a colleague you know well, restrain yourself from sending jokes to someone you've never met.
✓ Fancy formatting – red text, gifs from your favorite TV show and similar things will be perceived as unprofessional. Stick to the common standard: black text on the white background.
Bonus: Creative ways to apply for jobs
Does sending an email sounds too trivial to you and you want to get remembered for an out-of-the-box application? Then, check out these strategies:
• Run a social media ad campaign – hiring managers increasingly look up for candidates on social media. Why not promote your services to them? Run a paid ad campaign in LinkedIn or Facebook, targeting it for recruiters or for people in a particular company.
• Make a cold call – if you have a few target companies in mind, why not give them a call and ask if they have any opportunities for you? By the way, you don't have to call a hiring manager. Getting in touch with the manager of department might be more efficient.
• Create a social media post – market yourself a little bit and create a post briefly describing your strengths, successful projects and other details which might be of use for employers. Ask people in your network to share it, and who knows what great opportunities spreading a word can bring you.